Now a good number of us love king cake. And when this time of year rolls around we make sure to get our fair share or maybe even more than our fair share!
And while I love a good traditional king cake (just ask the folks at Mandeville Bake Shop), that doesn't mean you shouldn't experiment a little. Local restaurants and bakers all over the northshore are hard at work making king-cake-inspired treat for all of us to give a whirl. I personally have tried to taste as many of these as possible but haven't gotten to all of them–yet!
So join me and try some of these treats before the season is over and they're no longer available!
King Cake Cheesecake
This is one I have to get at least a slice of every year. It combines two things that are good on their own and makes them even better–king cake and cheese cake! My go-to is at Copelands but I've seen that K. Gee's in Mandeville also makes one. Will have to try that one this year!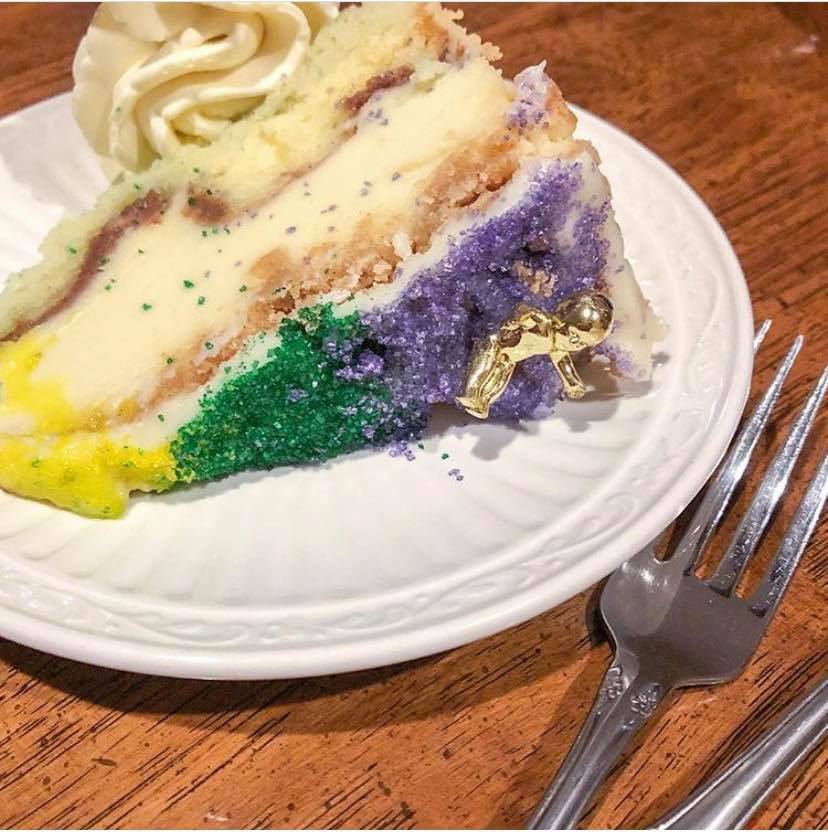 Doberge King Cake
Now they make almost zero fuss about it, but Bosco's in Mandeville has the most-delicious doberge king cake. Thin layers of cake separated by icing. So, so good. Available for sale by the slice!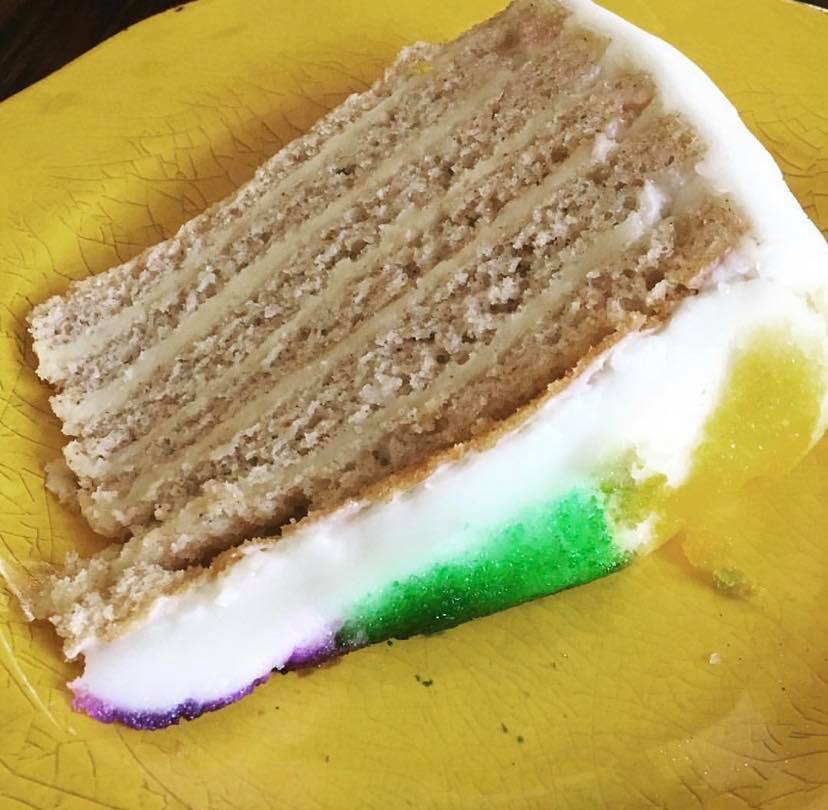 Crawfish King Cake
This one is also available at Bosco's but it bends my brain a little. It looks sweet but it's actually savory. Bread stuffed with crawfish, topped with sour cream and Parmesan cheese (dyed to look like colored sugar). I have not tried this one so if you have, let me know! Savory king cake is a new one for me!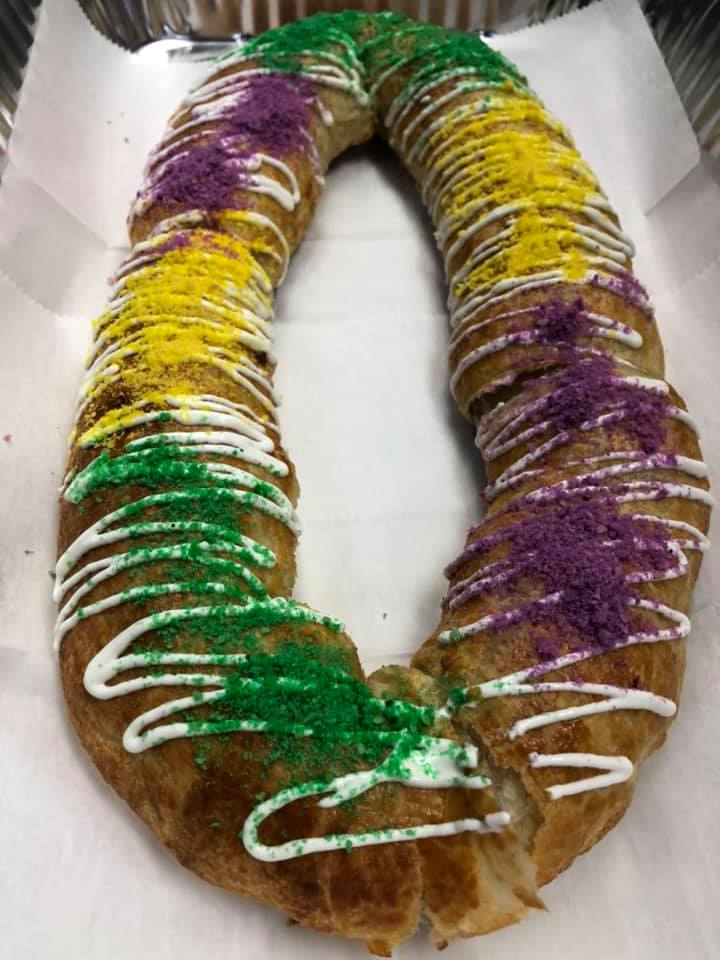 Ooey Gooey King Cake
Lola in downtown Covington is truly a gem. Locally owned and operated, they provide delicious food to the lunchtime crowd each week day. They are innovative and host fun events like a drag brunch and create alcoholic popsicles in the summer. Their twist on king cake is a delicious concoction known as ooey gooey king cake. I don't have a great way of describing it but it's like an ooey gooey bar topped with a layer of candy crust. They sell minis and full cakes throughout the season. Check their website for hours because they only open for lunch hours during the week.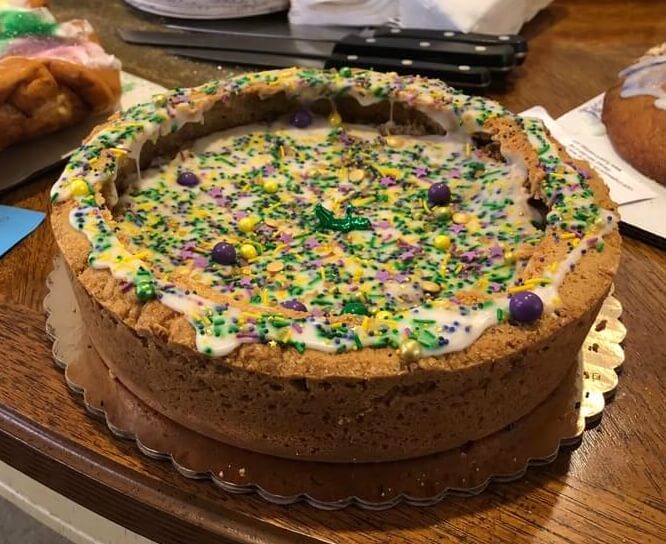 King Cake Coffee
Maybe you just want some king cake taste on the go? A little touch of sweet to start your morning? PJs has your back! They offer a king cake latte this time of year. So all you have to do is drive thru and hit the road with this seasonal treat.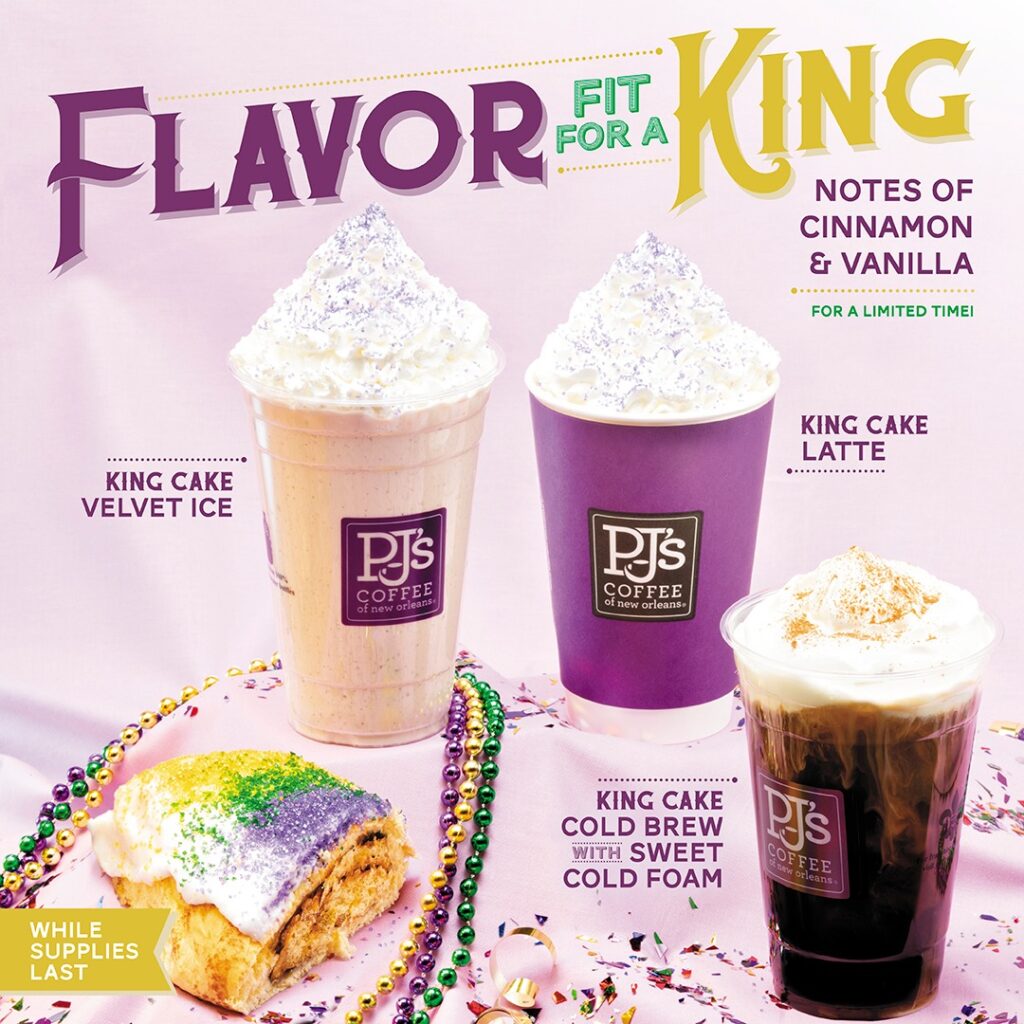 King Cake French Toast
Liz's in Mandeville is area favorite. There appear to have a line almost every weekend. This time of year they offer king cake inspired french toast for those of you looking for a twist on an old favorite. Looks delicious but I haven't tried it myself. I have faith in Liz though!
King Cake Cocktails
New Orleans doesn't disappoint when it comes to cocktails and this situation is no different. There are a variety of places on the Northshore offering king cake inspired cocktails. You can try Reginelli's option that's topped with whipped cream and a glass rimmed in purple, green, and gold sugar. If you're on the other side of the parish, Brass Monkey has one that looks very similar! Morton's Seafood and Bistro Byronz both offer a king cake martini–BB actually has an entire Mardi Gras inspired drink menu if you're feeling adventurous!.
King Cake Bread Pudding
And speaking of Bistro Byronz, they also offer a king cake bread pudding I hear is amazing. I'm not sure I could do this AND a cocktail at the same time, but maybe you'll just have to go twice. There are worse things in life!
Do any of these look good to you? Have we missed one of your favorites? Let us know in the comments and we'll do our best to check them out!
Need More King Cake in Your Life?
We have a full guide to Northshore King Cakes.
Or maybe you have food allergies? We have a guide to finding gluten free king cake right here.
Or maybe you're feeling creative and want to bake your own? We have a classic king cake recipe right here.
The following two tabs change content below.
Hi, I'm Katy. Mom to four sweet boys ages 10, 6, 6, and 5. It's a loud, messy, chaotic life. I love connecting with other parents and am so glad you stopped by today!