With the kids home all summer you're bound to eventually hear "I'm bored." Or worse yet, you'll be driven slowly insane by the shrill voices of Youtube creators shouting about Minecraft/Roblox/Whatever. Either way, you might want to get out of the house and check out the thing that entertained many of us in the summers of the 80s and 90s: movies. Movies can be crazy-expensive though. So I thought I'd help you out and point you to every free or cheap movie I know of happening this summer. So without further ado. . .
Free or Cheap Movies in Covington
Movie Tavern $5 Tuesday Movies
Movie Tavern actually has two different deals running in the summer. On Tuesdays they do $5 You can see what movies they're offering this year on their website.
Summer Movie Express at Regal Cinemas
If three dollars is too rich for you blood, Regal Cinema is just the place for you. For just $1 you have your choice of two kids' movies in the first movie slot on Tuesday or Wednesday mornings. It stretches all summer long and we have the full schedule right here.
Free or Cheap Movies in Hammond
Some people are understandably upset at the lack of cheap theater movies in Hammond. But that doesn't mean you have zero options! Hammond Library will be showing films with an animal theme all summer long. And they're free! Friday afternoons.
Free or Cheap Movies in Slidell
Kid Flicks
Very similar to the program Regal, and Movie Tavern do, The Grand Theater in Slidell offers a kid movie on Tuesday and Wednesday mornings for $4. It comes with a kid-sized popcorn and a kid-sized drink. What a deal! You can see the full Kid Flicks special here.
Slidell Movie Nights
Nothing beats free! Every summer Slidell hosts a series of movies at night in Heritage Park. Bring a blanket (and probably some bug spray) and enjoy the show! Concessions can be purchased at a nominal charge.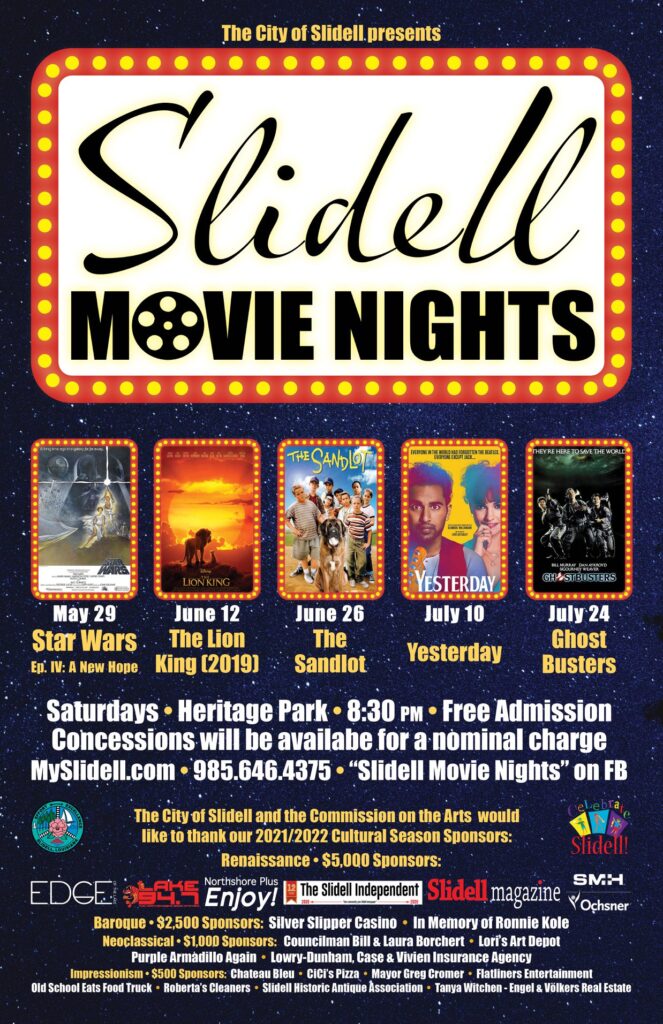 The following two tabs change content below.
Hi, I'm Katy. Mom to four sweet boys ages 10, 6, 6, and 5. It's a loud, messy, chaotic life. I love connecting with other parents and am so glad you stopped by today!