Right after I found out I was pregnant, I noticed a nest on my windowsill of my second floor office. It had two little eggs in it. "Aww" I thought to myself, "that bird is having a baby too – except she's having two babies!" A few weeks later I found out that I, too, was going to have two babies joining my family. Ha.
Well played, Mother Nature.
Late this spring, a bird built a nest on top of my twins' swing set in the back yard. Again, there were two eggs and my two little ones and I watched the eggs turn into baby birds that went from totally helpless, to brave little birdies that hopped around near the nest and, eventually flew away.  I couldn't help but think about how my babies weren't exactly babies anymore and, while they wouldn't be "flying the nest" forever, they would soon be starting pre-school.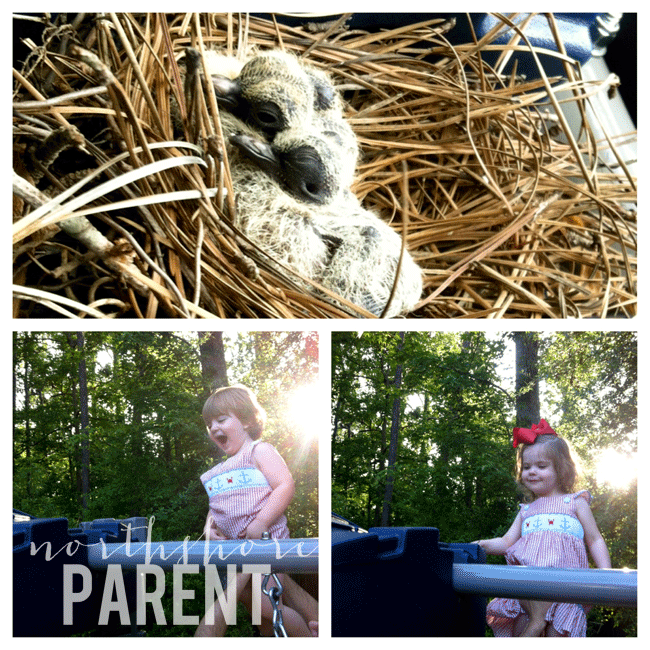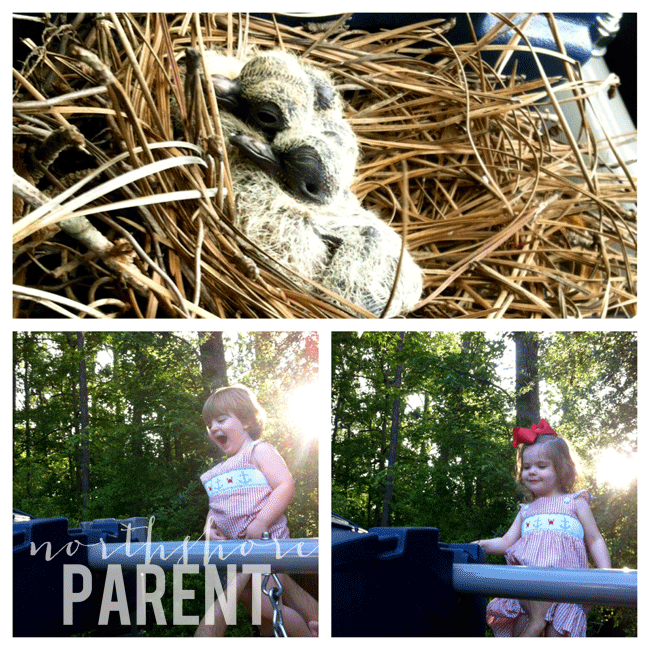 August seemed so very far away on that cold February morning when my husband got in line at 3am to secure our spots for pre-school. The concept of my babies starting pre-school was very theoretical, in the same way that an actual baby (or two) is very theoretical when one is newly pregnant. But just like I had that realization that these babies were very real and would be joining our family, now I'm having the realization that school time is almost here.
I'm coping with the impending change the way I handle new things: reading about it and shopping for it. On the reading front, it's less me reading, since I have been to pre-school and generally know the drill, but more preparing the twins by reading books about going to school. On the shopping front, I've got matching smocked outfits for the first day of school, and coordinating, personalized backpacks and lunch bags ready to go.  It's called "retail therapy" for a reason.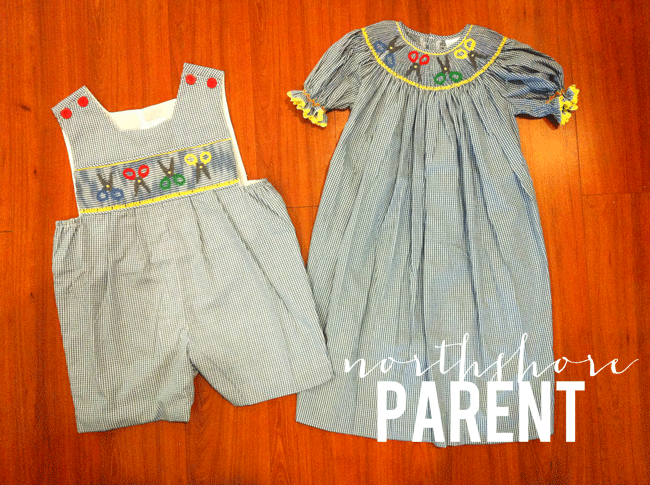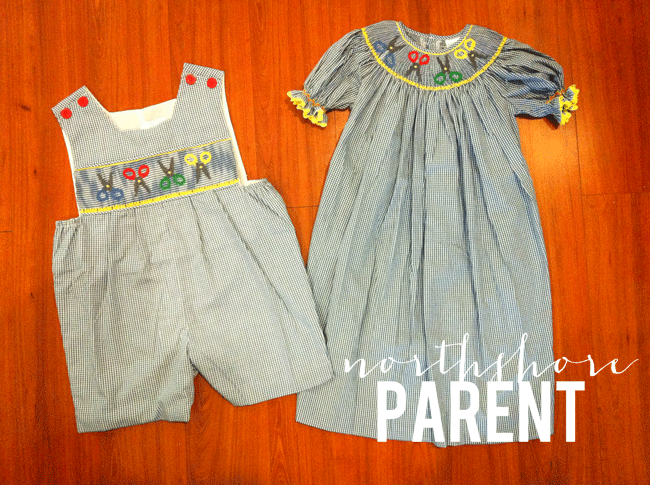 As the big day draws closer, I think we are all a mix of both excited and apprehensive. I've been home with them since they were born, so it's scary for me to let go and put them in the care of a non-family member, especially since one has a food allergy. But I'm excited about the new friends they will make, the holiday programs, and all the little art projects I know they will bring home (and trying not to think about all the germs that are also going to come home with them). When I asked them what they are looking forward to about school, their answers included "using scissors" (I may or may not have told my daughter that kids only get to use scissors at school out of a fear that she would cut off her beautiful curls or her brother's blonde locks if given access to scissors at home), and "playing the recorder" (thank you, Super Why for that one, hopefully we have a few more years before that happens).  Amongst all the excited talk about what they will do at school, every so often, my daughter says quietly "mama, you're not coming to school with us?" I reassure her that while I won't be there, she's going to be there with her brother, and that I'll come back to pick them up.
I predict there will be lots of tears on the first day, both mine and theirs.  Just like other transitions we've had, though, some of which involved tears, we'll come out on the other side better for it.  And, unlike the bird family that set up on top of our swing set, my babies will come home to me at the end of the day.  Until college, that is. . .
The following two tabs change content below.
Aimee
Hi, I'm Aimée, the Special Projects Coordinator for Northshore Parent. If there's a fun giveaway, a kids' clothing review, or a special event, there's a good chance that I'm responsible. I'm a lifelong resident of St. Tammany (except for time at LSU for undergrad and law school) and a mom to 3 little ones, ages 6, 6 (yes, they are twins, and no, they are not identical) and 2. Thanks for reading Northshore Parent and being a part of our community.