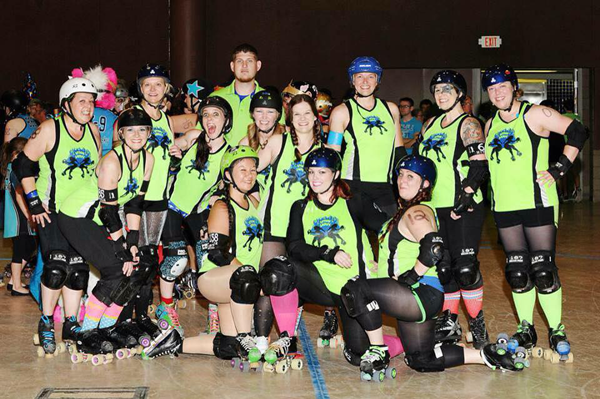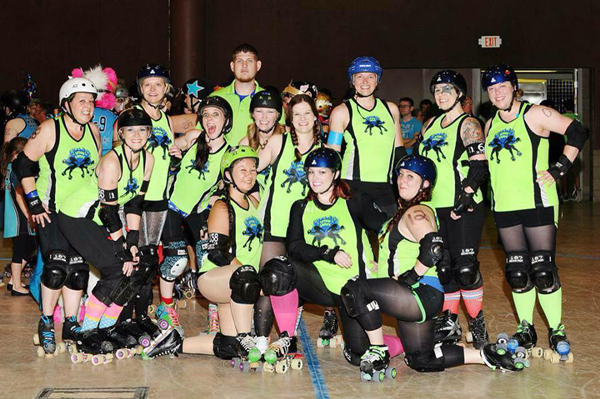 At 45 years old and a mother of two, I never imagined I'd ever go to a roller derby game, much less find myself playing on a team. You would've thought I'd told my family I ran off to join the circus when I made the decision to join! Luckily, I had the full support of my husband and kids, but I understood other people's concerns. Prior to knowing much about derby, I will admit to having some vague ideas about the sport thinking that it was akin to pro wrestling, or inappropriate for kids. Never having seen a game before, I'm not quite sure where those thoughts came from, but they appear to be common. I'd like to dispel those misconceptions and give you a bit more insight into the sport.
I consider myself very lucky to have a wonderful friend who encouraged me (strongly, persistently, near nagging and guilt tripping!) to go with her to see a bout. She opened my eyes and the experience has enriched my life. The first bout I went to, I left the kids at home and went to check things out for myself. I didn't know what to expect, but I was amazed to see how many kids of all ages were in attendance. It was definitely more of a family atmosphere than I'd expected. The kids were enthusiastic; some even brought their own skates and were allowed to go on the track at half time. At the end of the game, they high fived and hugged the players. It's definitely a sport in which the players enjoy interacting with the fans as much as the fans love to watch the game.
Yes, I did see some girls wearing tiny shorts, fishnets or mini skirts, but it was clear that the teams had uniforms and some players just chose to add a costume-like flair. While some may deem it racy, none of the outfits came close to being as revealing as what we've seen at the beach or neighborhood pool. What I noticed more than the outfits, though, was how athletic these women were, and how hard they played.
As many hits as they take on the track, as much as they may fall, there are very strict rules about where, how and what type of hits are legal. Just like any other team sport, referees enforce those rules quite seriously. This was no free-for-all. There was no fighting or brawling like I've seen at football and hockey games–that kind of behavior will get players ejected from the game.
I have been a member of Northshore Roller Derby's Lethal Ladies team for about a year and a half now. Needless to say, my perspective has changed dramatically since I attended that very first game and I wanted to share with you some of the reasons roller derby is actually great for families.
1. Kids truly enjoy coming to the games! There's an atmosphere of excitement that the kids pick up on. Roller derby is not a quiet sport. There is music, cheering, an announcer that gives the play-by-play and vocal fans cheering for the ladies on the track. Kids are not required or expected to be quiet, sit still or stop fidgeting, they get to do what they do best…play, cheer, clap, dance. We even have a Kid Zone where they enjoy getting creative with art supplies or expending some energy with other activities provided. Many make new friends or see others they know from school. Our bouts have themes and costumes are encouraged!
2. Roller Derby is inexpensive fun for the ENTIRE family. We have fans of all ages from babies to senior citizens. There is a foundation of family at derby games, and you'll find the players own children, parents, aunts, uncles and grandparents in the crowd cheering on the home team. Because we gear so much towards family, children under 8 are given free entry and children 8-12 are only $5. It's cheaper than going to the movies, and much more active and fun!
3. Roller derby is a unique, multicultural experience. Derby fans and players come from every section of our community, and from all across the world. Since its resurgence about fifteen years ago, hundreds of teams have formed worldwide. Men's teams, women's teams, co-ed teams and even junior leagues. Players can range anywhere from eighteen to almost eighty. Yes, there are actually a few septuagenarians playing the sport! A derby player can be anyone from any profession or walk of life and our fans reflect that. What was once and underground entertainment experience has grown into a true competitive sport for all.
4. Derby is about community. Players are all unpaid (in fact WE pay to play!), amateur skaters who live and work in our community. It is part of our team's mission to give back through fundraising, volunteer work and donations. In fact we sponsor a local charity at each of our home bouts and many of the charities we support are centered around families and children.
5. Roller derby is about the players. Our players are great examples of determination, strength, courage and good sportsmanship. We come in all shapes, sizes, ages and nationalities. Roller derby is a sport that stresses acceptance and builds confidence for all involved. Women come and learn that each body type has a purpose. Roller derby is an inspiration for athleticism and healthy exercise for all ages and genders.
I hope this inspires some of you to check out the Northshore Roller Derby's Lethal Ladies in action, and to draw your own conclusions. Doors open at 6pm, game starts at 7 pm and usually lasts for close to two hours. It's a relatively inexpensive option for a family night out with pre-purchased tickets selling for $10 per adult, kids 0-7 are free and 8-12 are just $5. Get your tickets by Friday at noon on brownpapertickets.com as adult prices will be $15 at the door (kids prices remain either $5 or free based on age). If you get hungry or thirsty, we also have inexpensive concessions.
So come out, bring your family and decide for yourself. I'm pretty confident that once you bring the family to one game, you won't be able to keep yourself away. Who knows? Maybe you'll see something on the track that draws you in, and you'll be buying your own pair of skates.
The following two tabs change content below.