My family moved to Mandeville in 1989, so with the exception of leaving for college and grad school, I've lived here my entire life. My husband and I met in high school and decided we wanted to raise our family in Mandeville so that our kids would have a similarly fantastic childhood, and Mandeville has indeed been amazing for our family. But I mince no words when I say I've been utterly disappointed in the entertainment options available for families with children. I think many people share my woe, and that is why I was absolutely, positively *p*u*m*p*e*d* to try the new Altitude Trampoline Park that recently opened! We went for the second time today and I wanted to share a little about my experiences!
My boys love sailing on their zipline, playing extreme dodgeball, and battling it out on their full trampoline basketball court. Altitude Mandeville has a separate area of trampolines specifically for the tiniest of jumpers with lots of peripheral seating for ease of watching. There is also a very cool tube maze (think Discovery Zone a'la 1989) for toddlers and I noticed employees monitoring to make sure bigger kids did not attempt to take over the space, which I would have definitely appreciated when my kids were smaller!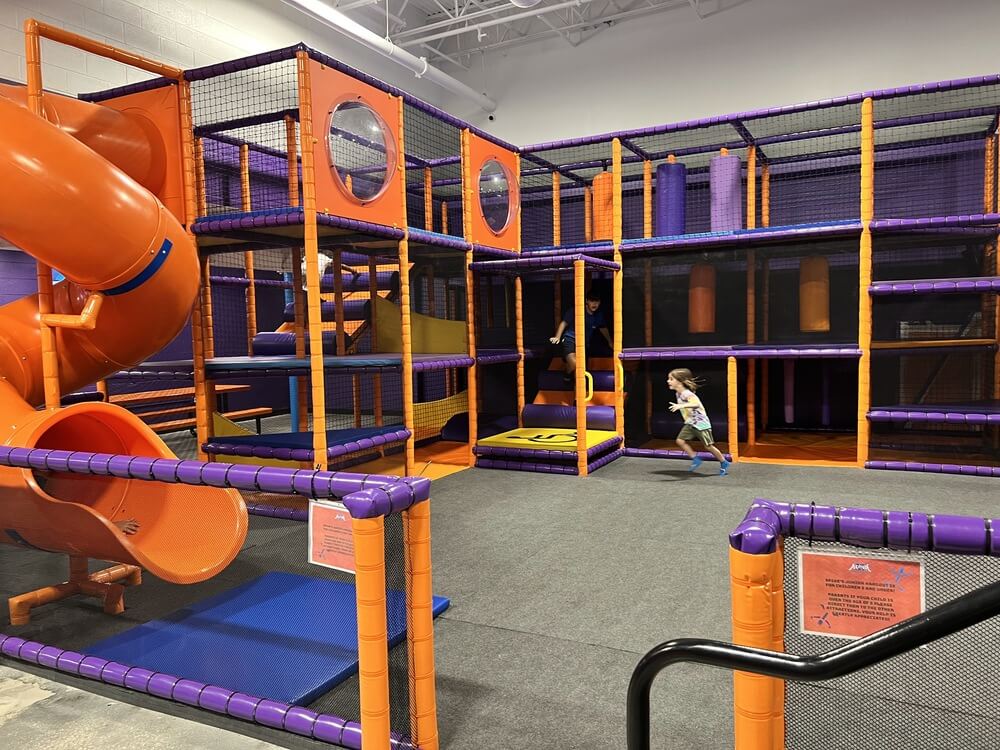 While similar to other Altitudes, namely the one in Slidell, the Mandeville location differs in its activity offerings. It does seem to have slightly less trampoline jump space, but I believe that's made up by the other cool things to do, like the basketball court and zipline! One thing worth mentioning is that my 9-year-old was a little dismayed to find they did not have the Wipeout activity. You know, that giant clock-like padded arm that acts as a battering ram to unsuspecting toddlers but that older kids love jumping over? That thing. But he was quick to say he feels like the zipline makes up for it.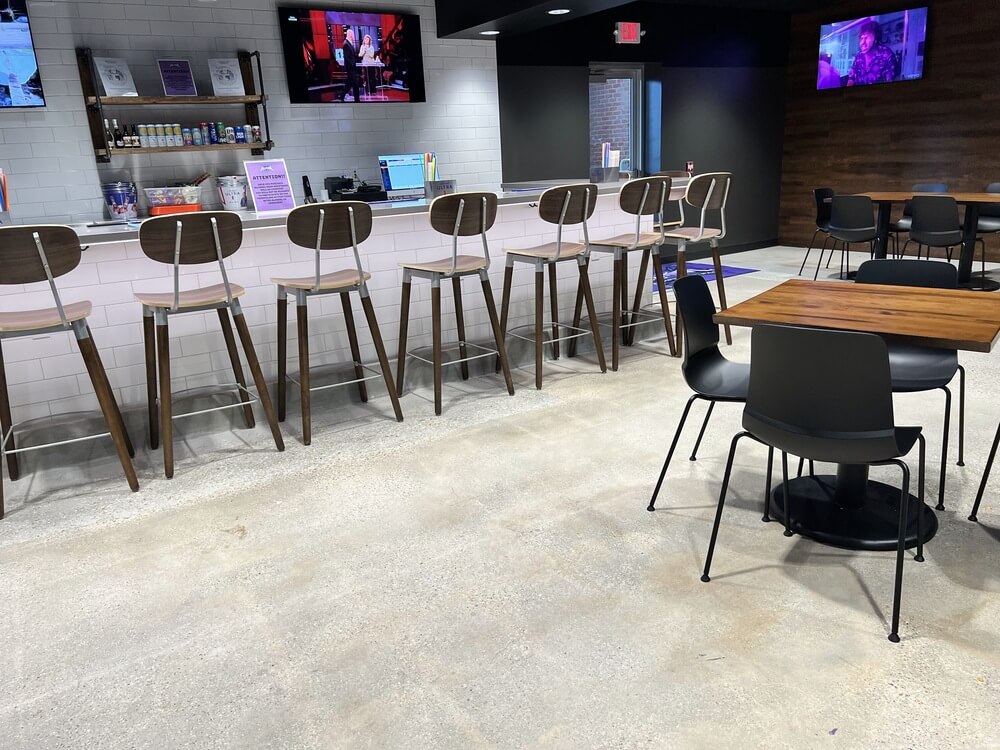 There are walls are lined with party rooms, ready for your hosting pleasure, and there is also a virtual-gaming area with games such as golf, basketball, soccer and baseball, but do note that this area is not included in the cost of admission. There's a small snack stand with typical kiddy fare such as Icees and popcorn and they will also have pizza and wings down the road, according to an employee. Oh, and did I mention they have a bar? Yes, an actual bar with alcoholic beverages, including frozen margaritas and frosé. Don't worry, there are signs on display stating that anyone who has had a drink will not be allowed on the trampolines, and they monitor this by changing the color of wristband you're wearing. I was glad to hear there would be no chance of an alcohol-induced cartwheel competition between uninhibited parents. Phew. 
Editors note: this is obviously a lie as Lauren is the undisputed tipsy cartwheel queen.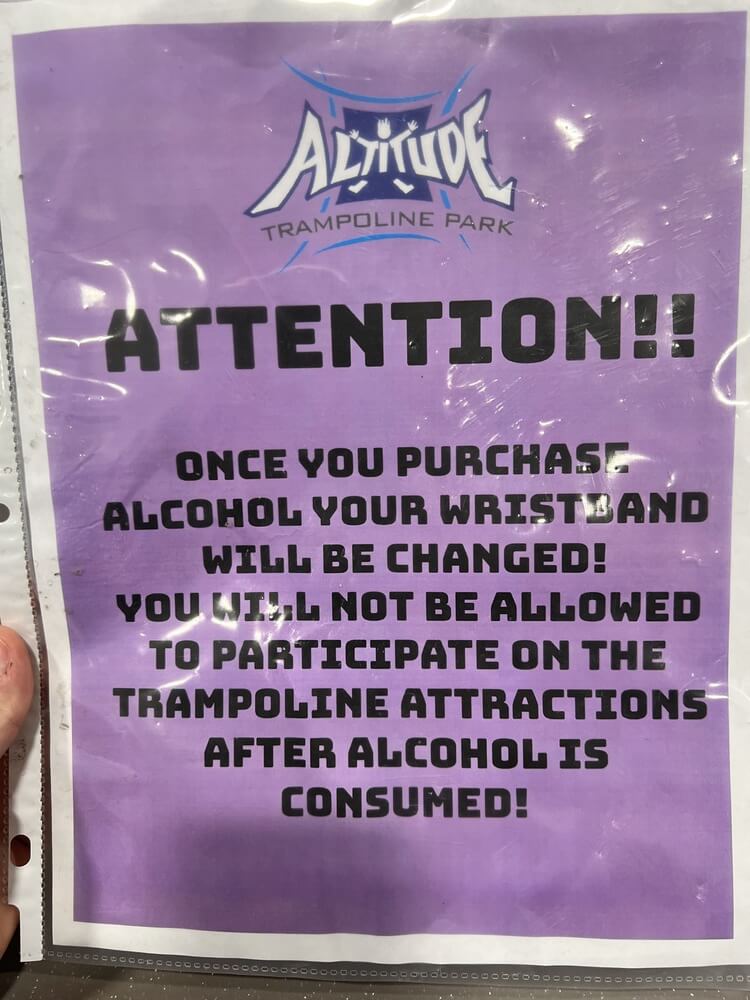 My one and only small gripe is that I feel there could have been a bigger offering of comfortable seating for parents. There are 4 very comfortable armchairs in which parents camp out, clearly knowing they've won the chair lottery and have no intention of leaving. There are also a few small tables with metal chairs. The rest of the seating options are benches without backs. Like I said, this is a trivial complaint and it probably wouldn't bother anyone with a decent back who can tolerate backless seating, but I felt it was worth mentioning for those of us who actively research posture correction devices and inversion tables on Amazon. 
The new Altitude is located at 619 N. Causeway Blvd, in the location of the former Winn Dixie. It's open 7 days a week and the hours of operation are M-Th 10AM—9PM, Saturday 9AM-11PM and Sunday 11AM-8PM. We have gone mid-afternoon on weekdays and it was pretty busy both times, so I'd be prepared for very heavy weekend crowds.
As far as pricing, it's pretty standard for a trampoline park. You will have to purchase Altitude jump socks if you don't already own some from a different Altitude and these cost $3.50. A 60-minute jump for kiddos over 6 will set you back $15.50, while the 6 and under crowd is $11. They also offer a Frequent Jump Pass, which brings the hourly rate down and works like a punch card. This is what I purchased for my boys since we live right down the street and will definitely be returning. There's also a membership option for those who are super enthusiastic about trampolining. I'm not quite there yet, but maybe if I do some pelvic floor exercises trampolines will be my friend again and I'll invest.
All in all, we have had great times there and will definitely be back! I think this Altitude is an amazing, much needed business, and I welcome them with open arms. Actually, I welcome them with open hands… hands to lovingly hold the frosé I'll be sipping next time.
The following two tabs change content below.