Summer is here and in full effect with the heat, humidity and ever present afternoon pop up showers. In Louisiana, with the typical summers we have, the smart move would be to head for the coolest place we can find (anywhere with air conditioning!) but being from the south we have a natural desire to enjoy the outdoors as well. That makes finding a place you can enjoy the summer sun while not sweating all afternoon a glorious discovery!
Last summer not only did I have two small kids but I was pregnant as well so I was in search of just such a paradise. During our hunt we decided to visit the Cool Zoo wet and wild splash park and the Gator Run lazy river inside the Audubon Zoo and were pleasantly surprised how nice it was. We loved it so much we ended up spending almost one day a week there for most of my boys summer break.
The wet and wild splash park is tons of fun for children and adults. I enjoyed the slides as much as my boys did. Highlights include a large climbing structure, several small slides, fountains and lots of animals spitting water. The main feature of the splash park is a sky high alligator who dumps water on the crowd periodically which my boys really enjoyed.
The Gator Run is a 750 foot long lazy river that takes approximately 7 minutes to make your round trip. It features sand beaches, water cannons, water curtains and is only 3 feet deep making it accessible for most children. In addition, the Cool Zoo provides inner tubes for those who would like one.
During my days at the Cool Zoo I learned a lot of tips and tricks that I thought I would share. But a few basics first.
How to get in?
Note: at this time you must purchase your tickets in advance and select your time slot. This can be done on their website. I believe it can also be done by phone but I did not attempt this method. This is subject to change with covid-19 protocols and restrictions.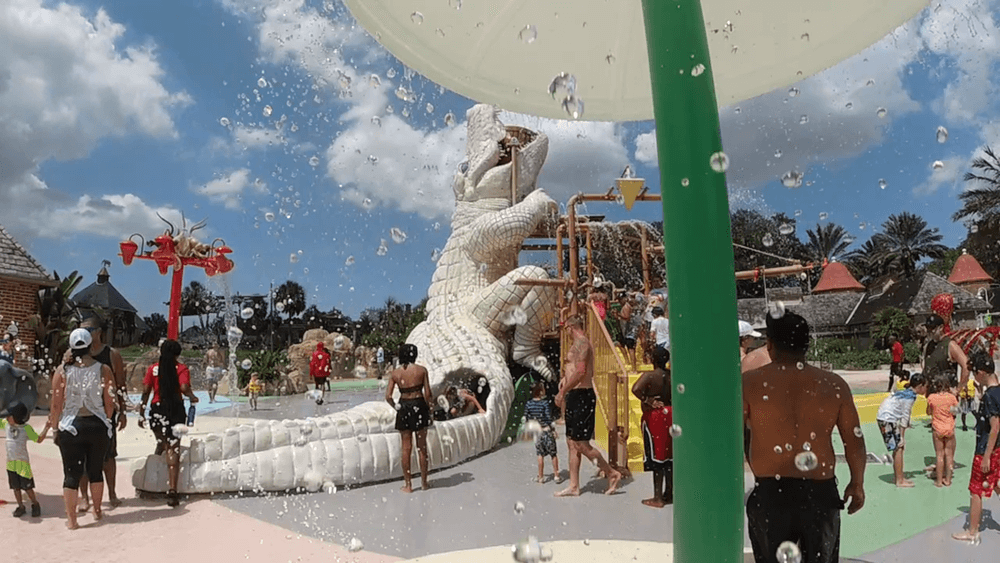 General Rules and Safety
General pool rules apply such as no running, swim diapers and no glass. Other rules include no outside food and drink, lounge chairs or floats are allowed in the Gator Run. If your child is under 48″ they will be required to wear a life vest whether they can swim or not. They do provide life vests. This is one part that I love about the whole Cool Zoo area as they make safety a priority! They have a large amount of staff that are watching and keeping up with the splash park as well as several lifeguards stationed on the Gator Run who are continually monitoring everyone. I personally feel like the zoo has gone above and beyond to provide adequate safety in a sometimes very crowded environment.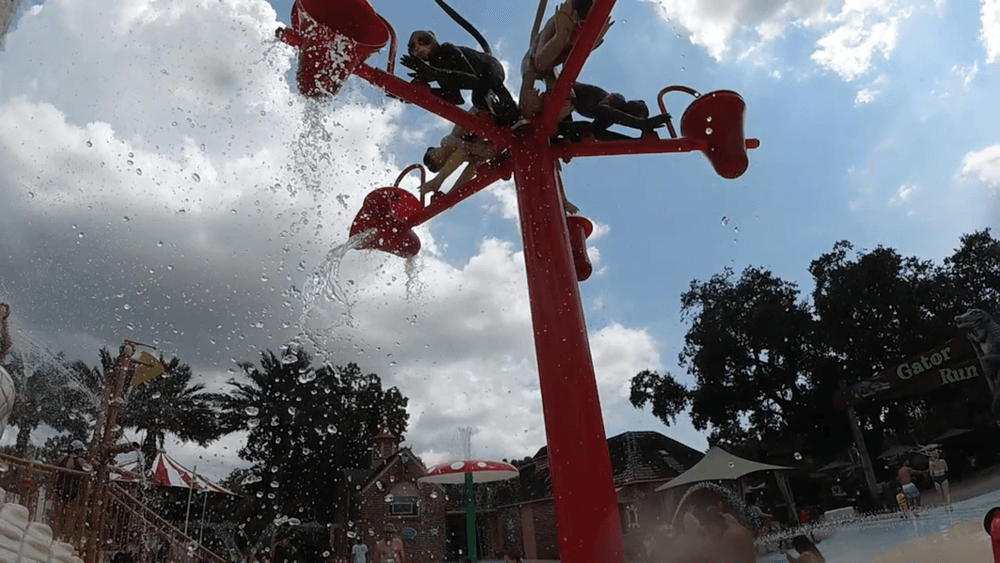 My Personal Tips
Arrive Early
We always got there early. It takes a while to get processed and let in so if you want to maximize your shift, arrive early.
Stake Out a Spot
As soon as we walked in to the cool zoo our first priority was finding a table. One perk of going early is we would usually have our choice. My personal favorite area is a big group of tables between the splash area and the lazy river. There were lots of tables with umbrellas and on the days that it rains having an umbrella comes in handy. However make sure to put something in all your chairs so people won't take them.
Check the Weather
Another consideration is the weather. If there is lightning in the area they will close the Cool Zoo for 30 minutes after the last strike of lightening. If it looks like it will be a rainy day you may want to choose another day to go.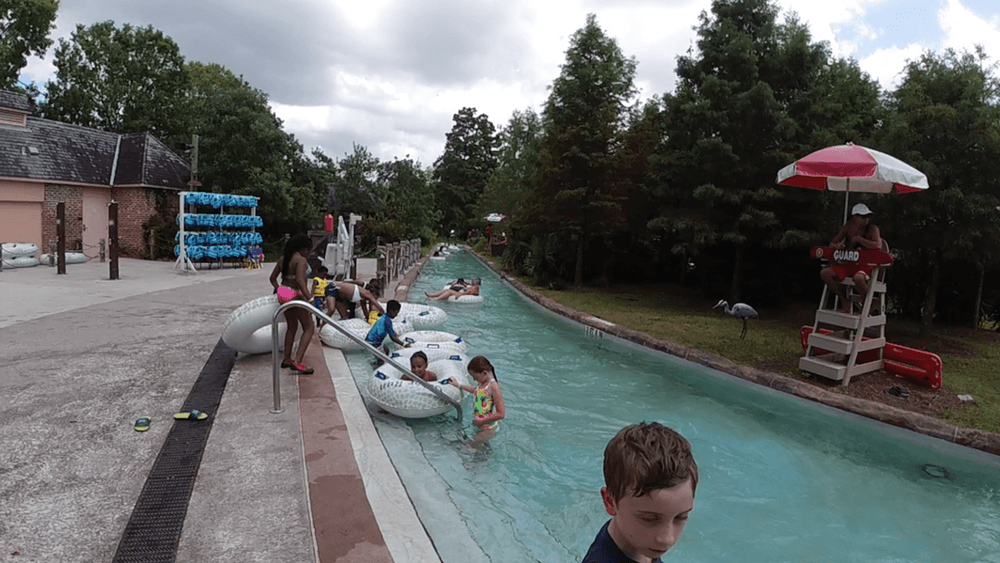 Be Careful With the Innertubes
Which brings me to my next point… The inner tubes. Oh man. They are definitely made for kids. I tried to sit in one and flipped right out of it the first time we got in the water. My suggestion is to get in gradually and don't just try to plop down like I did otherwise you will be fishing your sunglasses off the bottom of the Gator Run!
Get Your Food Early
They also have two food stations in the Cool Zoo. One is located by the splash park and the other is closer to the Gator Run and the big bathrooms. They tend to get really busy at noon, which makes sense, but they only wait on one customer at a time which seems to be what really holds up the line. I made it a point to be picking up my lunch right at 11. They serve things like hotdogs, burgers, fries and icees. I personally loved the cheese fries (that and the above mentioned pregnancy may have been why I didn't fit in the inner tubes).
Bathroom Info
The bathrooms are big and very clean. They also have nice changing tables for people with babies. There is a large family restroom but there is only one so sometimes there is a wait if you need to use it.
Bring Sun Protection
Sun protection. The splash park has many shaded areas but the Gator Run is completely in the sun. I would make sure you have sun protection on hand (rash guards, hat, t shirt or sunscreen) because with the direct sun and reflective bottom it won't take long to get a sunburn.
Beware the Gift Shop
There is a gift shop inside the cool zoo. When you enter the gate it is directly in front of you. It is convenient if you forget something at home like sunscreen but (if your kids are like mine) it is not so convenient if your kids like to buy everything they see! To get around that I told them early on that they weren't allowed to enter if they were wet which actually worked! They would rather play in the water anyway so it wasn't an issue after our first visit but I thought I would pass on my accrued wisdom.
Looking for Other Water Fun Within Driving Distance of the Northshore?
Aqua PARDS in Denham Springs is a quick drive and always a hit with the kids.
Liberty Lagoon in Baton Rouge is a little further out, but it gives commercial water parks a run for their money.
When it rains but we still want to hit the pool, the Kroc Center in Biloxi has a great indoor facility.
For a full list of water fun in our area, please see the list we have right here.