If you are looking for a nice little getaway to cool off for children ages 8 and under, I'd say Aqua PARDS is the place for you! Located at 30372 Eden Church Rd. in Denham Springs, La., the drive is just close enough for a fun day trip. While I say it is for younger kids, my older child enjoyed it just as much as my littles. Sometimes when you think of going to water parks with little ones, it can be overwhelming. The crowds, lines, expenses, etc. can be a lot to handle. We chose Aqua PARDS because it is smaller and well staffed. While obviously I still watch my children, I felt like I could actually lay out off to the side and enjoy my time, because the staff did a wonderful job keeping them safe and in line. Leave it to my kids to constantly have the whistle blown at them! I am not complaining though, it means the lifeguards are vigilantly watching the guests. Here's what you need to know:
How Big is Aqua PARDS?
Aqua Pards is not a huge water park. It is very similar to the cool zoo slide attraction, with a bit deeper water. It is less crowded, and the lazy river is close in proximity, so everything is all in one place. The two water slides were a lot of fun, and the lines for them were not outrageous, like you get at other splash parks.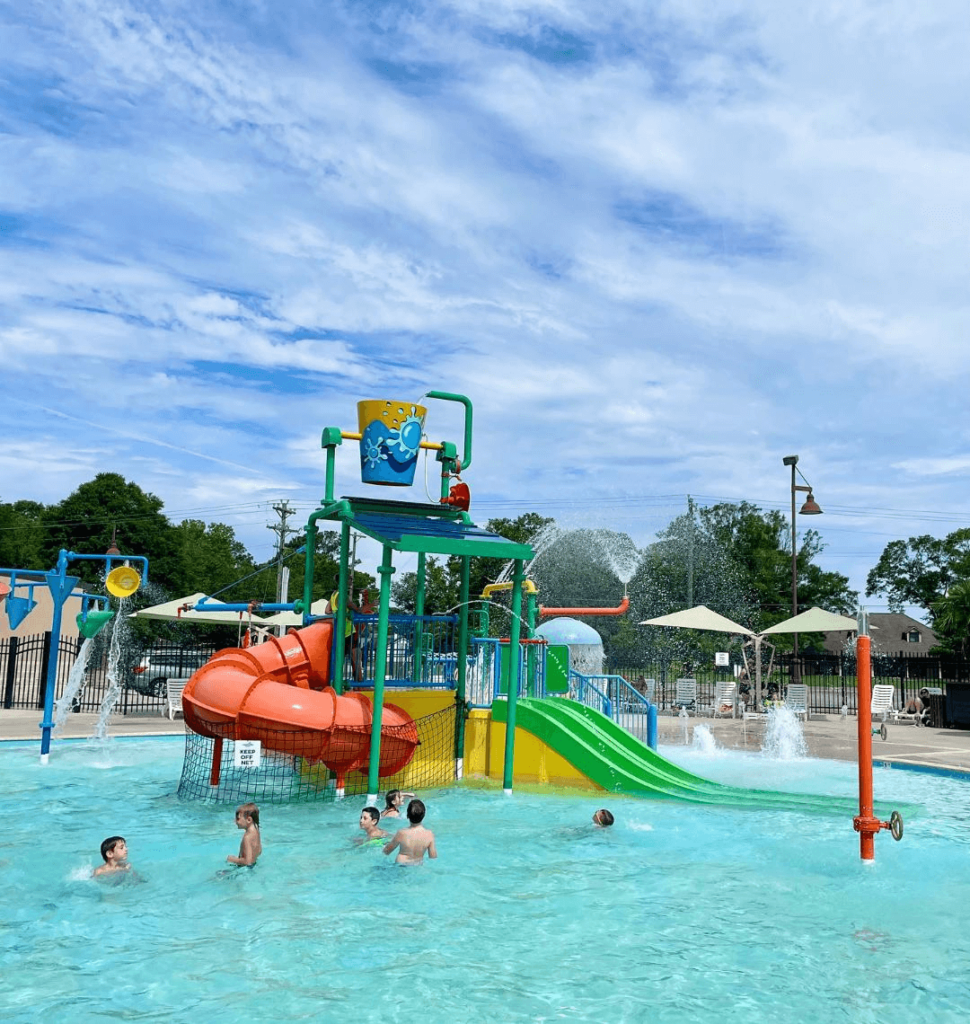 How Much Does Aqua PARDS cost?
The cost is $9 to get in for people who live out of district, and $6 for people in the district. If you have a big family like mine, it made sense to buy the pass for $50 which allows 15 entries. This means each person has 1 entry, so if you are a family of five, you can go three times this summer.
Be prepared to buy lunch and drinks there as outside food and drinks are not allowed, unless you are some kind of snack hiding ninja. FYI, they do a bag check upon entry.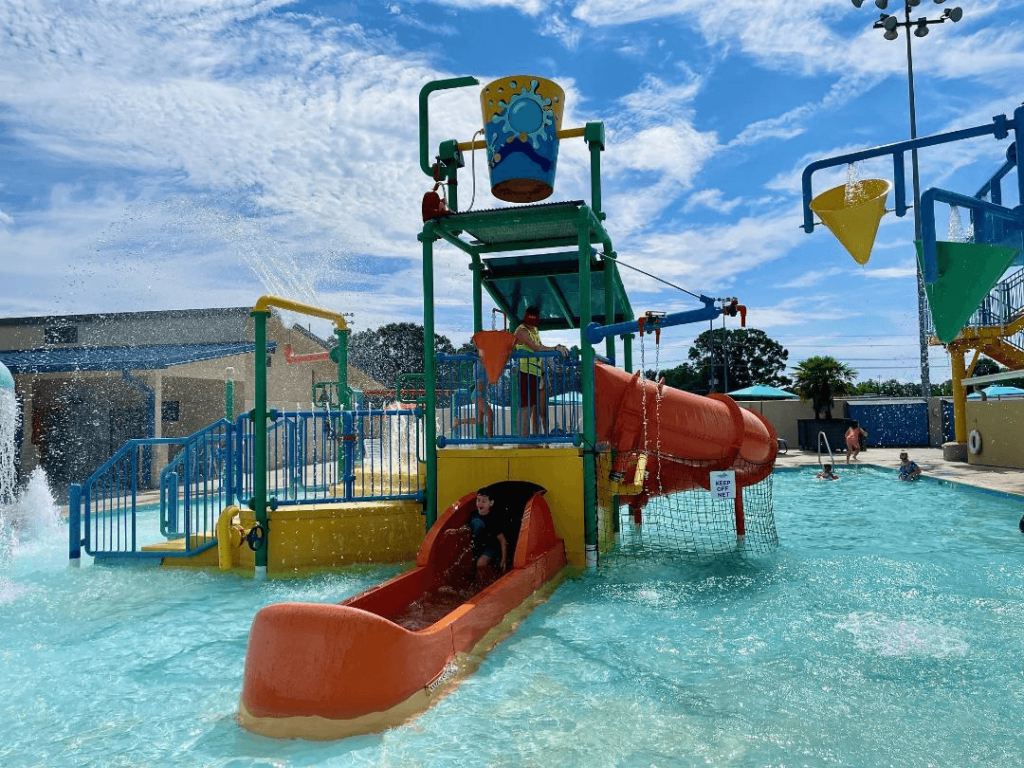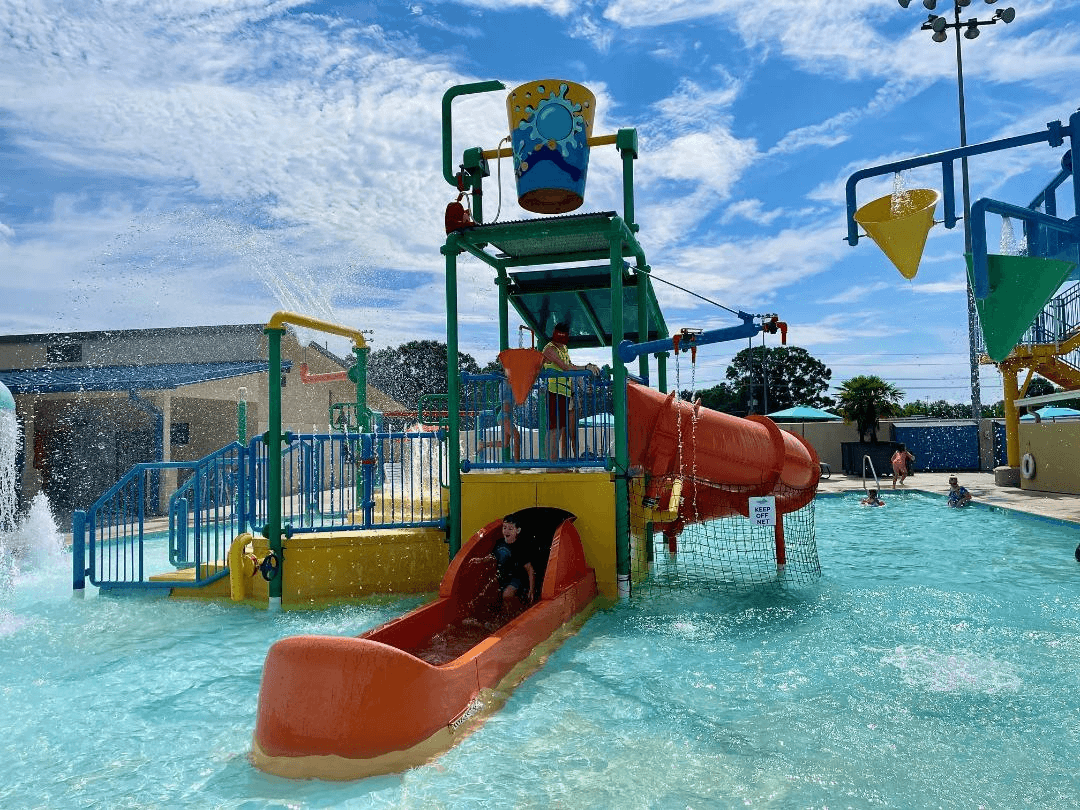 What Time Should I Get There?
The park is open from 10am-5pm daily, except for Sundays when they open at noon. We went first thing in the morning, and that seems to be the least crowded time to go, although late in the afternoon may be a good time to go as well. The park does get full and you may have to wait to enter. I called to ask how frequently this happens and they said week days are pretty safe. Weekends it's best to get there at opening to avoid this.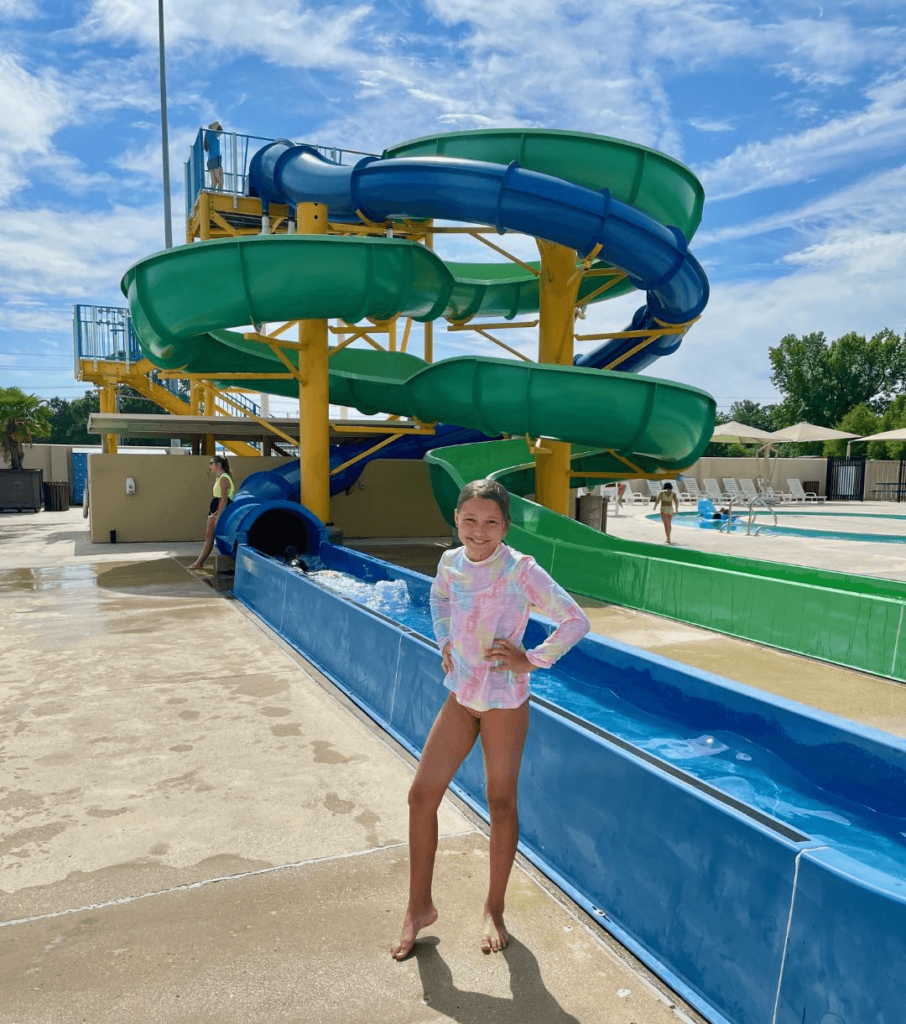 Rentals at Aqua PARDS
If you'd like to rent a life jacket and locker, the cost is $5 total. Please note that Aqua PARDS is picky about the flotation devices they allow. They do not allow water wings or other arm floats. There were lots of umbrellas, and we had no trouble finding a table. If you have a bigger party, you are able to rent a pavilion for $25.00 an hour.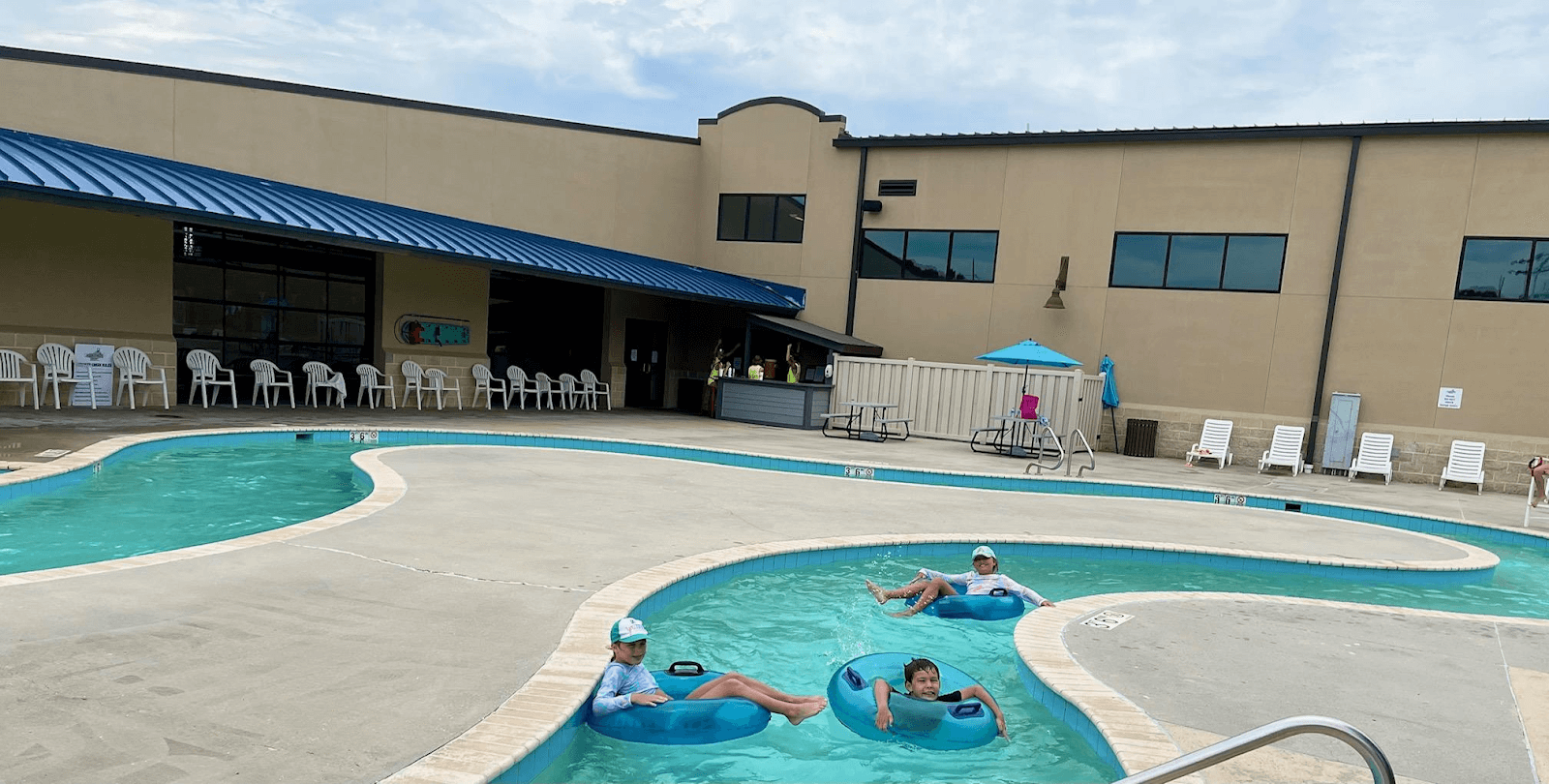 Is Aqua PARDS Handicap Friendly?
The Zero Entry pool is great for people with push wheelchairs because they can push in to whatever depth they want. They are also very accommodating about getting a person who is physically disabled in and out of the lazy river. The locker rooms are kind of small though and there's no family restroom.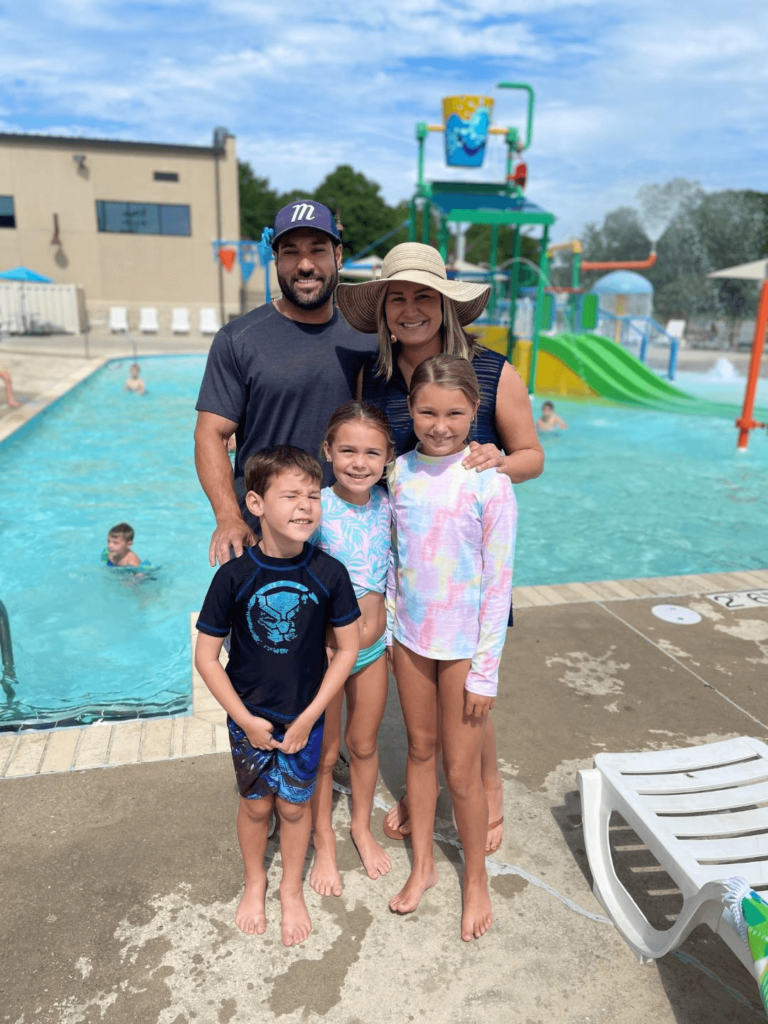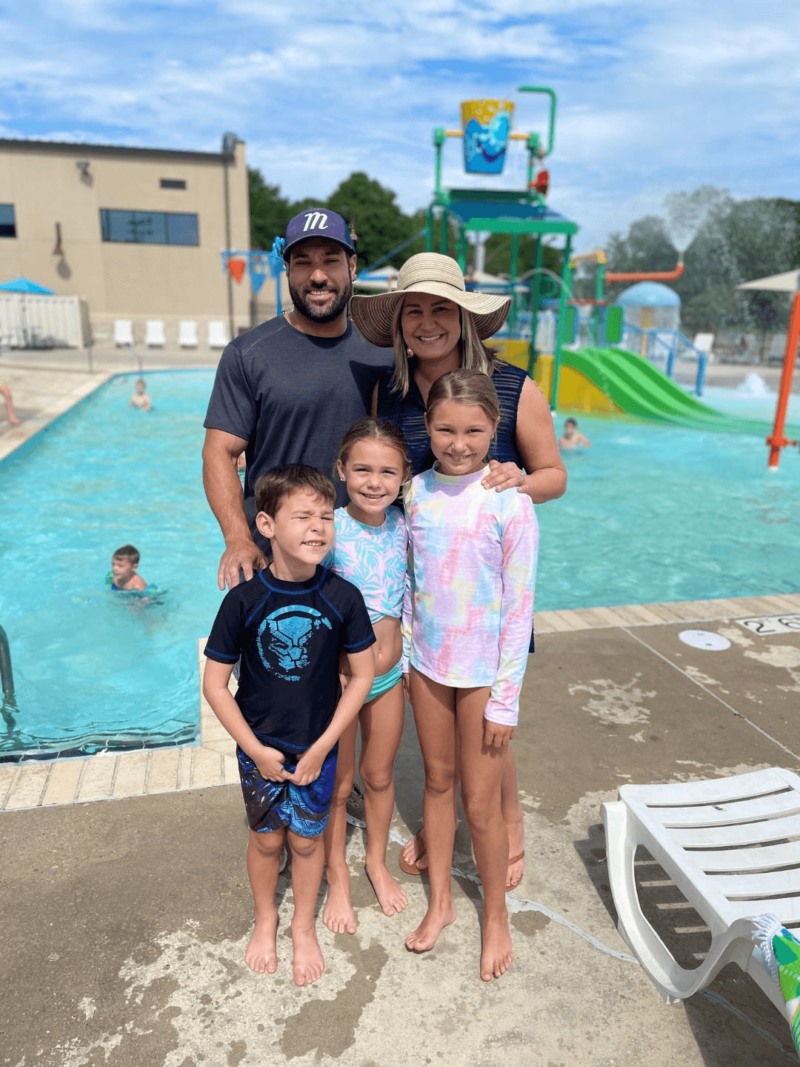 Addition Information
In the lazy river, they make everyone stay in a tube. This was kind of nice, because you don't have to worry about kids swimming under your tube, or getting trapped. My kids were bummed they couldn't swim in the lazy river, but as an adult, I liked this!
Three hours here was plenty of time for my kids to enjoy the amenities, wear themselves out, and head home.
To read a full list of rules and what is and isn't allowed to brought into the park, see their online flyer here.
Last, but not least, the park is located in Denham Springs. From my house it was about forty-five minutes, which is equivalent to the drive I would make to go to any other local water attraction. For more information, visit http://pardsla.com/aqua-pards/.
Other Water Parks to Explore
Liberty Lagoon in Baton Rouge is close to Aqua PARDS and looks super-fun as well.
In the other direction, the Kroc Center in Biloxi is the only indoor water park I know of in our area.
Also in Mississippi, Buccaneer Bay is a fun day trip that's right over the state line!
If you're looking for a larger park, we've got some great tips for visiting Gulf Islands right here
And, of course, don't forget about Cool Zoo located inside the Audubon Zoo in New Orleans.
The following two tabs change content below.