A few years ago I got tired of paying for country club membership just to use the pool area for the summer, so I got memberships to Gulf Islands Waterpark for our family. It is one of our favorite weekend activities during the Summer. From Mandeville, it is an hour drive. From Slidell, it's about forty minutes.
Get There Early
Tables are a precious commodity that goes quickly. If you have a family with you, you will want a table for your stuff and food. On the weekends, this will mean that you need to get there at opening. On weekdays, this means close to opening.
What to Bring
I suggest bringing lots of sunscreen, a hat, clothes to change into, and either cash or credit cards. They do not allow outside food or drinks. They provide life jackets and tubes. Water toys are not allowed. They will check your bag as you enter, so be sure to follow the rules. A listing of all things that are allowed and not allowed is on their website.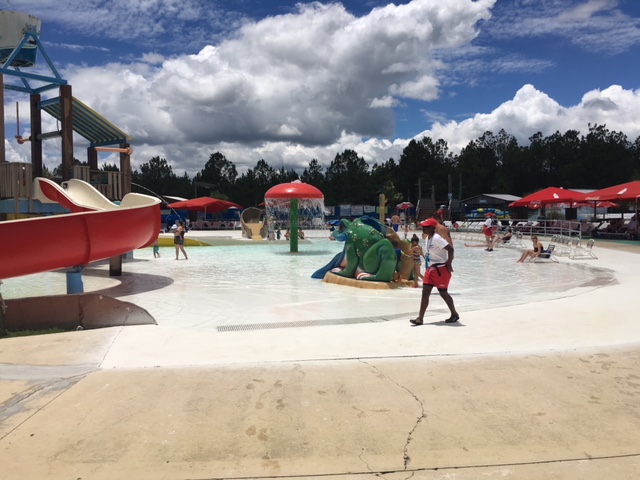 The are Two Toddler Areas
They have a huge area in the center of the water park for younger children. It has four smaller waterslides. They also just opened a new smaller area to the right by the larger water slides. Your toddlers will love these areas.
Height Requirements
Some of the water slides have a 42 inch height requirement, so keep that in mind with your little ones.
Plan for Meals
You can go eat and get back in if you would like, but I can never get my kids out of the pool. The food lines tend to get long on the weekends. If you have two adults, I am a huge fan of one adult getting in line with an order and the other staying with the kids. Trust me: you will be glad that you chose this option. We have the kids do one or trips in the lazy river while I get the food.
Buy a Season Pass
A season pass is worth the cost if you go just two times during the Summer. They are reasonable and worth the money to me. I would highly recommend investing in one. As the Summer progresses, they go down a little in price. We got ours at a discounted price before the Summer. If you are not sure if you would use it and plan to visit, they will discount the price the day of your visit. This is a good option to see if the pass is right for your family.
We try to go every couple of weeks. My kids are big fans. On our way home, we always stop for treats at the Diamondhead Dairy Queen that has Orange Julius products. I hope that this helps you plan the perfect little getaway for your family. It's a state away but only takes an hour to get there.
If you're looking for other water fun activities on the Northshore and beyond, we have a full list right here. If you looking for other fun things to do in Mississippi, you should check out our Mississippi travel page!
The following two tabs change content below.
Latest posts by Lisa Saragusa (see all)