If you are from Greater New Orleans or the Gulf Coast, you probably went to Buccaneer State Park as a kid—piled in the back of a pick up truck headed for Buccaneer Bay Water Park or covered in Skin So Soft ready to camp out. Following Hurricane Katrina, they have restored so much of Buccaneer State Park and it's one of our family's top camping getaways year round. The Water Park is pretty awesome for a quick day trip to cool off.
Buccaneer State Park is in Waveland, MS. Whether it's camping or going to the Water Park here are a few things to get you thinking about a trip to the coast:
Buccaneer State Park Water Park
The Water Park is only open from Memorial Day until Labor Day. The full schedule can be downloaded here. From about August 2nd (around the first day of school for many) until Labor Day it is only open on weekends, but until then, it's open daily. Gates open at 10AM and close at 6PM. That link above also has pricing, with discounted pricing during "twilight" hours (4-6PM). We wish it would open Easter weekend, but it hasn't happened yet. The Wave Pool is super fun and we always put on a provided life jacket. There are Lifeguards who actually put them on your child to make sure they are as safe as possible. Currently they aren't providing inner tubes due to covid-19 so be sure to bring your own. They did blow ours up for us, though.
Other Activities for Day Visitors at Buccaneer State Park
They have a pretty cool playground before you enter the campgrounds, Frisbee Golf (or Flying Disk), and some pretty nice nature trails. The further into summer you get the more horseflies you will see, so we hike in the "cooler" months. There are lots of shelters and picnic tables. There is a fee of $4 a car to enter Buccaneer. Campers have their own fees. See the website for details.
Rules: Just like most parks, you can't have glass out and about, so if you need a brew while watching your children monkey around on the play sets, cans, please. Bring your pooch! But keep your furry friend on a leash please. Clean up after yourself; this is a sanctuary for many animals and lots of different habitats in one area. We are visitors to their home. As for the Water Park, no adult beverages. You can't really bring anything in. We usually have a water bottle each I admit. If you are suspected of intoxication they will remove you from the Water Park. We are talking high water slides and the wave pool–it's just too dangerous to imbibe.
What do we bring? Skin So Soft and deep woods bug spray if you are hiking. We also wear waterproof shoes when we hike. The trails skim some wetlands so it can get muddy. If you wear sneakers, wear older ones. Sunscreen! Always sunscreen. There are a lot open areas, so sunscreen is highly recommended for just hanging out. For the Water Park, some cash for the snack bar (hotdogs, ice cream, etc), sunscreen, a hat, and towels! There are lockers for your valuables, but try to leave what you can in a locked car or at home/camper.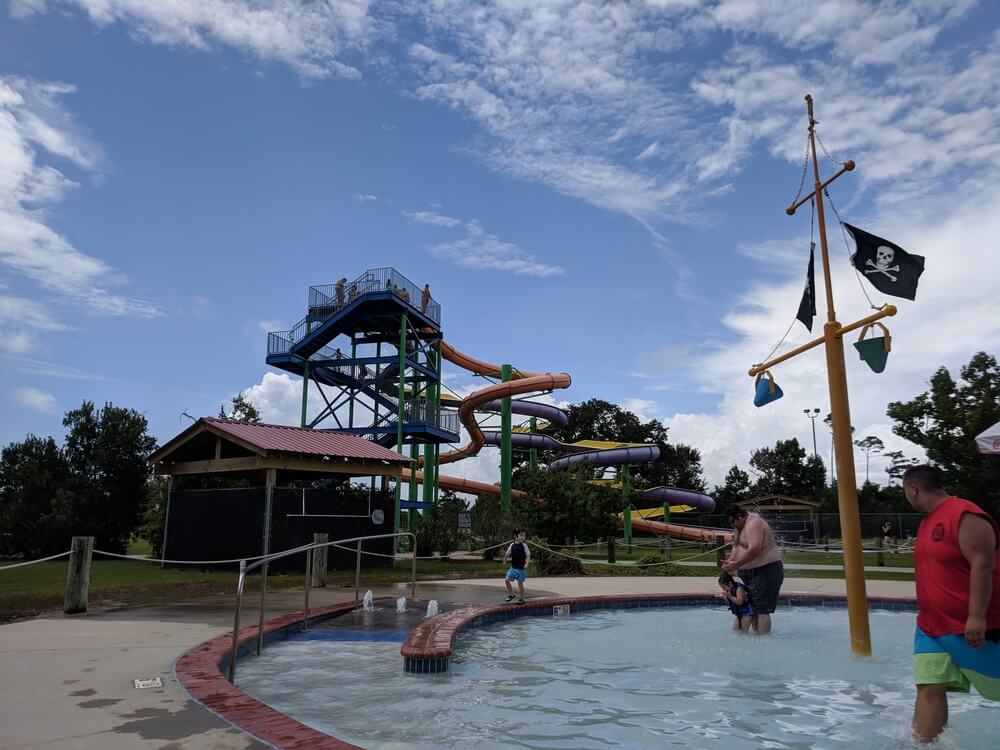 Looking for more water fun within driving distance of New Orleans? We've got a full list right here.
Rules at Buccaneer State Park
Camping is SO great at Buccaneer. We have a "glamper;" I did my share of tent camping in my youth through twenties and have had enough I think. What we love about Buccaneer is the size of the campsites. You get a lot of space. Often people are right up next to you at campgrounds, but not here. Much easier to bring Duke (our giant Golden) when we have that size space to let him roam on his lead. They have full hookups (camper lingo) and the bathhouses are really well placed if you are tent camping or don't have a shower/toilet with your camper. It's always clean. There is also a pool for the campground within that perimeter.
This is just a basic rundown for you. You can visit their website:
https://www.mdwfp.com/parks-destinations/state-parks/buccaneer/ for more information. Come ride the waves, dudes!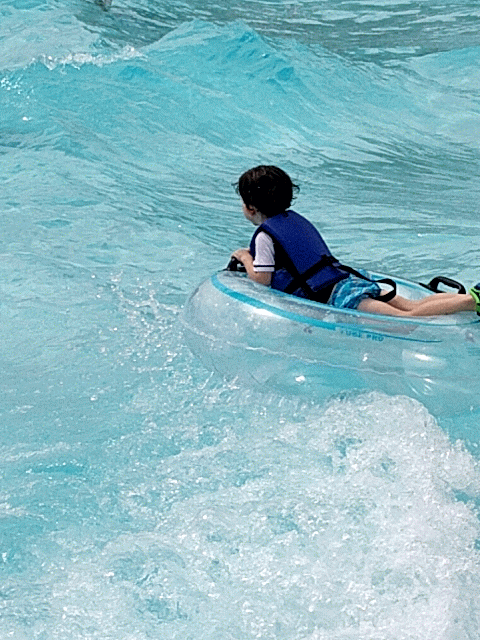 Other Water Park Fun Within Driving Distance
Gulf Islands Waterpark is one of the larger parks on the Mississippi Gulf Coast. We've got some tips if you're thinking of visiting them here.
Liberty Lagoon in Baton Rouge is operated by their rec department and offers a lot of fun for a pretty good price!
In Denham Springs, Aqua PARDS is a smaller park operated by their recreation department. We have a post here of everything you need to know before you go.
In New Orleans, the Audubon Zoo features a waterpark within the zoo–Cool Zoo! Our writer Tiffany gives her best tips for visiting Cool Zoo in this post.
Learn More About Local State Parks
Bogue Chitto State Park to our north is an ever-popular destination for our reader–whether it's for camping or just day trips. You can read all about in this post by our resident camping expert, Gigi.
The following two tabs change content below.