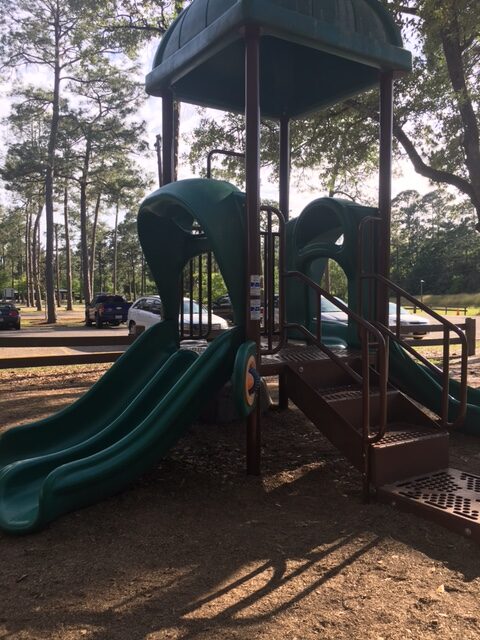 Details
Location: 105 Robert Rd. Slidell, La 70458
John Slidell is a park with multiple playsets, walking trails, and sports fields. It is located off of Robert Road. The entrance is directly before the overpass to Brownswitch.
Unique features: Four playsets, two swing sets, walking trail, sports field, climbing dome, and a roundabout (merry-go-round). One of the playsets has a ramp leading onto it and a braille learning station, which adds additional accessibility for play. Another of the playsets is geared towards 2-5 year olds and has a small rock climbing spot and two slides.
Swings: Yes. One full set of regular swings, and two sets of bucket swings.
Surface: woodchips and sand throughout with rubber underneath the accessible playset.
Bathroom: Yes and concession stand during certain events
Shade: Plenty of shade with trees
Parking: Plenty of parking available right in front of the play area. 
John Slidell Park Review
John Slidell Park is off Robert Road in Slidell. The business of the road is offset by the tree-covered oasis that is sprinkled with playsets, swing sets, and sports fields. When you first drive into the park you'll notice a large parking lot off to the left in front of the playsets and sport field. One of the unique features of this park is the number of playsets and the accessibility to them. One playset stood out to me above the others because it has a cement ramp that leads onto the play area, which is a few feet from the parking lot. This specific playset also has a braille learning station that was incredibly easy to understand.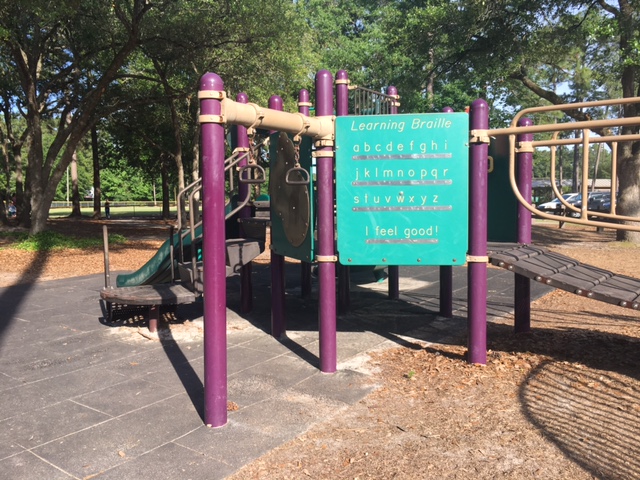 There were two sets of swings for both big kids and infant/toddlers and a playset specifically designed for 2-5 year olds with mini slides and a little rock climbing spot. On top of this there were still two other playsets for bigger kids, a climbing dome, and a roundabout (merry go round). The play area is located in front of the one of the sports fields so you have a great chance of being able to catch one of the local teams practicing or playing. One of my favorite features of this park is the access to the walking trail. These walking trails are the perfect opportunity to take a few deep breaths and escape from the hustle and bustle of the everyday grind. I am a huge fan of picnicking at parks and John Slidell Park has a great little covered pavilion with restrooms and picnic tables.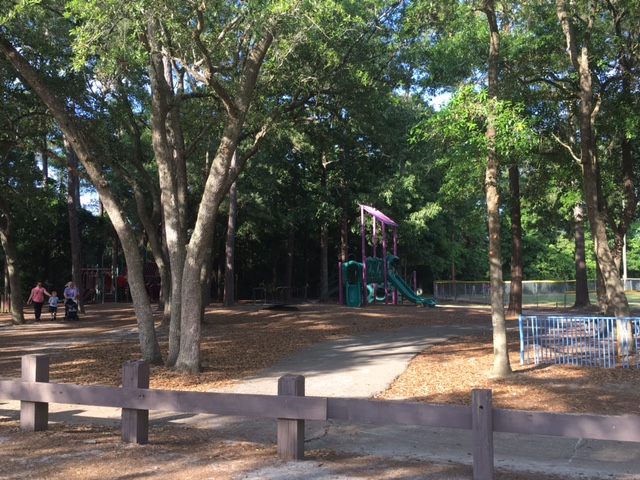 I see myself returning with my son to play on the playgrounds and walk the trails. I've also attended a few volunteer events at the park and they have always made for a nice family outing. I would recommend this park if you've got children at multiple ages, are looking for a nice little get away from the hustle and bustle, and if you are trying to get some exercise outside! There is a little something for everyone at this park and I would recommend making the trip to try it out.
The following two tabs change content below.