I love to plan parties. I often joke that my love language is party planning. I had a theme in mind for my twins' first birthday party before they were born, and while my memories of the last few years are slightly fuzzy, I'm pretty sure I decided on the theme for their second birthday party before the ink was dry on the thank you notes from their first birthday.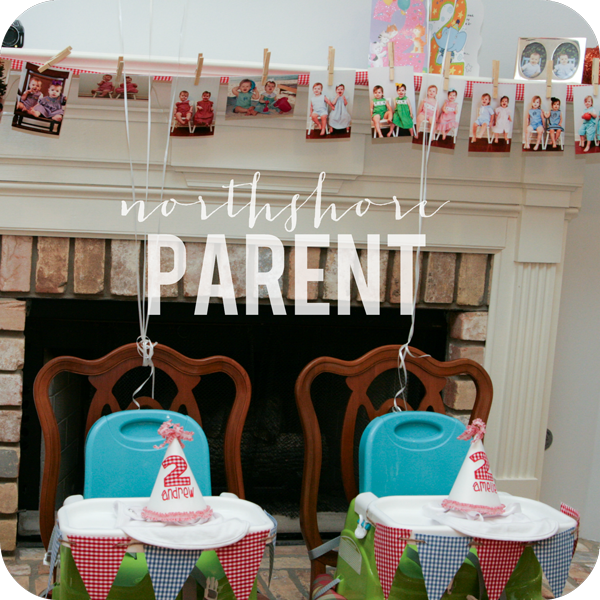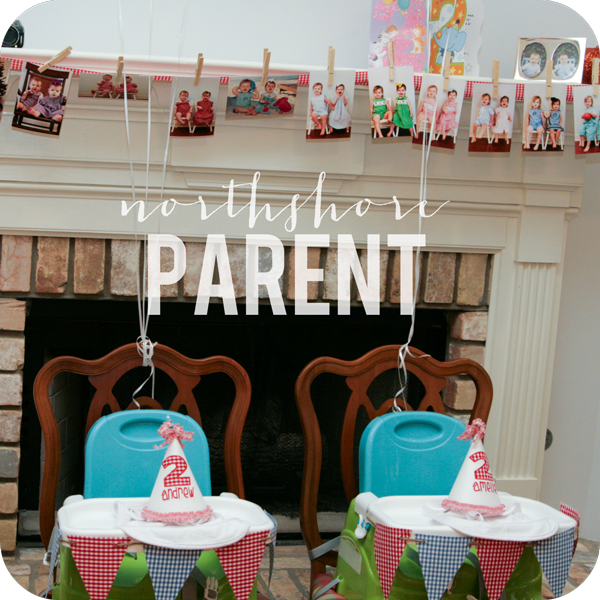 While poking around on Pinterest, I came across the perfect theme to celebrate a second birthday party for a boy and a girl: Old MacDonald's farm. Here is how we did it:
Invitations
While I consider myself crafty, my skills hit a brick wall when it comes to anything graphic design related. Fortunately, there are legions of designers on Etsy and I was able to find the perfect invitation with boy and girl farmers on it, even with the same hair color as my twins. She emailed the file, I printed at home on cardstock and, like that, I had the perfect invitation to set the mood for farm-themed fun.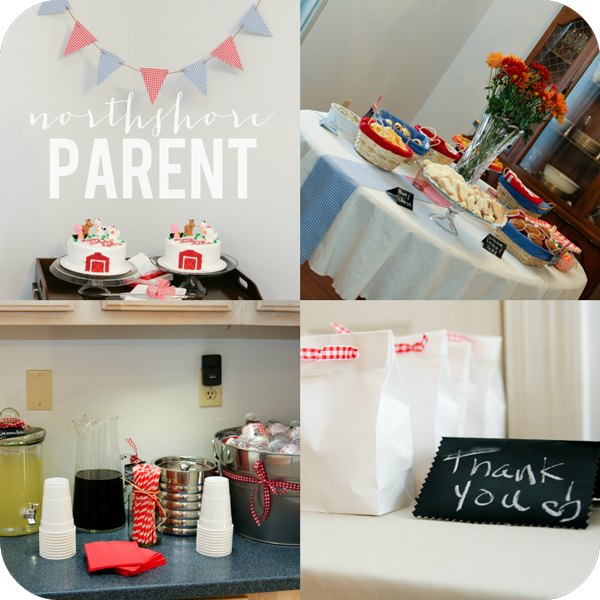 Food and Favors
Our party was in the late afternoon, so I didn't serve a full meal. Instead, I did finger foods and everything was named to tie in with the party. The menu included Old MacDonald's mini mac and cheese, pigs in a blanket, "Chicken feed' (Annie's snack mix), and finger sandwiches cut in the shape of animals with cookie cutters (bless my husband for going along with me on that one because that was far more time consuming than I anticipated). Favors were homemade oatmeal cookies in white paper bags tied with red gingham ribbon. The cakes were from Mandeville Bake Shoppe who did a fabulous job of working with me to design a cake from pictures I brought them, using cake toppers from Amazon.
Decorations and Details
Something about gingham screams "farm" to me, so lots of the decorations and accents in our house were red and blue gingham. Our guests were met at the door with a red gingham rag-tie wreath (with a monogrammed ribbon hanger, because, if it's not moving, monogram it) and items like a gingham table runner, gingham ribbon accents on wine glasses, and red and blue gingham pennant banners helped carry the theme throughout the house. And of course, there can't be a farm-themed party without animals; a centerpiece made with wooden, pre-painted animals from Hobby Lobby and a pig-shaped chalkboard (again, bless my sweet husband for helping me with that creation) served that purpose.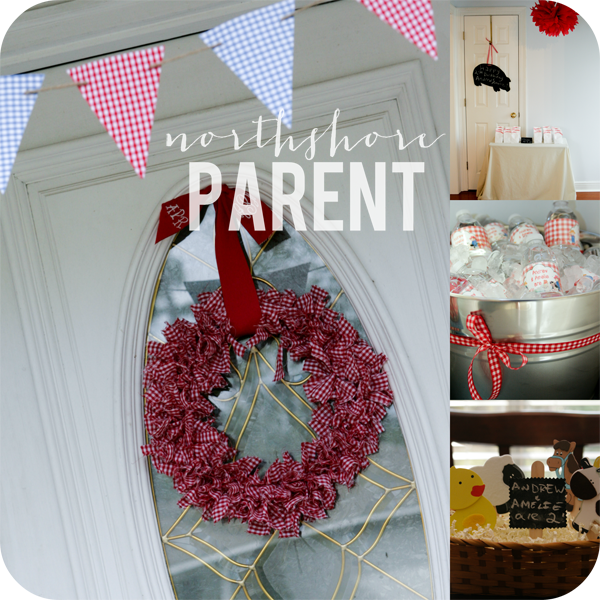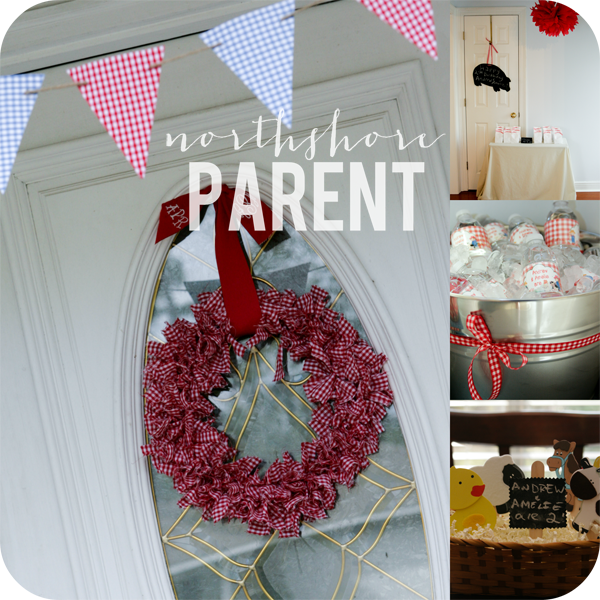 The red gingham accents continued in the bibs and hats for the birthday babies, both of which had a red gingham applique number 2, and the birthday child's name. (Once I get going with my embroidery machine, I have a hard time stopping) We sang happy birthday (twice, in birth order) in front of the fireplace underneath a banner of photos from months 12-24, strung on a red gingham ribbon with clothespins. Other accents included red and cow printed balloons (thank you, Mandeville Party Company for coming through, despite the helium shortage) and red tissue paper pom poms (made using a Martha Stewart tutorial).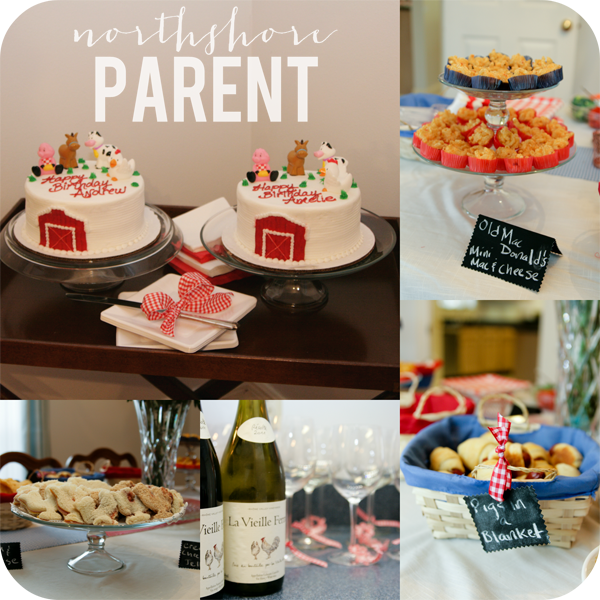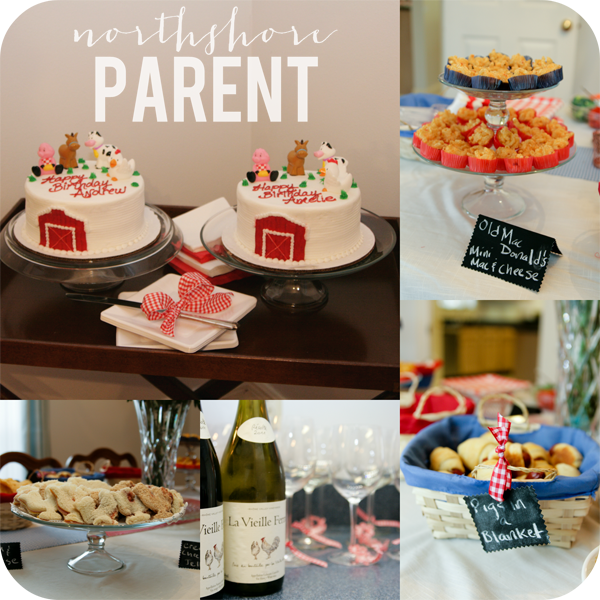 While all of the little details were time consuming (there were many late nights, and just as many mornings when I woke up with a crafting hangover) none of the accents were costly. Almost everything was made with a few yards of fabric and rolls of ribbon from Hobby Lobby, cardstock and chalkboard paint. The paper goods and baskets and other odds and ends were from
Dollar Tree. Detailed doesn't necessarily mean expensive! Having a low-key party at home with a small group of family and friends meant lots of time to socialize, eat, and celebrate our sweet babies' second year. That night they went to bed exhausted, but with huge smiles on their faces, and awoke the next morning talking about their Old MacDonald party.
And now, on to the plans for their third birthday party…
Do love this birthday party, but want more ideas? We have tons on our party inspiration page. And if you're looking a party venue, or entertainment please check out our full Birthday Party Guide.
The following two tabs change content below.
Aimee
Hi, I'm Aimée, the Special Projects Coordinator for Northshore Parent. If there's a fun giveaway, a kids' clothing review, or a special event, there's a good chance that I'm responsible. I'm a lifelong resident of St. Tammany (except for time at LSU for undergrad and law school) and a mom to 3 little ones, ages 6, 6 (yes, they are twins, and no, they are not identical) and 2. Thanks for reading Northshore Parent and being a part of our community.