I love my husband beyond all comprehension, but he is not what you would call an "idea man". Especially when it comes to celebrating special events or the act of gift giving. That is usually my role in our family unit. He's very adventurous at heart but he's definitely more of a, "well, what do YOU want to do?" type of person. So this year for Mother's Day I was pleasantly surprised when he approached me with an idea of his own. To be honest, I absolutely hate the arduous task of finding a place to eat. Like, does anyone really enjoy the mental ping-pong match of choosing a restaurant? I try to get a jump on it a week or so before the event, so that I can get enough hemming and hawing in before the decision. I was so shocked when my husband swooped in and took this burden away from me. "Why don't we have breakfast at that place you like in Hammond?" Courtyard Café is, indeed, a place that I like very much in Hammond. To be honest, I had completely forgotten about their food offerings up until that point and I was flabbergasted that my husband even remembered.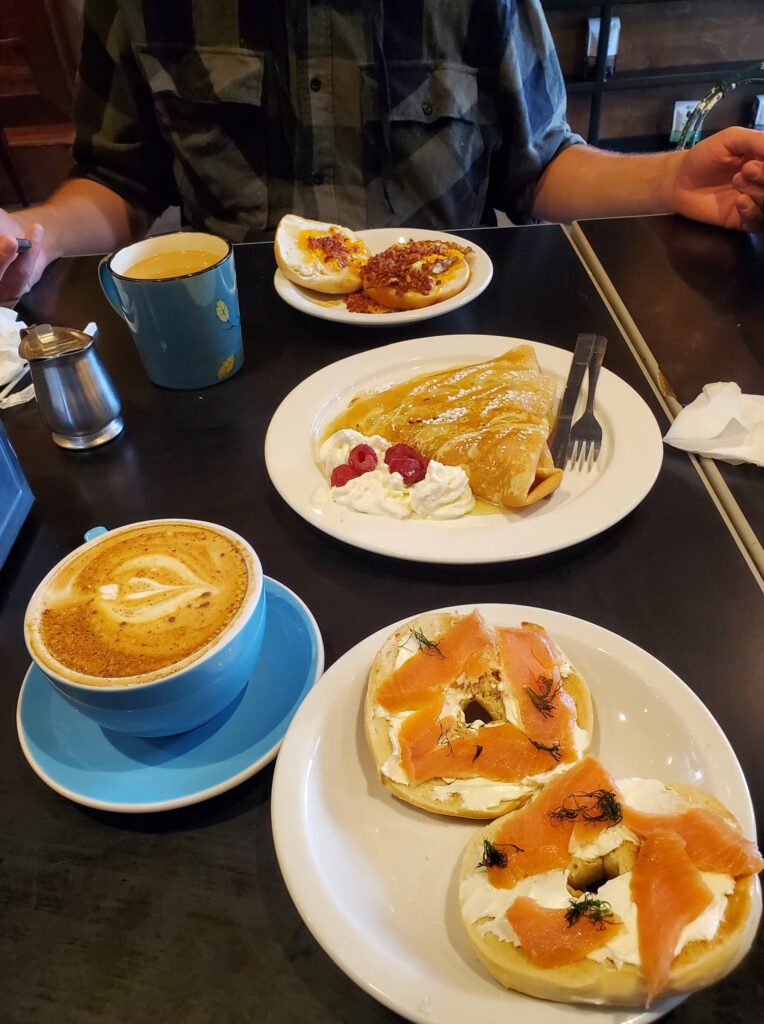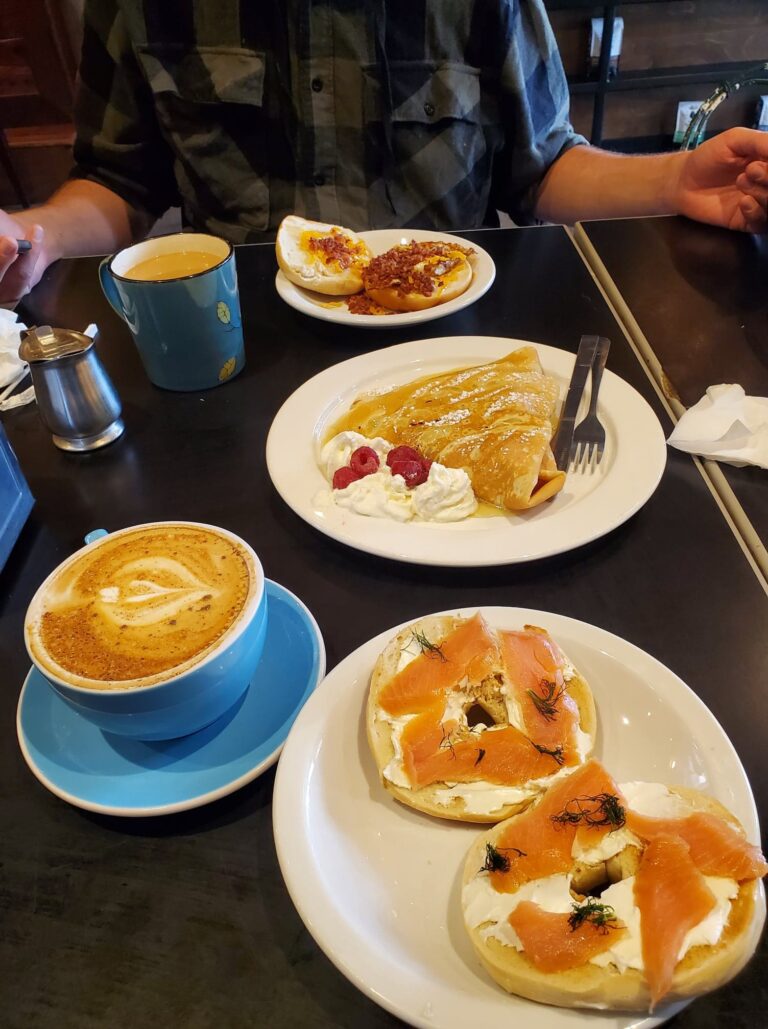 The immediate draw to Courtyard Café is the location. It's aptly named; a little white picturesque outlet nestled in between the other historic buildings in downtown Hammond with a secret garden type courtyard out back. It sports that social media worthy aesthetic that draws in younger crowds but is appreciated by all age groups. The welcoming dark wooden bar, the ample natural lighting, the mix-matched coffee mugs all thoughtful details from an inspired vision. And yet it's a pretty low-key place, not too busy, and chilled out enough that if you needed to work or study there, that's definitely on the table. From what I have observed it's heavily utilized by the college kids but I've also seen quite a few professionals stop by on their lunch break, or have a little meeting at one of the tables. There are plenty of charging stations to go around and if being around other people isn't really your thing, the courtyard offers a secluded, shady, outdoor option. My favorite detail of the courtyard is the Japanese magnolia mural wall that lines the back alley and leads out into the front of house outdoor seating. It doesn't seem like a very big place until you start exploring, which I highly recommend that you do.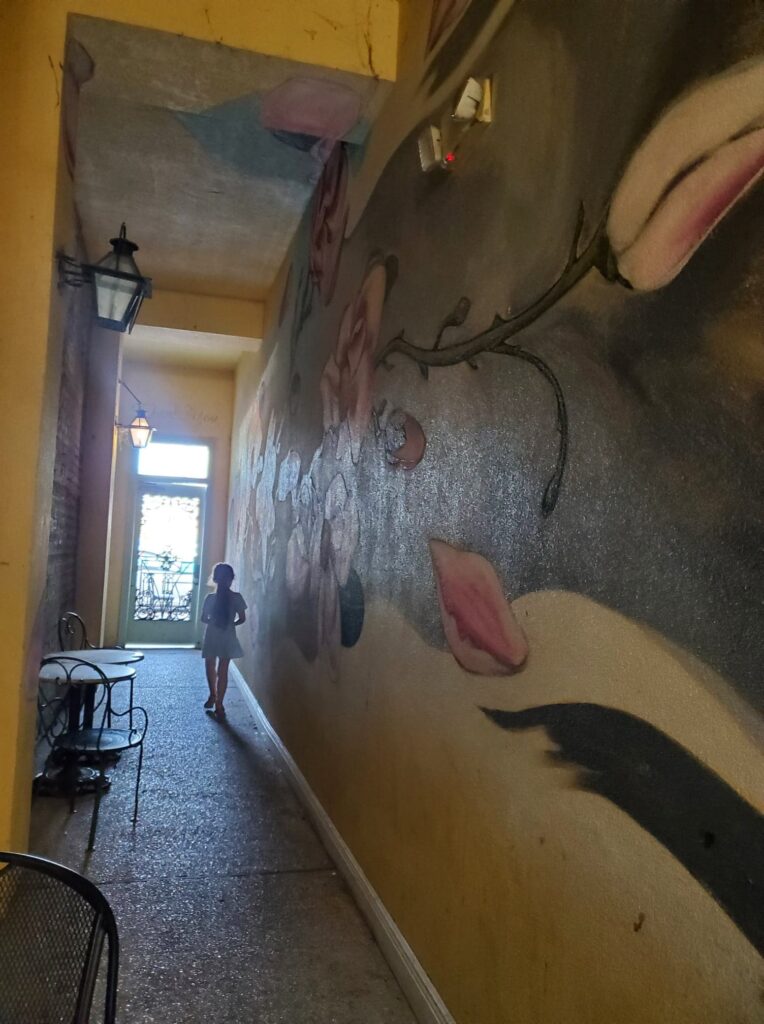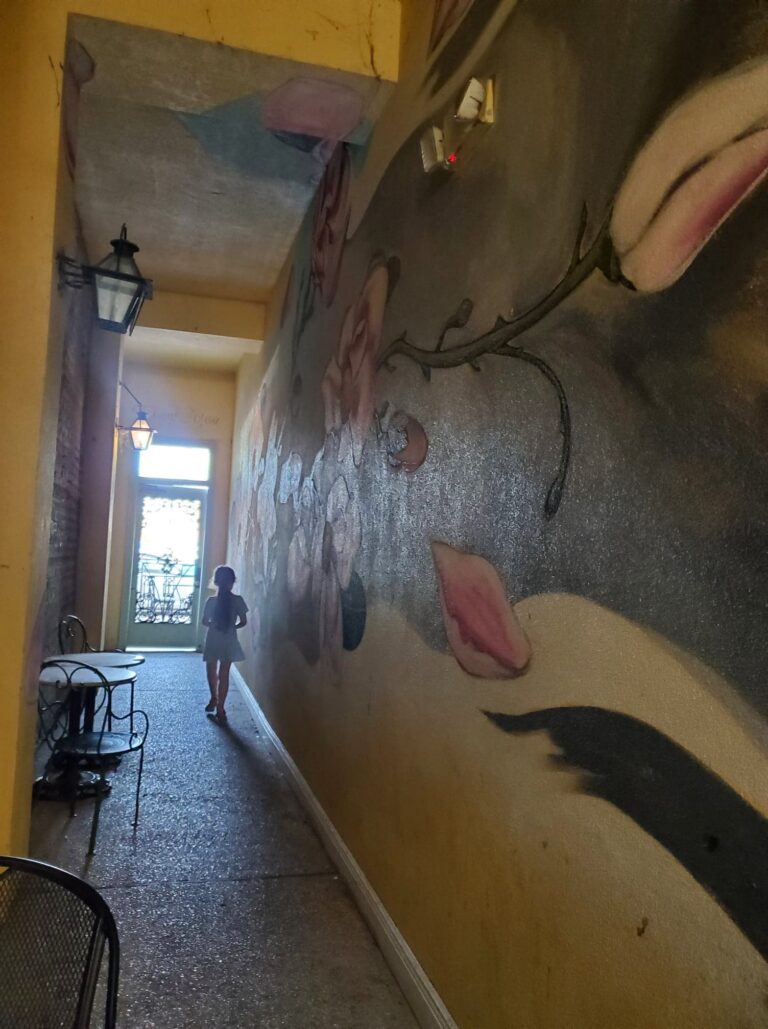 As far as the food goes, they have great coffee, serving a local offering, Mojo Coffee Roasters based out of New Orleans. They have a wide variety of types of drinks neatly displayed and explained on their sprawling blackboard menu behind the bar. But probably most exciting of all, their menu of crepes and bagels gives Courtyard Café their own unique café experience. Once you try one of their crepes it becomes clear that it's not JUST about the coffee. Offering both sweet and savory crepes as well as a few breakfast bagel sandwiches, there is quite a bit to choose from. Everything is made to order behind the bar by one of the super friendly employees, who are always very sweet to my daughter.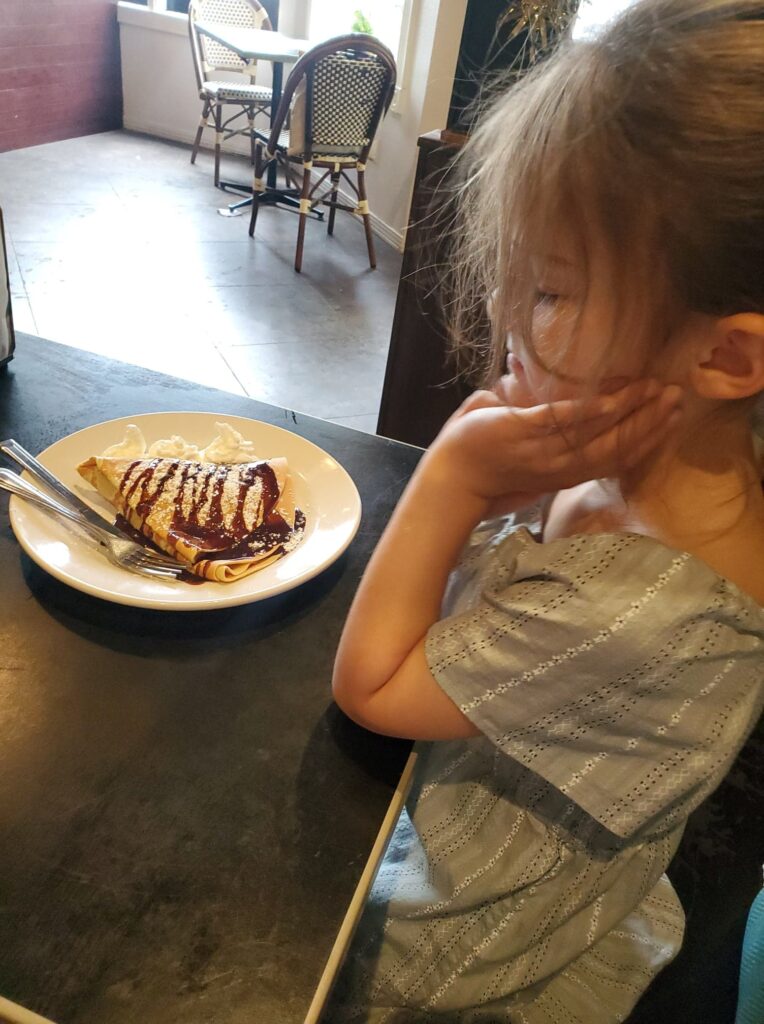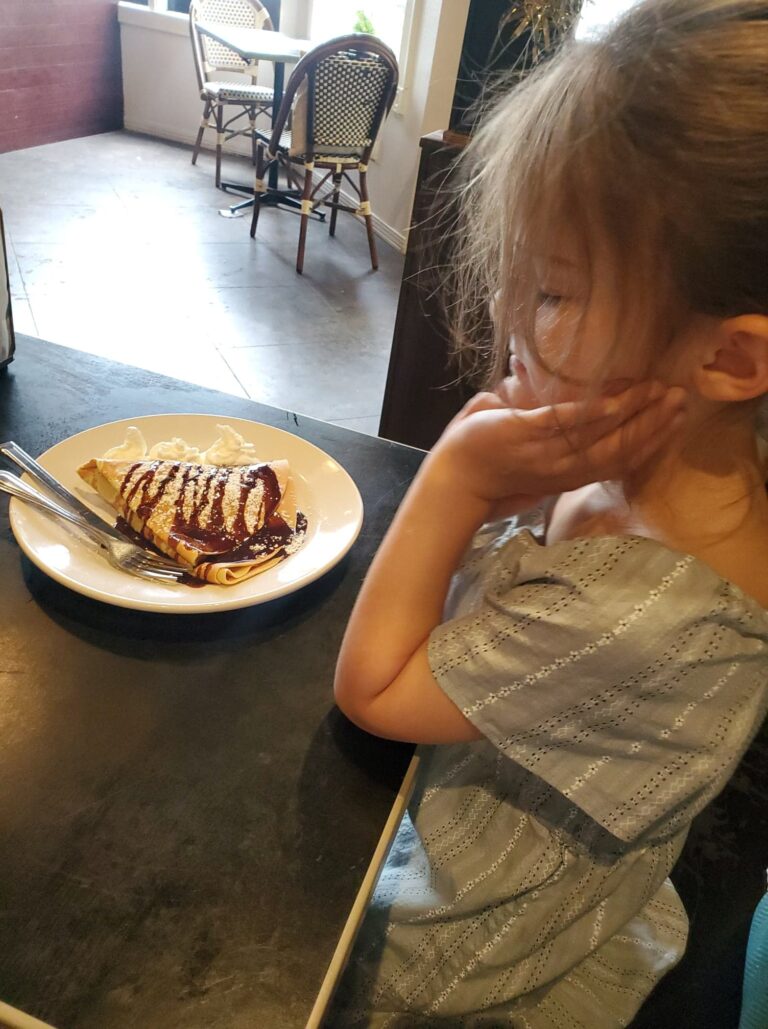 My personal favorite is "The Fancy One," the smoked salmon, cream cheese, and dill combo bagel that is pretty much the ultimate breakfast, if you ask me. Probably, most surprising, is the prices. You'd be hard-pressed to find anything on a menu with smoked salmon under $12 at similar places. Courtyard's bagels run from simple at $3 to a little more complicated at $8. And their crepes are just as reasonable. Mother's Day breakfast for three, including specialty coffee drinks, ran us a little over $30, an excellent bargain for something that felt really special. Of course Lily was over the moon to have a giant s'mores pancake drizzled in chocolate syrup for breakfast, and we allowed it because, you know, it's a holiday experience.  (Any time I write a food review it's always about my child eating a lot of sugar; I swear we eat vegetables.) The entrees do not come with sides, this is more of a coffeehouse experience, so it was not my immediate choice for Mother's Day breakfast. When we think of going to have brunch for Mother's Day we tend to think of over-the-top meals with mimosas, and maybe that's for some people. That's definitely what I've been used to in my family. There was also the worry that this place would be too fancy or too hip to bring my five-year-old. Lily is all about not sitting still with her legs in the air, talking loudly, and burping in public. I really didn't want to cramp anyone's style. But I was pleasantly surprised to see a few kids hanging out with their parents and their menu is most definitely kid friendly. It really is an accessible place with a lot of options for differing needs. 
This year's Mother's Day definitely stood out and it was because not only did my husband remember how much I loved this little café, but it was an intimate, quiet experience where I got to really enjoy being with my family. The food was good and simple, and my kid behaved reasonably well once she was given phone Netflix. And that's always been the vibe any time I've been to Courtyard. Good coffee, good food, dreamy aesthetic, and calm, cool atmosphere (yes, even if you bring your kids).
The following two tabs change content below.
Latest posts by Kathryn Jones (see all)