I'm not sure if it was because of COVID or if my daughter's school has an interesting sense of humor, but they managed to squeeze in an entire year's worth of field trips into the second to last week of school. Immediately upon announcing this new development, I dubbed the week "adventure week", maybe because I'm fun, maybe because deep down it was a cry for help. I don't know, but that's how I've been referring to this "field-trip-a-day" monstrosity. If you don't know already, this is my first experience with being a school-aged parent. My daughter is in Pre-K, or at least she is for another week. Hence this is also my first rodeo with school field trips. As a child of the 90s, when school field trips were at their peak ripeness, I can vaguely remember the basics. Sweaty school bus, bagged lunches, Capri Sun, a little bit of educational content, but mostly the high of being "on the streets" with your classmates and not in a classroom drilling times tables. My mother was a field trip warrior. An OG stay-at-home mom, Diann was a maestro at chaperoning. I felt like some of that should be genetic. Like by proxy I should be an excellent field trip chaperone. Plot twist, I'm not. Turns out I didn't inherit the quality OCD skills that come with planning a full-scale zoo trip for 40+ Pre-K students. Thankfully, my daughter's teacher is no rookie and luckily, the parent I got paired with brought extra water bottles. But the zoo, this is about the zoo.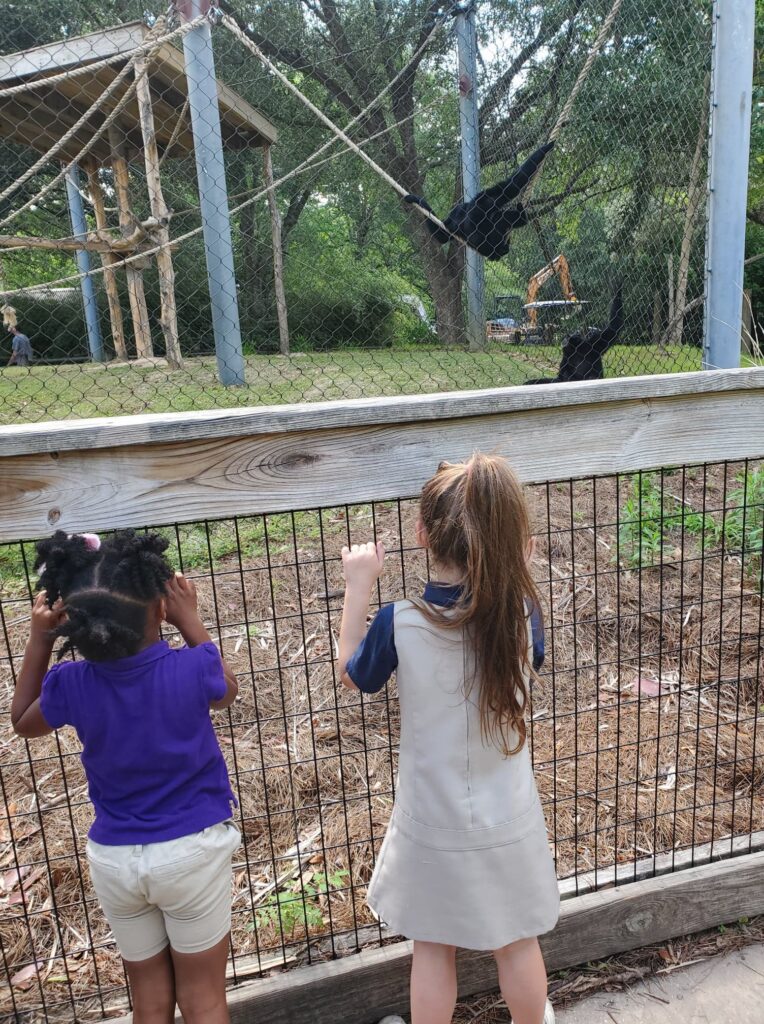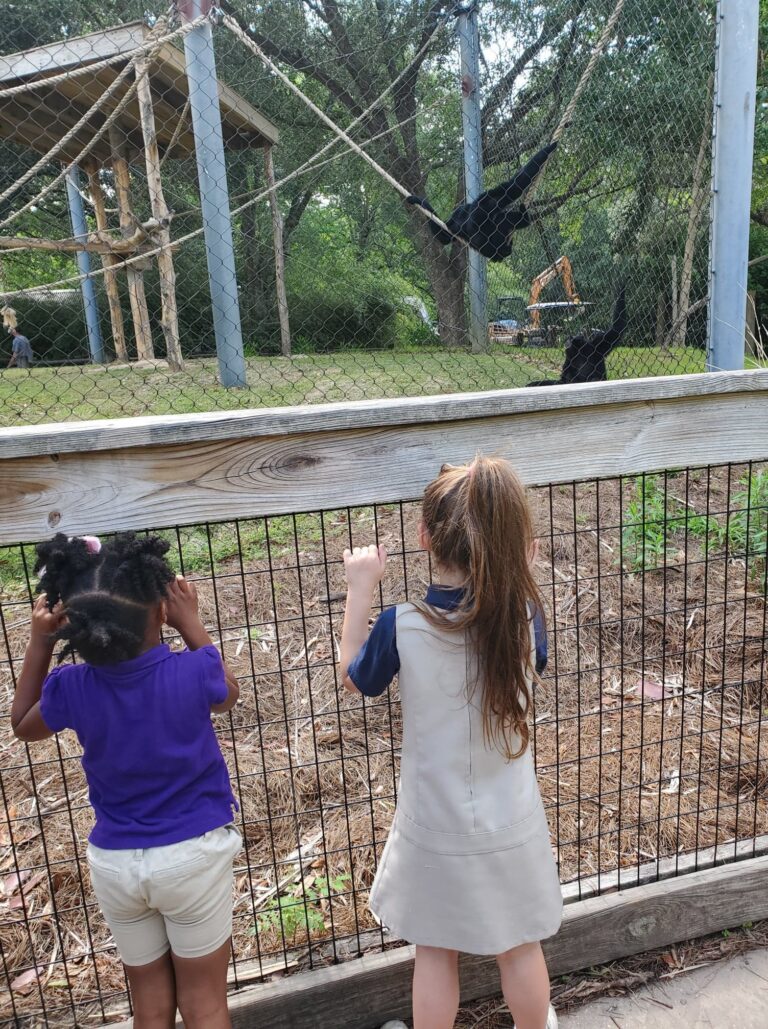 Monday morning of "adventure week" my mom and I pull up at the school. Yes, I conned Diann into coming with me for my first chaperone experience. I thought maybe a little bit of her magic could rub off on me. I thought maybe she could transition me neatly into a classroom mom such as herself. Turns out my mother and I both have lost most of our patience in the last 20 years and neither one of us are super chaperone material. The zoo itself is fantastic. My daughter attends school in Tangipahoa Parish so I'm assuming BREC's Baton Rouge Zoo is the closer option? That doesn't seem entirely right as we ended up driving close to an hour and a half to get to the location. We quickly learned that the zoo isn't actually within Baton Rouge city limits, but a little bit further. And logically, where else would you put a zoo? At the very least the school was equidistant to both the Baton Rouge Zoo and Audubon. Personally, I've only had experience with the Audubon Zoo in New Orleans. That was the zoo of my childhood. Upon first look, the Baton Rogue Zoo appears to be a little more modest, a slightly smaller operation. I haven't been to the Audubon Zoo since I was maybe a teenager so admittedly I'm not qualified to compare zoo sizes or qualities for that matter. But I will say this. The vibe at BR Zoo checks out.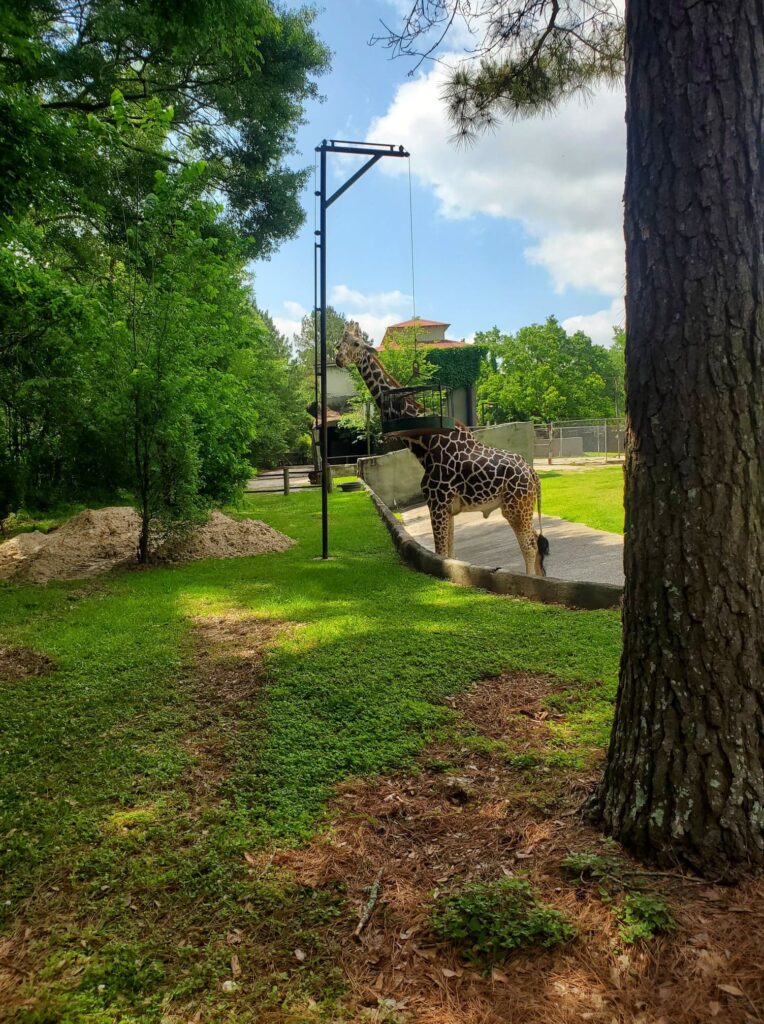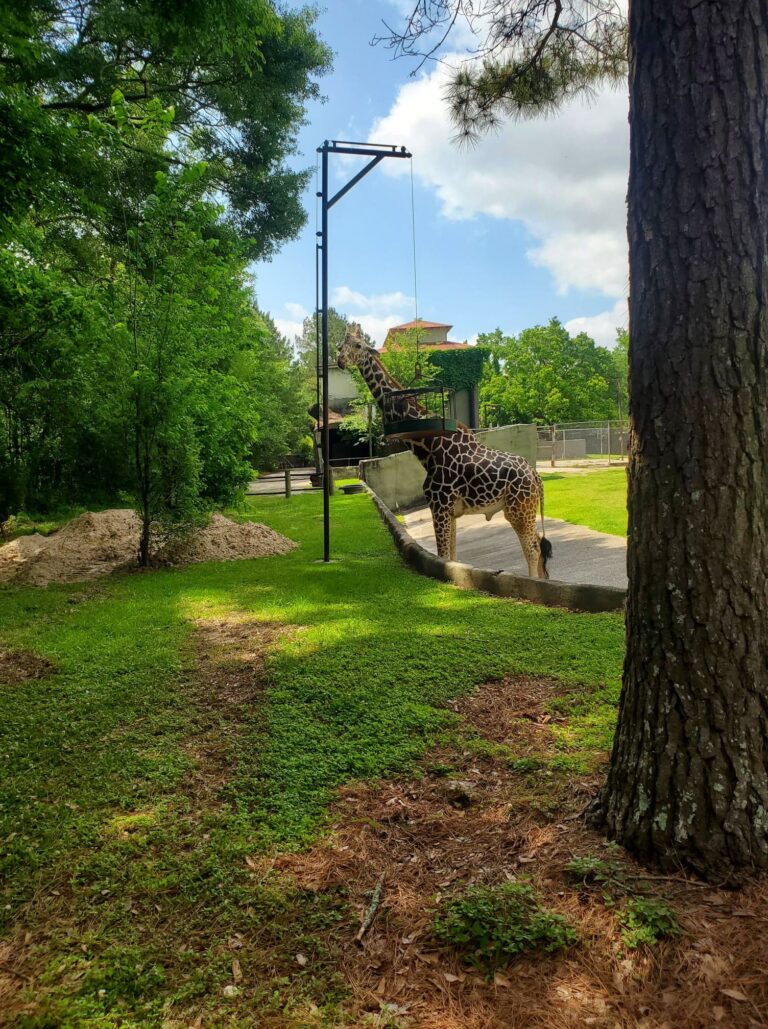 How Does the Baton Rouge Zoo Compare to the Audubon Zoo?
Maybe it's because I was a very anxious child but Audubon Zoo always felt like a chaos experience. People everywhere, stimulus galore. Yes, I remember the animals. I also remember the McDonald's (do they still have that?), and the gift shop, and the zookeeper lead animal shows. I remember it just being a lot. And even with 40+ Pre-K kids, the BREC zoo seemed so incredibly chill. There's a lot of green space, and when I say that I mean that the animal exhibits seem to flow naturally in nature, the displays are thoughtful and immersive, it's nice and spread out with its winding paths through the park. As for the park being any less impressive or clean than other zoos, I wouldn't go that far. Their offerings may be slightly more modest than the Audubon conglomerate, but no less fun. In fact, in some ways I felt it was a more manageable experience for little kids. There was quite a bit of construction going on when we were there, meaning that a few of the exhibits and animals were not available. But I didn't feel it took away from the experience and if anything I was eager to see what they were building up so we can return on our own in the fall. That is probably my one qualm and it has nothing to do with the zoo itself: It was HOT. Even for mid-May, zoo day of adventure week was absolutely sweltering. Because of this, our little group of kids we were responsible for couldn't hack the other half of the park, we were very limited in time and walking in the heat really got to them. It's definitely an activity I would plan to do when the weather is nice or at least overcast. It's a pretty shady environment equipped with plenty of seating, but there are some open sunny spots.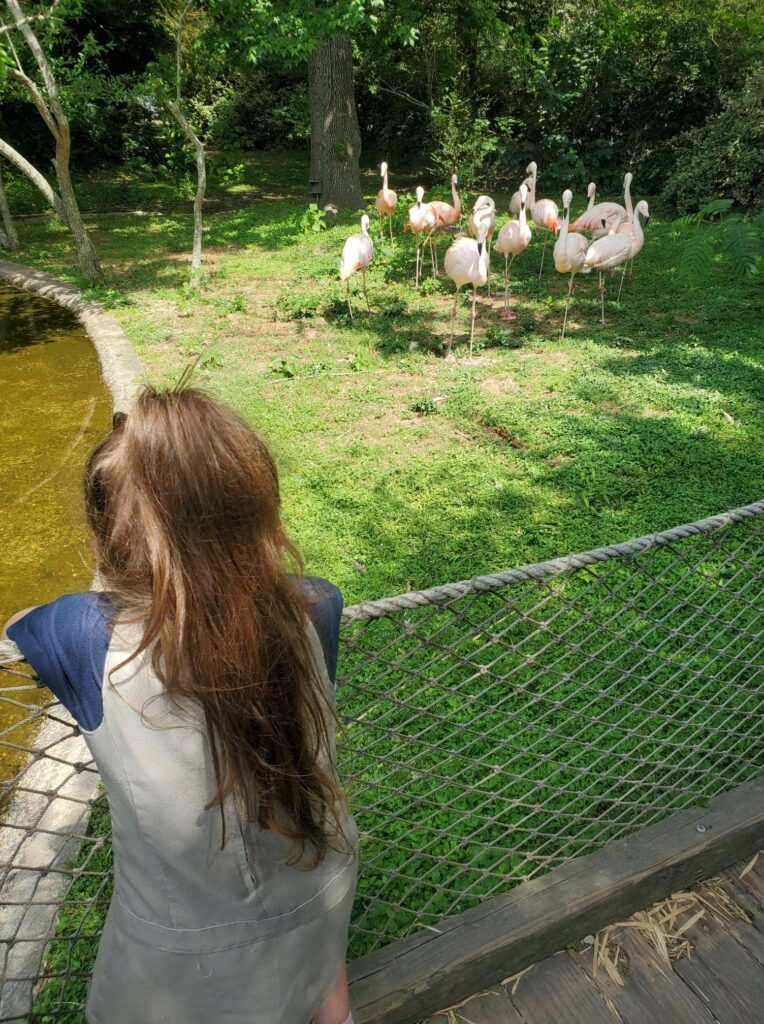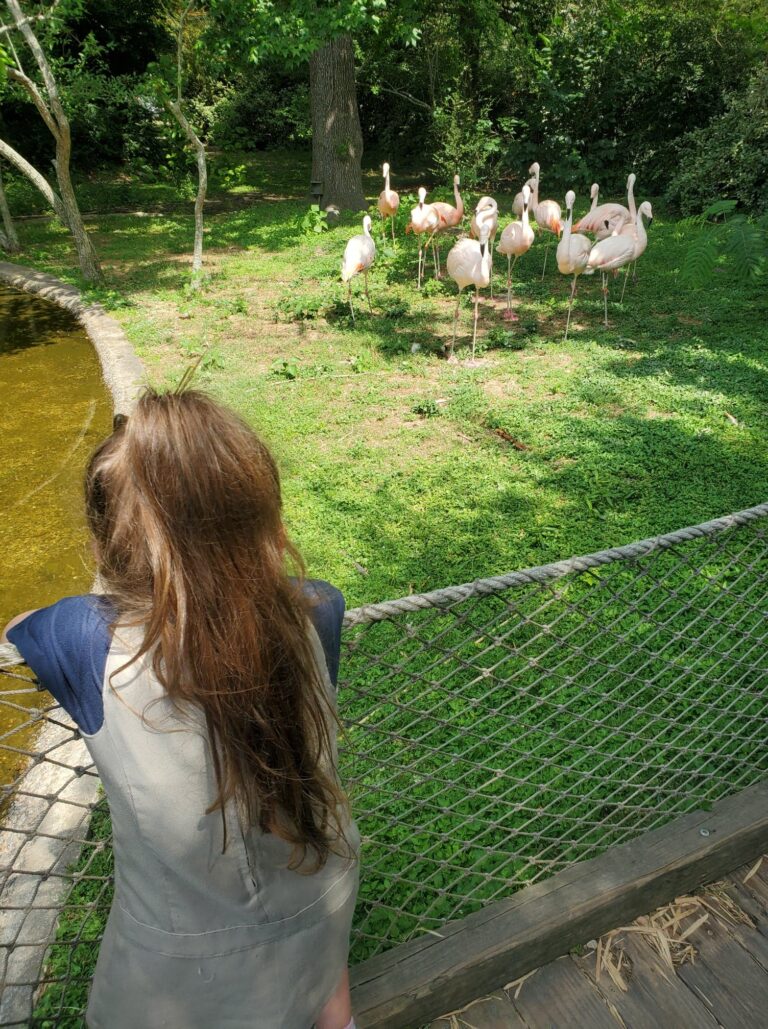 Food Options at the Baton Rouge Zoo
Another thing I remember about Audubon was being trapped in the absolute cluster that was the McDonald's food accommodations. Like imagine going to a regular busy McDonald's, now amp that up by 100. BREC had multiple food accommodations and while it wasn't anything name brand like McDonald's, it was definitely more low key and easier to access. Their Flamingo Café is going to be more of your "real food" options and the seasonal Cool Critters Café near the petting zoo is for frozen treats and ice cream. I wasn't super impressed that we ended up waiting in line for the last 20 minutes of our trip to secure just three ice creams and when we got to the front of the line the computer system went down and we were not allowed to order or pay cash. But these things can't be helped sometimes. We did have quite a few patrons at the park that day. Overall, the animals seemed well cared for and that's also something that matters to me personally. The staff were friendly for the most part and the kids had fun. The real draw to this zoo location (despite it being a little out of the way) is that I truly feel it is more manageable for smaller children. It has mostly everything that the Audubon Zoo has, it's maybe a little smaller, but no less impressive. If you're going to make a trip of it, I'd always consider the weather and time of year.
Quick Tips for Visiting the Baton Rouge Zoo
Like any zoo trip, wear comfortable shoes, bring water (don't be like me).
Their website is extensive so check that out before you go.
They are currently in their "reinvention phase" as I mentioned, so expect construction. It didn't hinder us too badly, and I'm really excited to see what's in store for them.
I would also lastly like to mention that their rates are a fraction of what Audubon is charging for non-members ($8.75 vs. $28.45 for adult tickets, $5.75 vs. $22.95 for children), so if you're on a budget, this is definitely a cheaper option for a very similar service.
Luckily we survived adventure week, and I am a little braver (and a little more learned) than I was before. Perhaps I'll even return without my poor mother in tow for my own adventure to the BREC Baton Rouge Zoo.
Other Fun Things to Do in Baton Rouge with Kids
The Knock Knock Museum located right near LSU's Campus is hours of run for little ones.
Liberty Lagoon is a city-run water park that's pretty impressive. My kids could spend all day there if I let them.
The Louisiana Art and Science Museum has a planetarium that let's families see the stars.
The following two tabs change content below.
Latest posts by Kathryn Jones (see all)