I'm sure you've seen the ads on Facebook. The Van Gogh Immersive Experience has arrived in New Orleans and will be here until mid-June, 2022. If you enjoy art this a must-do and such a fun way to introduce someone to the art of Van Gogh. It includes a documentary, tons of information about the artist, plenty of intriguing exhibits, and more. There's also a VR experience you can add, but we didn't do that when we toured. My MIL did it and said it was great if you're interested. She's in her 70s and had never done virtual reality before!
How Long Does Van Gogh Immersive Experience Take?
Sunnie and I are pretty fast tourers. We don't read every sign. I'm bad at waiting behind people just to read signage. I admit this. The tour probably took us about forty-five minutes. The website says it takes 75 and I'm sure that's true for some people. There's a lot of information being given out. You probably could take over seventy-five minutes if you're that kind of visitor. If you bring children they definitely won't want to read every sign.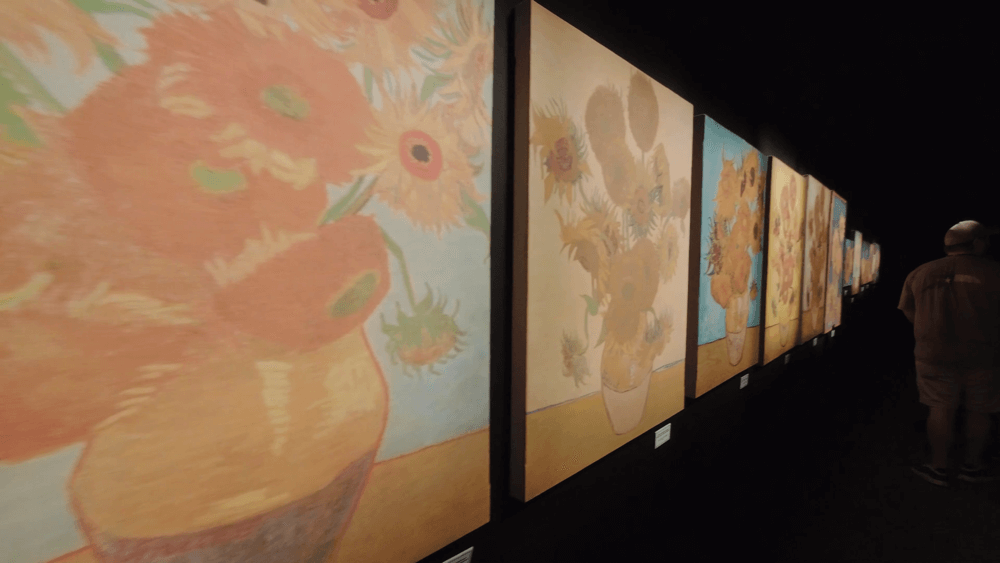 Is the Van Gogh Exhibit Worth It?
I always find this to be so subjective. At $35/adult the Van Gogh experience is definitely more expensive than your usual attraction in New Orleans. Typically things around here run $25. That said, I did enjoy it a lot and I don't feel like I was dramatically over-charged. It's $20/kid which seems okay although if you have a big family that's gonna hurt a little. But who am I kidding? Big family=big bills.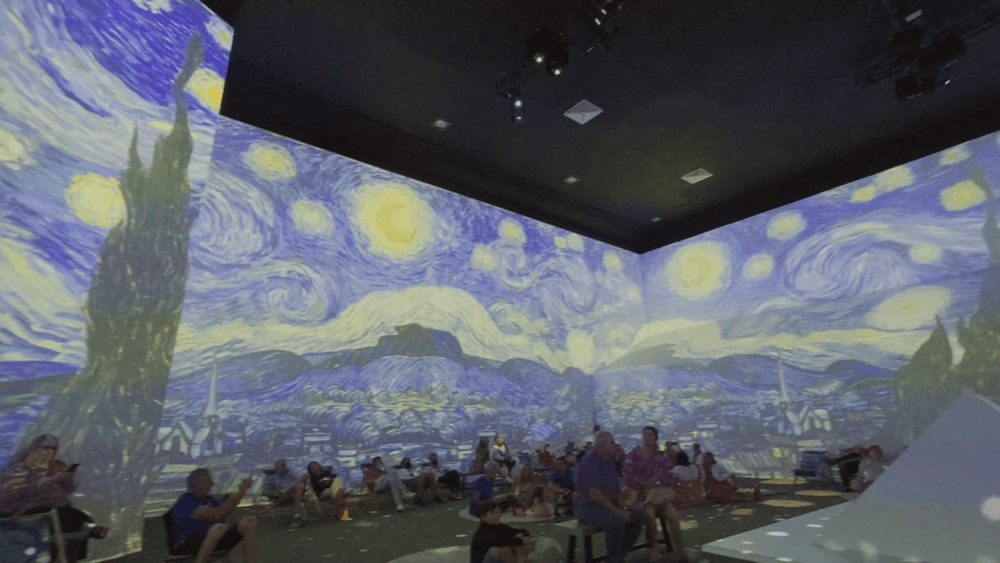 Parking for the Van Gogh Experience
Parking was extremely easy to find. I selected a paid lot, but actually saw an open spot on the street as we were walking to the museum which always seems like a miracle when it happens.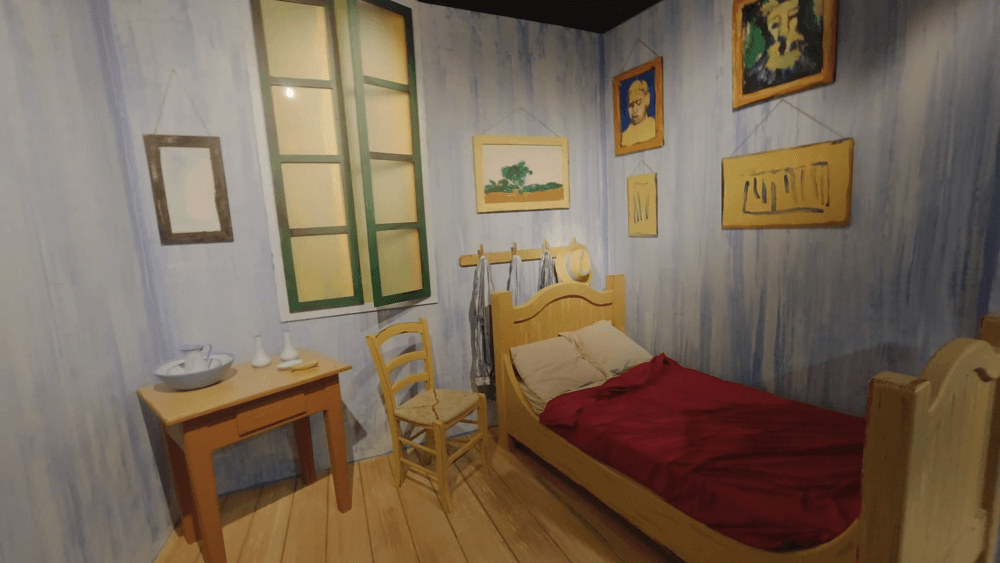 Where is the Van Gogh Exhibit Located in New Orleans?
The Van Gogh Experience is located in the Scottish Rite Temple on Carondolet Street. The building itself is over 150 years old and is very pretty from the outside. It used to be a Methodist Church and then a Masonic Lodge. It's hard to tell what the inside is like since the experience covered pretty much every surface in black. It was my first time inside that particular building even though I grew up on south shore.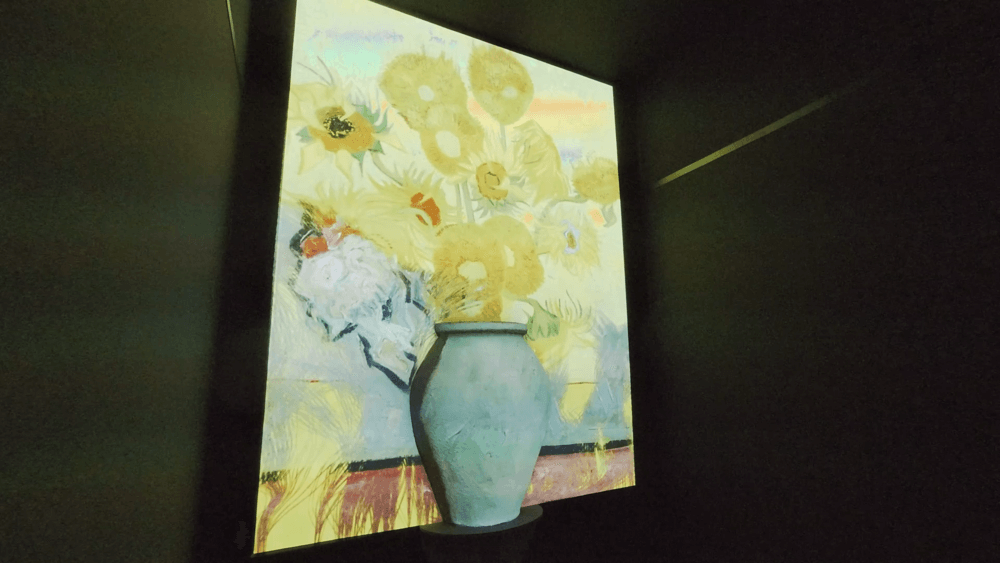 Is the Van Gogh Experience Good for Kids
The crowd was primarily adults when I went, but I saw attendees of every age from grandmother types to children in strollers. I think that almost any age can be brought to the experience–it seemed welcoming to all ages. There is a certain, museum-like atmosphere to the experience, however, so if you have children who have trouble modulated their voices that might be a challenge. Otherwise, I'd say kids can do fine with this attraction.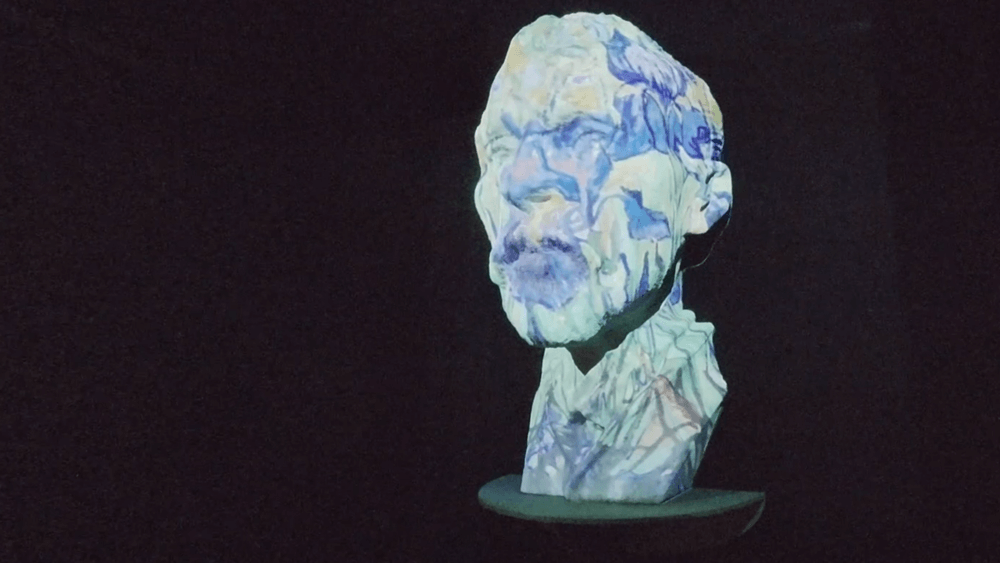 More Places for Immersive Art in New Orleans
I hope I answered all your questions about the Van Gogh Experience and that helped you make up your mind about whether or not you want to go and if you want to take the kids. If you're looking for other immersive art experiences in New Orleans here are a few suggestions:
JAMNOLA is a very fun, permanent immersive art experience located in New Orleans. It's perfect for adults or any kids who like to Instagram themselves (or tiktok, or snapchat, or whatever it is kids are doing these days).
ARTMazing Selfie Gallery is a silly and fun place to take pictures of yourself with your phone. Not exactly art, but definitely fun.
The following two tabs change content below.
Hi, I'm Katy. Mom to four sweet boys ages 10, 6, 6, and 5. It's a loud, messy, chaotic life. I love connecting with other parents and am so glad you stopped by today!