About Slidell Rocks
Slidell Rocks Climbing Gym is an indoor rock wall climbing facility geared towards all ages from young children to adults.  The gym accommodates all experience ranges including never before attempted up to experts. Their facility has 3 rooms full of climbing walls with a few lower ceilings also fitted with climbing rocks.
The gym is closed on Mondays and is open from 4-9 Tues – Fri, 11-9 Saturday and 1-6 on Sunday. A climbing pass for one day (unlimited time) is $14. Harness rental is $3. Additional but not required gear such as climbing shoes and a chalk bag are also available to rent.  The gym advertises specials such as Student nights, Throw back Thursdays and Ladies nights and even hosts a regularly scheduled parents night out for children over the age of 6. A Military discount is available as well as a check into Facebook discount. The facility also teaches a seminar to receive the Boy Scout Rock Climbing Badge.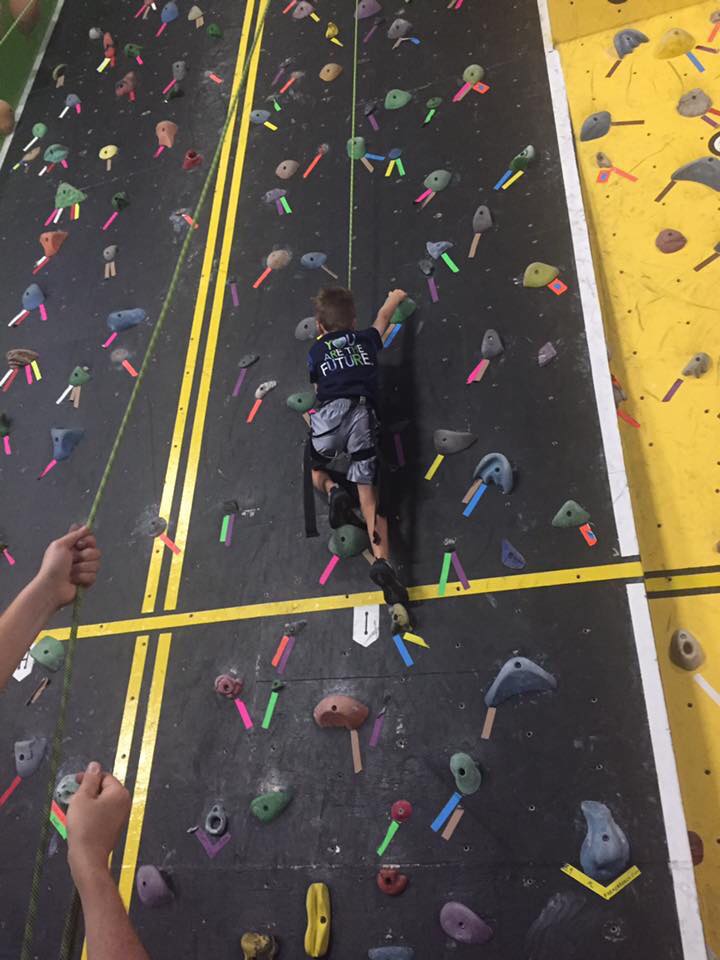 My Experience
My family attended a birthday party at the climbing center. The age ranges of party attendees were 4 years old to 40 years old. The center also remained open to the public and many teenagers and their families/parents and even groups of young adults were also in the facility.
In case you have never been to a rock climbing center here is how it generally works. You sign away your rights in a legal waiver. The gym encourages you to do this in advance on their website to save time. Then you get fitted into a harness. Prepare your children ahead of time if needed so that they know they will be wearing a harness around their legs and waist.  The facility suggests wearing longer shorts or pants and while they have rock climbing shoes for rent regular tennis shoes seemed to work just fine.
Participants may climb below a certain height on the walls without being strapped into the harness system. The height level is clearly marked. If they wish to go higher, then their harness must be connected to the repelling ropes and they must have a spotter to belay them.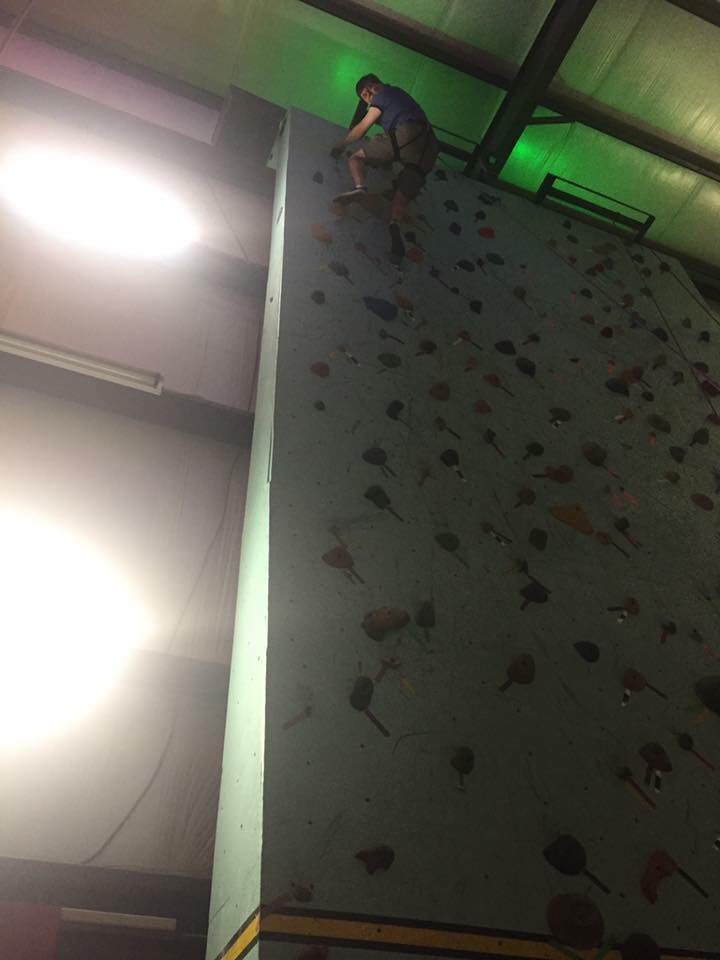 The website explains the most common way to climb, which is also the method that the majority of their gym is set up to accommodate. "Top-Rope Climbing is the most common style used at indoor climbing gyms. A climber attaches themselves to one end of a rope, which passes up over a bar at the top of the wall, and then down through a belay(safety) device, to a partner who spots the climber, (belayer).  As the climber ascends the wall, the belayer pulls the slack of the rope through the belay device, so if a climber were to let go, they would be held in place on the wall.  Top-Roping is the ideal way to start climbing for beginners, since it is psychologically easier and less physically demanding than lead climbing." 
The person belaying must be at least 14 years of age per the gym's rules.  If you plan to attend with children younger than 14 you should plan to belay yourself, although the day we attended the camaraderie between party guests and regular customers was very comfortable and most belaying adults helped with other climbers. The facility also offers walls to accommodate other methods of climbing like Leading and Bouldering and even has some general training spots set up like rope climbing and an ultimate pegboard. Details about these are described on the website.
Pros and Cons
The staff on hand was an adult behind the counter plus two knowledgeable young adults waiting to help and teach all participants, even cheering on and encouraging the more timid.  They were attentive to the young children at the party and reminded them politely and with ease very often of the safety rules, namely no running. This mom was very pleased with this as we all know our children listen to strangers with authority rather than their parents when in public. However, this mom would have appreciated at least one other staff member in the third room of climbing walls because one area was out of sight and unsupervised by employees. One downside in my opinion is the staff was not necessarily easily identifiable as employees. My preschooler went up to more than one general customer asking for help mistakenly thinking they were the staff.
The Birthday Party package is pretty cut and dry with no frills. A flat rate of a reasonable $200 covers 2 hours of the party room and access to the gym for 10 climbers and then it is $10 per additional climber. You must pay a non-refundable $50 deposit when you book the party. The fee includes the harness rental for each climber. There is a private birthday room for that is set up with tables and chairs. The birthday child receives a logo t-shirt and 2 free day passes to use in the future. They provide a cake and a pitcher of freshly mixed fruit punch plus small plain plates, napkins, plastic forks and tiny plastic cups.  
The party details here were very non-impressive. The cake was a ¼ sheet cake size and tasted like a not so great grocery store cake. The gym was busy with regular customers during the party which seemed to throw off the promised schedule of presenting the cake at the said time for the party. There was not one specific employee assigned as a party-host, unlike other popular party facilities which offer this feature. The drawback is that the employees had to balance party guests and general admission customers at the same time.  
There is the saying that "you get what you pay for" and for some people, myself included, this specific party may be perfect. My family is low maintenance and we don't have fancy or grand birthday parties. The party fee seems to be on the lower end for other area Slidell birthday party rentals, and you still have the option to embellish what they provide by bringing in your own food and drinks and other supplies. The party we attended had pizza delivered, and provided a variety of their own drinks, ice and snacks. I'm willing to go out on a limb and bet that the party mom wishes she had provided her own cake as well.
A huge plus for this party location was the great communication the employees had with the family that reserved the party. All communication was clean and polite and all expectations were realistic. My friend knew what to expect and she did not get anything less than expected as far as the party experience goes.
If the cake-almost-fail on the part Slidell Rocks was the only major downside then I would still call it a big win for a party location.  And it's a  definite win for an indoor, air conditioned place to go have some active fun with your family.
The following two tabs change content below.
Jenny
I am a former corporate office working girl turned stay at home mom who transformed myself into a preschool teacher. I am the mom of two boys (almost 8 and almost 5) and wife to a NASA rocket scientist. Life is full of learning at our house. I enjoy reading, crocheting, sewing, cooking and anything outdoors. Transplanted from Alabama over 12 years ago, my husband and I and our little family call Slidell our home.