Dear Northshore,
We've all been locked down for 5+ weeks now and, like my family, I bet you're tired of it. But for some of you, there's been no lockdown. It's been business as usual. So I ask:
What makes you think that these rules don't apply to you?
When our governor issued the Stay at Home order in March, it pretty explicitly said to stay at home except for essential trips. The language was pretty clear to me but some of y'all didn't seem to understand those words.
In the handful of times I have been in my car over the last month, for essential errands like grocery pickups or the post office, traffic has been like a normal day. I understand that people go to work and other people have essential errands, too, but it would be a mighty coincidence all those things happened at the exact time I left my house for the first time in 2 weeks.
I've taken walks in my neighborhood and seen play dates and groups of neighborhood kids riding bikes. I've seen groups of neighbors in driveways, paying no mind to the suggested 6 foot distance. And, like everyone with a Facebook account, I've seen the photos circulated on social media of party barges and crawfish boils.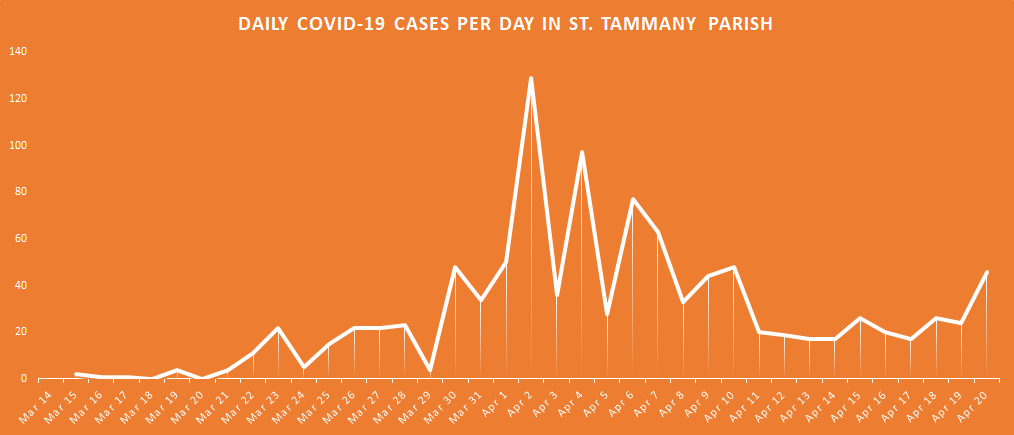 The attitude seems to be that St. Tammany is somehow immune to COVID-19. Despite this attitude, between April 1 to April 20, cases of COVID-19 have risen 291% and deaths have increased 1116.67%.*
So tell me, is it arrogance? Is it ignorance? Is it political? Or is it just plain selfishness? Please help me to understand why that play date or crawfish boil is more important than the safety of our healthcare professionals, grocery clerks, and public health in general.
If you're reading this, you're probably one of the people who is doing the right thing. But if this is somehow coming across the feed of someone who hasn't changed their habits, for whatever reason, please reconsider your choices. COVD-19 isn't going away any time soon and the life you save just might be your own.
*Statistics from ldh.la.gov
The following two tabs change content below.