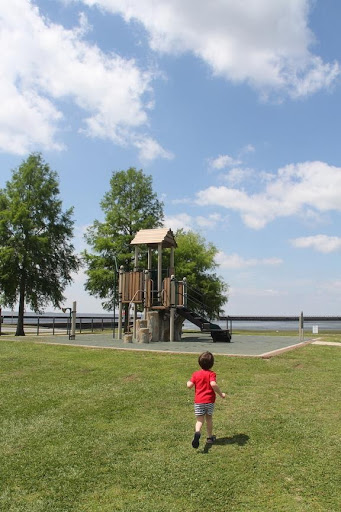 Details
Location: The park is located at the 1500 block of Lakeshore Drive (east end of Lakeshore Drive) at the intersection with Jackson Avenue in Mandeville.
Hours of Operation: 10:00 a.m. until 9:00 p.m.
Operated by: City of Mandeville, www.cityofmandeville.com/public-parks
Unique Features: Age appropriate play areas, water feature, man-made beach, lakefront access, walking/jogging/biking path, fenced play area, great sunset views
Swings: Yes, 1 bucket and 3 regular swings.
Surface: The play areas are rubber surface with surrounding grassy areas. The splash pad is cement and brick.
Bathrooms: Two porta-potties are just outside the fence. There are no plumbed bathrooms at the park.
Shade: The toddler play area is well shaded and there are pergolas at the splash pad that provide some shade. There is no shade over the swings or older play area. However, several large trees are on the immediate property providing quick shade access for a nice break from the sun.
Parking: There is plenty of parking on Lakeshore Drive at the park entrance, across the street on Jackson Avenue, and just a short walk from the park further down Lakeshore Drive.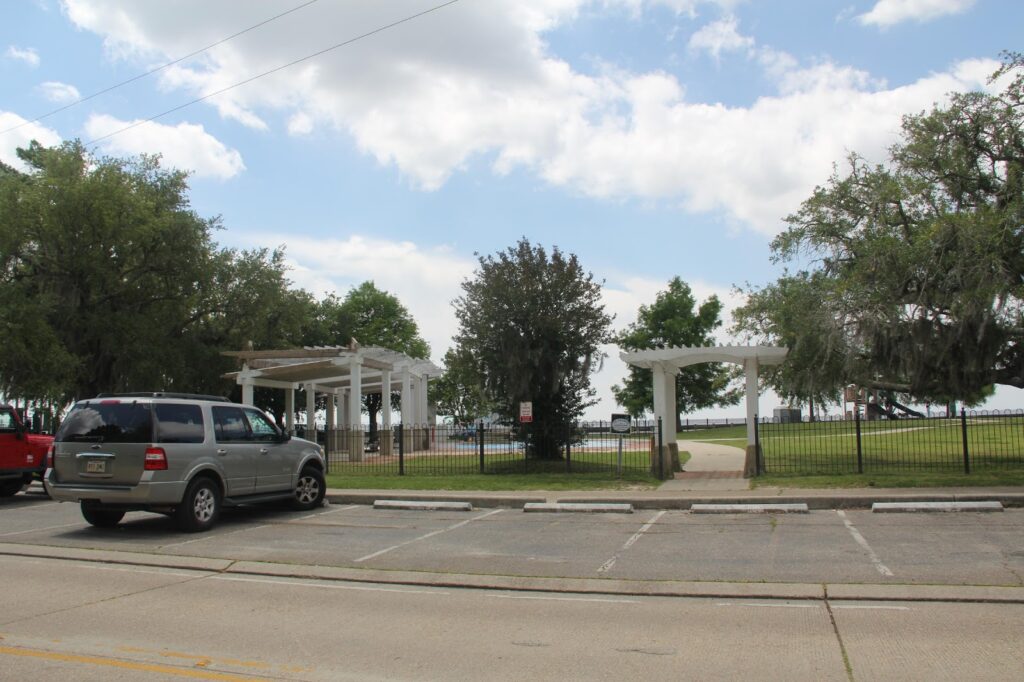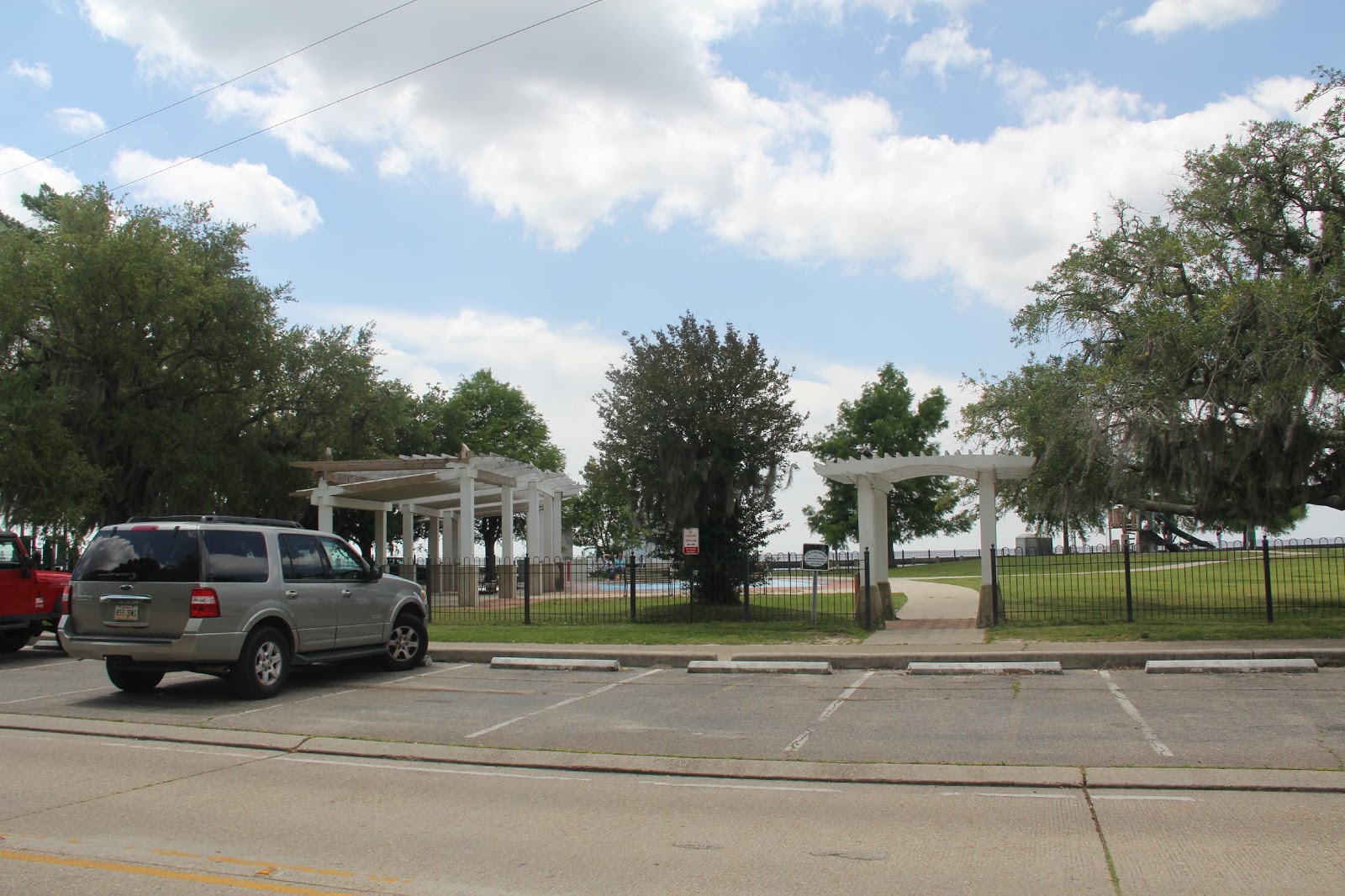 Other Amenities
Pavilion: There is no pavilion, but there are several pergolas with benches surrounding the splash pad as well as a number of benches in various spots of the park.
Sports Fields: There are no sports fields at the park. There are, however, ample grassy areas large enough to throw around a ball.
Walking Trails: The lakefront has a paved walking trail wide enough to accommodate walkers, joggers, and cyclists. The paved path runs along the beautiful, scenic lakefront for approximately 1.5 miles from the East Lakefront Children's Park to the west side of Lakeshore Drive. It is located several feet away from Lakeshore Drive and closed to motorists. So, it is safe for little ones to practice their two-wheel or three-wheel pedaling. In addition, the lakefront is very dog friendly with several bag stations and waste receptacles available along the path to help you clean up after your pup.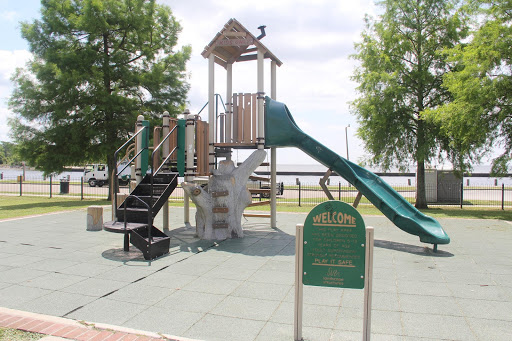 Review
The East Lakefront Children's Park Playground is one of our favorite parks in Mandeville. I really love that it has separate play areas for toddlers and bigger kids. The toddler play area is very "littles" friendly and the steps and slides are easy enough for a beginning walker to maneuver. The area is very shaded and there are benches nearby to sit and take a break if needed. The toddler play area is rated for ages 2 to 5.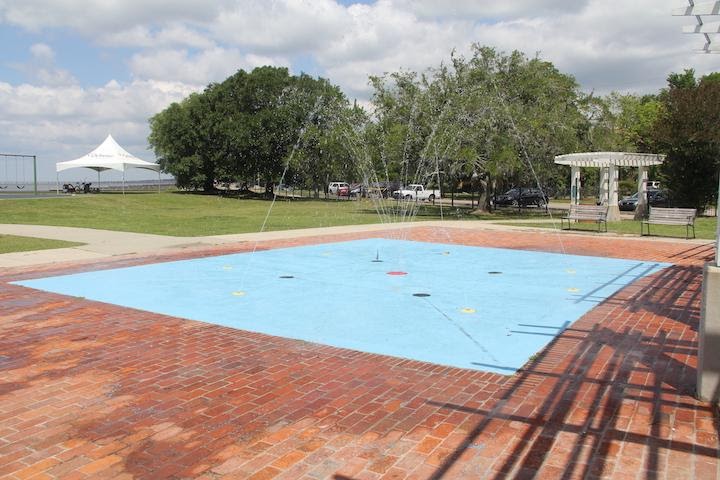 The splash pad is great for beating the summer heat. It operates from 10:00 a.m. to 9:00 p.m., May through October. The surrounding pergolas and benches are nice for relaxing and watching the kids while they enjoy the water fun.
The bigger kid play area is rated for children ages 5 to 12. There are several structures for children to climb on, balance on, and jump off. The slide is much taller than the toddler slide, with a fun little twist. "This is an excellent slide to send cars down," according to my 6 year old.
One of my favorite features about this park is the beautiful lakefront view. We love to come out here at dusk and play while the sun goes down. The sunsets are breathtaking.
This park also has a man-made beach with several feet of white sand leading to the lake. This area is "swim at your own risk" and has posted signage saying as much.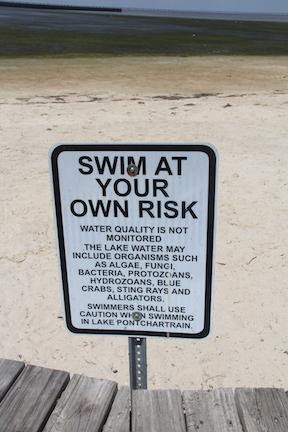 I'm personally a little apprehensive to let my young children play out there, but the water quality is tested nearby and reportedly safe for swimming. The Lake Pontchartrain Basin Foundation (LPBF) tests the water quality weekly. The nearest sampling location to the park is the Bayou Castine sampling site at the boat launch area on Jackson Avenue. You can check the weekly water report at LPBF's website here: https://scienceforourcoast.org/pc-programs/waterquality/weekly-water-quality-results/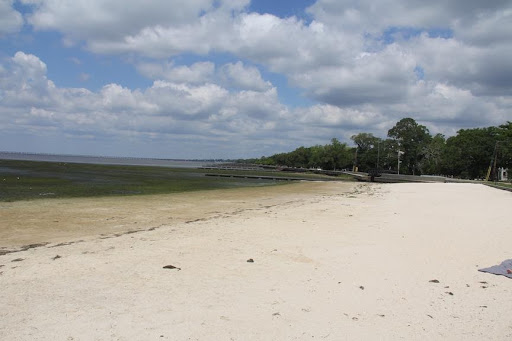 While the park is mostly fenced, the beach and lake access are just a short hop off the retaining wall and could be easy access if you have a runner. So, just keep an eye on them if you don't want to deal with sandy shoes and clothes.
Overall we really like the East Lakefront Children's Park. There are plenty of things to entertain children of various ages, ample shade and sitting areas, easy access parking, and a wonderful paved trail for a family stroll. You will often find us there.
The following two tabs change content below.