Thanksgiving. It's a time to pause and reflect on those people and things in our lives that we are truly grateful for. But before we can get to the pausing and reflecting, there is a whole lot of stress to work through if you are the one hosting Thanksgiving dinner at your house. I've put together some tips and recipes with the hope that they will help you be able to actually relax and enjoy your Thanksgiving day with those people who mean so much to you!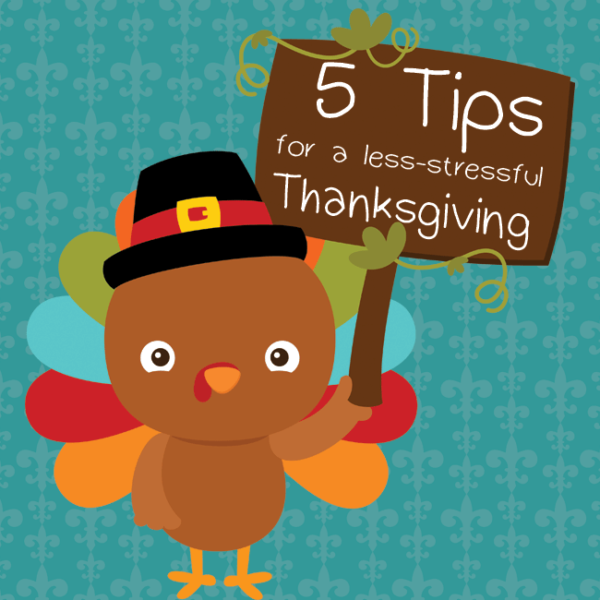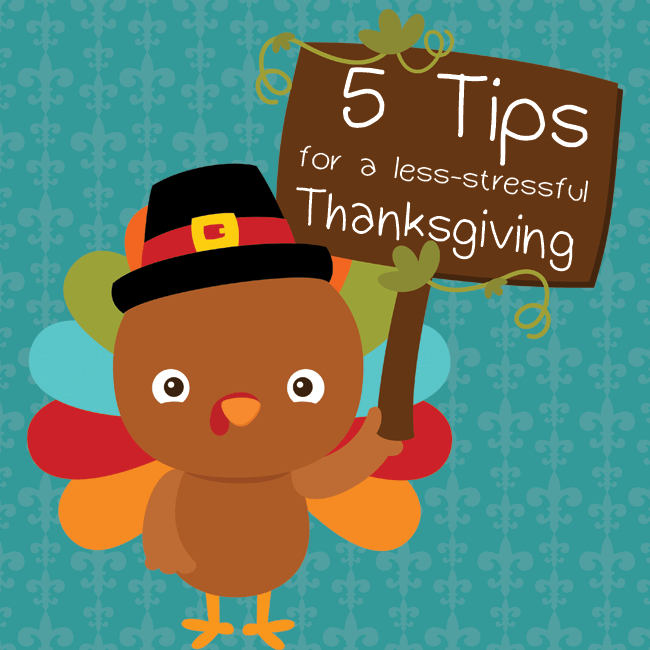 1. This one should be obvious but, if you are anything like me, it is one of the hardest things to do. Ask for help. It is absolutely OK to ask those who will be attending dinner to bring a side dish, dessert, rolls, etc. The past few years, Thanksgiving has been at my house, but when I'm a guest in another friend or family member's home, I'm nearly always asked to bring a dessert (and that's OK!). My favorite Thanksgiving dessert recipe is my pumpkin pie. This version of the traditional treat is lighter tasting and, in my humble opinion, the best pumpkin pie I've ever had.
PUMPKIN PIE

2 cups of canned pumpkin
1 9 inch single pie crust (Store bought is a-ok)
2 eggs
1 cup packed light brown sugar
1 tablespoon all-purpose flour
1/2 teaspoon salt
2 1/2 teaspoons pumpkin pie spice
1 (12 fluid ounce) can evaporated milk

In a large bowl, slightly beat eggs. Add brown sugar, flour, salt, 2 cups of the pumpkin puree, pumpkin pie spice, and evaporated milk. Stir well after each addition.
Pour mixture into the unbaked pastry shell. Place a strip of aluminum foil around the edge of the crust to prevent over browning.
Bake 10 minutes at 450 degrees F (230 degrees C), then reduce the oven temperature to 350 degrees F (175 degrees C). Bake an additional 40 to 50 minutes, or until a toothpick inserted near the center comes out clean. Remove the strip of foil about 20 minutes before the pie is done so that the edge of the crust will be a light golden brown. Cool pie, and refrigerate overnight for best flavor.
2. Do as much prep work as you can the day before. Bake pies, chop onions, peel potatoes (keep the peeled potatoes in the fridge covered with water to keep fresh), boil eggs, assemble side dishes so that all you have to do is pop them in the oven on Thanksgiving day. The more you do ahead of time, the more time you'll have to spend with family instead of in the kitchen. One fabulous side dish that can be made the day before and kept in the fridge is this green bean and artichoke casserole.
              GREEN BEAN AND ARTICHOKE CASSEROLE

2 cans French style green beans, drained
½ Lb finely chopped artichoke hearts
½ cup olive oil
1 cup Italian bread crumbs
1 cup fresh parmesan cheese
1 onion, finely chopped
6-8 cloves minced garlic
Salt and pepper to taste

1. Sautee onions and garlic in the olive oil.

2. In a large bowl, mix beans bread crumbs, cheese, hearts, onions, garlic and oil and season with lots of black pepper and salt

3. Place in a large baking dish and sprinkle the top with bread crumbs and parmesan cheese

4. Bake at 350 for 20-30 min.
3.  Have some munchies set out as soon as your guests arrive.  Deviled eggs, an olive and pickle tray, bowls of nuts, etc. This way, if you do have a setback in the kitchen your guests will have something to hold them over and keep them happy until you can get things back on track.
4.  The day before, or even a few days before, put together some games or crafts for the kids to do while the adults cook and visit. This will help keep the kids from being under foot while you work to get things finished up. The stores usually still have some pumpkins and gourds leftover from Halloween, buy several and let the kids decorate a Thanksgiving pumpkin with stickers, paint, whatever you have around.
5. Don't overdo the cleaning. You're going to have a houseful of loved ones; nobody is going to be walking around with a white glove. Straighten up, make things reasonably presentable, but save the deep cleaning for spring! Seriously, it's amazing how much adopting this philosophy can decrease your stress level.
And hey, if all else fails, have a glass of wine (or three!). That always works for me. Wishing you all a very happy and minimally stressful Thanksgiving!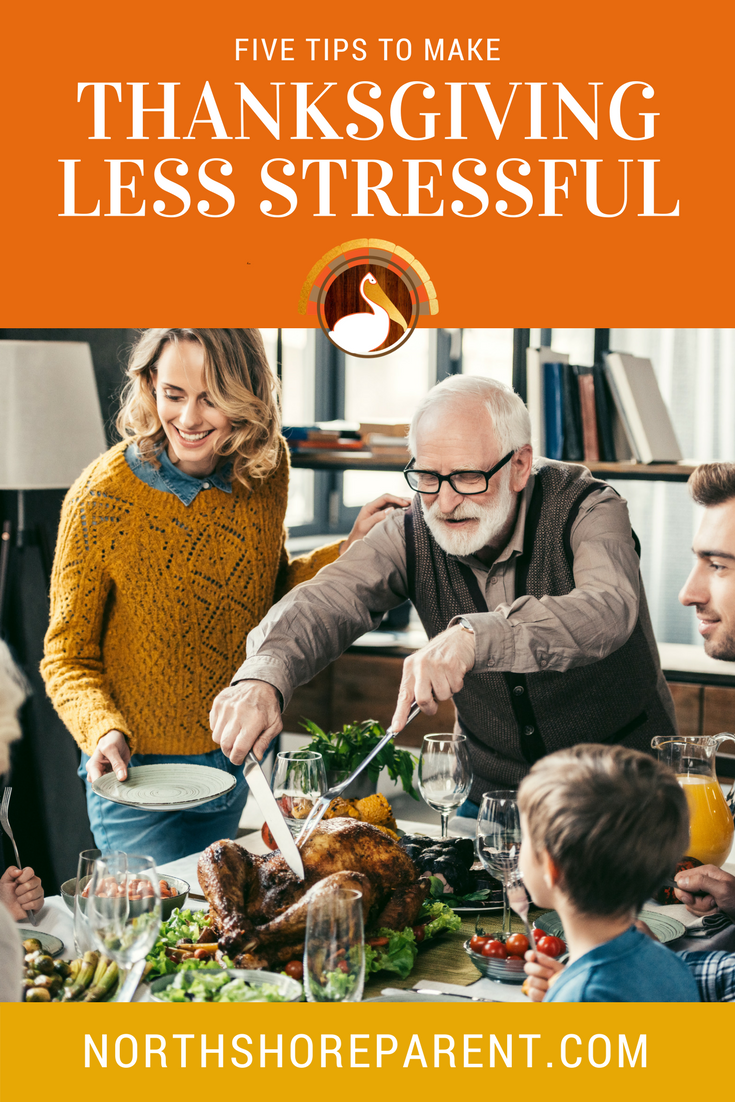 We've got tons of more great Thanksgiving content on the site–just visit our full Thanksgiving guide for recipes, places to order you dinner if you don't feel like cooking, and more!
The following two tabs change content below.
Melissa
I am a stay at home mom to two little girls who keep me running. I also care for my elderly grandmother full time. I'm a fan of fitness, mainly because I'm an even bigger fan of cooking and eating. When I'm not busy juggling other people's busy schedules, I can usually be found with my nose in a book or conducting bold experiments in my kitchen, some of which are quite tasty.