Ok, so the last movie came out a couple of years ago but, at my house, we are all still a little Harry Potter crazy, so it made perfect sense when my daughter asked for a Harry Potter themed party for her birthday. Between my husband and myself, we put together a Harry Potter party to beat all Harry Potter parties. Admittedly, we went a little overboard, but is there really any such thing when planning a themed party?
First, invitations. I printed a simple invitation on parchment-colored printer paper then folded each to look like an envelope and secured it with a bit of wax and an "H" seal to make it look like a letter from Hogwarts. Both the wax and stamp can be purchased at a craft store pretty inexpensively. Another idea would be to roll each invitation and tie it with a bit of yarn.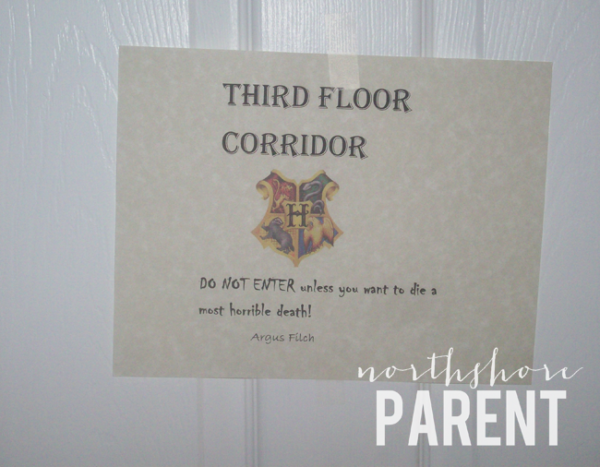 We used the standard party store table-cloth, cups, plates, etc. as a starting point for the decor. We also added simple signs printed onto the same parchment-colored paper used for the invitations, which read "The three broomsticks", "Honeydukes", etc. I had an old witch broom left over from a Halloween costume, and we added a cardboard handle to it and wrote "Nimbus 2000" on the handle with a black sharpie.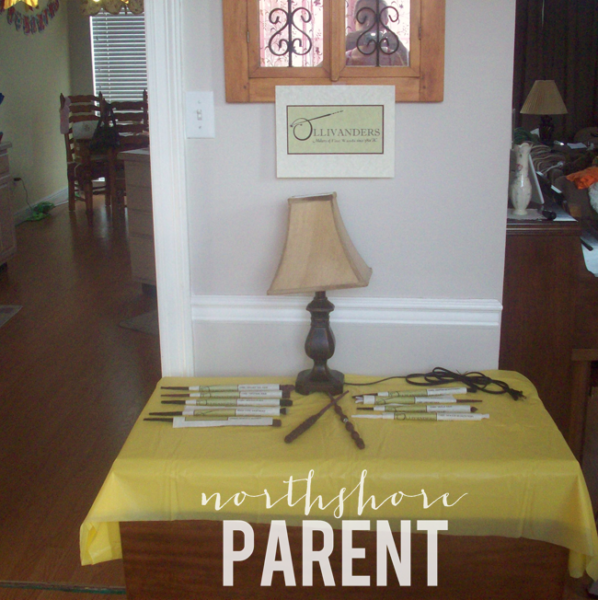 When the children arrived, they were sent to Olivander's (a corner of the dining room where my husband waited) to obtain their wand. We bought a bunch of cheap wooden dowels from a craft store and my husband, with a whittling knife, a hot glue gun, and a little paint and wood stain, created replica wands for each child. The kids were allowed to pick a wand and give it a wave at a waiting lamp that appeared to be unplugged. If nothing happened, they tried another. Eventually one of the wands would turn on the light. Granted, this part was done with a light switch module and my husband's smart phone, and not everyone can do it this way.  The wand was also each child's take-home gift, instead of a goody bag.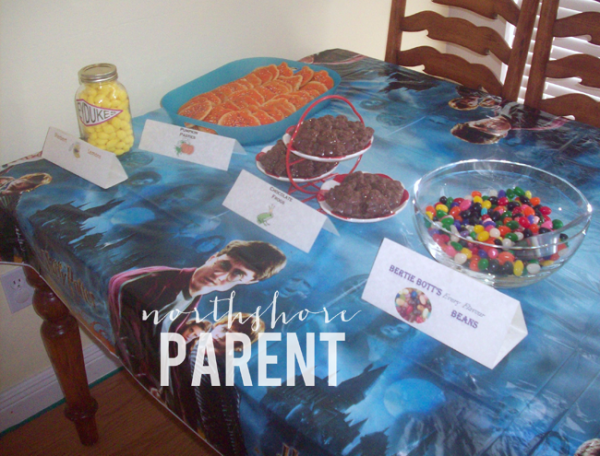 Next came the sorting ceremony. The children were seated on a stool to be sorted into their houses by having a sorting hat placed on their heads. A replica hat complete with hidden pocket for a baby monitor can be purchased from Amazon for about $20. We placed the receiver of a baby monitor in the hat and my husband stood in the other room and announced their houses so that it sounded as if the voice were coming from inside the hat.
Once the sorting was finished, the kids were sent to the "great hall" (our kitchen table), which was laid out with chocolate frogs (made from a chocolate mold bought from a craft store for about $2), sherbert lemons (lemon drop candies), Pumpkin juice (punch colored orange with food coloring and served in a plastic cauldron leftover from Halloween), Pumpkin pasties (pumpkin shaped sugar cookies), and Bertie Bott's every flavor beans (jelly beans).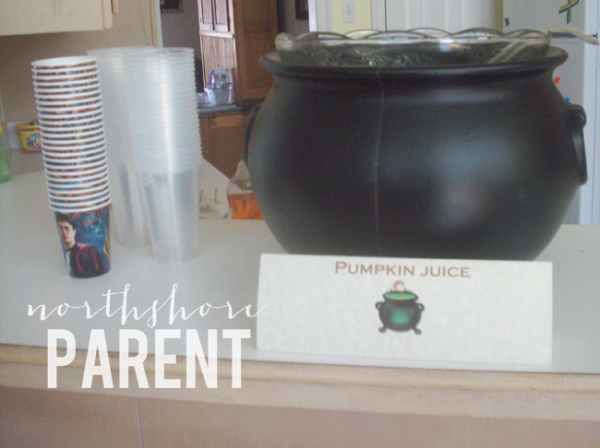 Once the feasting had commenced, the kids were sent outside to jump in a bouncy castle, complete with "Hogwarts" banner across the entrance, and generally burn off the sugary feast before heading home.
We have done many themed parties in our life as parents, but this one has to have been the most fun to put together. Both kids and adults had a lot of fun, which is a bonus in my book!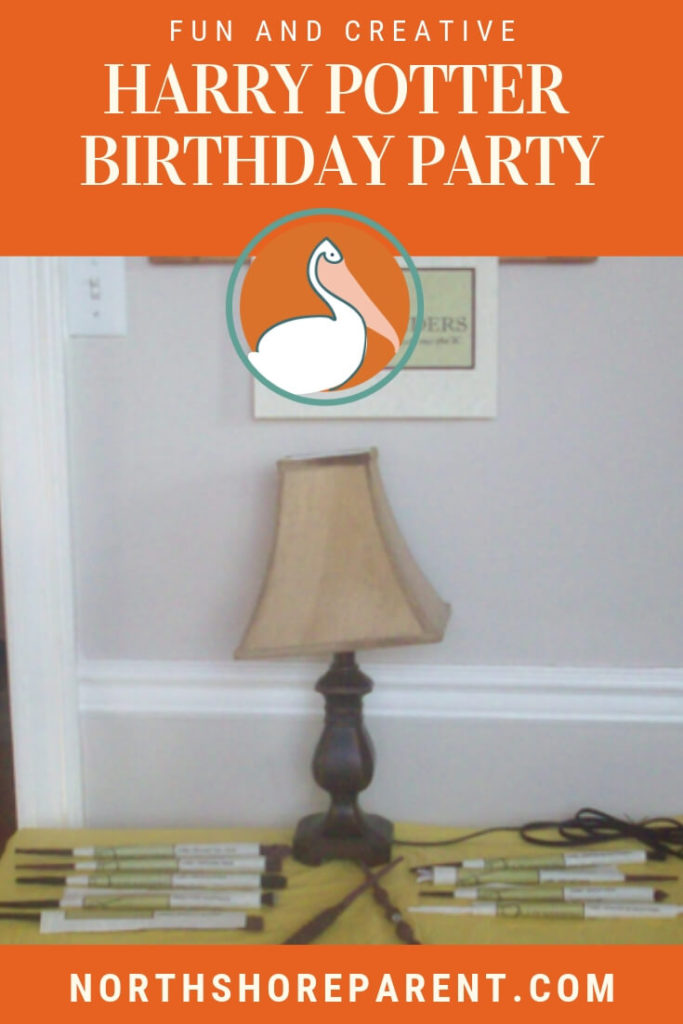 The following two tabs change content below.
Melissa
I am a stay at home mom to two little girls who keep me running. I also care for my elderly grandmother full time. I'm a fan of fitness, mainly because I'm an even bigger fan of cooking and eating. When I'm not busy juggling other people's busy schedules, I can usually be found with my nose in a book or conducting bold experiments in my kitchen, some of which are quite tasty.