This post is fully updated for 2021!
Sometimes you want a little fun in the sun but you don't feel like taking on the expense and hassle of a full-on beach trip. If that's the case for you, Margaritaville Biloxi in Mississippi is the perfect getaway! If you've got a bunch of little ones there's no point in spending a bunch of money and driving all the way to Florida just to end up sitting by the pool. For cases like this a quick trip to Margaritaville Biloxi might be just what you need!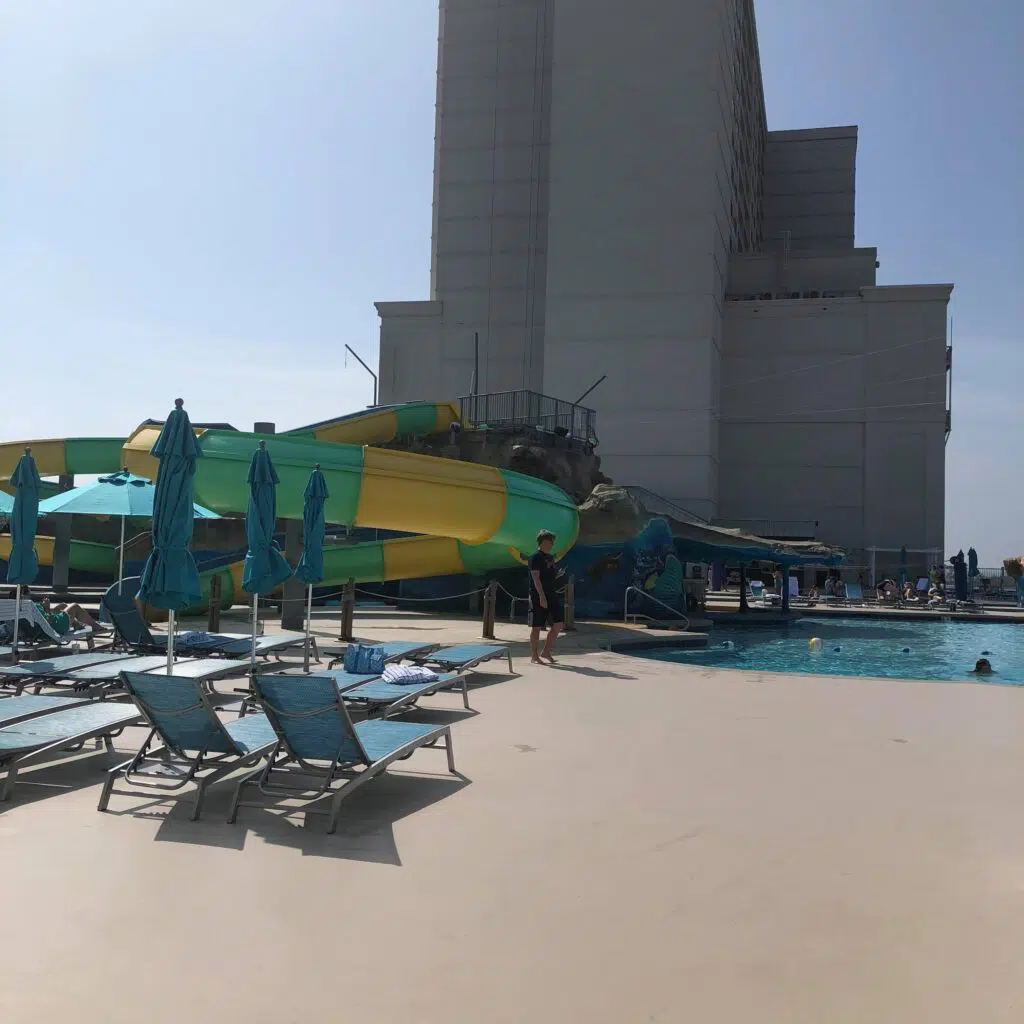 We have now had several of our writers go and have a ton of tips for anyone hoping to make the trek themselves. In addition to that, we had a writer go out after the reopening of the resort in March of 2021 so we have the scoop on all the changes and updates that we made to the resort. Margaritaville did, unfortunately take on water during Hurricane Zeta, but it's back now and better than ever.
The Margaritaville Biloxi Pool Deck
In the past the pool deck was known for being extremely sunny with very little shade. It's on the fifth floor and the water is right there, so there is a good breeze, but there's no shade. Margaritaville has addressed this and now have a number of umbrellas out on the pool deck. You still need to show up early if you want to get a prime spot but shade should be less of an issue than in the past. The pool opens right at 8:00 and it's best to be down there by 9:00 to 9:30 on a week day to make sure that you get a spot. I would assume on the weekends it would be good to get down there right at 8:00. One of our writers checked in at 3PM and there were no chairs available at that time. They've added an additional snack bar on the deck as well so there should be no problem grabbing a bite to eat when you need it.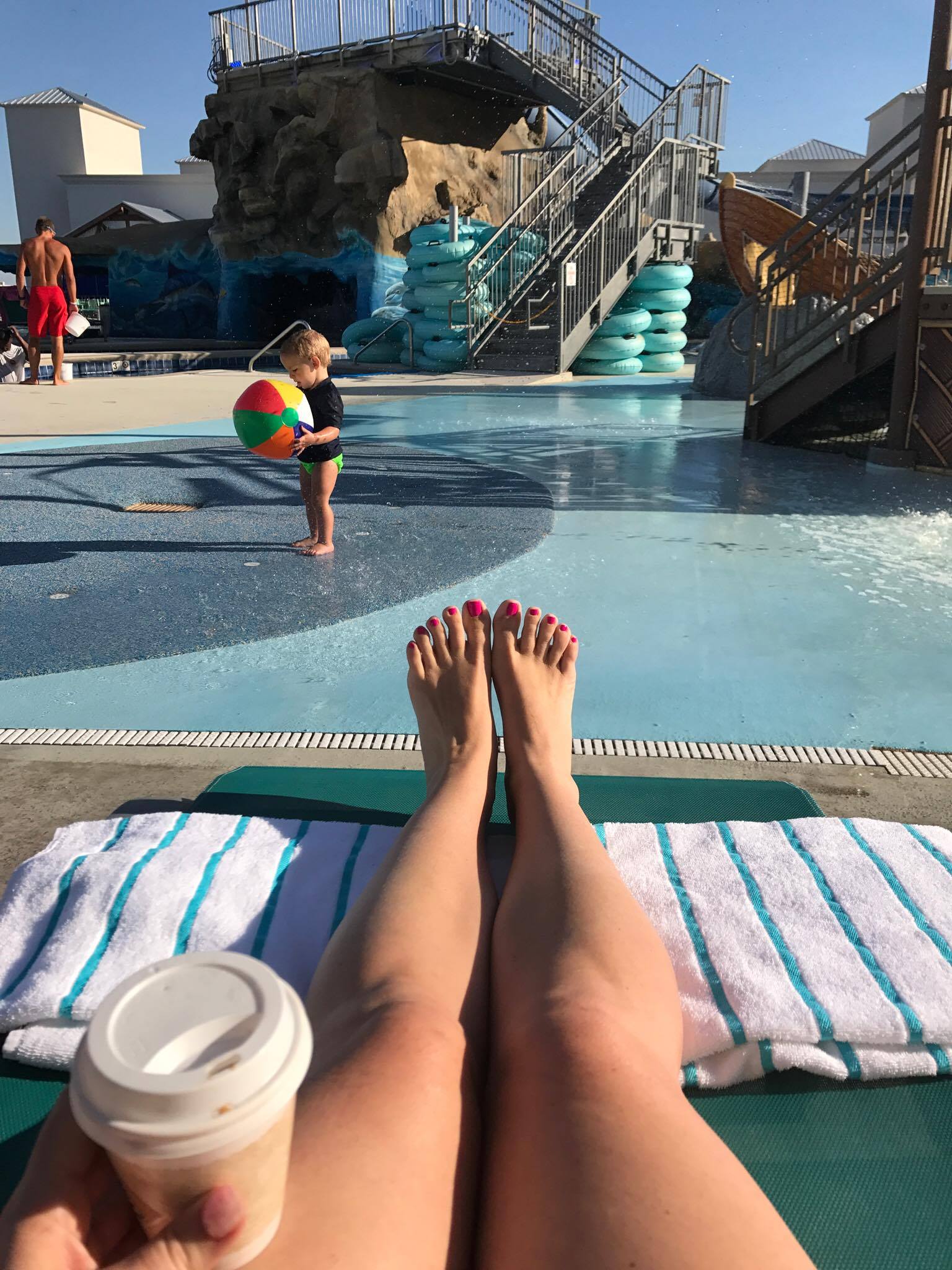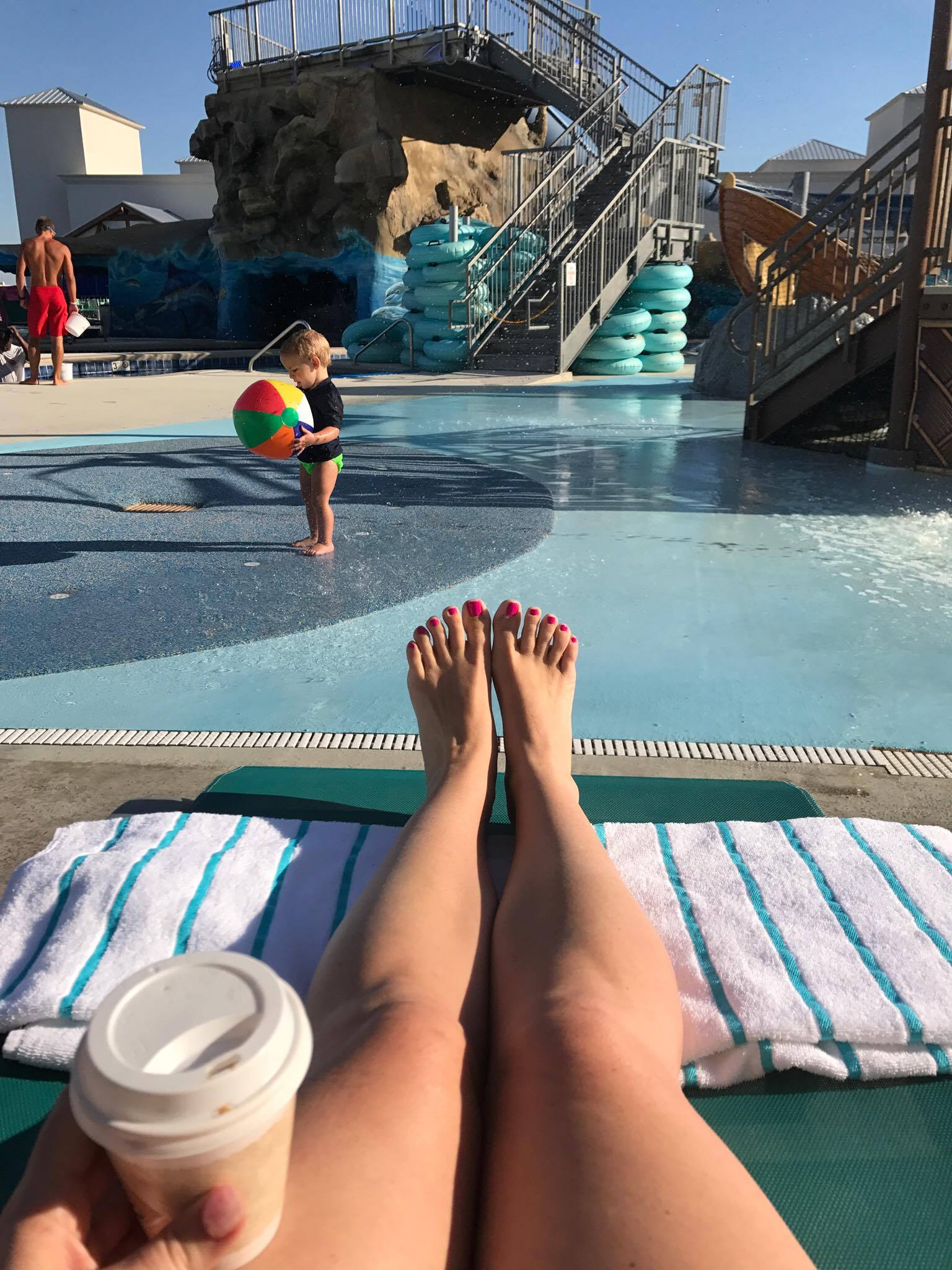 The Margaritaville Biloxi Pool and Splash Pad
The splash pad is very nice and there is a good amount of room for kids to play. Our writers have reported that their kids were entertained with the area for hours each day. The lazy river is also very nice although not terribly wide. It's about 3.5 feet so was easy for my kids to manage. When one writer visited they ran out of tubes quickly but there weren't any restrictions on bringing pool noodles into the area. I've found my kids don't really want tubes and just enjoy jumping up and down and swimming along the river. The pool is also spacious and has a swim up bar. They advertise the pool as "zero entry" which is about half way true. There is a zero entry shelf that is quite large but then drops off to 3.5 feet. It was the perfect area to play in but isn't exactly like other zero entry pools that you see some other resorts. Another thing that our writers reported is an increase in the number of lifeguards on duty around the pools making them feel very safe letting their kids go from one attraction to another.
Our writer Kelly reports that at ages five and up her kids were old enough to use the slides by themselves.

Restaurants at Margaritaville Biloxi
There are plenty of places to eat on the property and you really don't have to leave if you don't want to. There is a restaurant and bar that is on the pool deck which is great for lunch and dinner if you are staying at the pool late. There are a total of eight places for food or drink on the property so you definitely have options. Farruggio's Pizza is new and has replaced the Land Shark Restaurant. It's designed to be faster so that you don't spend too much time sitting around eating and you can get back to the pool or arcade. Like any amusement-type place the prices are a little higher but the portions are extremely generous and one of our writers reported that her kids ended up sharing meals and she and her husband did as well. One of our writers noted that there is only one restaurant serving breakfast and it's a nice, sit-down place. There's also a coffee shop that has pastries. If you're looking for a quick breakfast you might have to venture off the ground to the waffle house down the street.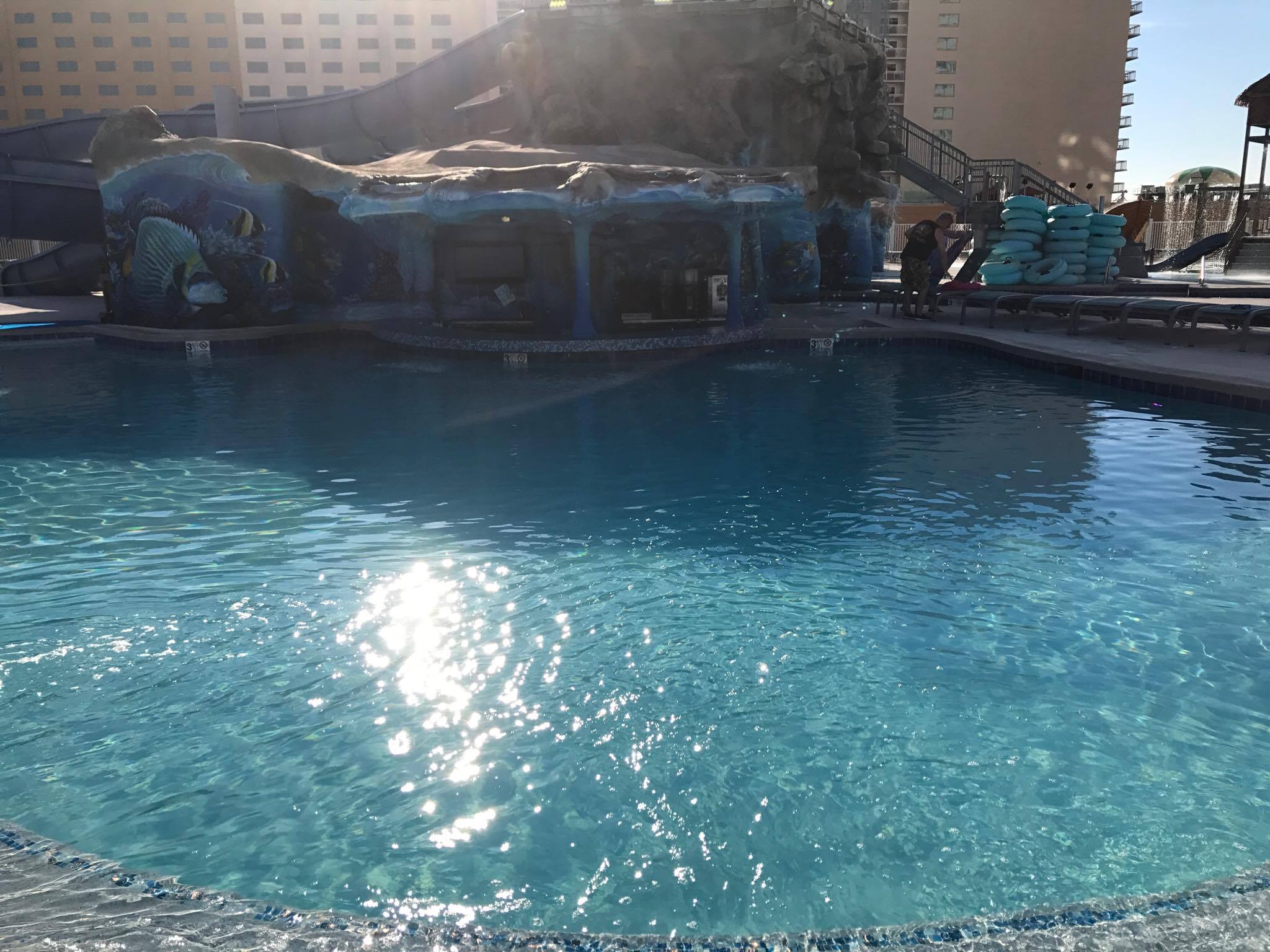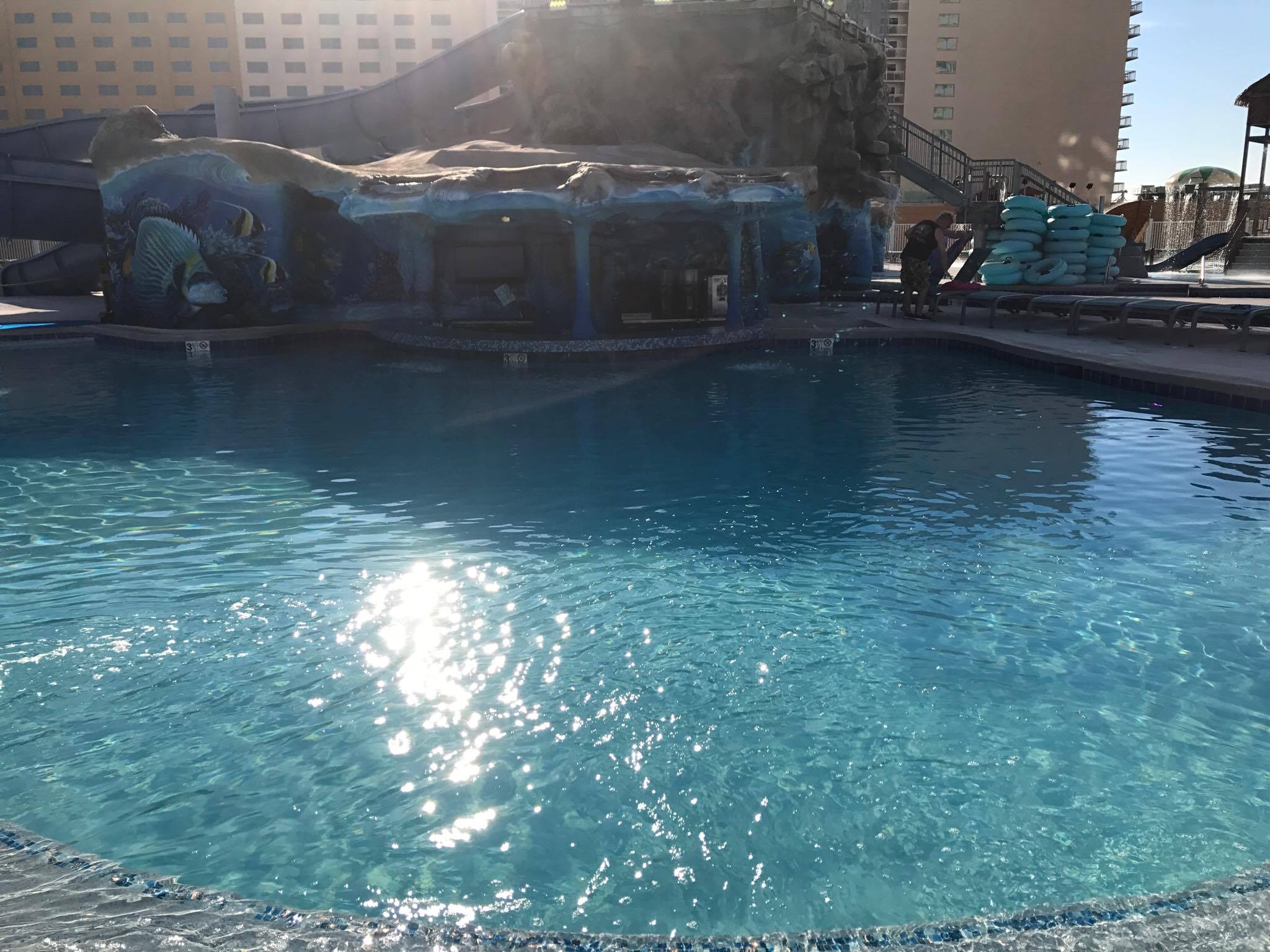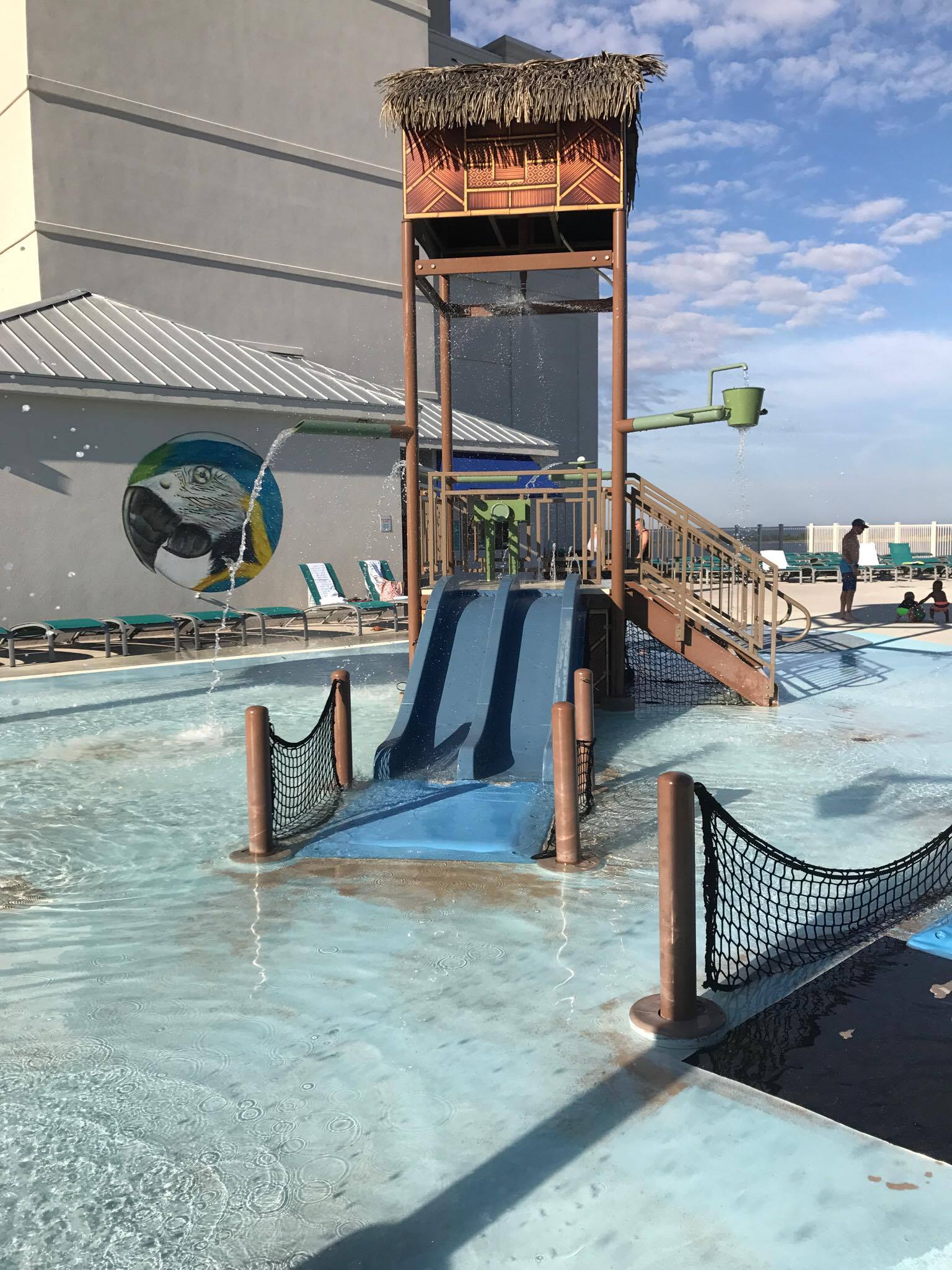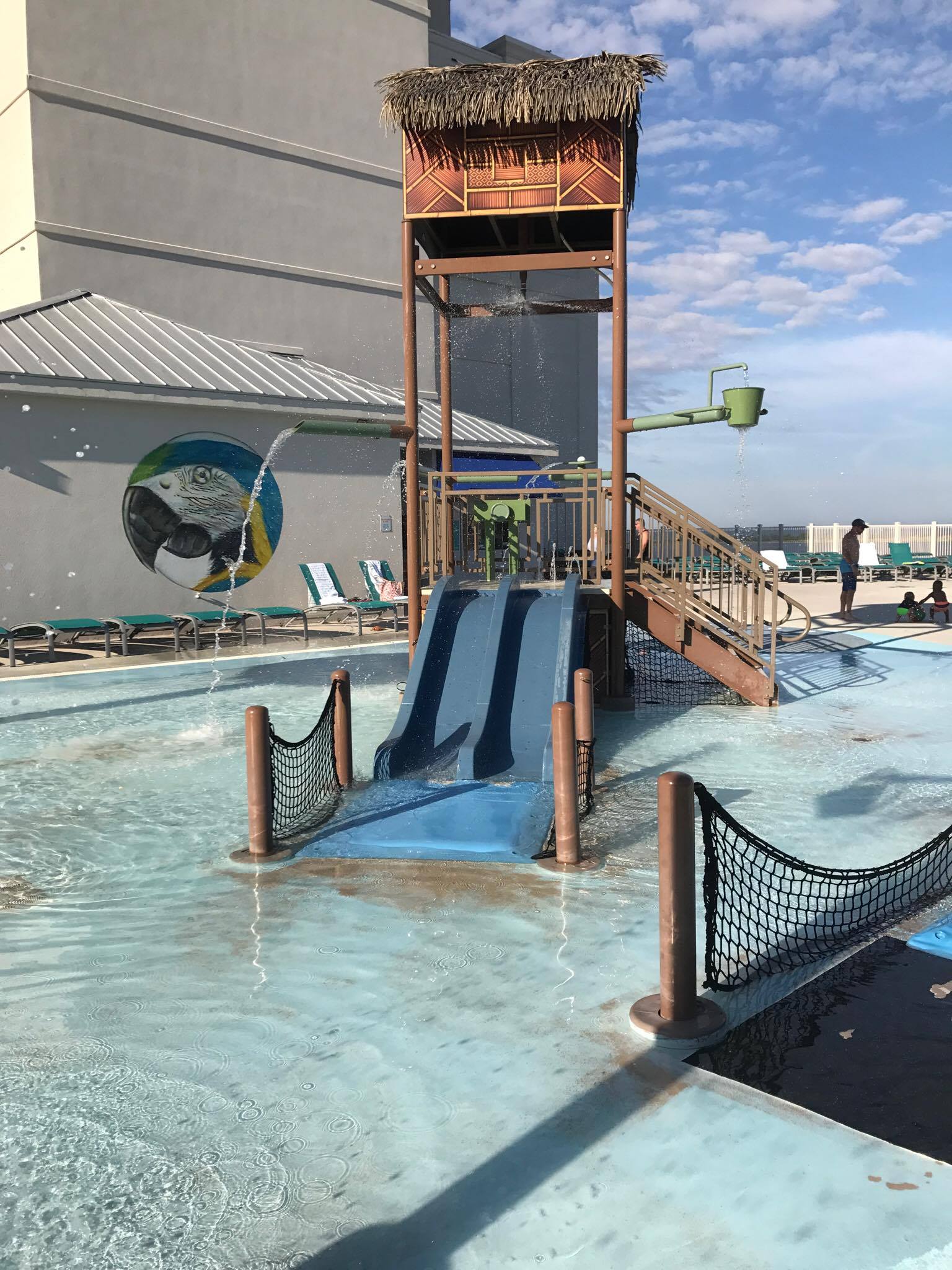 The Arcade at Margaritaville Biloxi
The arcade is AWESOME. In order to play you needed to purchase a play card to swipe at each game. You can purchase them with your debit card via machines all around the arcade floor. Smaller children will be able to get in a lot of play for $20 or less. On top of having regular arcade games they also have a bowling area, climbing wall, and ropes course with zip line. The arcade has been redesigned after Hurricane Zeta and now boasts 150 games.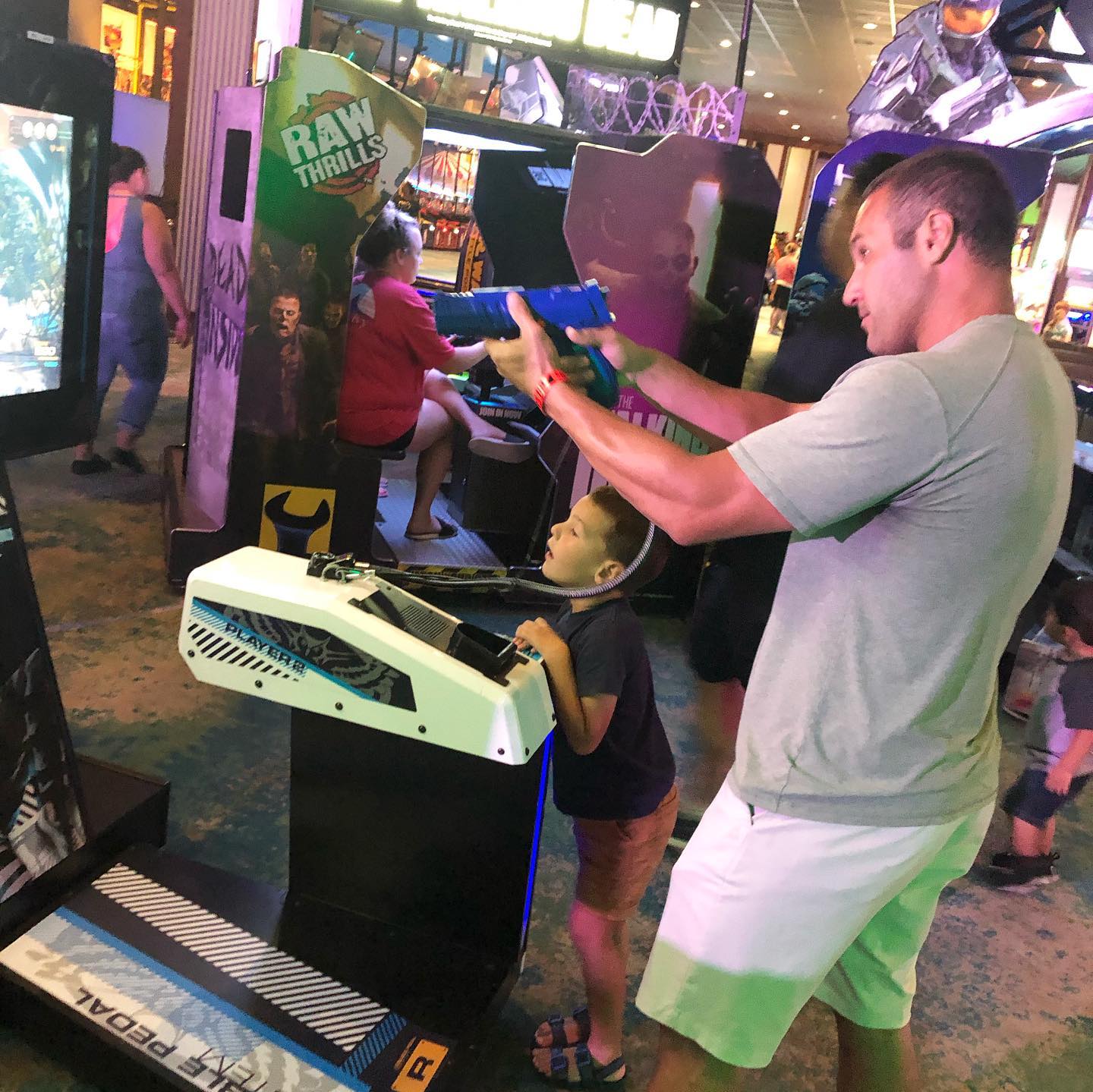 The Rooms at Margaritaville Resort Biloxi
Rooms at Margaritaville have always been spacious enough for families with a couple of kids. Many of the room have a mini-fridge so be sure to ask about that when you book.
Margaritaville has added a new suite option as well for people traveling with kids–bunk bed rooms! These rooms feature a regular bed for mom and dad and a full over full bunkbed for the kids. Kids love bunk beds so much I know this will make the trip for some of them!
One of our writers reports that they love to get balcony rooms because their kids like to watch boats coming and going in the Gulf. This was not a balcony room but it still had a great view.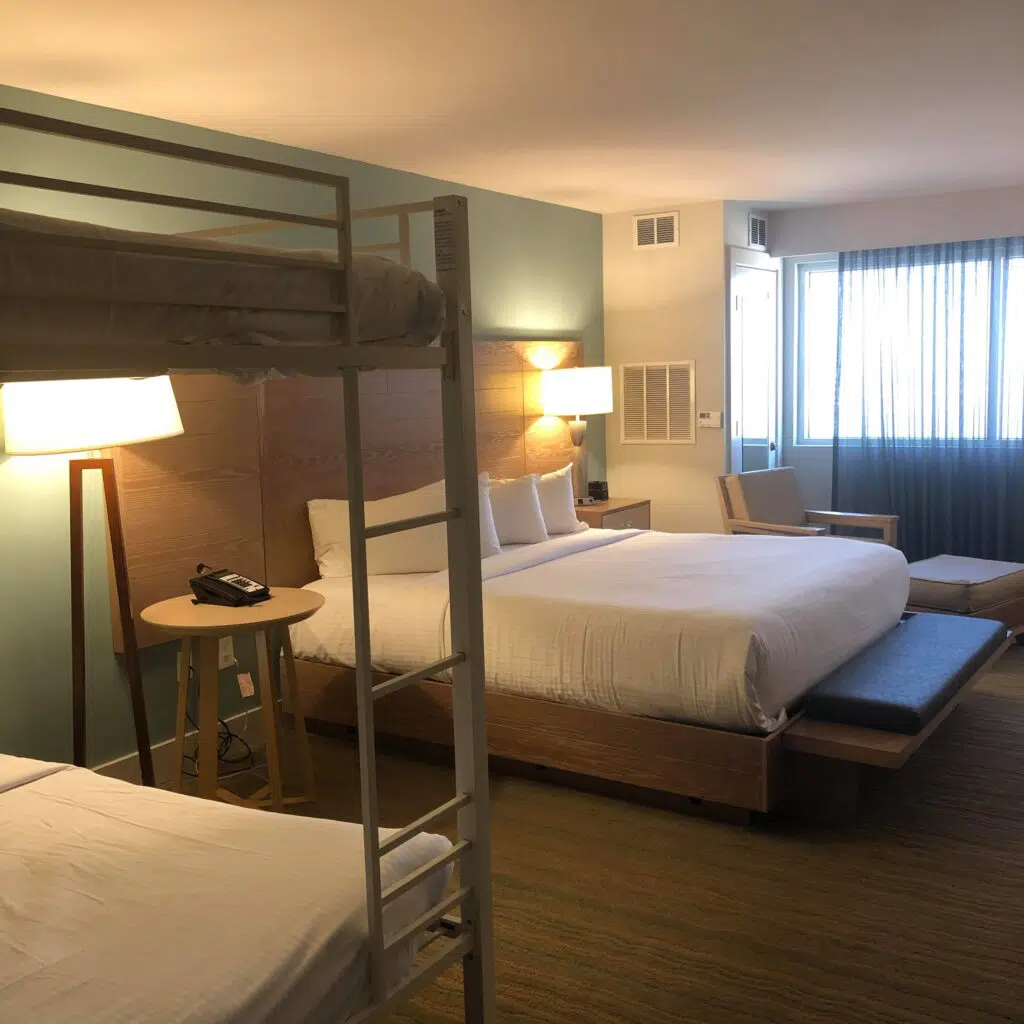 Margaritaville Biloxi Expansion
Hurricane Zeta did set the resort's timetable back with regards to their expansion but even now they are making plans to move into phase II. The expansion will include more hotel buildings and a restaurants and an outdoor amusement park complete with carnival rides. There are also plans to build a water park north of the highway. When I toured the property recently the Director of Marketing, Tessy Lambert showed me exactly where the arcade will open up to the amusement area and also where the pool deck will allow folks to look down on the amusement area. It's going to be amazing I'm sure. To see renderings of the planned expansion you can visit this news article.
Saving Money at Margaritaville Biloxi
Kelly is our deal finder so she shared the following tips for saving money on your trip:
I typically choose to book trips during the weekdays when it is cheaper.
Margaritaville has a "hero rate" that offers ten percent off the entire hotel. This discount can be used on rooms, food, arcade, etc. The discount is for medical professionals, firefighters, military, teachers, etc. and came in very handy our entire trip.
On Wednesdays, games in the arcade are always half off. This is only for the green card readers, but those are all good games.
The Margaritaville website also offers specials at certain times such as $25 for $50 food and drink vouchers, or special arcade packages so be sure to check that too before paying full price! The arcade really is amazing and $50 lasted three kids almost two hours on the ½ off games Wednesday. The prizes are decent too, so that is always a bonus for the kids!
What Restaurants are Close to Margaritaville Biloxi?
Now we've mentioned that you don't need to leave the hotel to eat, but maybe you want to venture off the property just to check things out. You're in luck because the resort is located very conveniently near a lot of other attractions. The Golden Nugget is right next door and offers three restaurants on their property: Morton's Steakhouse, Bubba Gump Shrimp Company, and Lillie's Asian Cuisine. There is also a Waffle house and a Fat Tuesdays Daiquiri Bar a short distance from the resort. Our writer Tiffany checked out The Blind Tiger which is very close to Margaritaville and absolutely loved their queso chicken sandwich. Their menu changes daily, so you can check online to see what they're serving on a particular day.
I hope this helps a little if you are planning a trip sometime soon. This resort is very popular with our writing team and now that it's all fixed up it's even better than it was before!
Did you know there are Margaritavilles all over the country? You can read all about Margaritaville in Pigeon Forge on the Nashville Fun for Families site right here.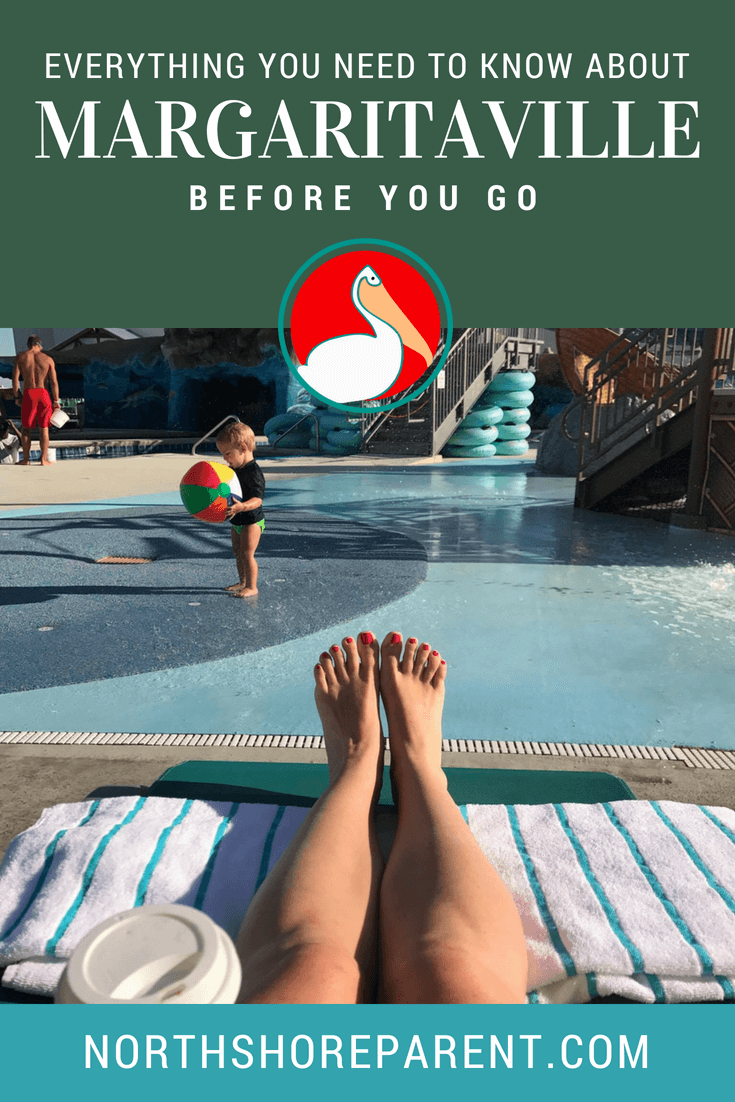 The following two tabs change content below.
Hi, I'm Katy. Mom to four sweet boys ages 10, 6, 6, and 5. It's a loud, messy, chaotic life. I love connecting with other parents and am so glad you stopped by today!