Editor's note: this post was originally written in 2017. We have added extra information, photographs, and updates for 2020.
This year my family opted to go on a more low key vacation rather than a big beach trip. I have three kids under the age of five and the thought of taking them all to Destin made me a little nervous. I knew if we went to Florida we would end up paying a lot of money to go to the pool and never get to the beach. With this in mind, we decided to go to Margaritaville in Biloxi after hearing a lot of families talk about how much their family had enjoyed it.
We decided to go during the week in the hopes that it would be a little less crowded and I did a lot of research online and asking questions in a few mom groups so I knew what I needed to bring. I felt pretty prepared but definitely came up with a few tips of my own while we were there that I wanted to share with you.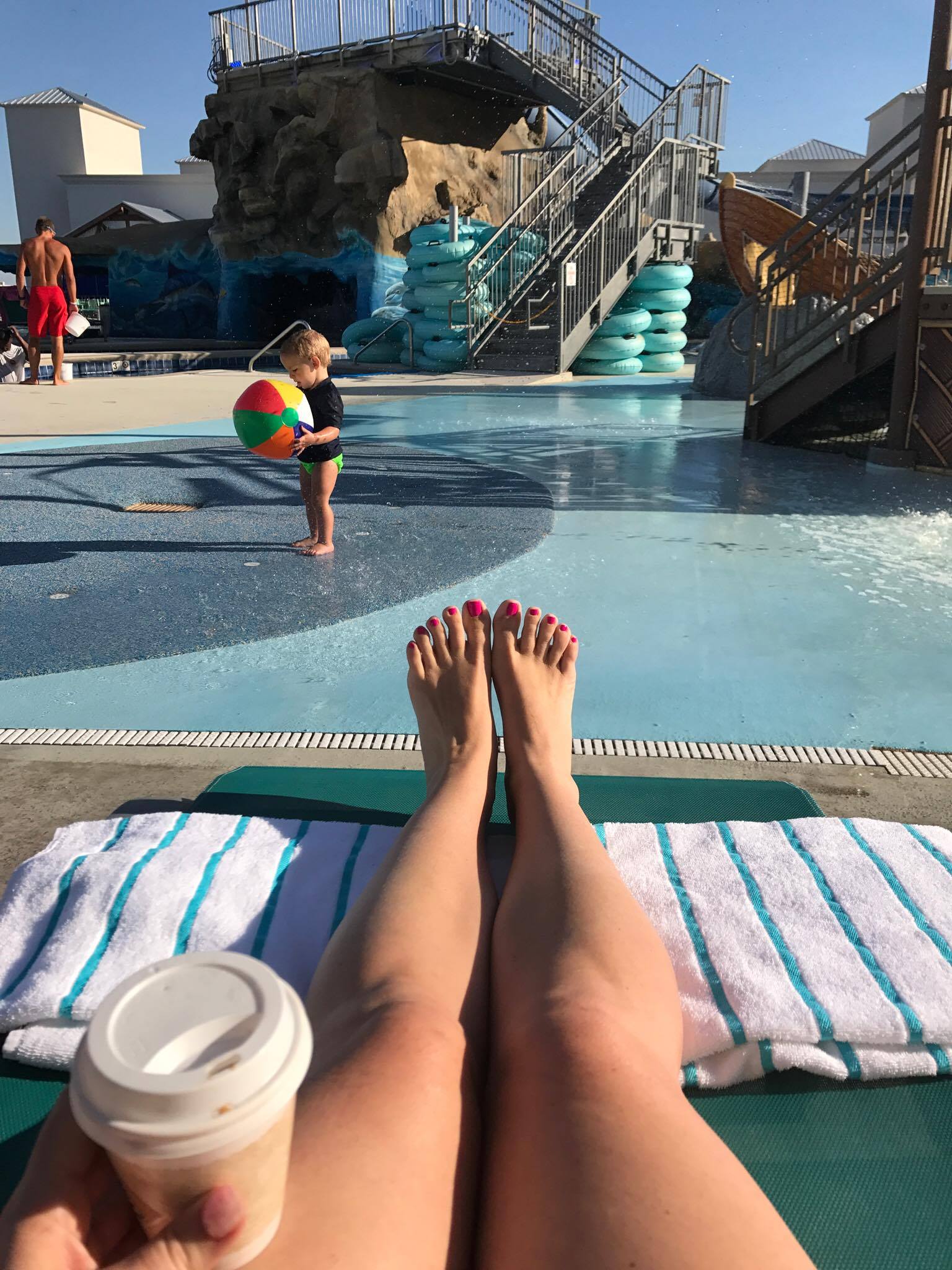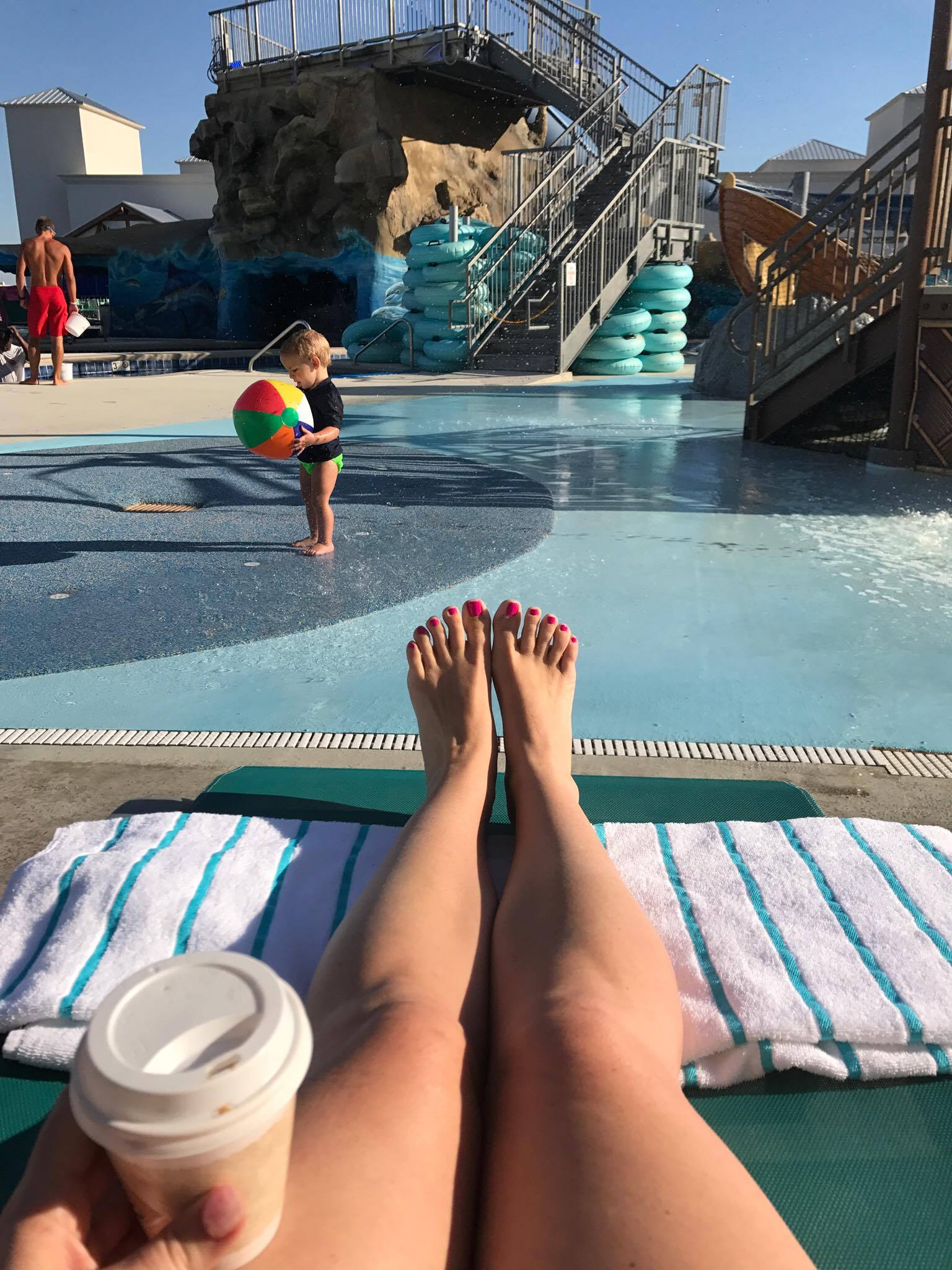 Be Prepared for Direct Sun
There is no shade. Seriously. There are two places on the pool deck that get shade between 12 and 2 and that is about it. The pool deck is located on the 5th floor and right off the water so even when it's hot it still feels good because there is a breeze, however, there aren't many places to get out of the sun. I saw a few people had brought those clip on umbrellas to use on their beach chairs. If we go again I will probably bring one.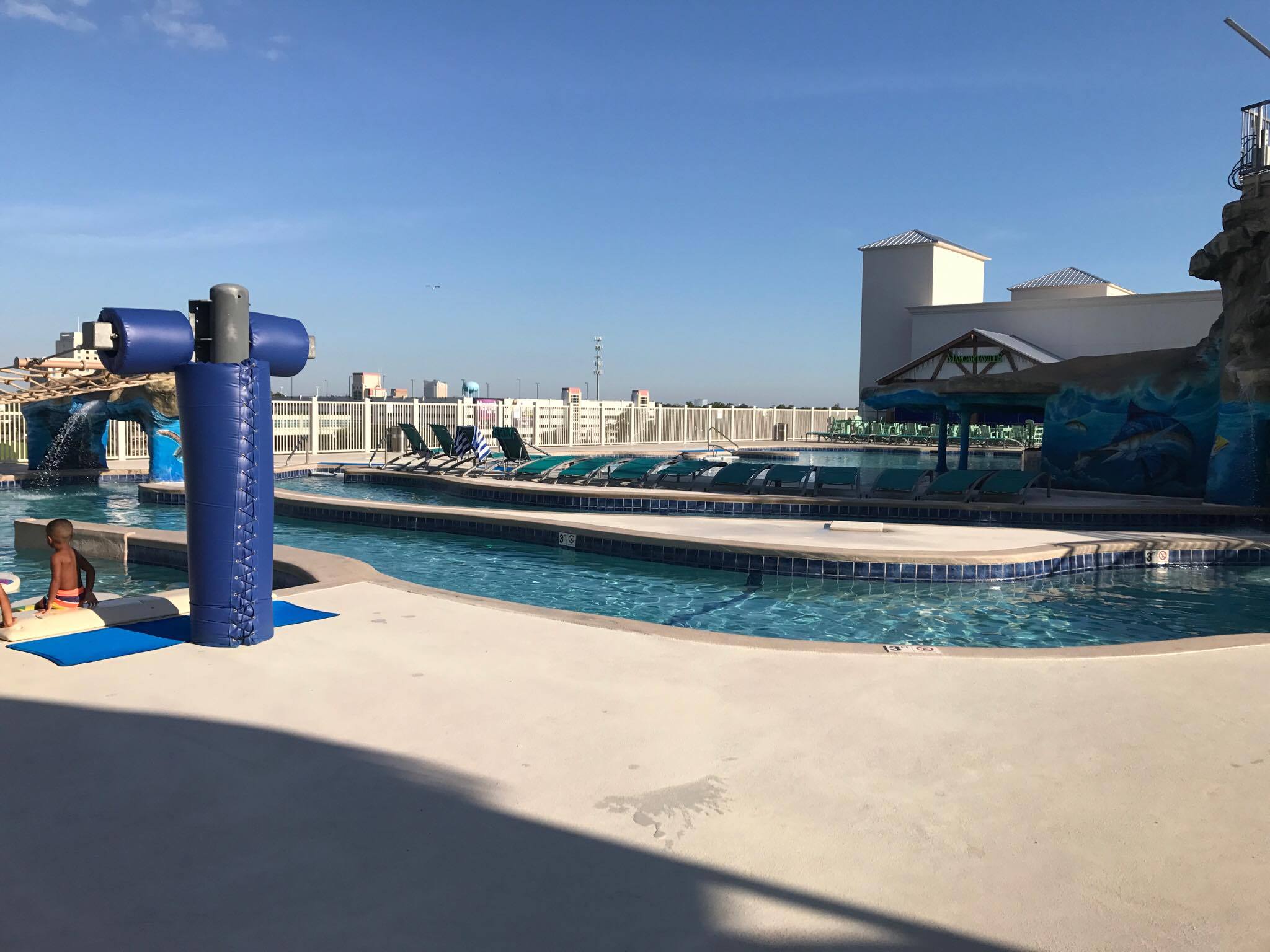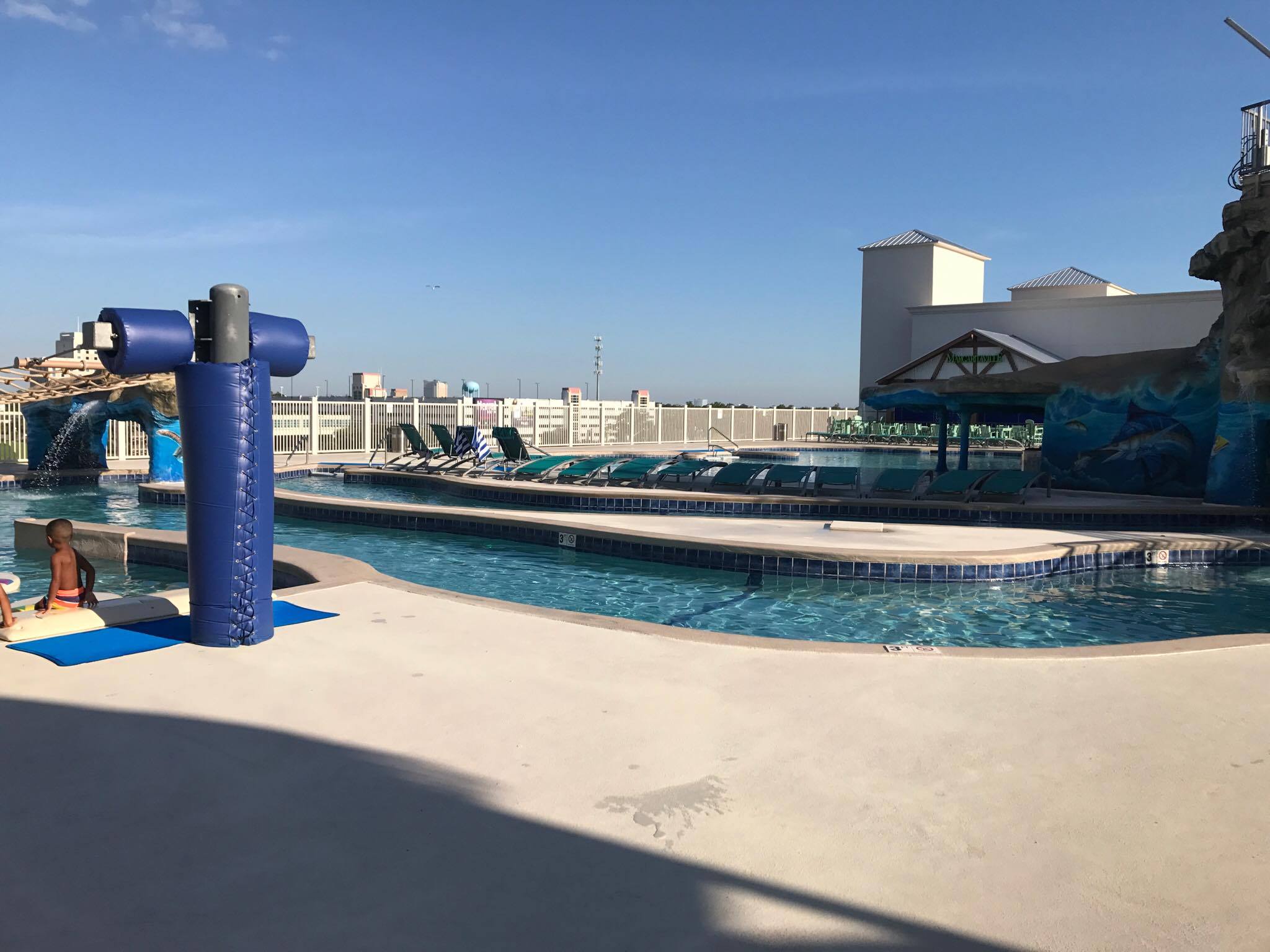 Week Days Will Be Less Crowded
The resort was very busy when we arrived on Monday but it seemed to calm down as the week went on. The pool opens right at 8:00 and it's best to be down there by 9:00 to 9:30 to make sure that you get a spot. I would assume on the weekends it would be good to get down there right at 8:00. The first day we arrived we got there to check in at 3:00 and there were no available chairs.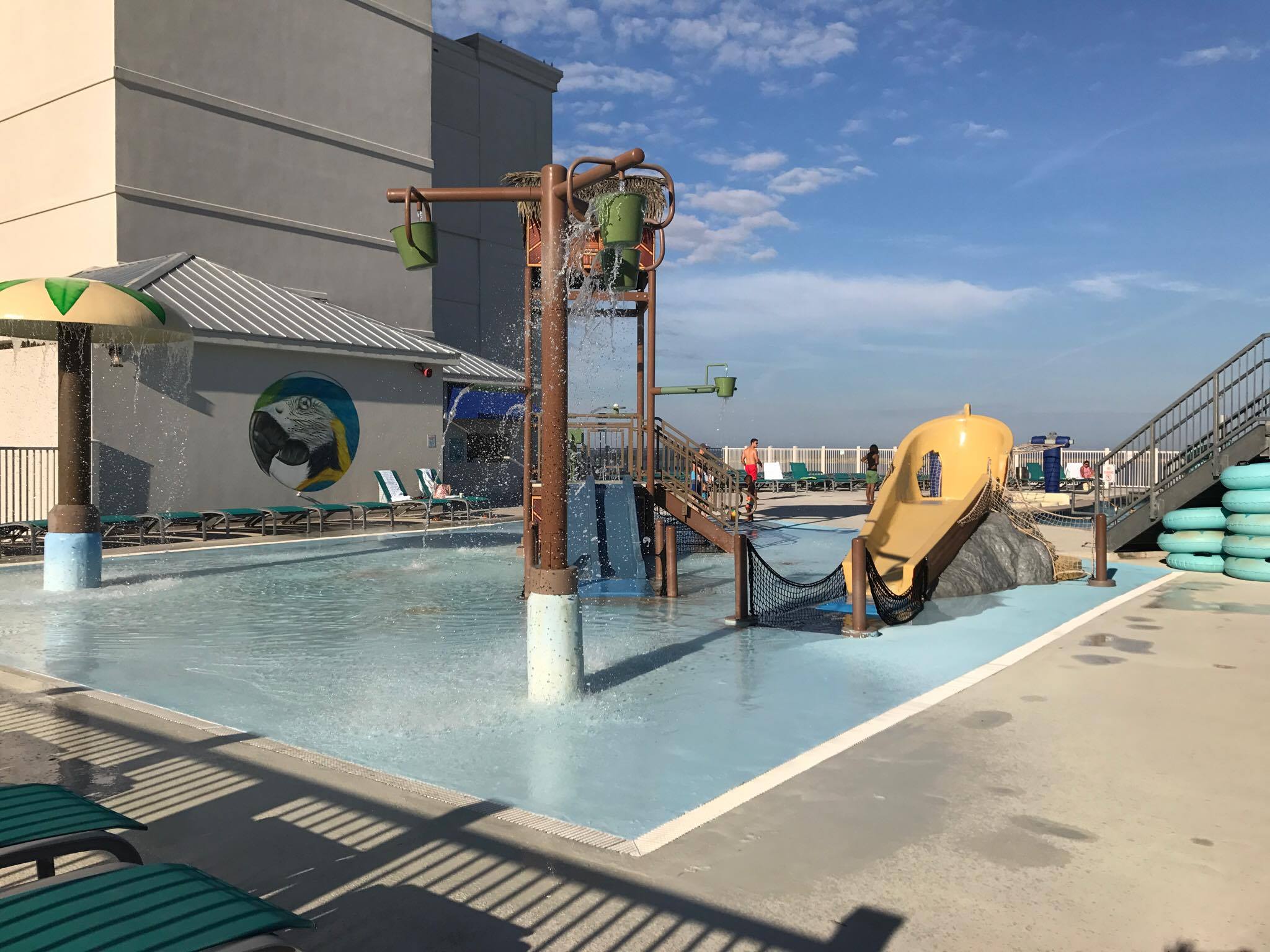 The Pool and Splash Pad at Margaritaville
The splash pad is very nice and there is a good amount of room for kids to play. My kids were entertained with the area for hours each day. We chose to sit on the wall closest to the splash pad so that the kids could play and we would get some sun. The lazy river is also very nice although not terribly wide. It's about 3.5 feet so was easy for my kids to manage. They ran out of tubes quickly but there weren't any restrictions on bringing pool noodles into the area. The pool was also spacious and has a swim up bar. They advertise the pool as "zero entry" which is about half way true.There is a zero entry shelf that is quite large but then drops off to 3.5 feet. It was the perfect area to play in but isn't exactly like other zero entry pools I have been to like the Caribe in Orange Beach. Also, they say no outside food or drinks at the pool but we brought water and snacks each day and didn't have an issue. (Shhhhh)
Slides at Margaritaville
At almost five my kids are now all old enough to do the slides at Margaritaville by themselves! I still joined them plenty but I didn't have to.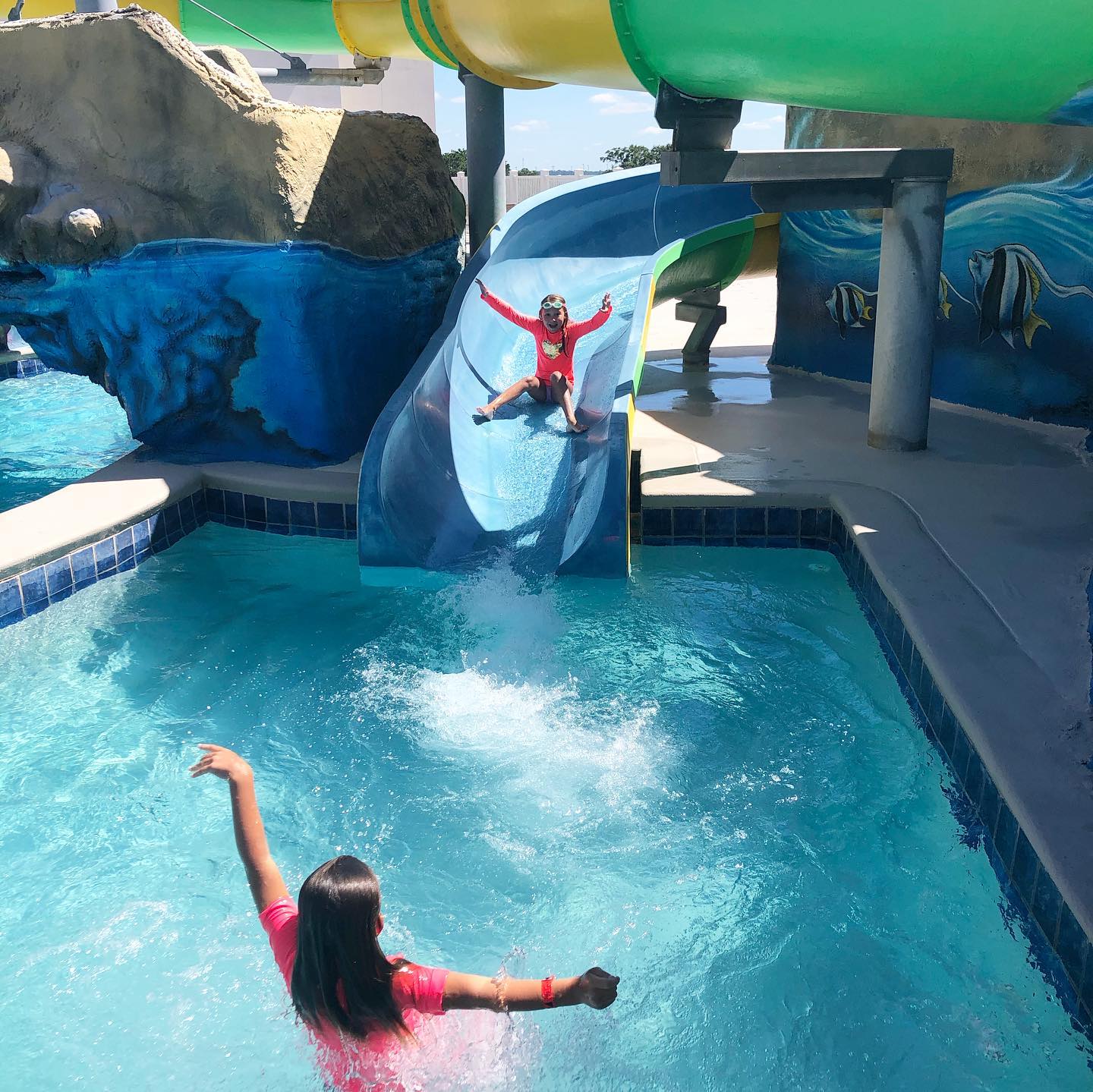 Lifeguards
Part of the reason I felt comfortable letting my kids roam with freedom this year between different attractions in the water playground is because there were many many lifeguards around. Each year seems to have gotten better about staffing more and more lifeguards in the right places. This brought me such peace of mind!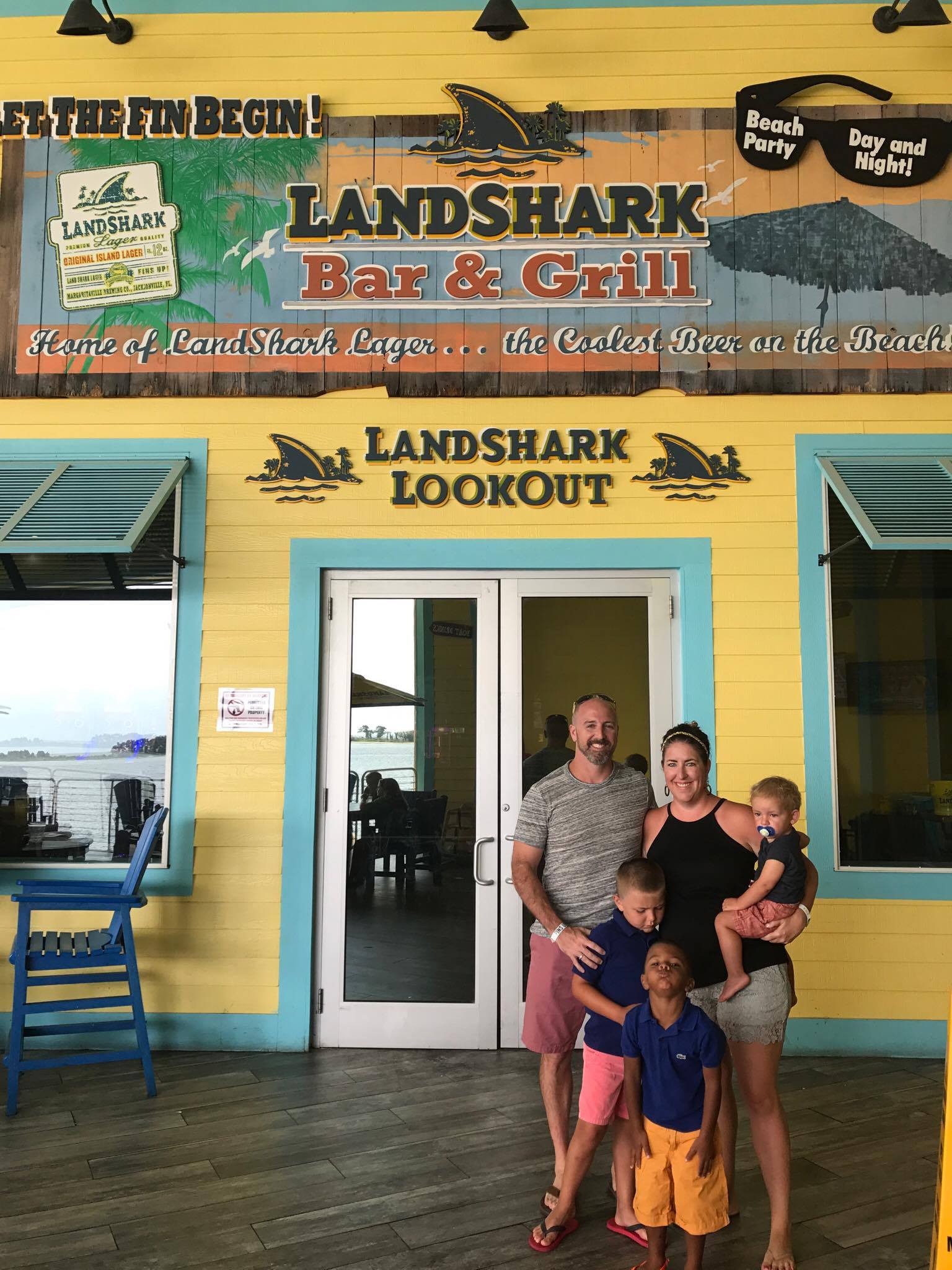 Food Options at Margaritaville
There are plenty of places to eat on the property and you really don't have to leave if you don't want to. There is a restaurant and bar that is on the pool deck which is great for lunch and dinner if you are staying at the pool late. They don't have chair side service which was a little disappointing for us because it's just more convenient to get food or drinks delivered to your chair, but all in all it wasn't inconvenient to get up and go eat in the outdoor restaurant. There are two other restaurants located in the arcade area. We ate at all three of the restaurants and they were all very good. I found the kids meals to be expensive but the portions were huge. Most meals my kids split two meals between the three of them. The portions for the adult entrees were also large–my husband and I split meals several times especially at lunch.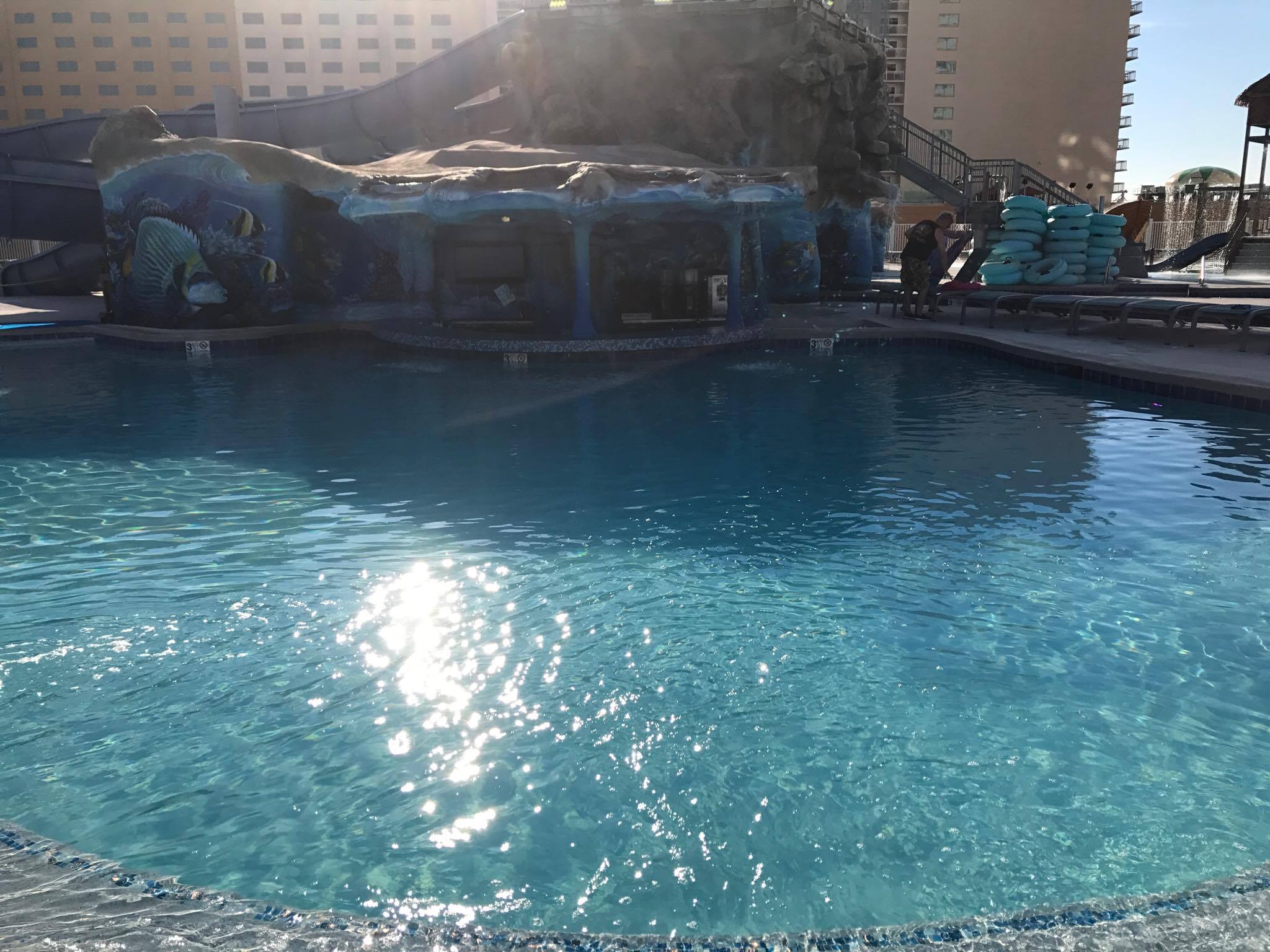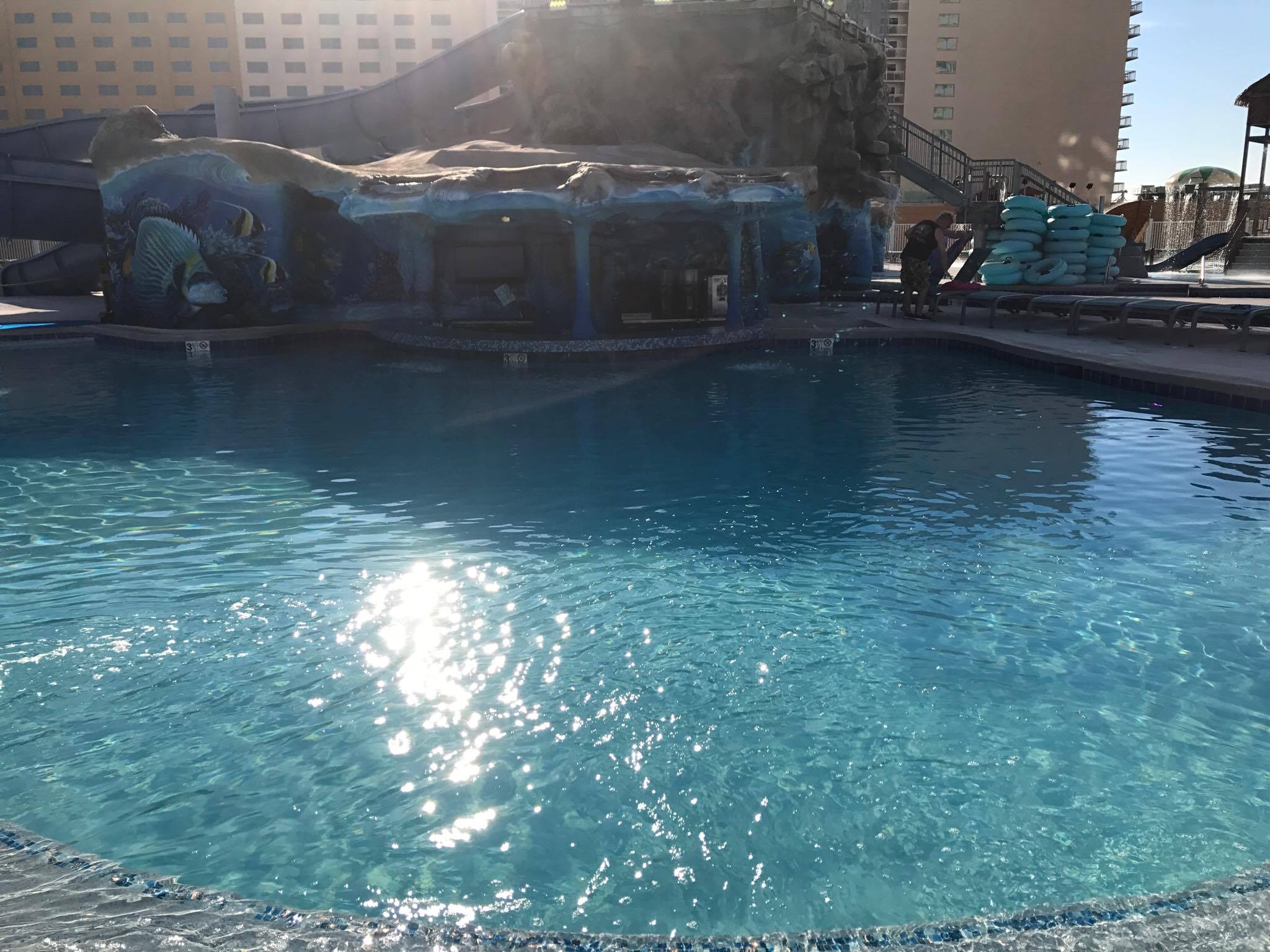 Breakfast at Margaritaville
There are two places to have breakfast. One is a coffee shop that serves pastries and things like that for breakfast. Landshark restaurant also serves breakfast but the entrees were pretty big and I thought it was a little over priced. This was the only thing I would say that I was somewhat disappointed with at the resort. My kids like to eat eggs or something along those lines for breakfast and we couldn't find a good option on the resort that wasn't going to cost us $60 for breakfast. If we go again I will probably bring breakfast items to have in the room and save the money.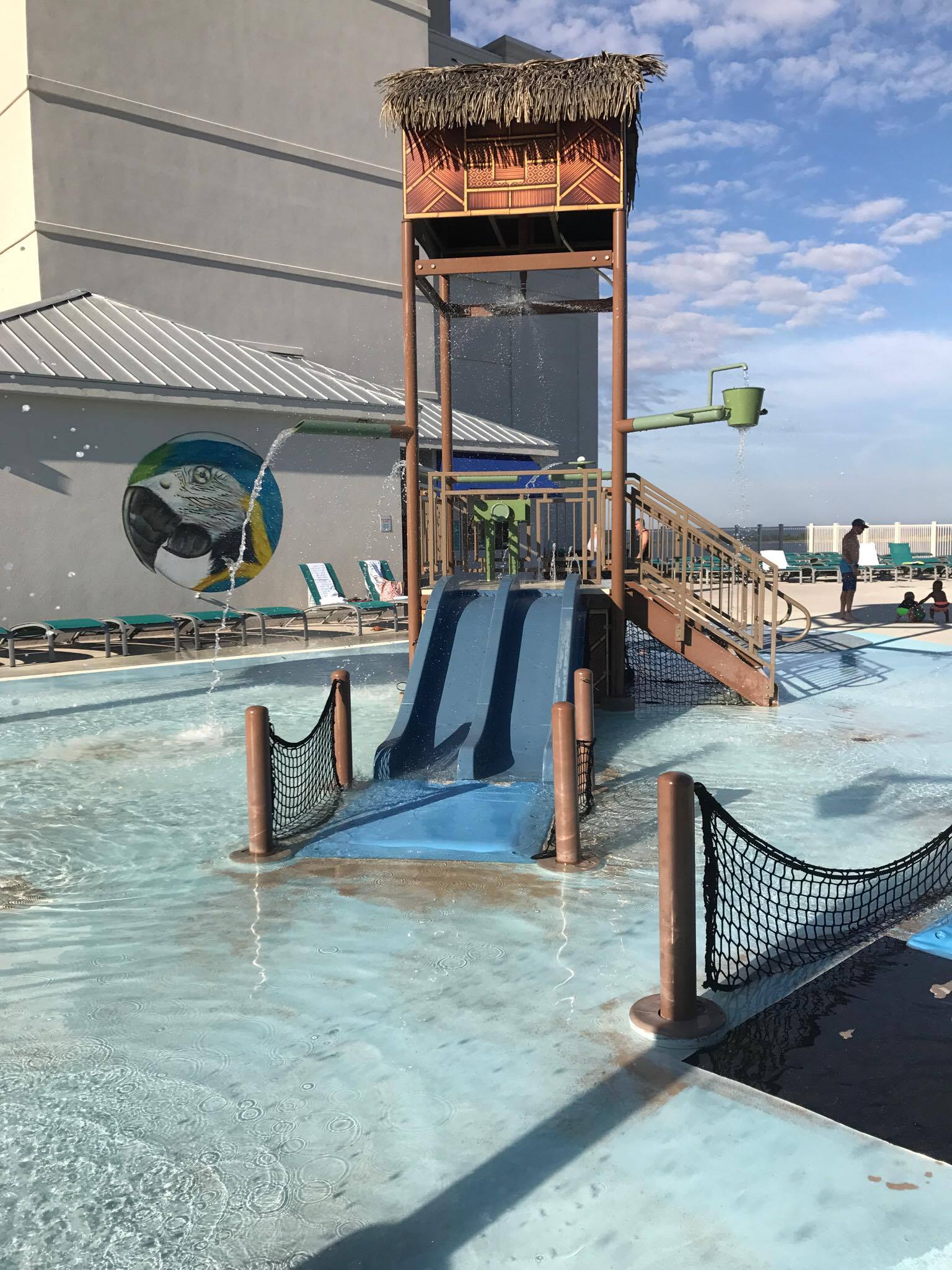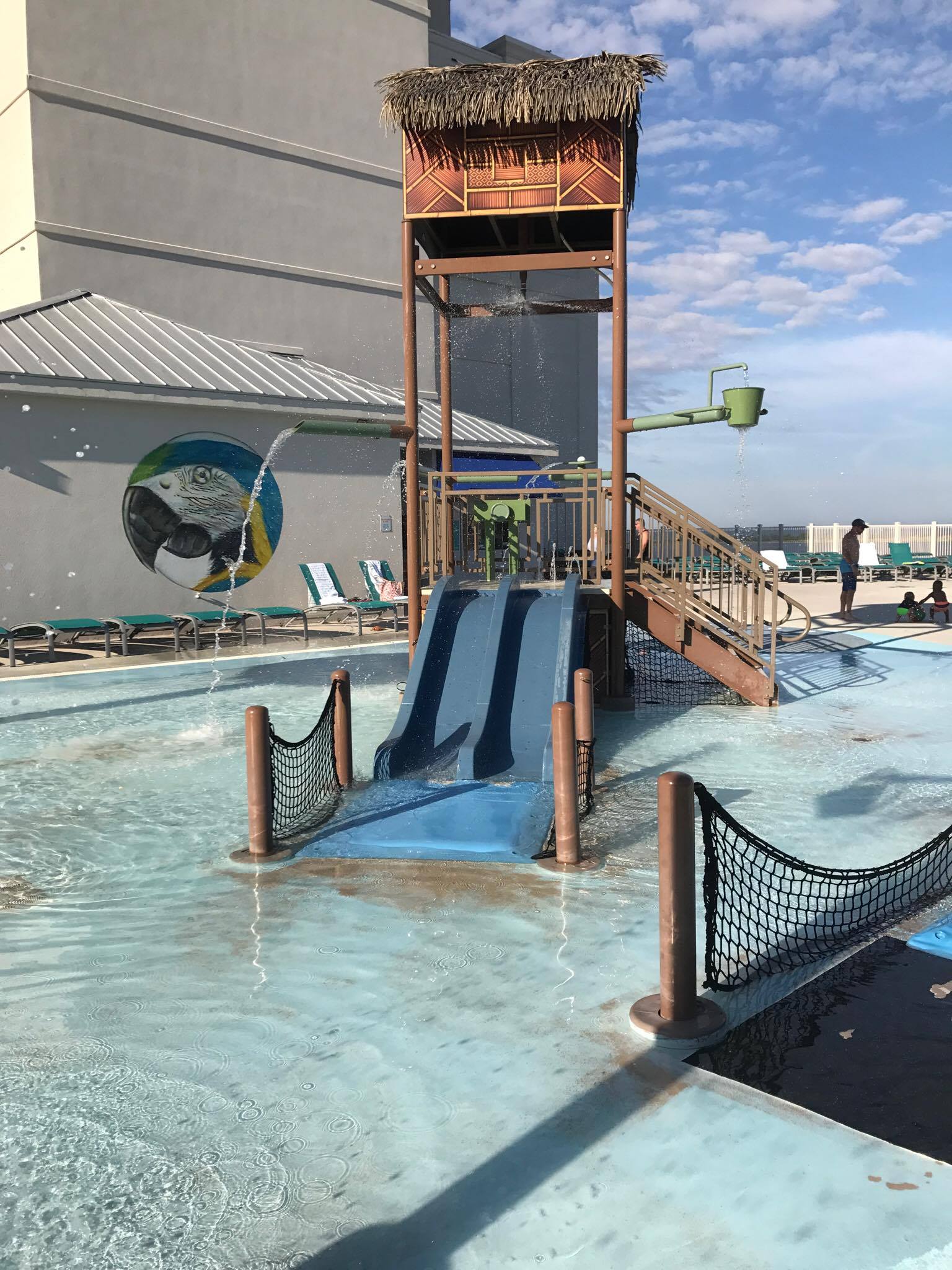 The Arcade at Margaritaville
The arcade was AWESOME. In order to play you needed to purchase a play card to swipe at each game. You can purchase them with your debit card via machines all around the arcade floor. It wasn't very expensive and my boys played multiple games for less than $15. It would have been great if we had a day where it rained. We spent a few hours there one night and the kids loved it. On top of having regular arcade games they also had a bowling area and a few big games that were interactive and things the kids could climb in. There is also a soda fountain stand on this floor too.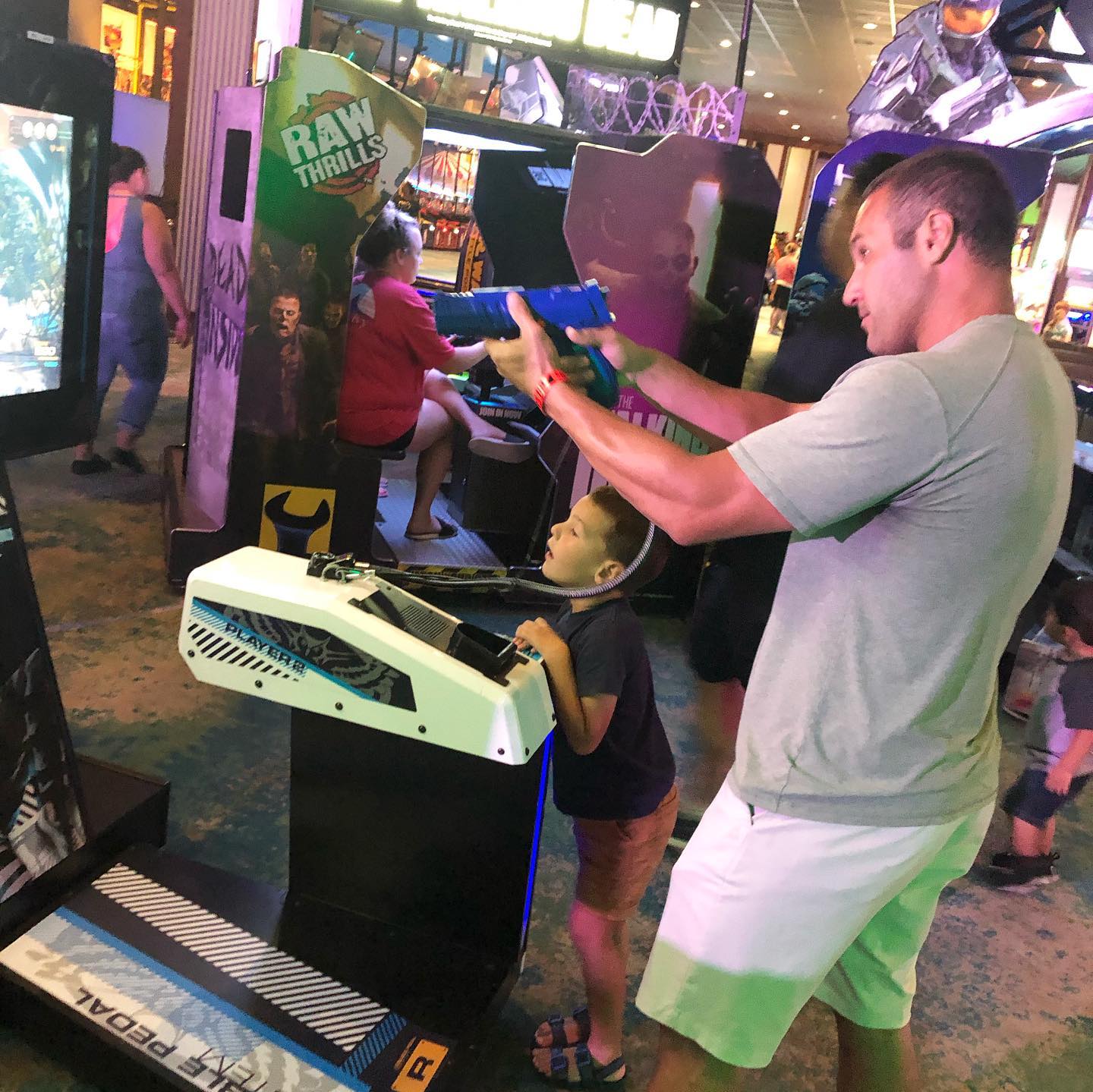 The Rooms at Margaritaville
The rooms were spacious and easy for us to stay in with 5 people. There is a huge walk in shower that made it incredibly easy to shower everyone off after being that the pool. The room also had a mini fridge and had I known that I would probably have brought more food and snacks with us.
We enjoy getting a room with a balcony so our kids can watch the boats come and go.
Saving Money at Margaritaville
I am always looking for a good deal, so I typically choose to book trips during the weekdays when it is cheaper.
Margaritaville has a "hero rate" that offers 20 percent off the entire hotel. This discount can be used on rooms, food, arcade, etc. The discount is for medical professionals, firefighters, military, teachers, etc. and came in very handy our entire trip.
On Wednesdays, games in the arcade are always half off. This is only for the green card readers, but those are what my kids enjoy playing most anyway.
The Margaritaville website also offers specials at certain times such as $25 for $50 food and drink vouchers, or special arcade packages so be sure to check that too before paying full price! The arcade really is amazing and $50 lasted our three kids almost two hours on the ½ off games Wednesday. The prizes are decent too, so that is always a bonus for the kids!
What's Close to Margaritaville?
The Golden Nugget is right next door. If you are looking to play in the casino or to eat in a different restaurant, it's all right next door. There is also a Waffle house and a Fat Tuesdays Daiquiri Bar a short distance from the resort. We also ventured off the resort to try The Blind Tiger down the street and it was pretty amazing. I had a chicken sandwich with queso which is everything. Their menu changes daily, so you can check online to see what they're serving on a particular day.
I hope this helps a little if you are planning an end of the summer trip. We enjoyed out time there and definitely were able to fill our days with lots of fun things. We would definitely consider planning another trip here next year.