It's spring and flowers are starting to bloom. The weather is lovely, for now, and annoying insects like termites, love bugs, and mosquitoes have yet to come out in full force. All that and the arrival of our baby in January, has inspired our wedding plans. The trend with wedding planning seems to be smaller, more intimate or laid back ceremonies, vintage is in, as is lace and fascinators, and outdoor ceremonies are increasingly popular. New Orleans Bride, NOLA Wedding Guide, and Gambit's CUE wedding guide have all been researched for this post and for personal reference. According to NOLA Wedding Guide, the average cheapest wedding these days is $25,000. I can buy a new car for that or even $10,000 less. Of course, my fiance' and I are older and we're paying for our event ourselves, plus we have diapers and daycare to budget for the next few years. So, if you're looking for how to plan your own wedding for less than a quarter of the price of the average, and you want something traditional, but not really, you've come to the right place! Here's how we're doing it:
Guests:
First you need to have an idea of how many guests you and your betrothed would like to include. This is tricky because we don't want any of our friends or family to feel snubbed, but we also can't afford to pay for a party of 300 people. We decided to keep it small and include kids since we have our daughter. Friends and family who we are closest to made the cut. We're pretty sure those that didn't make it will understand. Your guest list heavily influences your venue.
Venue:
We met at a nice bar on the lakefront, but because it is a bar, no one under 21 is allowed, so we had to look elsewhere for our reception. I also really wanted an outdoor ceremony. Initially, we talked about a beach wedding, but then the whole destination wedding idea coupled with having an infant and limited vacation time with our jobs, we decided to keep it local. I hopped online to search available venues in the Greater New Orleans area. The Knot has an easy search option that gives you brief overviews of what's available where. Places that have indoor and outdoor options were where we began to focus. We thought about the lakefront for the ceremony, with the reception at a restaurant, either of the state parks with a food truck or catering, before finally deciding on a place that's all inclusive. Maison Lafitte in Old Mandeville really spoke to both of us. It has the old New Orleans style we both love, a vintage feel, and a very nicely manicured yard that will be perfect for the ceremony. Even if it rains at show time, we can easily move things inside with plenty of room to spare for the reception.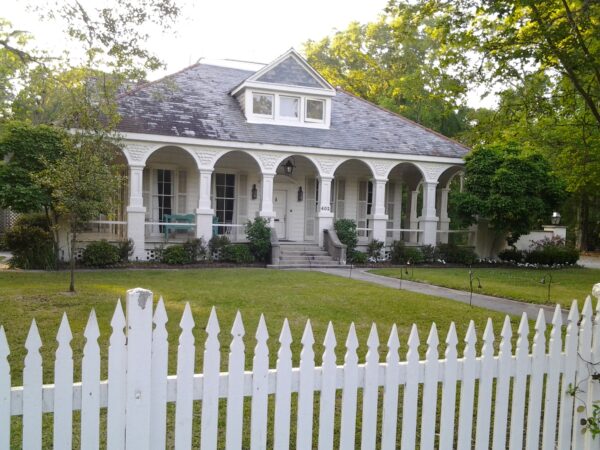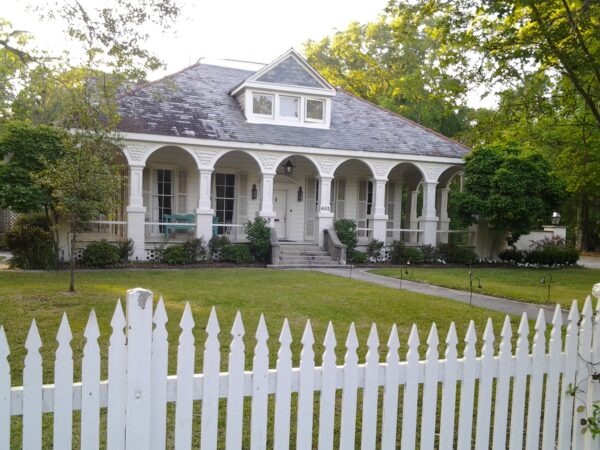 Date:
This is heavily influenced by the venue, and has changed the most for us. Originally, we thought about getting married in April, but once we started to realize the lifestyle of being parents to an infant, we knew that was impossible. It also depended on when our dear friend, who is also officiating, was available. After many texts and date book checks, we were able to find a date that worked for all of us and the venue we chose.
Budget:
This is how we ruled some places out, but it also became more defined and clearer as we narrowed down our list of potential venues. We both work, but I'm just now coming off a mostly unpaid maternity leave. I will admit, I was very naive when it came to how much even a "simple" wedding can cost, but considering the average, paying less than $4,000 for celebrating this major life event with our nearest and dearest is pretty awesome.
Food:
This falls under budget and venue, but I just keep in mind amount, variety, and your guest list concerning food. For example, we have some vegetarian guests and don't want to make them feel like they can only eat salad at the reception. Also, if you are interested in renting a food truck, make sure the venue or area you choose will allow it. Some places require a permit.
Dress, Shoes, & Accessories:
I started with a Pinterest board of ideas, then went by style and price. Also, talk to friends and family who have gotten married within the last few years. Keep in mind your budget and taste, but don't shun any until you do your own research. I'm still losing baby weight so I'm investing in Spanx. I also don't have time to have a dress ordered or significantly altered so I'm trying to buy off the rack. Most of what I pinned was from David's Bridal. The dress and shoe combination that I thought for sure what it didn't wow me in person. A dress that I would have never tried on my own, but one that my mother and sister-in-law both liked ended up being my top choice. Remember, the dress on the hanger is much different than the dress on you. If you're at all crafty, don't be afraid to add your own sash with ribbon from a craft store, or to make your own fascinator for your hair with feathers or silk flowers. Have fun with accessories! This is where I'm working in my something borrowed and something blue.
Invitations:
We thought we'd try to stay local with this, or even use old standby's like Shutterfly, but ended up finding exactly what we wanted, especially the price, online from Vistaprint! Maybe it's just me, but I never thought of them for wedding invitations. I've ordered business cards from them and knew they had started printing t-shirts, but seriously surprised at the selection of invites and reply cards.
Flowers and Decorations:
We have a flower girl, I'll need a bouquet, my groom and my father both need boutonnieres, and I'd like to do simple centerpieces for the tables at the reception. You can buy Ball jar sets for $10 at a grocery, get flowers and twigs from your yard or a grocery, and floral tape and ribbon from any craft store to make all of this. My parents happen to have very nice hydrangea bushes, so the flower girl will carry one bunch of those. My bouquet will be a mix of things I put together myself (a local grocery was going to charge $175 for a bouquet of 4 types of flowers) and should cost no more than $30 when it's all said and done.
The thing I most recommend to anyone planning their own wedding is to be sure to allow enough time for details. I did not realize that wedding dress shopping is nothing like regular clothes shopping. Many shops do not have "off the rack" options and if they do, they're not necessarily in the best shape. You can probably work a deal with the manager, but again, how much extra work will be required to get the dress into the shape you want. Also, proper wedding etiquette is to send out invitations a solid two months in advance. We are close, but are also cutting response time a bit short, which we hope doesn't affect how many guests are able to make it. Lastly, and hopefully obviously, have fun with it! We're including our daughter and nieces in the ceremony as bridesmaids (both infants) in a wagon and our flower girl (a 7 year old) will pull them up the aisle. I'm also crafty so I'm looking forward to having some creative time to make the bouquet and table arrangements. Happy planning!
The following two tabs change content below.
I started blogging in my early twenties on Friendster, then moved onto Blogger for grad school assignments, and eventually started an art blog for a dream business I might have one day. Now I also have a mommy blog that began when I was pregnant with my daughter/first child. I am a first time mom, a reference librarian, artist, DIY-er, and wife. I grew up in New Orleans and Mandeville.