Our family LOVES Disney World. I mean loves loves. It's probably our number one vacation destination. One big reason is the food. I know coming from New Orleans that sounds so weird. However, with the kids having food allergies for the last 15 years and being gluten free myself, Disney is the one place we can eat freely with little to no worries. We love finding new places to eat and foods to enjoy at Walt Disney World. Here are our choices for the absolute BEST Quick Service Restaurants around Walt Disney World Resort.
Sassagoula Floatworks and Food Company
On our last trip in May, we stayed at Port Orleans French Quarter. Not only did we fall in love with this resort but we enjoyed the food at Sassagoula so much it's where we ate most of our meals. Offerings include Mickey beignets, pralines, hamburgers, po boys, steak, chicken, pizza, jambalaya and more.

The blackened steak quickly became one of my favorite meals. My husband enjoyed the jambalaya but said the shrimp po boy was a little lacking. I personally loved the gluten free shrimp po boy they were able to make me but that's probably because I don't get it often. The gluten free pizza was one of the best I have eaten on property.

One of their specialities includes the beignet burger. It looks amazing and according to my husband it tastes amazing. This is a must have when you stay here.

I'm pretty sure my kids lived on the Beignets during our week stay. My husband and son said the Mickey Beignets were a little denser than Cafe Du Monde but still had a great flavor. The gluten free beignets reminded me of Cafe Du Monde. They were pretty perfect.

Even though you're from New Orleans put this gem on your list of quick service locations to try! It won't disappoint.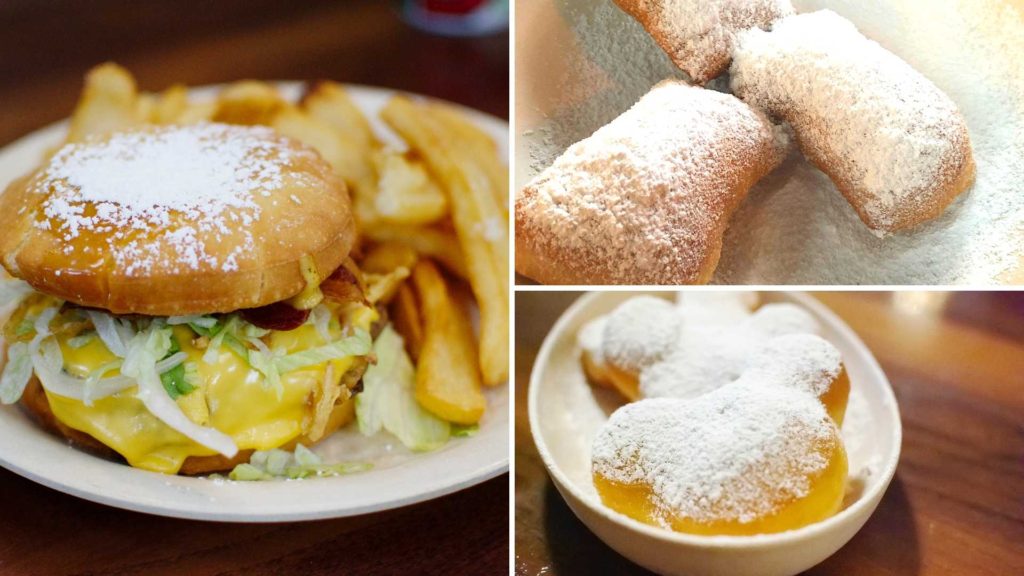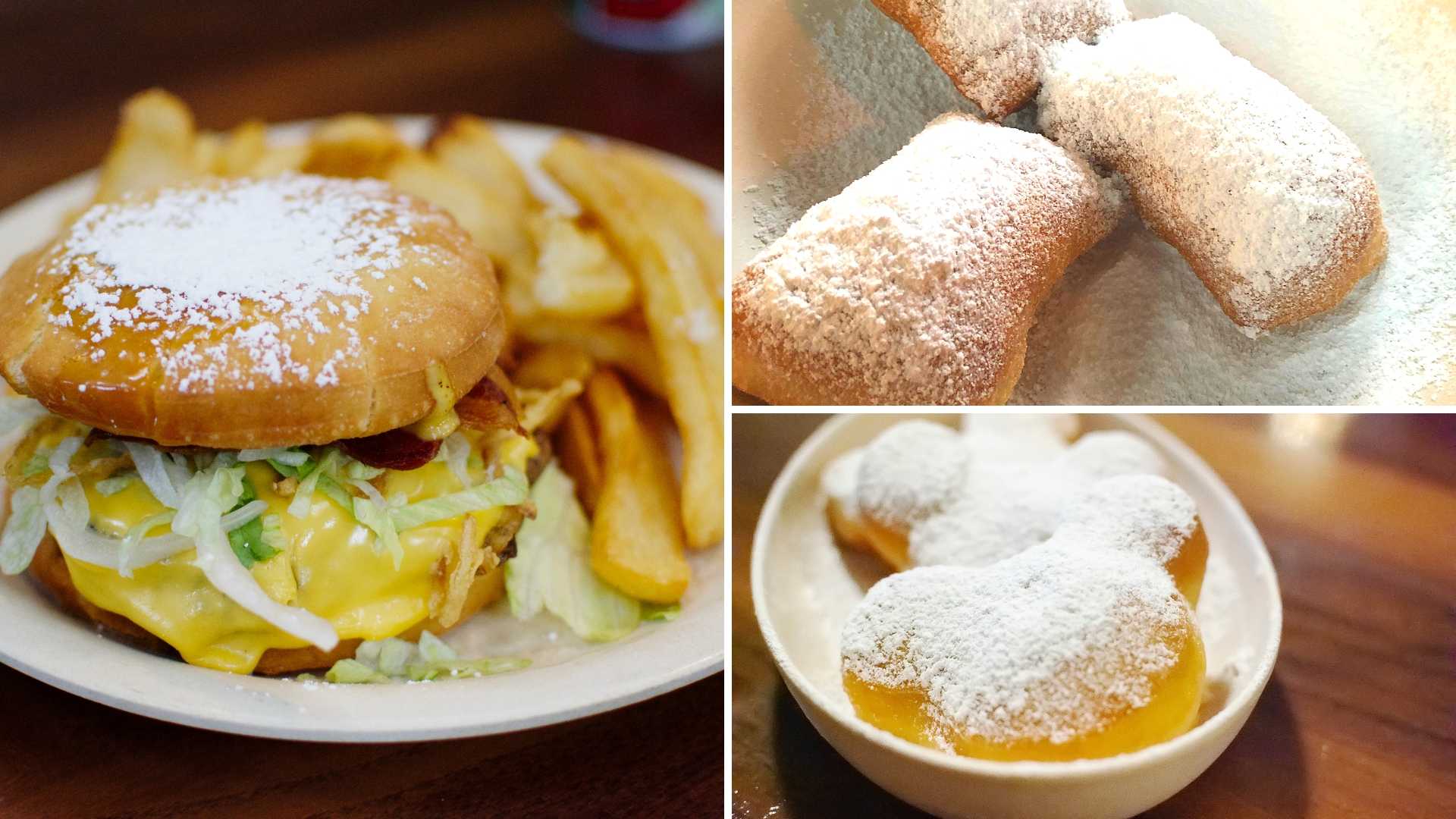 Flame Tree BBQ at Disney's Animal Kingdom
This hands down is my favorite place to eat at Animal Kingdom. The biggest downfall is the seating is all outside. So on a hot day it seems daunting. However the seating areas are tucked away under trees and awnings so that there is a ton of shade. It's also one of the most peaceful places in Animal Kingdom and just a good place to stop and relax.
Flame Tree BBQ is located to the right on Discovery Island right before you get to the walkway between Discovery Island and Dinoland. When you are walking into the park, take a right at the Tree of Life and you won't miss it.

My favorite thing on the the menu is the Ribs, Chicken, and Pulled Pork Sampler. Katy had the Macaroni and Cheese with Pulled Pork and rumor has it, it was so good she's trying to find a place here on the Northshore that makes it.

If BBQ isn't your thing or you would like to eat inside, I am hearing amazing things about Satu'Li Canteen in Pandora – World of Avatar. Everyone I know that has eaten there RAVES about the food.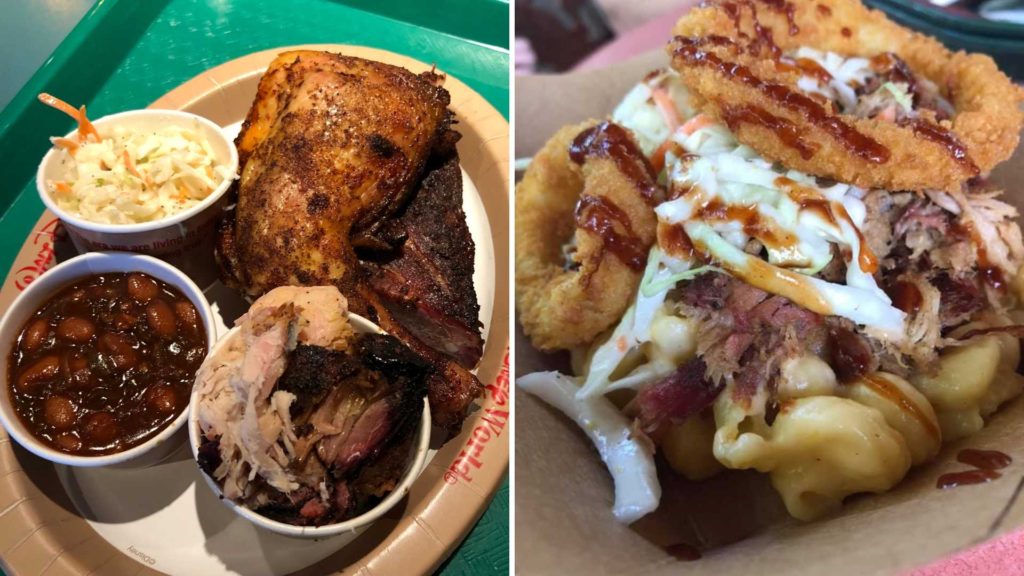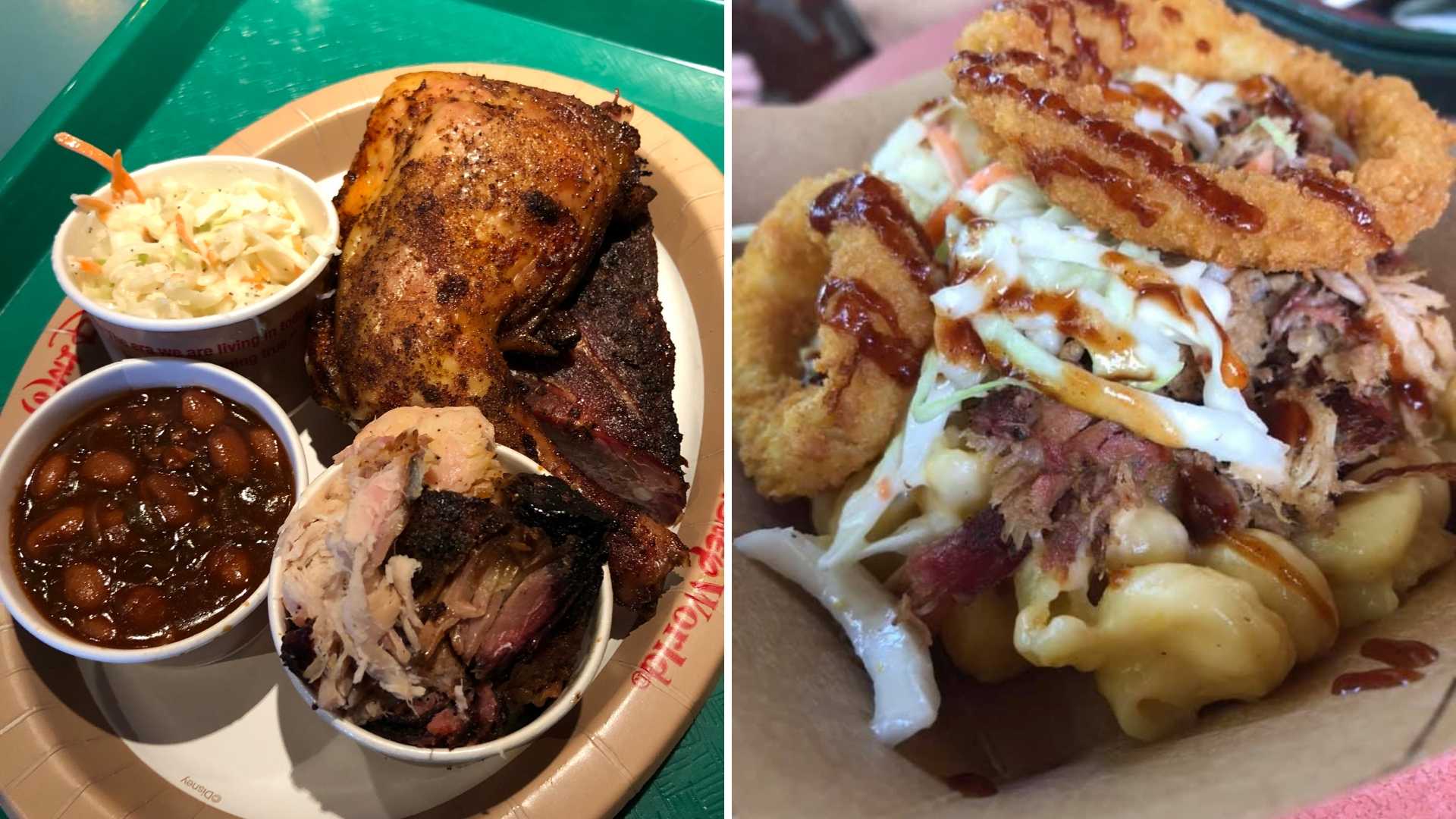 Katsura Grill in Japan at Epcot
My ten year old and I love California rolls. This is the only way I can get her to eat things like cucumbers and avocado so I indulge her love of them. The California rolls at Katsura Grill are the best I have ever tasted. I don't know if it's pixie dust, being at Disney, their freshness, the roe that is added to them that we normally don't get on our rolls or what, but OMG they are so good. We normally go here 2-3 times each trip just to eat California rolls and it's our one MUST Do at Epcot. I seriously went to Epcot one night for dinner just for these rolls. They are that good.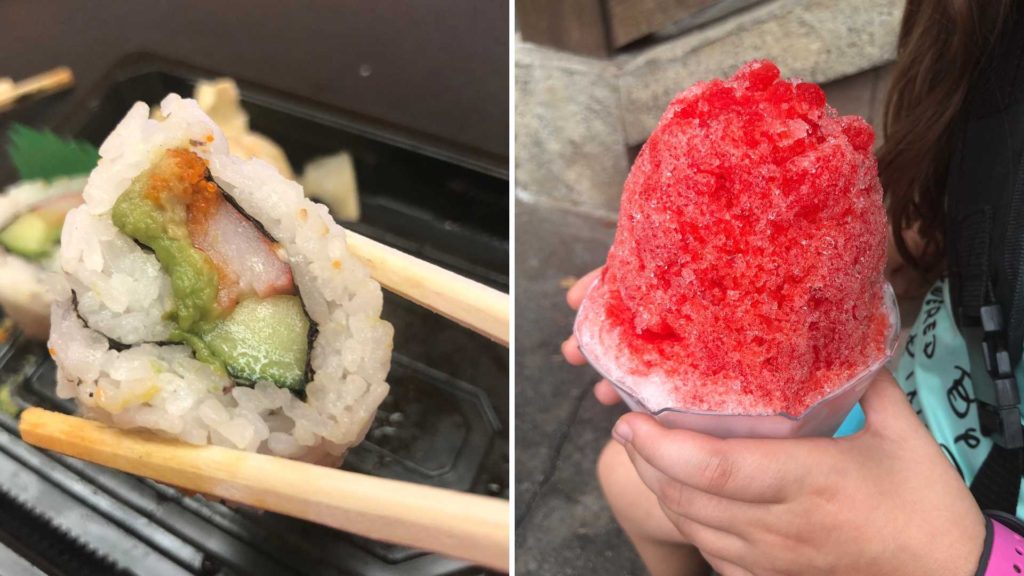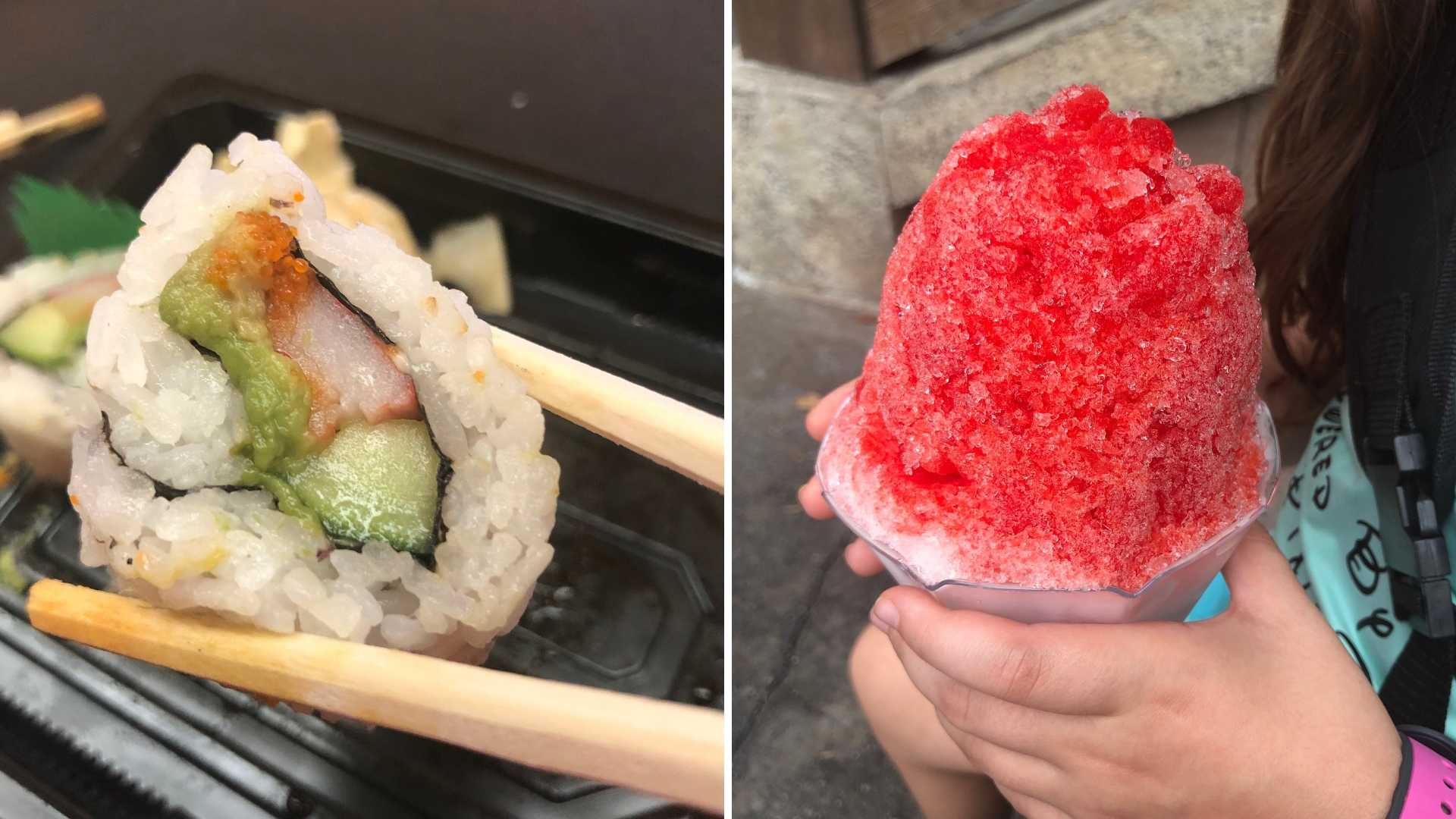 To wash them down, I suggest you pop over to France for a Grey Goose Lemon Slushie. And for dessert I suggest the shaved ice in Japan, though die hard snoball fans may be disappointed in these, or the macaroon ice cream sandwich France.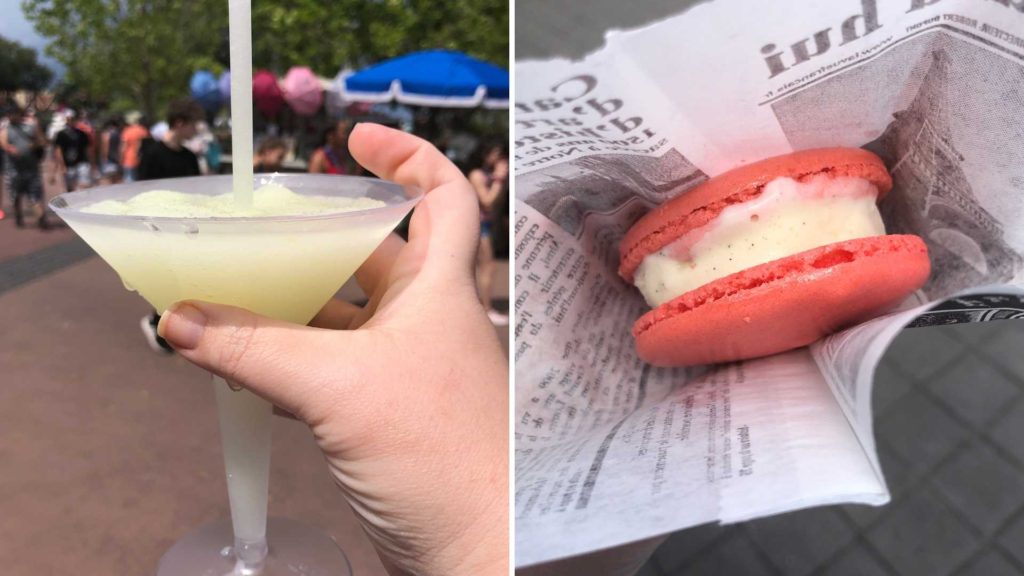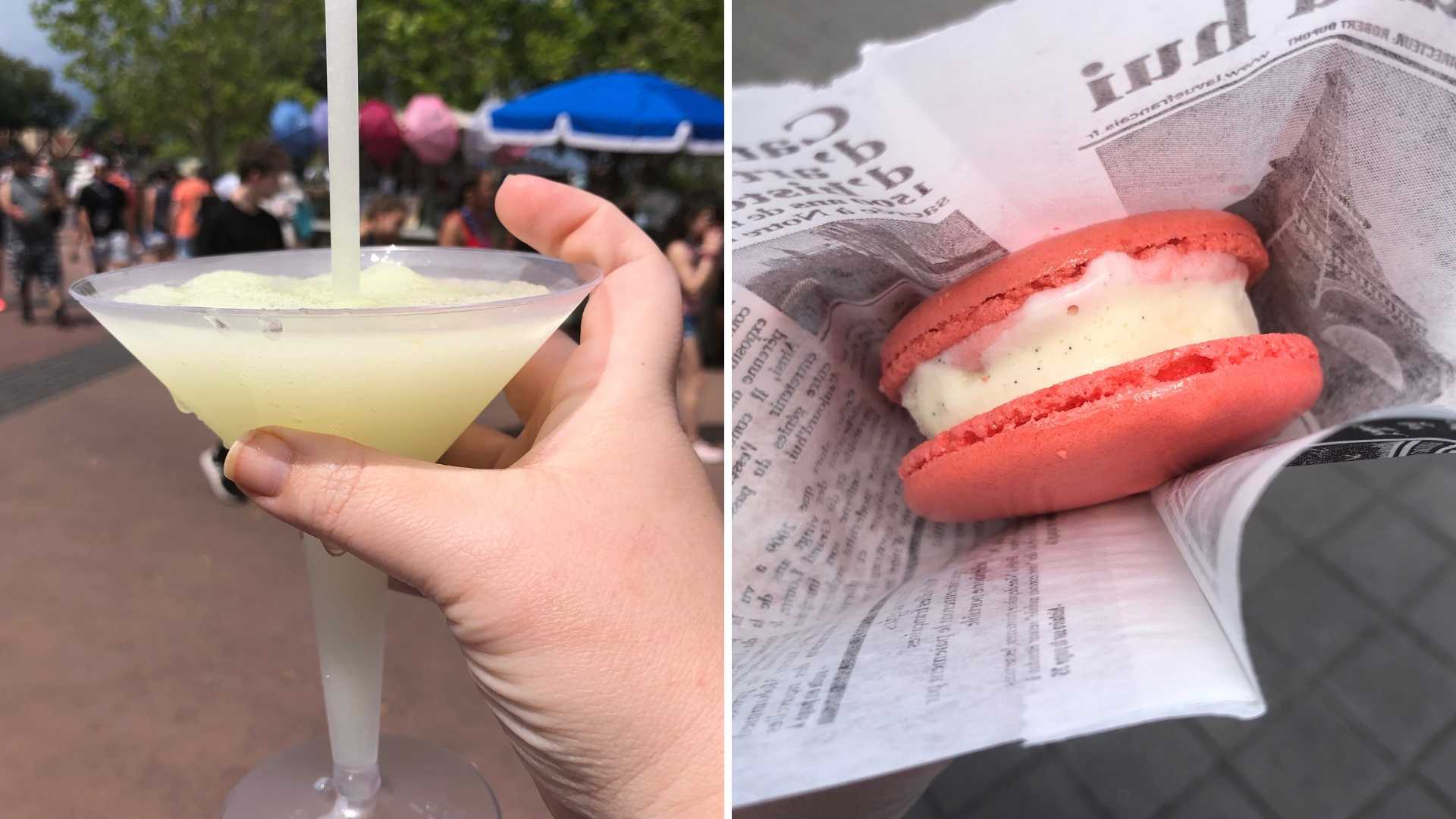 Pinocchio Village Haus in Magic Kingdom
Magic Kingdom is one of those parks where we tend to eat where ever we are. I haven't had bad quick service here. I've had so so and I've had good. Our May trip changed this completely. We stopped into Pinocchio's mid morning one day while waiting for Fast-Passes and grabbed a gluten free chicken nugget meal. The chicken nuggets were a mix between homemade and Chick Fil A. These are THE BEST gluten free chicken nuggets anywhere on Disney property. In fact all of Disney needs to get these nuggets. They were so good, I was almost convinced they weren't gluten free.
It's no wonder this was on the list of all my friends as their favorite quick service at Magic Kingdom. Good food and a view of "It's A Small World" have put it on our must eat list too.
Pinocchio's also offers quick service Italian style food such as pizzas, pasta, chicken parmesan sandwiches, antipasto salad and more. For dessert there is Tangled Wall Eclair that sounds amazing.
Woody's Lunch Box at Toy Story Land
Before trying Woody's Lunch Box in May if you had asked me what I thought was the best quick service location at Disney's Hollywood Studios was, I would have said the ABC Commissary. Then we tried Woody's and now I'm a big fan.

Woody's is one of the few Quick Service Restaurants that service breakfast, this alone makes it awesome. We hit it up one morning while waiting for Toy Story Mania FastPasses and ordered the gluten free S'mores French Toast sandwich. One word – AMAZING. The sandwich is a wonderful mix of chocolate ganache and marshmallows. It's rich and I personally couldn't eat a whole one and was glad I had someone to share it with.

I've heard good things about the lunch offerings at Woody's Lunch Box also. A friend had the Grilled Three Cheese Sandwich and said it as wonderful. Also everyone I know is raving about the Lunch Box Tart and Grown-Ups Lemonade.

The only downside to Woody's Lunch Box is the seating is outside and the only shade you have are umbrellas. If you prefer something inside I still like ABC Commissary, however, I have also heard good things about Backlot Express by Star Tours and my son and husband raved about the pizza at PizzeRizzo.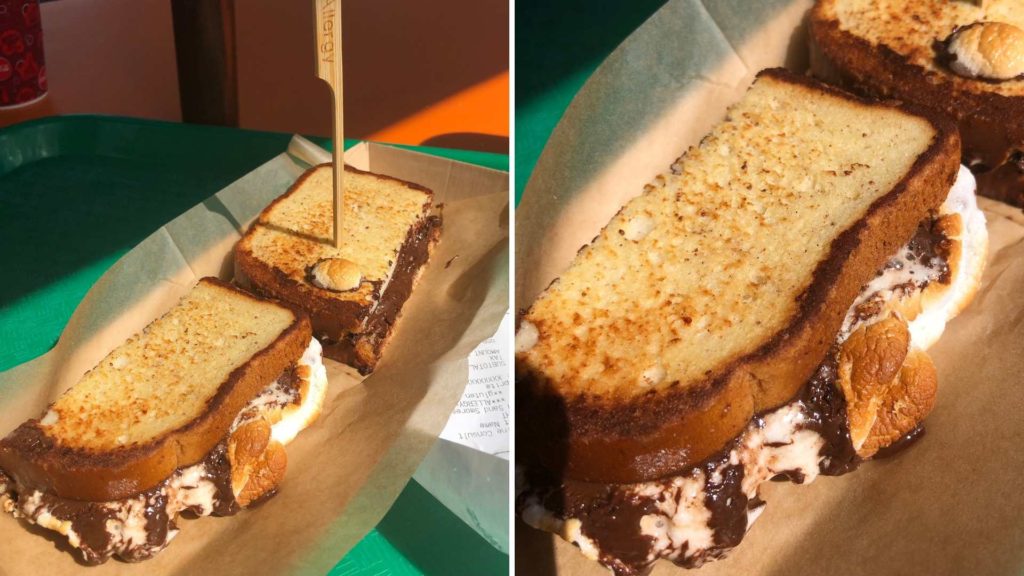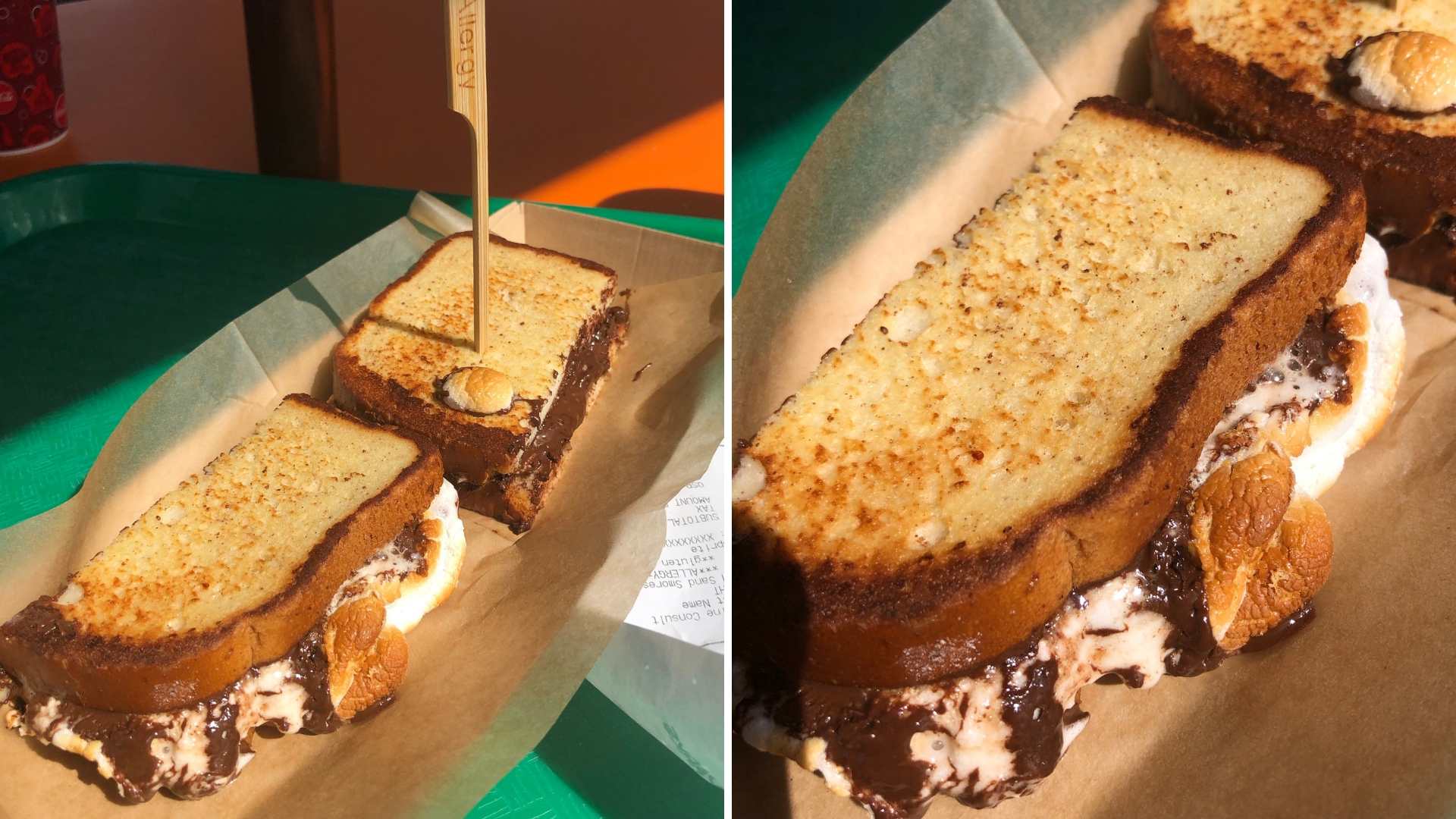 So those are my choices for the five absolutely best quick service dining locations at Walt Disney World Resort. Do you agree with my list? Do you have a quick service restaurant you would add? Let us know in the comments.

By the way, planning to head to Walt Disney World in 2020 to try some of my choices for the top quick service locations? 2020 Packages are now available for booking. Let's book that Mardi Gras Break trip today! You can fill out this nifty form here or you can email me [email protected] for your FREE quote. What are you waiting for?

The following two tabs change content below.
Cara was born in Florida but raised in New Orleans. After living in New Orleans for over 30 years, the beach called her back home. She now lives in Pensacola, FL in her almost beach house. Cara is married to her high school sweetheart and they have 2 kids and 3 dogs. Cara loves all things Disney, the British Royal Family and photography. When she's not working or driving her dancer to 50000 dance classes a week she can be found at the beach!