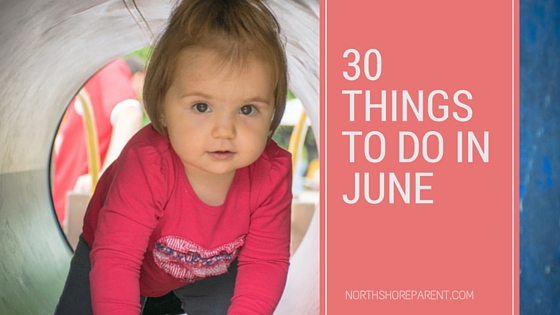 Summer is here and the living is easy. Well actually, the kids are bored now and want something to do. Sigh. It's always something, isn't it? Here we have a fun easy list of things you can do in the month of June.
Numbers correspond with the date. Free events are marked as such.
Check out special guest Calliope Puppets at the Causeway Branch of the St. Tammany parish Library as they perform a fun performance for all ages. Get all the details here.
See MetroPelican Opera present "Opera a la Carte" with fun clips and information at the Causeway Branch of the Library. Get all the details here.
Check out the Ponchatoula City-wide garage sale and see if you can pick up any treasures. Get all the details here.
Attend Slidell Movie Night happening in Heritage Park. Movies start at 8:30 but gates open earlier if you want to purchase concessions and select your spot.
With an 80% chance of rain, this is the perfect day to stay indoors and create a Father's Day gift for the number one guy in your life. Check out this post full of ideas on great gifts.
Visit a local splash pad. For a full list of splash pads in our area, see this post on water fun on the Northshore.
Hit the Grand Theater in Slidell for their Summer Kids' Flicks showing of Minions. $4 gets you movie admission, a kids' soda, and a box of popcorn. For the full Summer Flicks schedule visit this post on cheap summer fun. For our readers on the other side of the Northshore, it's family movie night at the Amite Branch of the Library and they'll be showing Remember the Titans at 5PM.
Visit the Covington Branch of the Library to hear Philip Melancon perform Melonsongs–high energy music and an introduction to musical instruments. Get more information here.
Head out to Bush to hear Rick Kelley Musical Olympics perform original music about team work and participate in some fun activities including a hula hoop contest! Get all the details here.
Teens will want to check out B-Fest Teen Book Festival which will feature a trivia contest. The winners will go home with an advance copy of an upcoming teen title.
Spend the evening in Abita Springs checking out their movie in the park, E.T. Movie starts at 7:30. Bring your own blankets or chairs.
Visit the 3D Blueberry Farm in Franklinton and pick your own blueberries. They use natural pesticides so you know they'll be good! Visit their Facebook page for information on berry quality and availability.
Visit the Hammond branch of the Tangi Library to hear percussionist Laura "Lady Chops" Vidos perform. Get all the information here.
It's a Weather Storytime at Barnes and Noble in Mandeville. Listen to two weather-related stories and then make your own wind chime.
Meet Daisy the Pig at the Madisonville Library and meet her owner, Farmer Minor. For more information, see this event page.
Visit Tangi Lanes in Hammond and go bowling! You can sign up for their free summer bowling program and get two free games for your kids!
It's Sunset at the Landing–Covington's free concert series that runs from 6-9PM.
Back to Slidell for another Slidell Movie Night in Heritage Park. Tonight's movie is Hairspray.
Go get a snowball. Here's a list of some of our favorite stands on the Northshore.
Try the moonlight hike with snow and ice. A night time hike through the Northlake Nature center topped off with snowballs from the Shiver Shack. For more info or admission prices, visit their website. 
Meet live birds of prey at a presentation by Wind in My Feathers at the Abita Library. For more information, visit this event page.
Visit the Regal Theater and catch their $1 summer movies. This weeks movies are Pan and Smurfs 2. Get all the information on their $1 movie special on this page.
The Covington Library hosts Stories with a Twist: the audience helps tell the story through creative motion. Get all the details here.
Columbia Street Block Party is happening tonight in downtown Covington. Take a stroll, check out the classic cars, and visit some of the local businesses located in downtown Covington.
Slidell will host the Family Word Olympics–a life-sized word search game! Best for kids five and up, you can get all the details here.
Go for a bike ride. Need to rent a bike? We have a list of places that rent bikes right here.
Check out the UCM Museum in Abita Springs. Admission is only $3/person for this fun, interactive display.
Bugs Storytime at Barnes and Noble. Hear bug-related stories and then complete a ladybug craft. For more information, visit their event page. 
The Hampstead Theater will perform The Wizard of Oz at the Madisonville Library. Sure to be fun for the whole family. Visit this event page for complete information.
Head to the Covington Library for a Karate demonstration with Just for Kicks Martial Arts.
The following two tabs change content below.
Hi, I'm Katy. Mom to four sweet boys ages 10, 6, 6, and 5. It's a loud, messy, chaotic life. I love connecting with other parents and am so glad you stopped by today!