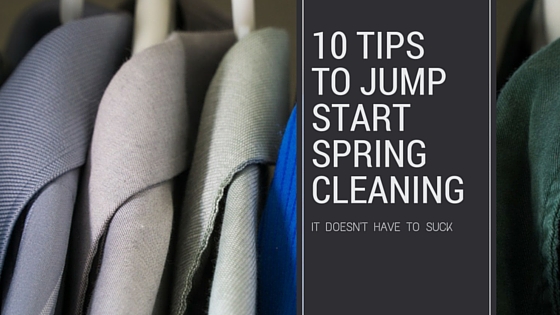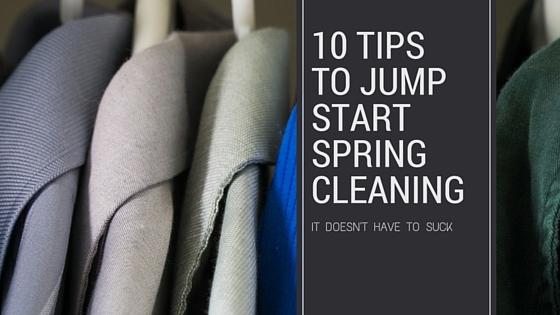 It seems like spring is the most popular time to do a lot of organizing, cleaning and purging in your home. It's really the time of the year that I get the most client calls too. I'm not sure if it's the mild weather, extended evening hours or the sweet smell of summer in the breeze but it just seems to motivate people to get up and rearrange things in their home.
When I do get calls about spring cleaning one of the first things I usually hear is I don't really know where to start. Most of the time we go straight for the most common items that we only get to a few times a year like baseboards, ceiling fans and widows but I think the best place to start is in the place you don't really think about.  This is my go to list of spring organizing/cleaning items. 
Check pantry, fridge and freezer for expired food.  This is probably one of the most-ignored items.  Who thinks to check their canned food? Doesn't it last forever? Indeed it does not. All canned food has a shelf life of a few years. Think about other items you don't use a lot like spices, oils and vinegars. Condiments are another item that we generally forget to check the dates on. Items that you have frozen throughout the year are usually only good in your refrigerator freezer for 6 months and 1 year in the deep freeze. This is also an excellent time to wipe fridge down inside and out. Think about how easy it will be now that it is so empty.

With the spring comes the weather change and the limbo of when you store away that winter wardrobe.  Usually by the end of March it is safe to say that we are on to warmer weather and you can usually make your seasonal change outs on your clothing.  Keep a few sweaters behind for that freak cold snap that can happen even into April.  This is the perfect opportunity to think about what items you want to keep for the next year, sell or donate.  Don't miss an opportunity to make some extra cash to put toward your new summer clothing.  Bring unwanted items to your local consignment shop and make a few extra dollars.

Playrooms can be so overwhelming and are usually the nightmare of most families. First purge toys that your kids aren't using.  Second think about toys that they don't play with often and see if you can rotate them into a closet or attic for a few weeks or a month. Sometimes this helps make the old feel like new. It's also a great way to have a forgotten toy to play with on a rainy day. Third, wipe down all the toys that are left in the playroom. If you are anything like me you barely have time to clean up the playroom much less clean the individual toys on a regular basis so this is the best time to accomplish that project.  

Take the time to wash big items. Drapery, rugs, pillows on the couch and throw blankets just to name a few. Also, stored items like your extra bed linens and guest towels that have been sitting in the cabinet all winter long. It will definitely give your home that fresh spring smell.

Throughout the year you know that you accumulate lots of things in your closets. The ones without the clothes. Those are the places where stuff always hides. Decorations that didn't make it back in the attic after the holiday was over. Dig through those closets and put things away in their proper place. See if there are any things that need to be thrown away or donated.  

Get rid of all of the unwanted and unnecessary paper in your home.  Bills, junk mail, magazines can all pile up and this is the perfect time to shred, recycle or throw away.

Clean off surfaces. While you are busy living your life stuff gets set down in all sorts of weird locations.  Places like bookshelves, side tables and counter tops are just asking to have things laid down on them. Clear it all off and put things away in the proper locations.

Just like in your kitchen where expired items can hide out in your pantry the bathroom has the same ability. Check your medicine cabinets and under the sink storage for expired medicine and beauty products.  This little clean out will also give you the ability to see what you need for summer as far as suncreeen, bronzer and self tanner.
Keeping a house clean and organized is always an ongoing project. Try not to get overwhelmed and think of it as a great start rather than an all-or-nothing venture. 
The following two tabs change content below.