When it comes to my daughter's birthday parties, I'm extra and I know it.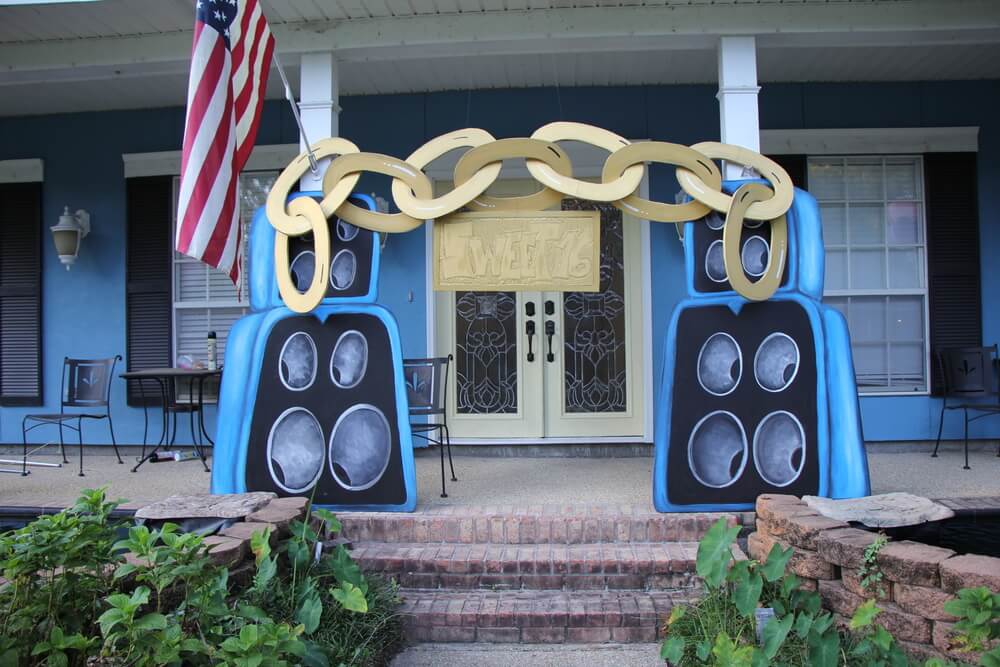 I have five brothers and sisters, and growing up, we didn't really have birthday parties. We were a party of our own. So once I had my daughter, birthday parties became a big deal. She's my only child, so it's feasible. I'm the first to admit that they aren't easy or sensible, but they are absolutely fun!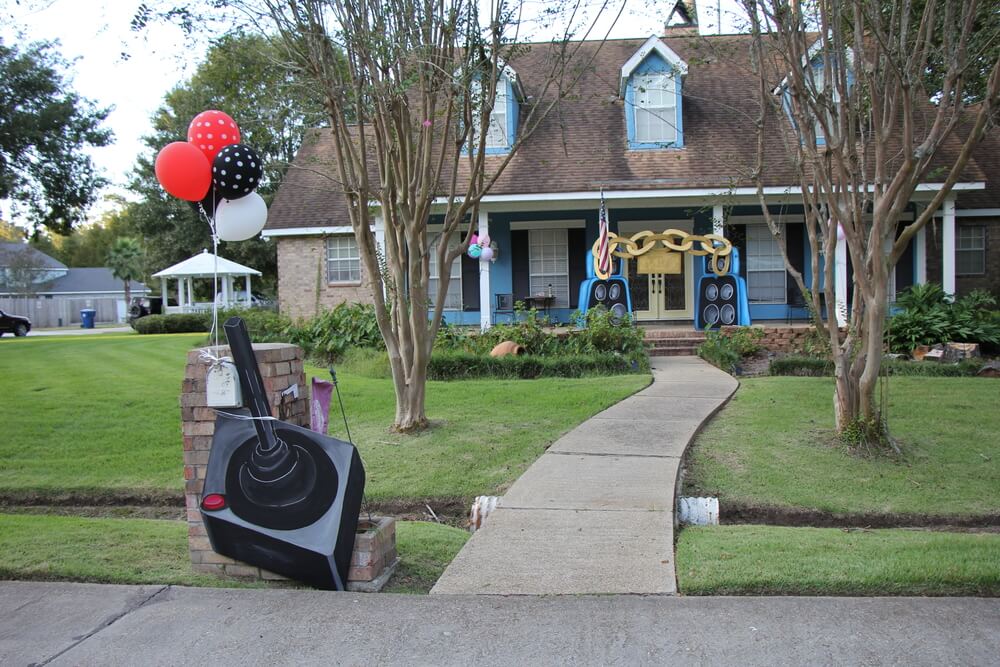 It really started with her second birthday party – a Lilo and Stitch luau. That was the start of the three-dimensional invitations, which are the most coveted part of my daughter's birthday parties each year. For the luau, I painstakingly created paper "messages" that I used candles to burn around the edges, and placed them in glass bottles with sand and seashells, capped with Hawaiian print fabric tied on with a raffia bow. I also spent two and a half months building a paper mache wave with a surfboard as a photo backdrop. For the big day, I removed all of the furniture, covered the floor in blue tarps, and threw blow up rafts everywhere for seating. I made a two-tier cake, one blue for water and the other covered with crushed wafer cookies for sand, along with handmade edible palm trees. It was fun and different and everyone seemed to enjoy it.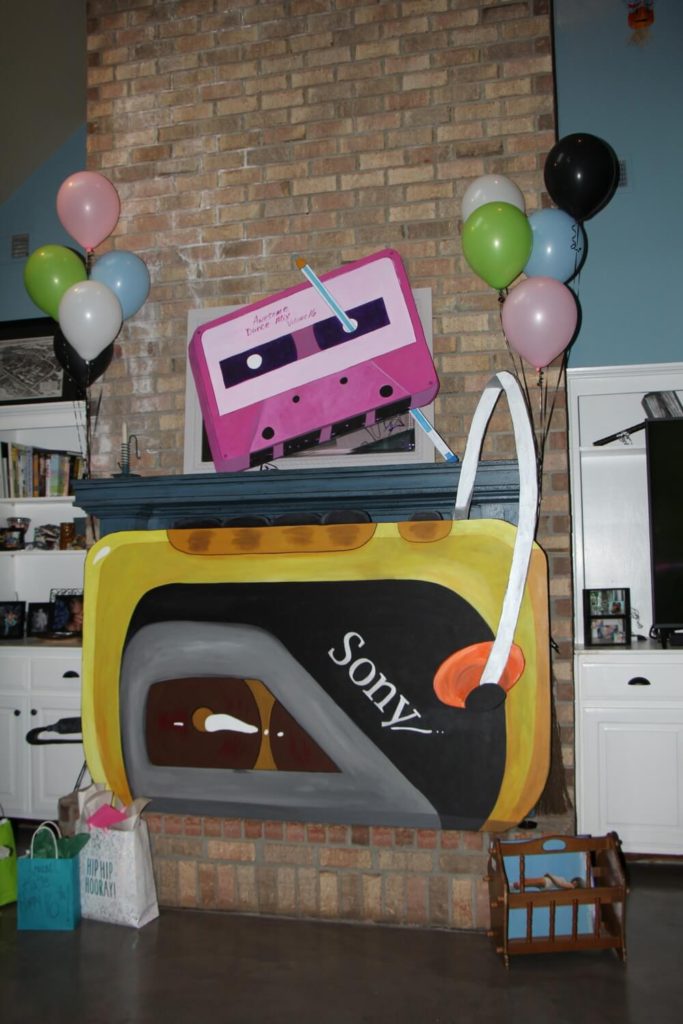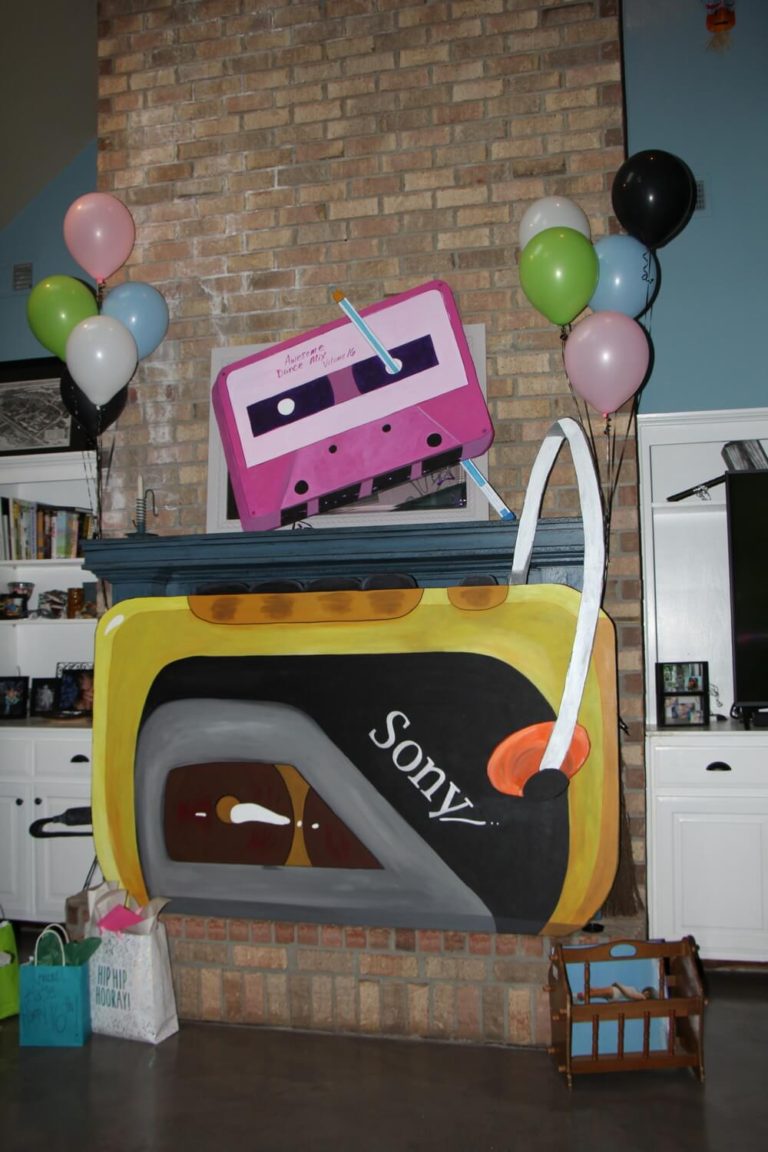 Yes, that was for her second birthday party.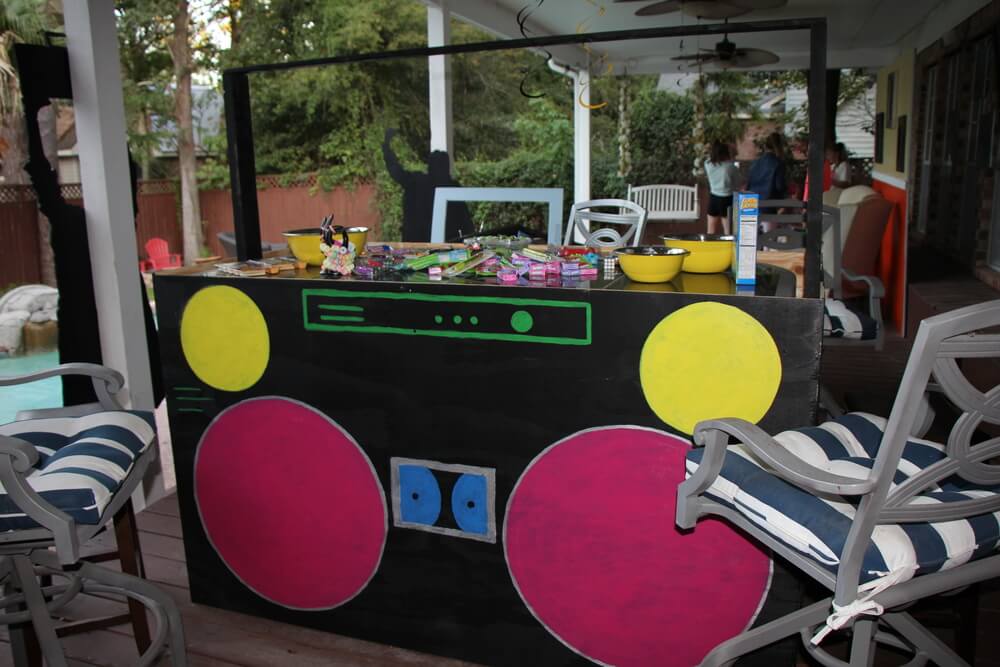 Every year since then, the party has gotten bigger and better, each with a handmade invitation, a homemade cake matching the theme and lots of personalized photo opportunities. With the exception of one birthday party held at a gymnastics gym, they've all been at home. That's the old school part that I really enjoy about these birthday parties. Well that, and the smile on my daughter's face each year.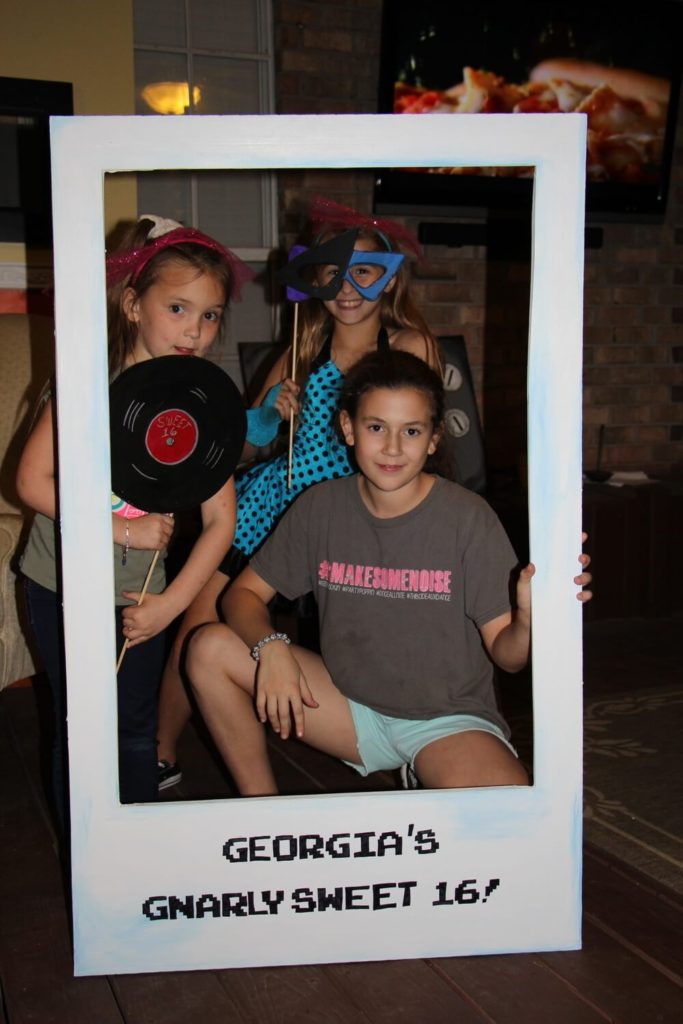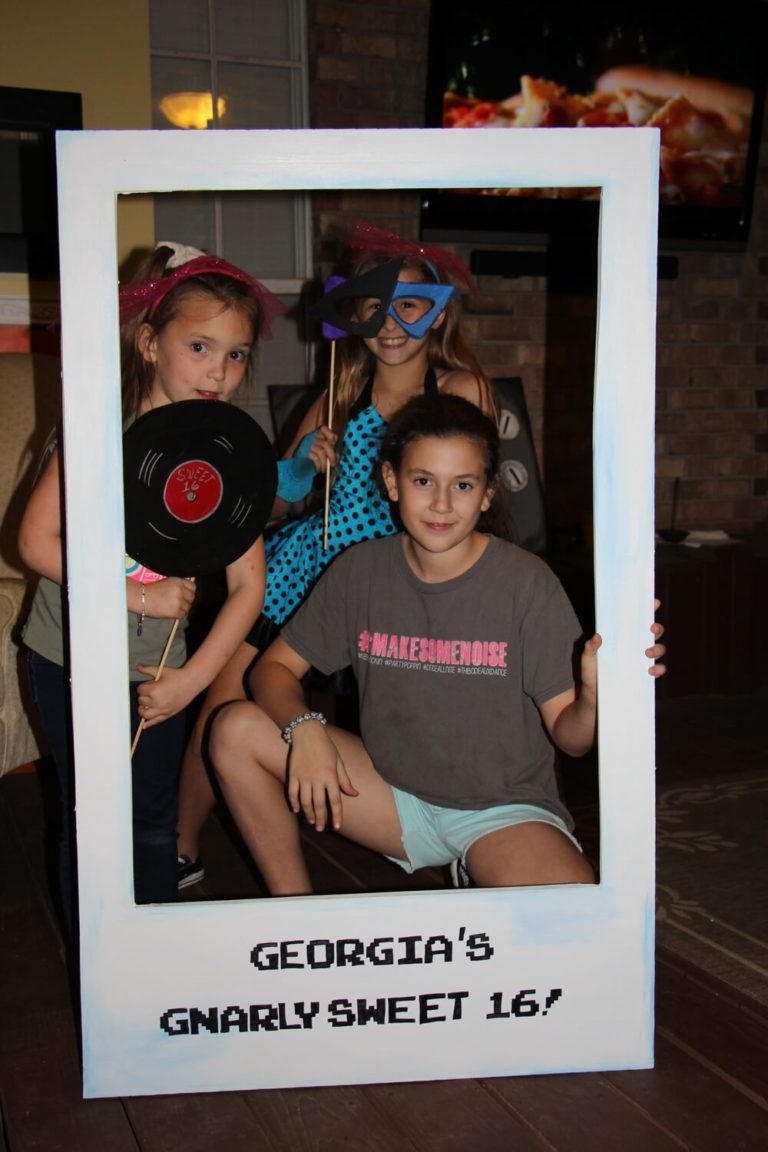 This year, she turned 16 and decided on an 80s themed party. It's the party I've been waiting for because I had a special invitation in mind. The only catch was to get the perfect party invite, I couldn't make it myself and that was a tough pill to swallow for me. But I have to admit, it turned out to be one of my favorites because what 80s party would be complete without a retro viewfinder?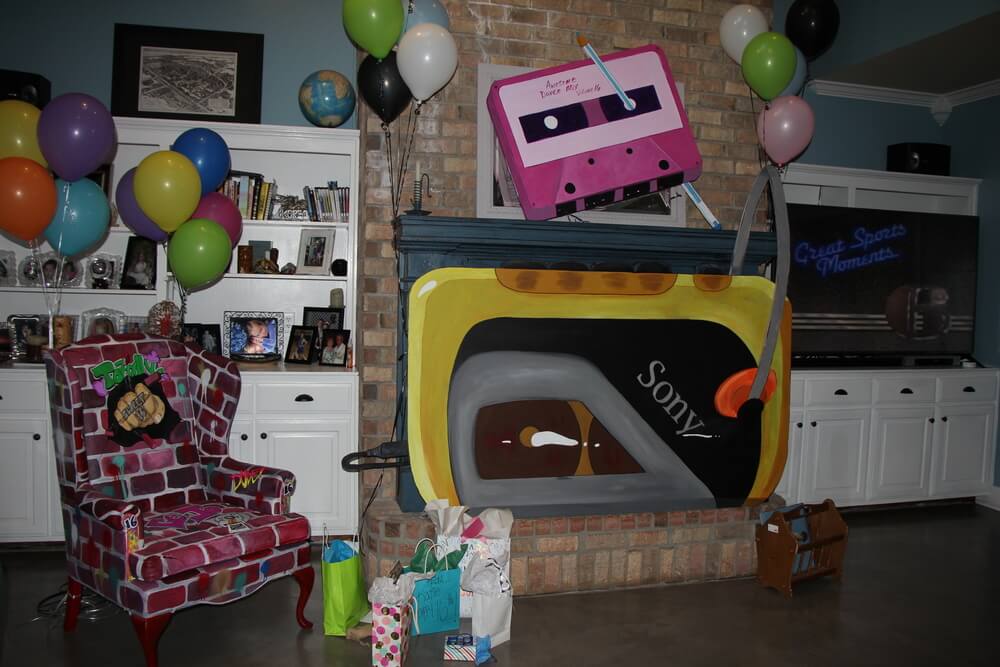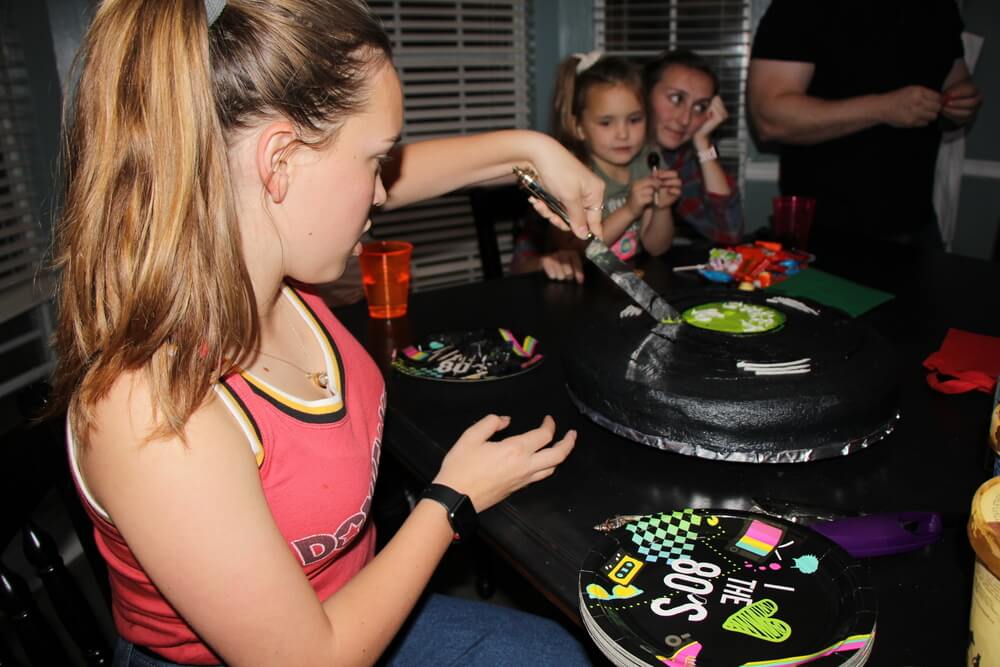 I had found the website image3d.com, which makes custom reels and I just couldn't wait to try it out. They came out so perfect and were exactly what I was looking for! If you're going to make these for your invitations, make it for a very special event because they are pricey, but so worth it! Each custom reel came with a red viewfinder inside a small box, which only required a small sticker to remind guests to dress for the occasion.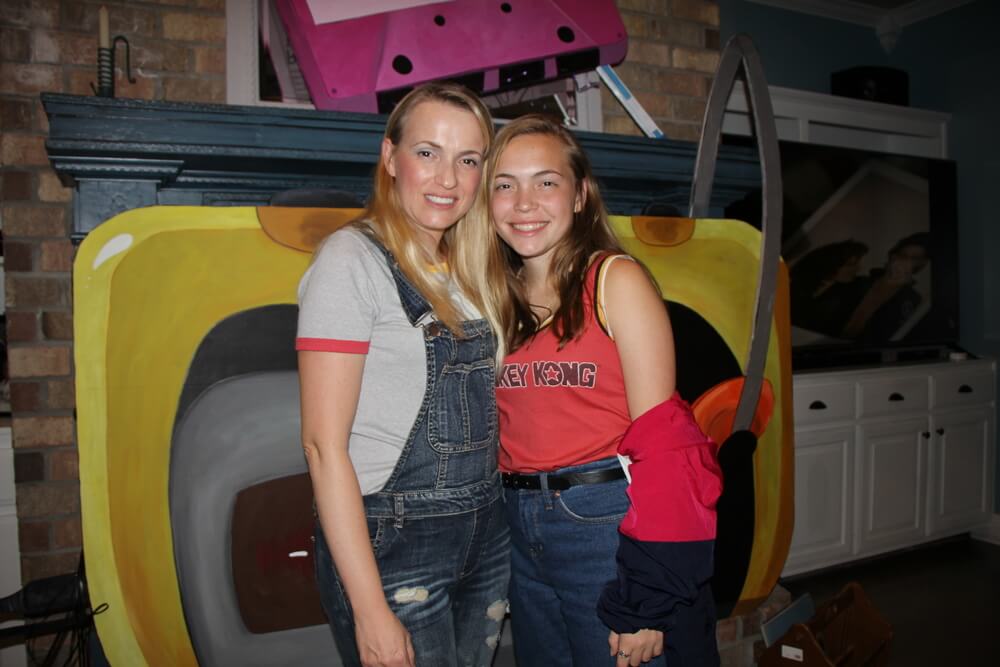 Once the invitations were done, it was time to get to party planning. There are some essentials that every party has – mailbox decoration, fireplace decoration, backyard photo backdrop, cake, the birthday chair and party favor, and sometimes a few extras. I've learned over the years that the easiest thing to work with for me are large sheets of Styrofoam insulation that can be found at either Lowe's, Home Depot or similar stores. It's cheaper and easier to deal with than wood, but it's much more delicate so I have to be careful when moving them around. It's important to remember to remove the plastic cover before drawing or painting them. I usually draw my design with a marker, cut it out with either a box cutter or hotwire, then get to work painting it.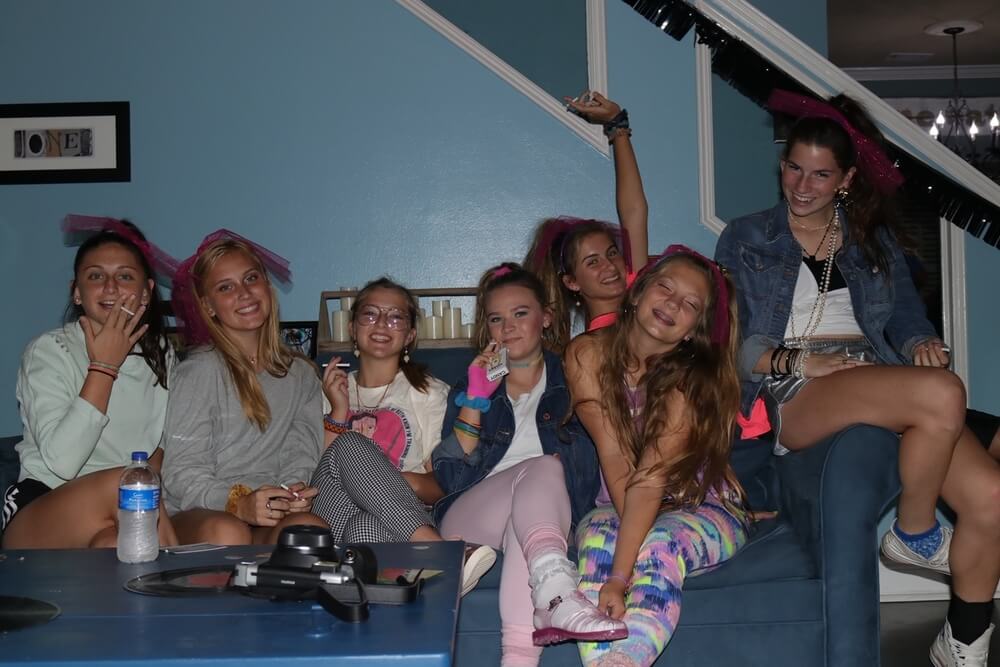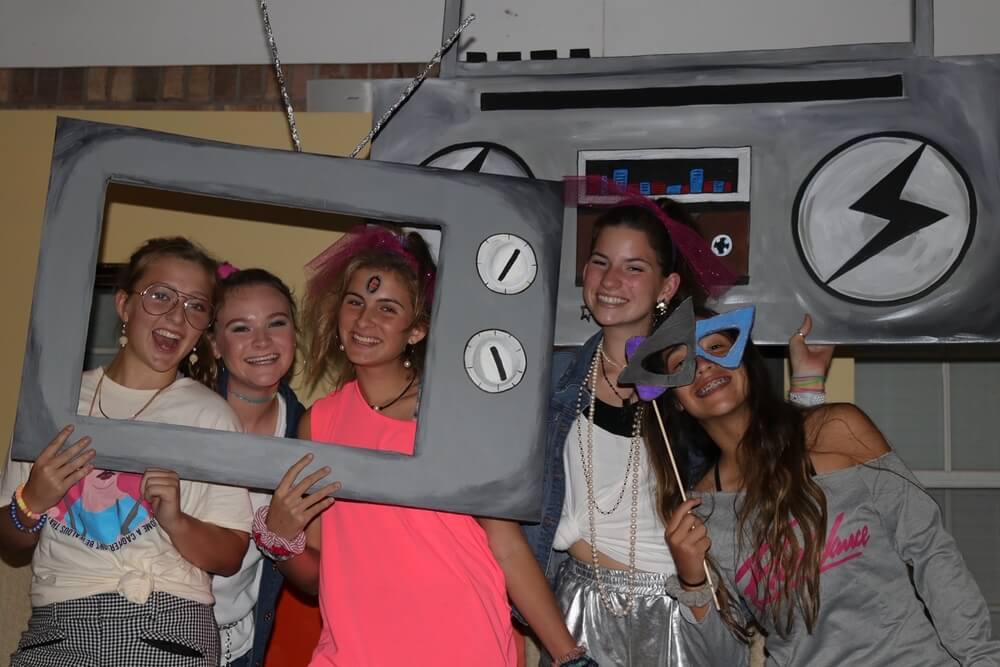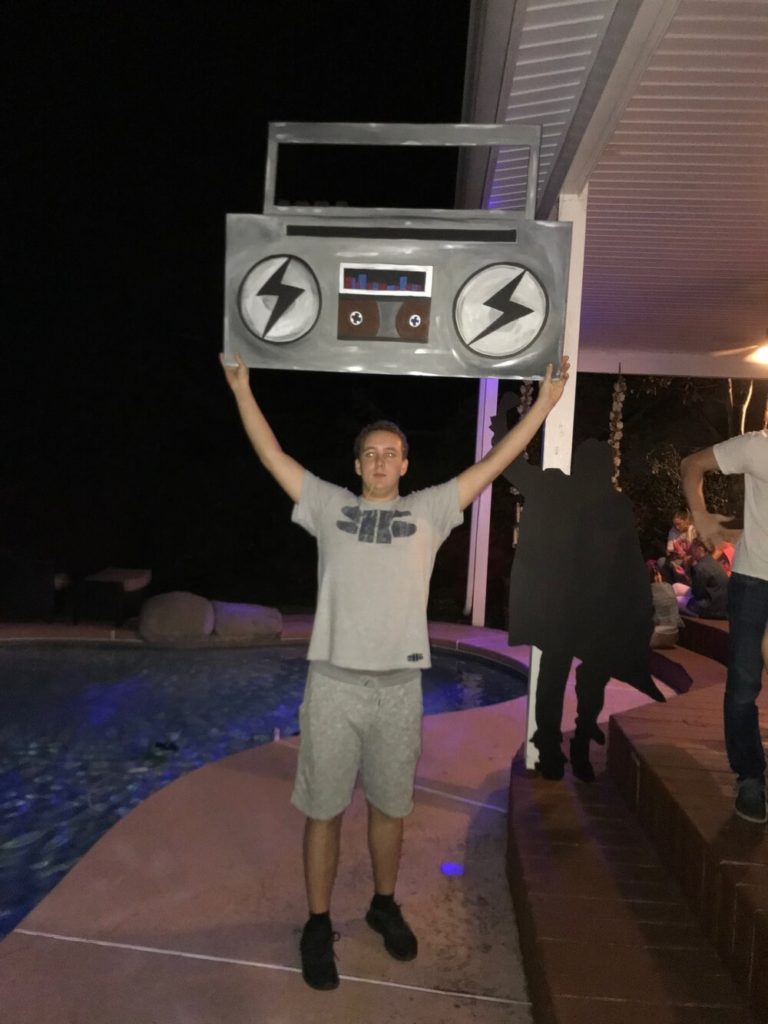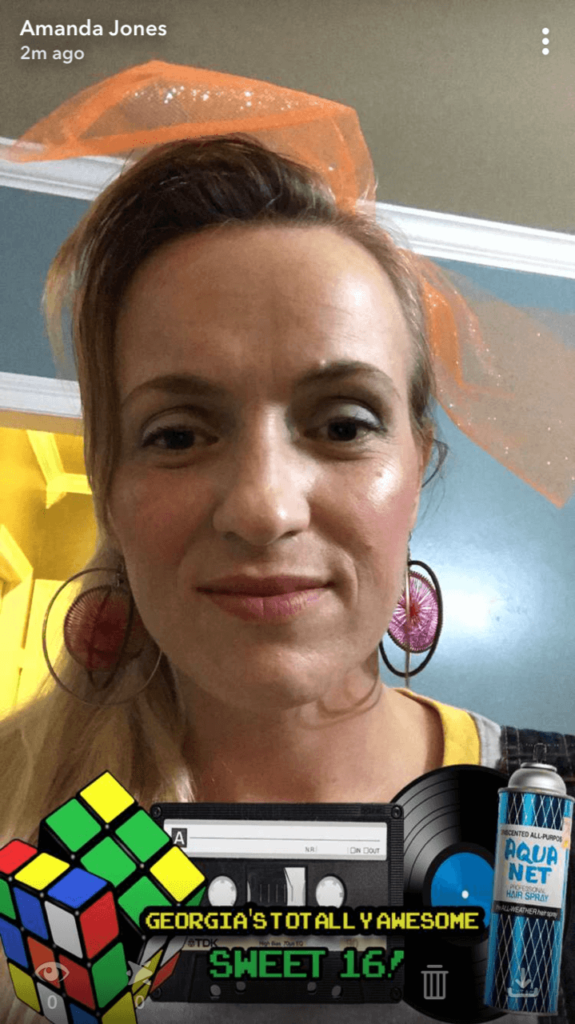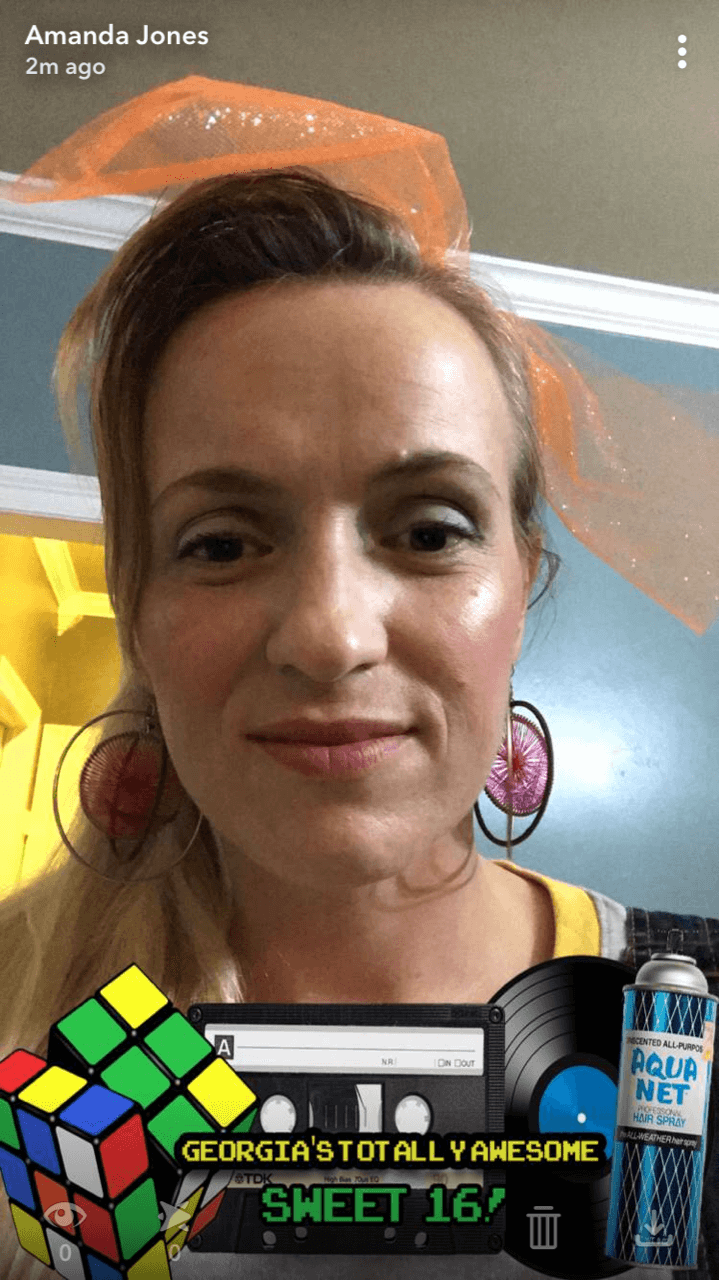 For the mailbox, I went with a large Atari controller, but the front entrance was much more hip-hop with two large speakers and a sweet 16 gold chain, all made from foam board. Inside, the fire place held a giant Walkman and tape, complete with a pen to wind the lose ribbon. The backyard decorations included a boombox wrapped around the bar area, and silhouettes from 80s movies.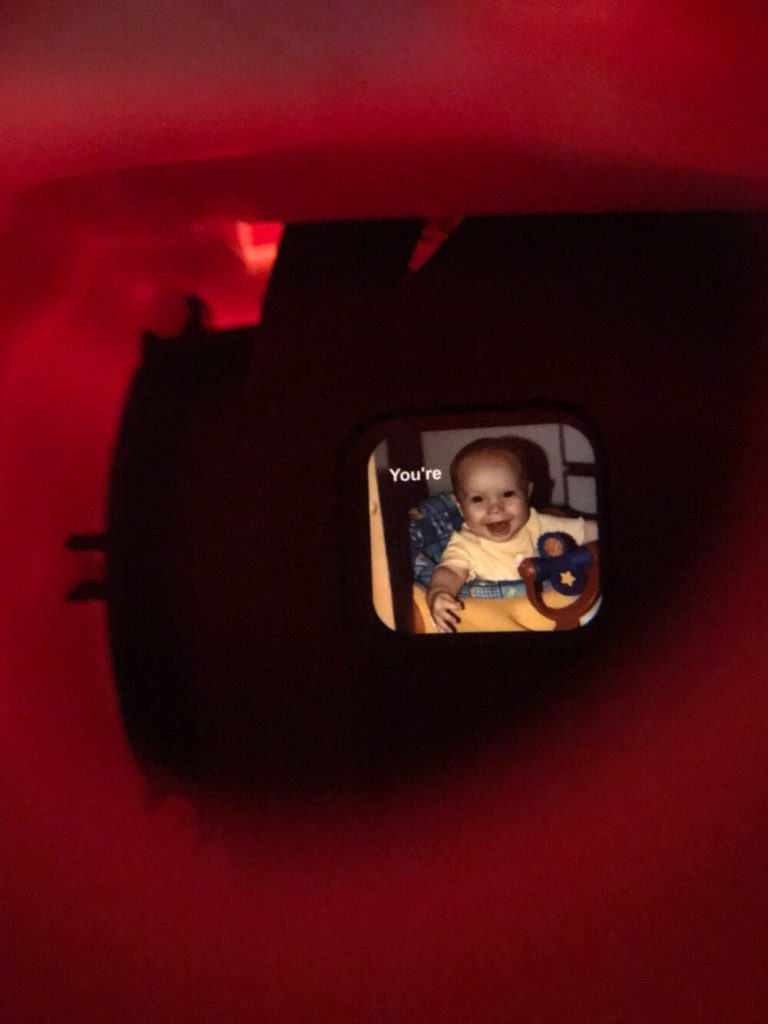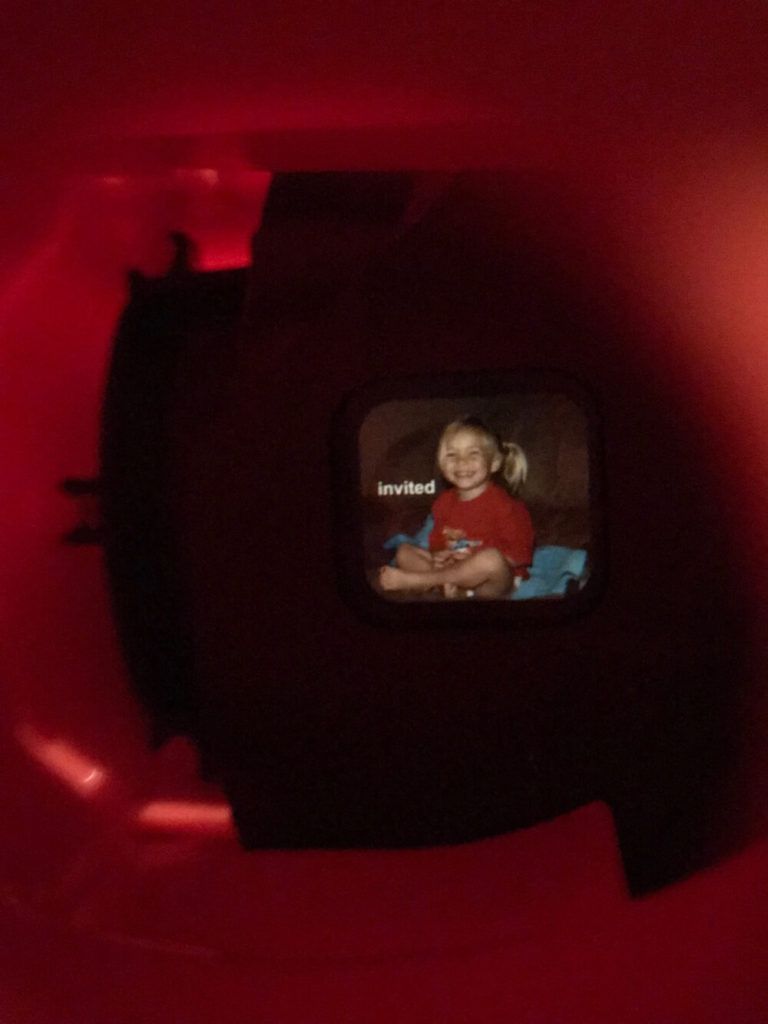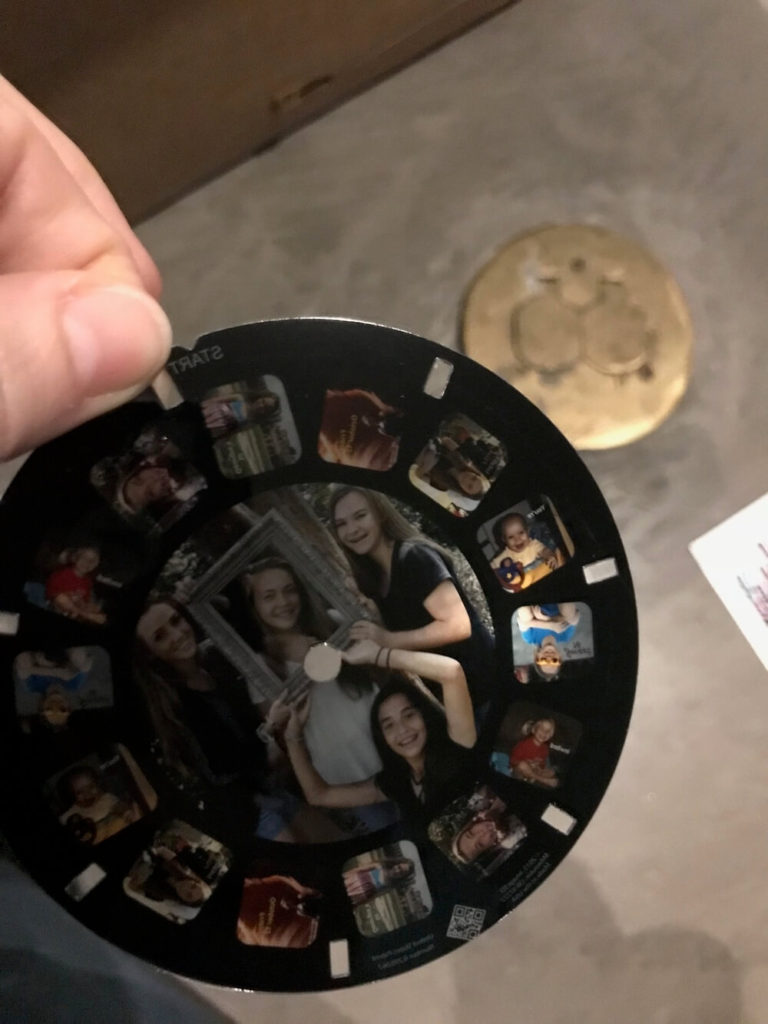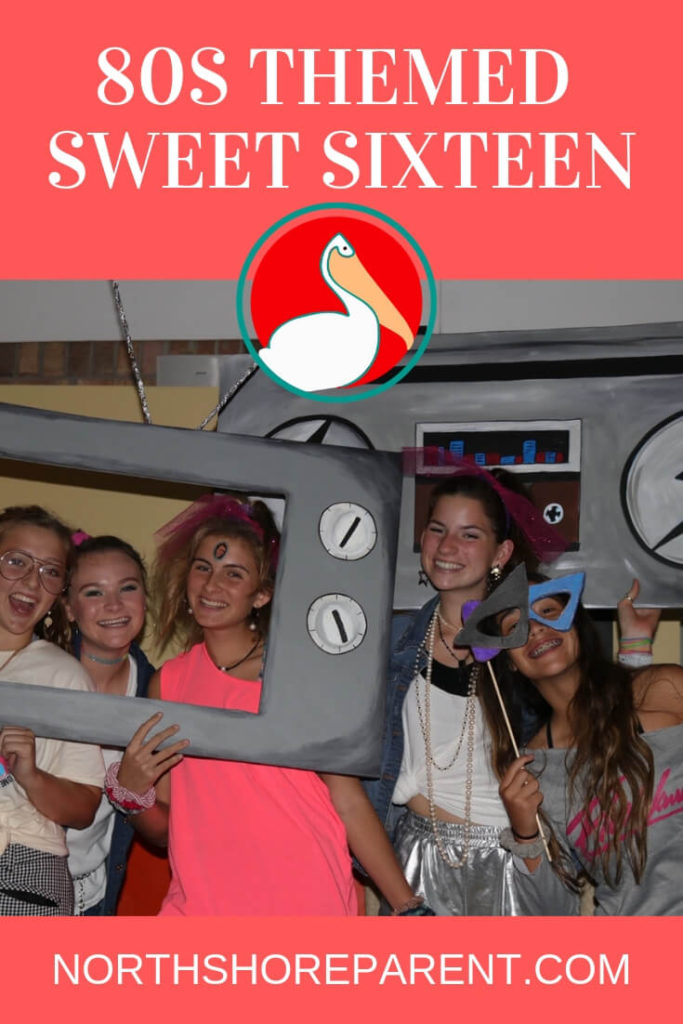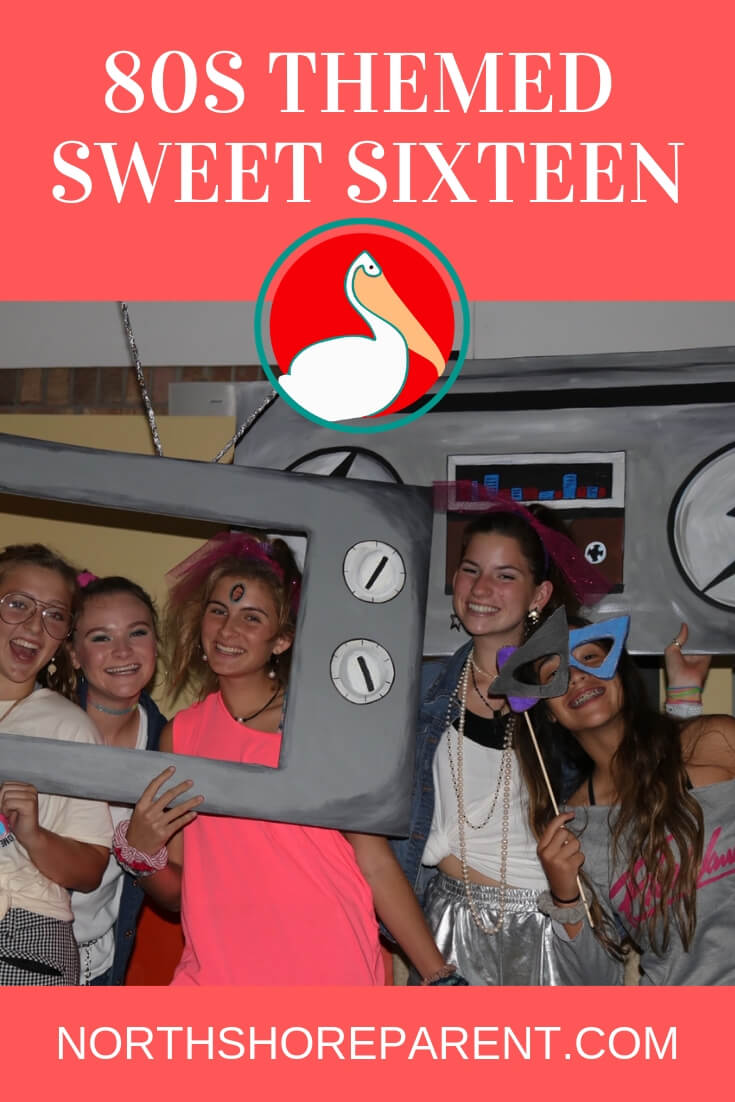 The following two tabs change content below.
Latest posts by Amanda Jones (see all)