You *may* have heard that New Orleans is getting the first zip line course in the area. Sunnie and I were lucky enough to go out before they have even opened and try out the experience and let you all know what we think and what you need to know before you try out (my seventy-six-year-old mother-in-law is dying to go!) If you want to buy tickets for yourself, you can get those here (affiliate link).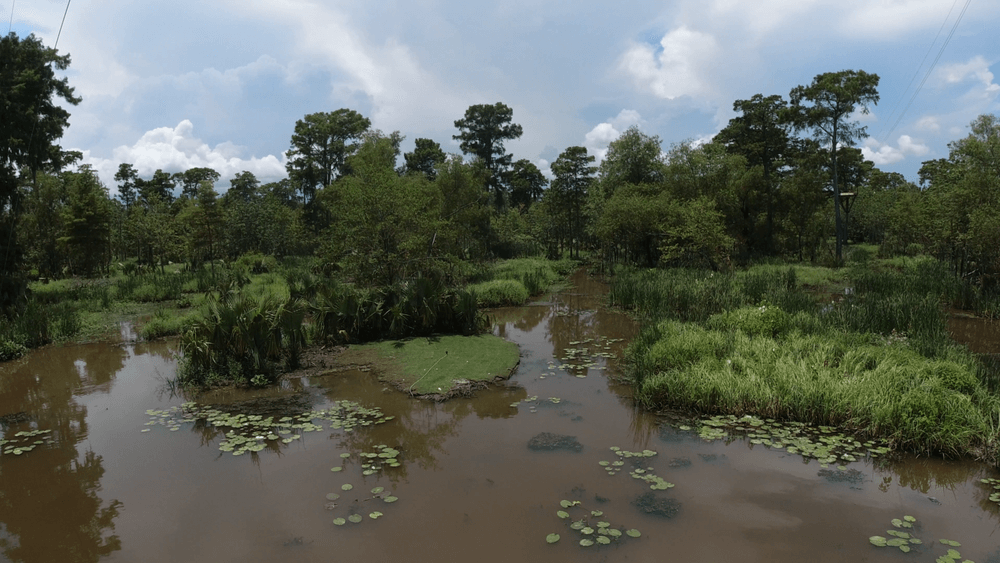 I'll start by saying that I was extremely nervous about this endeavor. Sunnie was not. I have a healthy fear of heights and I'm just, in general, not an adventurous person. But for y'all I did it!
Where is Zip NOLA?
Zip NOLA is located in LaPlace, Louisiana. From my house in Abita Springs it took just over an hour to get there via the Causeway Bridge. Depending on where you live, it might be faster to go through Hammond. The location itself is on the western edge of Lake Ponchartrain. I saw signs for at least two restaurants in the same little area but I didn't drive past them. There's also a swamp tour in the area so you could definitely make a whole day of being out there if you like.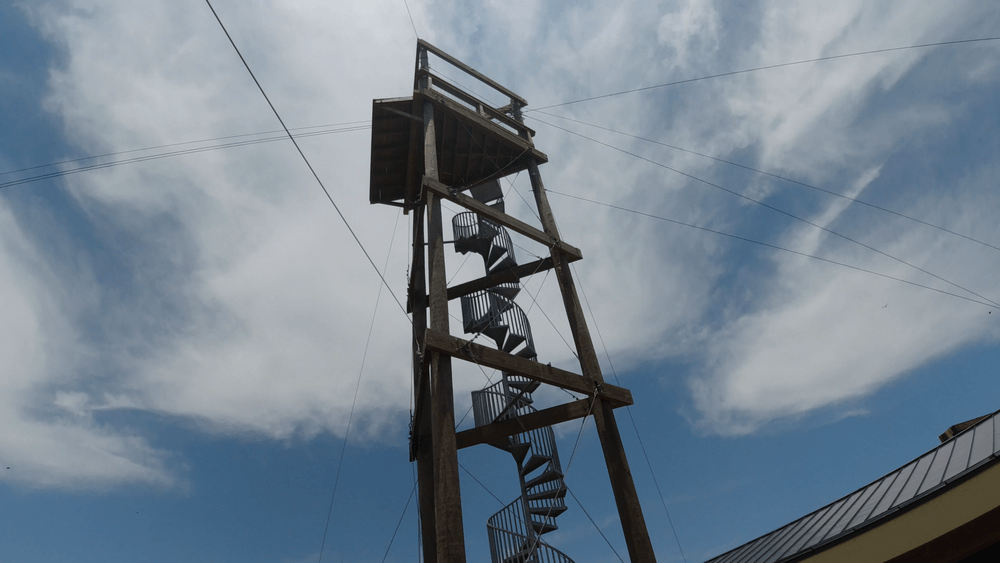 Is Zip NOLA Safe?
This was, of course, a big issue for me. Climbing up into the sky and jumping off a platform is a scary proposition so I was very worried about this. I was, however, very impressed with the safety precautions taken at Zip NOLA. Once you climb the first staircase there's pretty much no time when you aren't tethered to something. The employees were extremely diligent in making sure we were as safe as you can be while flying through the trees on a wire.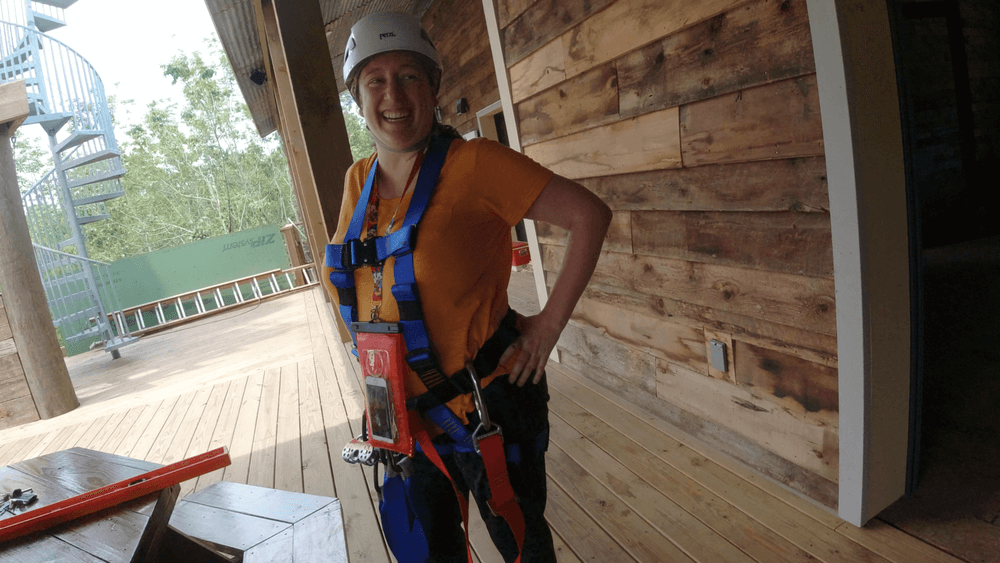 What Should You Wear to Zip Line?
They have a ton of info on their site about what to wear, what's allowed, ect. and I do suggest you check that out before you go, but here's what I know from my experience: I wore a pair of joggers and Sunnie wore shorts and we were both perfectly comfortable while ziplining. If you're going in the summer then I'd definitely recommend something lightweight and cool because you're going to be sweating both from exertion and the heat. You MUST wear closed-toe shoes and you will not be allowed to participate if you don't.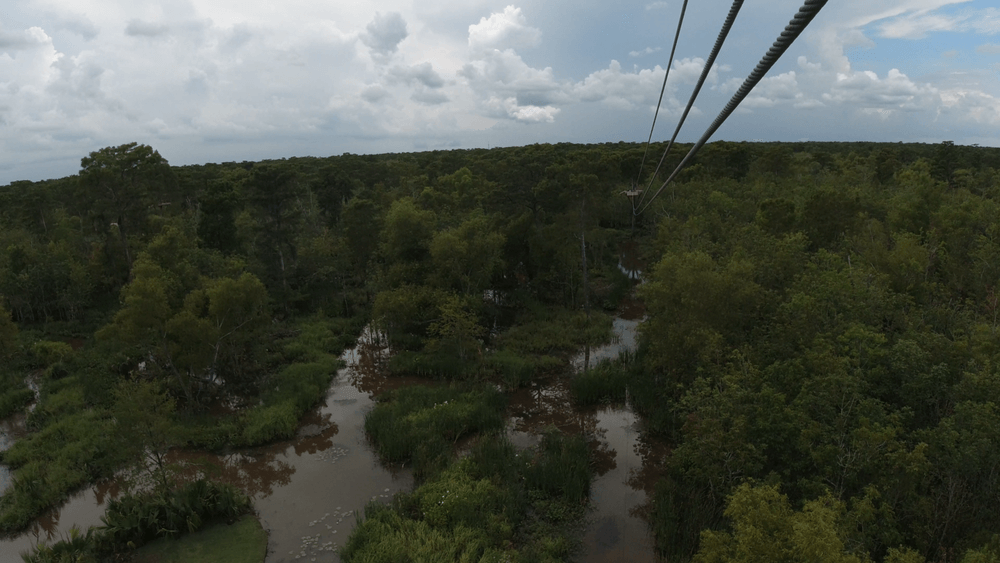 What Should you Bring to Zip Line?
My first recommendation would be to bring some water. They do have vending machines on the property, however, so you can purchase it once you get there. It you have anything that helps tether your phone or camera to your body I would also recommend brining that. Sunnie had our Osmo on a clip that attached to her body and I wore my cell phone around my neck in a pouch. I don't think things will fall out of your pockets but better safe than sorry when it comes to expensive electronics. If something falls in the swamp, you're not getting it back. You are allowed to bring a small backpack with you while you zip if you want to bring your water along with you.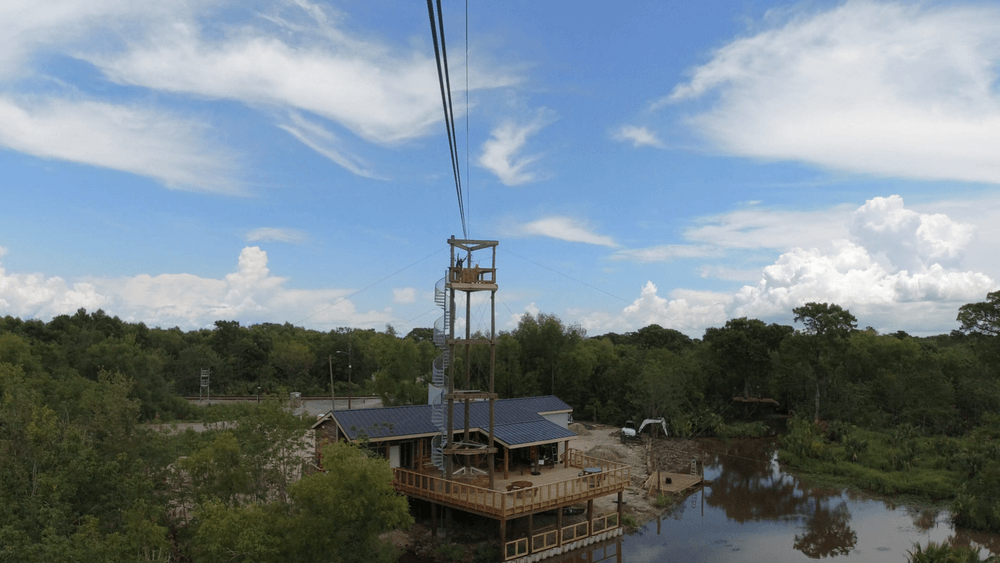 You are definitely going to want to put on sunscreen before you go or before you get suited up. The course is mostly under the shade of trees but sometimes you will be in direct sun.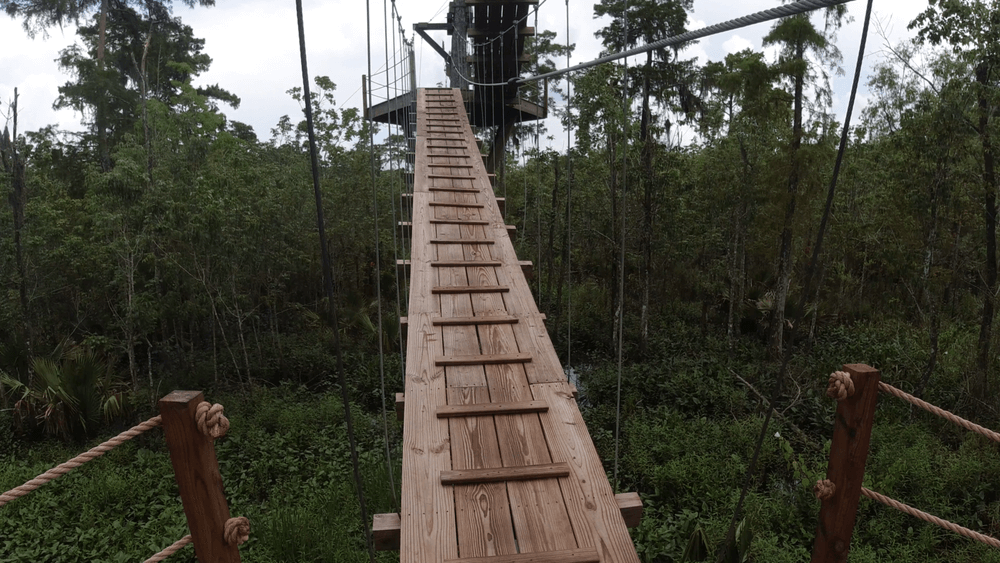 Who Can Zipline?
By far, the hardest part of ziplining was climbing the initial tower which was around sixty-five feet in the air. I was extremely grateful that do occasionally make it to the gym while climbing those steps! I wasn't winded but Sunnie who is a former smoker was, and I did have to pause on the way up to take a break. After that, I didn't find any of the stairs or climbing bridges difficult. The weight requirements to zipline are forty-five to two-hundred and eighty pounds. There are no age limitations. Pregnant women cannot zipline.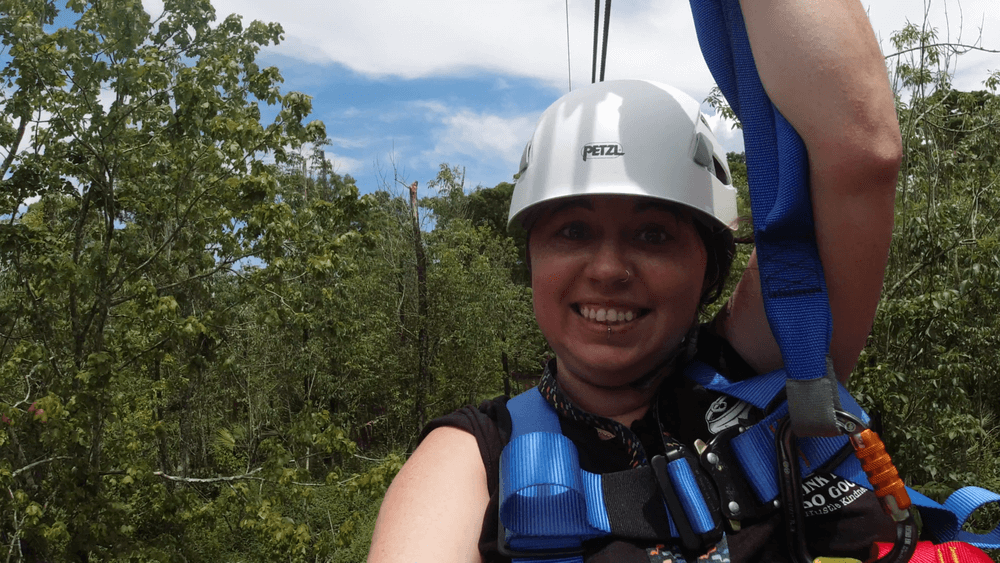 If, for some reason, you go with your group and don't zipline, there are some beautiful decks you can observe from while your group completes the course. Or you can go visit one of the two restaurants that are just down the road and have full bars.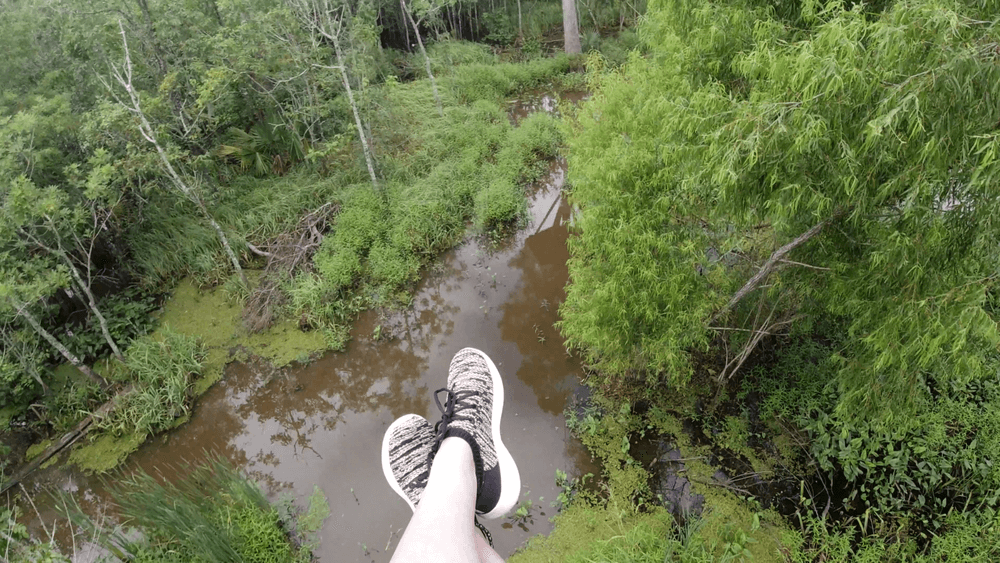 Who Would Enjoy Zip NOLA?
This is a great activity for anyone who enjoy being active. Couch potatoes might find it a bit too strenuous. For those of you looking for things to do with your teens and tween I think that this would definitely fit the bill.
I also wanted to add that the staff was incredibly kind and supportive of me as I faced my fears on this outing. They let me stand there for quite a while before I felt brave enough to actually step off the platform and into the sky!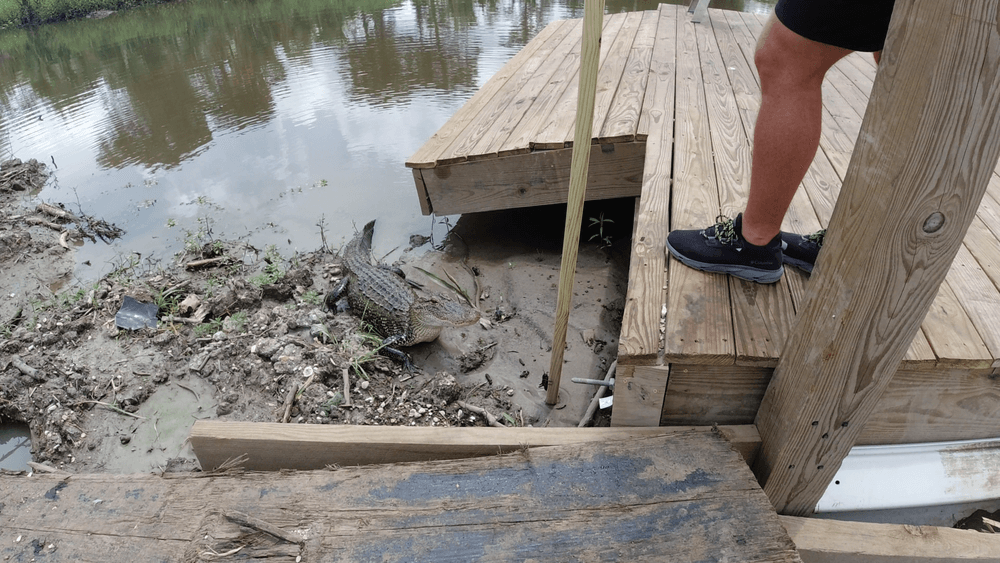 Other Fun Activities for Teens and Tweens
JamNOLA in New Orleans is perfect for your Instagram and tiktok obsessed teenagers.
ARTMazing Selfie Gallery in another place to take your selfie game to the next level.
Ghost Tours can be great for teens, but they do offer family-friendly tours as well.
The Myrtles in St. Fancisville is supposedly one of the most-haunted homes in the country. Take your teens and see what they think.
The following two tabs change content below.
Hi, I'm Katy. Mom to four sweet boys ages 10, 6, 6, and 5. It's a loud, messy, chaotic life. I love connecting with other parents and am so glad you stopped by today!