If you're from New Orleans you know that THIS is real most-wonderful time of the year. A city-wide celebration that lasts for two weeks, involves no obligatory gift giving, and no long dinners with boring relatives. Does it get better than that? I don't think so.
Mother Nature doesn't take holidays, however, and some people will find themselves expecting a little one in the middle of Carnival Season. For them we've put together a little list of Mardi Gras-inspired baby names:
Girls
Clio/Cleo–one of the hottest parades of the season is the all-females Muses, which rolls the Thursday before Mardi Gras. There are nine muses, many will recognize the names as New Orleans French Quarter streets. As far as muse names go, Clio is one of the more accessible names. Another good one is Thalia.
Diana–this Metairie parade no longer rolls, but this name of the Goddess of the Hunt is still a winner.
Juno–New Orleans may have the biggest Mardi Gras celebration, but Mobile, Alabama had the first in the country. The Order of Juno is a long-established society in Alabama Carnival and it also makes an adorable girl's name with the very trendy "o" ending.
Nyx–I debated on this one. Nyx is the Goddess of the Night, and is closely associated with the beginning of the world in Greek mythology. Nyx is also the name of an all-female Mardi Gras Krewe fast on its way to becoming one of the must-sees of the season. Is it name worthy? For some, no, but I think others will be attracted to the name's history and it's unusual letters. It's also hard to nickname this one!
Selene–the goddess of the moon and large women's parade in Slidell, this sleek name may be perfect for your little girl.
Tuesday–rarely used as a name, it's also instantly recognizable and everyone will know how to spell it. Mardi Gras is always held the Tuesday before Ash Wednesday.
Boys
Arthur–this name was floated as a possibility for the royal baby, but it's also a parade that rolls the first Sunday of the Carnival season. Locals will also connect the name with the famous parade guide that comes out each year, Arthur Hardy's Mardi Gras Guide.
Caesar–one of the largest parades in Metairie and a favorite for many, this name was a royal title in Roman times. In Latin America the name is more commonly spelled Cesar.
Marshall–Many parades have a marshal, a dignitary chosen to ride in the their parade. The super krewes like Endymion and Bacchus are known for bringing in national celebrities to fill this role. Add an "L" and you have a familiar boy's name that hasn't been in the top 100 since 1951.
Napoleon–the "traditional" Uptown New Orleans parade route includes Napoleon Avenue. This is also the name of a Metairie parade formed with the purpose of celebrating French culture. It might seem like a mouthful for a baby, but the nickname Leo would be irresistible on a bouncing baby boy.
Orion. Sounds just like the ever-popular Ryan, but gives it a little spin. This is also the name of the largest Krewe in Baton Rouge.
Rex–the name of the King of Carnival also makes a dashing boy's name with that hot "x" ending. (Confession: I named my youngest son this)
Rider–when someone is in a Mardi Gras parade they'll tell you their "rider number." Spell this with a "y" instead of an "i" and you've got a fashionable boy's name just outside the top 100.
Purple, Green, and Gold
The colors of Mardi Gras can also inspire some fabulous names. Here are just a few:
Amethyst (purple)
Denver (green)
Emerald (green)
Forrest (green)
Golden (gold)
Goldie (gold)
Hunter (green)
Iris (purple)
Jade (green)
Olive (green)
Topaz (gold)
Violetta/Violet/Violette (purple)
Xanthe (gold)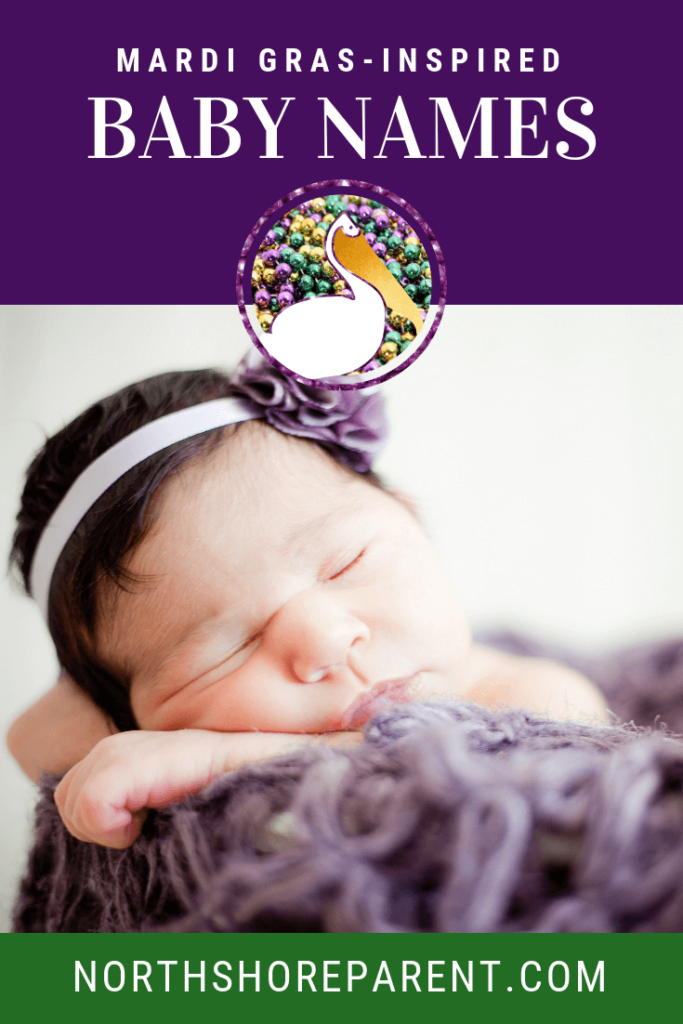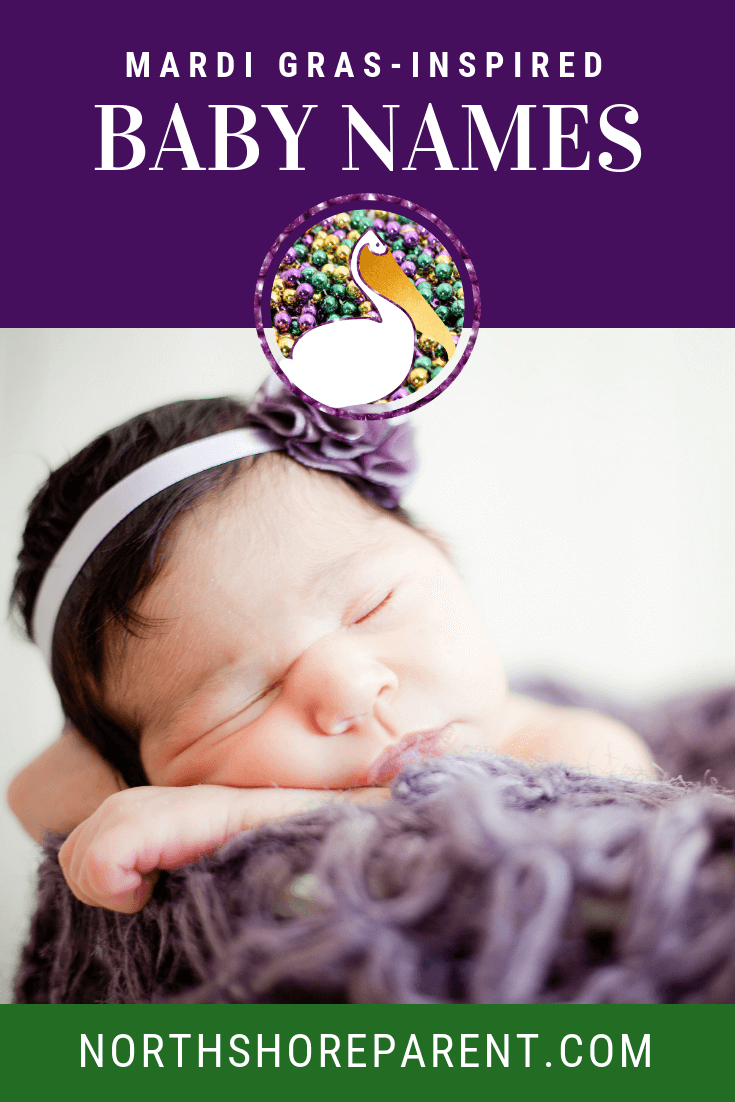 The following two tabs change content below.
Hi, I'm Katy. Mom to four sweet boys ages 10, 6, 6, and 5. It's a loud, messy, chaotic life. I love connecting with other parents and am so glad you stopped by today!