The school days are getting short and the sunshine has started calling my name. If you're anything like me, you love looking for quick getaways to take with the kids. At just a little over an hour away, Gulfport is a great weekend destination and I had the chance to tour the Oasis Resort and Centennial Plaza recently so I could come back and tell y'all all about it. The danger in doing this, of course, if that I always end up wanting to take my own kids to all the places we visit!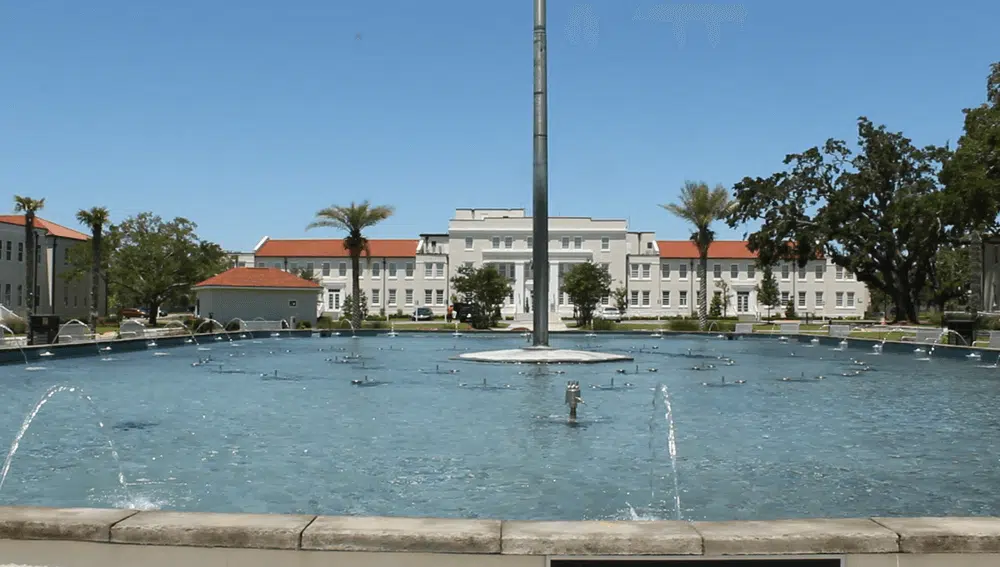 The History of Centennial Plaza
Centennial Plaza was first developed in 1917 as a fair grounds where the state would celebrate the 100th birthday of the State of Mississippi, hence the name Centennial. Since that time it has served a number of functions including a wartime naval base, and most-recently, VA hospital. After sustaining significant damage, the VA moved all operations to their hospital in Biloxi and the property was given to the City of Gulfport so they could determine the best use of it. Whenever renovations or reconstruction occurred, the Spanish Colonial Revival architecture style was preserved making this a gorgeous piece of property. I'm a sucker for an old building so I love, love the look of this hotel.
The Oasis Resort
While most of Centennial has an upscale, adult feel, a few of the building were set aside for the development of a family-friendly hotel within a hotel that is perfect for families with small children. The addition of a water park on the property has made it an unbeatable choice for a quick vacation with the kids. No matter where you stay on the property you get access to the water park, but the Oasis buildings are the closest and have their own check in area.
Grand Centennial Hotel
The Grand Centennial Hotel is more adult-oriented. It has a wine bar downstairs and the decor is more formal. We toured a suite upstairs that was handicap accessible and also had a beautiful view of the fountain outside. Check out their Facebook page because I know that they offer special events throughout the year.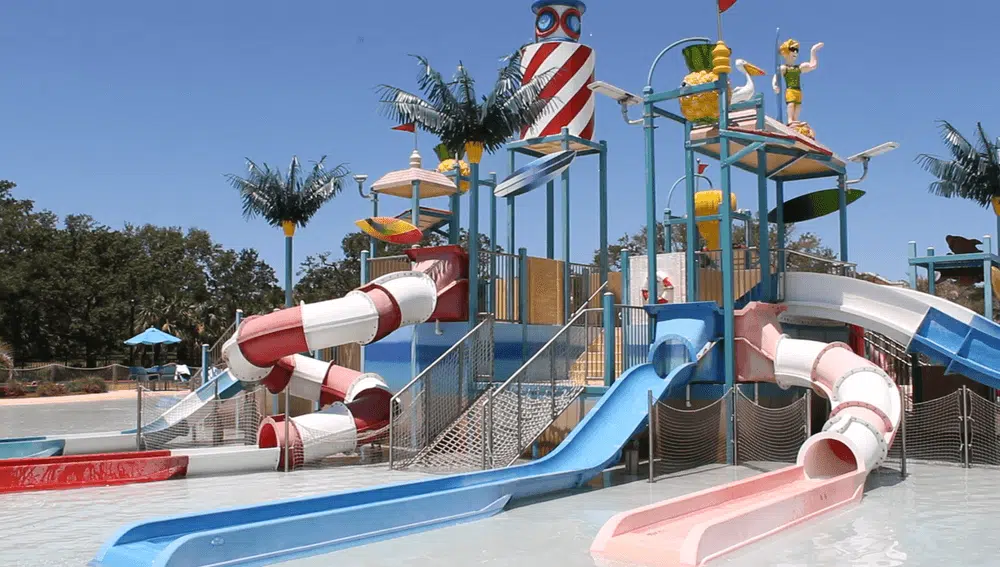 Amenities at Centennial Plaza (Including Oasis Resort)
Really this resort is all about the amazing on-site water park. It features a zero-entry pool, swim up bar, lazy river, large kids play area and two larger water slides for older kids. I think that it could keep my kids entertained all day.
Oasis has a grill that features breakfast and quick dinner and lunch options. Hotel guests can take their grill fare and eat it by the pool. The Grand Centennial Hotel features features a wine and small plates bar.
The Oasis offers bunk bed suites which I know a lot of people like.
There's also a gym on site but I didn't get a chance to check that out.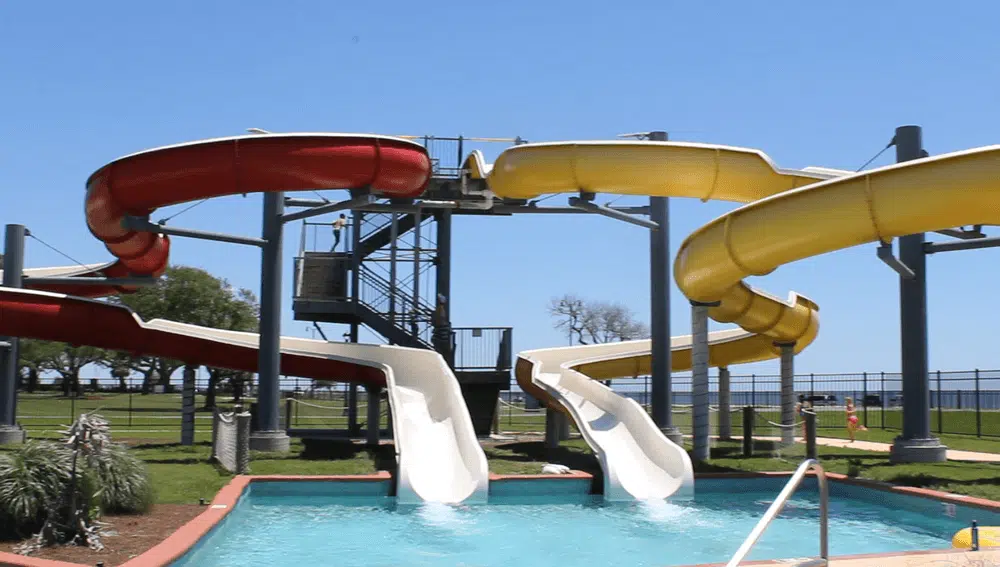 Know Before You Go
The pool area is full sun with very little shade. Bring tons of sunscreen. You might want to consider purchasing a chair umbrella if you're not capable of doing full sun all day. When we were there there was plenty of seating available all around the pool area, so grabbing a chair didn't appear to be an issue.
The hotel is about five minutes away Lynn Meadows Discovery Center which is a great place for kids. You could definitely go there then head back to the hotel for lunch and then spend the afternoon at the pool.
The Oasis Hotel seems to book up first, but the Grand Centennial also offers access to the pool–you'll just have to walk further to get there.
I hope this helps anyone planning a trip to the area and be sure to leave us your best hints and tips in the comments or on our facebook page!
Other Hotels We Love on the Gulf Coast
Kelly shares some of her favorite hotels for her family on the panhandle in this post.
Kids and adults love the Margaritaville Resort located in Biloxi.
Waterscape Resort is a condo complex located in Fort Walton Beach Florida. It's one of the best family vacation spots in Florida.
The following two tabs change content below.
Hi, I'm Katy. Mom to four sweet boys ages 10, 6, 6, and 5. It's a loud, messy, chaotic life. I love connecting with other parents and am so glad you stopped by today!