My family recently spent the day at White Sands Lake Day Beach and we had a blast! This spring-fed lake is located in Enon, Louisiana, just north of Folsom. It's centered between Franklinton, Covington, and Bogalusa, making it a perfect spot for a day trip from anywhere on the Northshore.
While there's a special place in my heart for a saltwater beach (I'm a Florida girl, after all!), it's closer and not nearly as crowded as the beaches on the gulf coast. It boasts clear, cool, water, a sandy beach, and fun floating inflatables. Here are 6 reasons why my family loved it!
Water Quality
The water is fresh, clean, and mostly clear. It's still a lake, after all, so at a certain depth you can't see the bottom, but it wasn't cloudy or smelly at all. Because of this, (and I admit this is probably a little gross) I felt like it was reasonably safe for my children to accidentally ingest, as they inevitably would.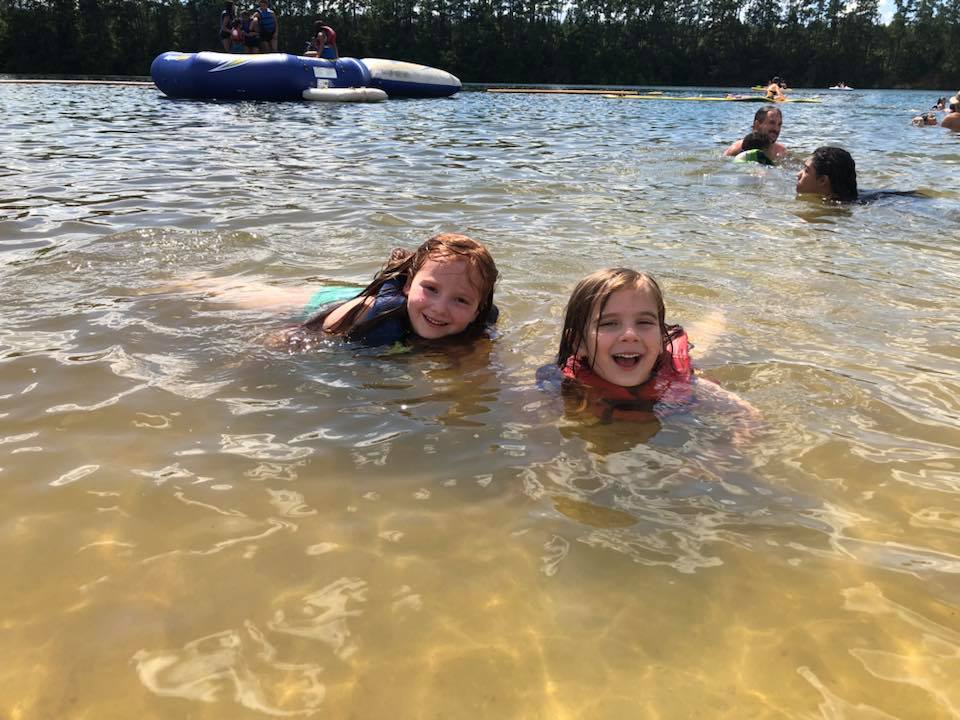 Atmosphere
There is a wonderful family atmosphere. The people we shared the beach with were friendly and while the rules set by the owners can come across a bit strict, they are appropriate for families with small children. I also really appreciated how attentive the staff was to enforcing them!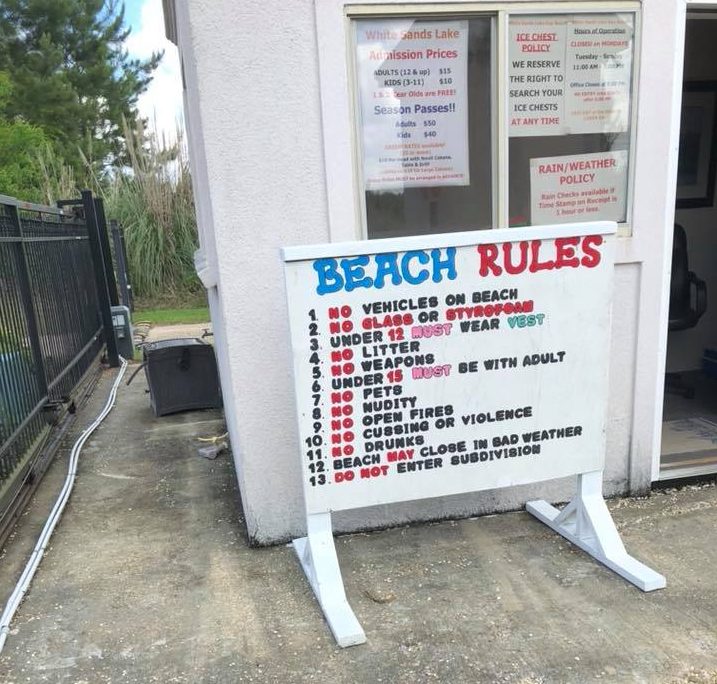 Safety
Life jackets are required for anyone under 12, as well as anyone who does not consider themselves a strong swimmer. They are available to rent for just $2/person, a steal to have a secure, well-fit life jacket for the day! Having my girls in life jackets gave me peace of mind and made the whole experience more fun. Once they got used to them, they became very adventurous and swam by themselves more than I would have ever expected—a life saver for this parent of clingy kiddos!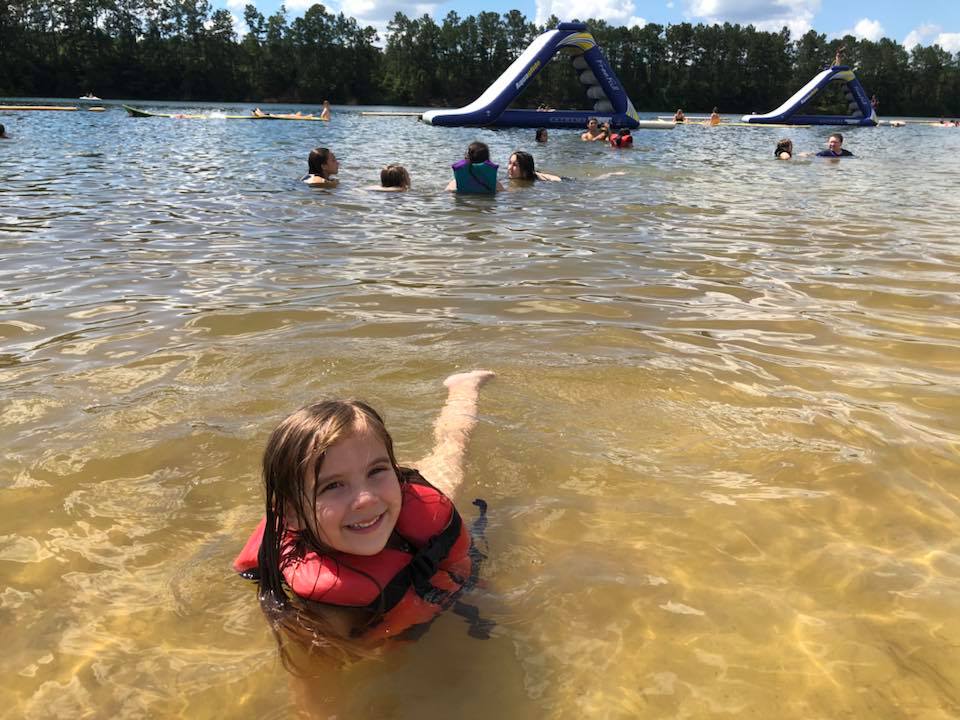 Staff
While the beach does not advertise life guards, the staff definitely keeps a close eye on things. We watch our children, of course, but it's comforting to know there are extra eyes looking out as well. For example, at one point we were getting ready to eat lunch and my 4 year old Houdini-ed back to the water without her life jacket. Luckily, a staff member spotted her just as I looked up to see where she'd disappeared to, and gently guided her out of the water and back to me.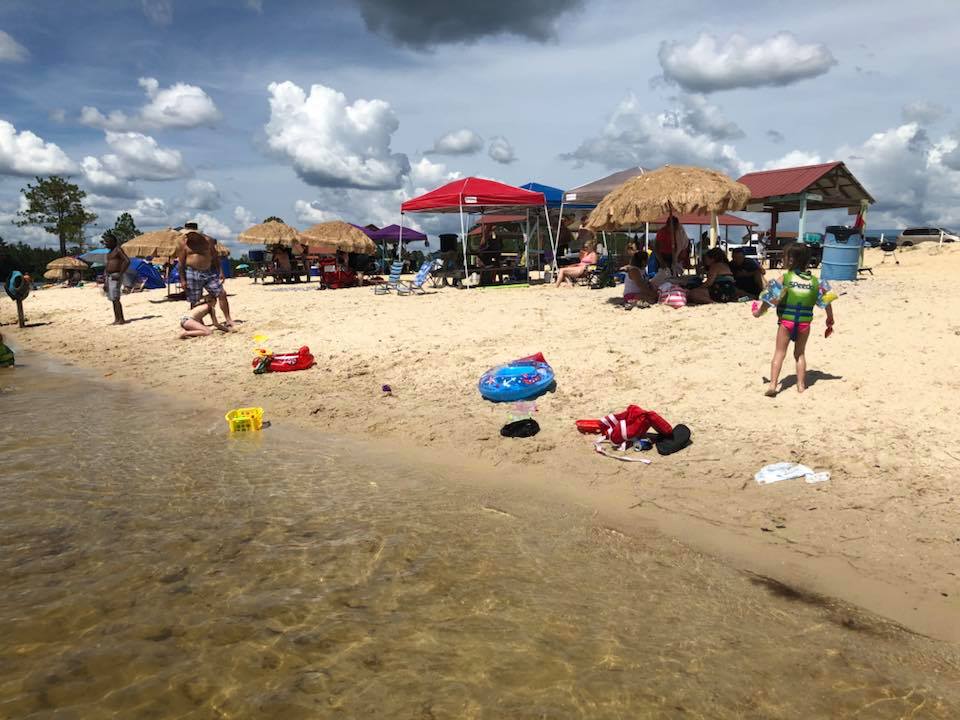 Rentals and Outside Food and Drink
The beach has multiple options for tables, umbrellas, and even on-site grills. It's a bit pricey to rent what they refer to as a cabana (a metal roof with a with a picnic table and a grill) but there are also umbrellas available for much less and unshaded picnic tables that are free to use but book up first come, first serve. Guests are also able to bring their own tents, umbrellas, etc. as long as they do not contain any Styrofoam or glass.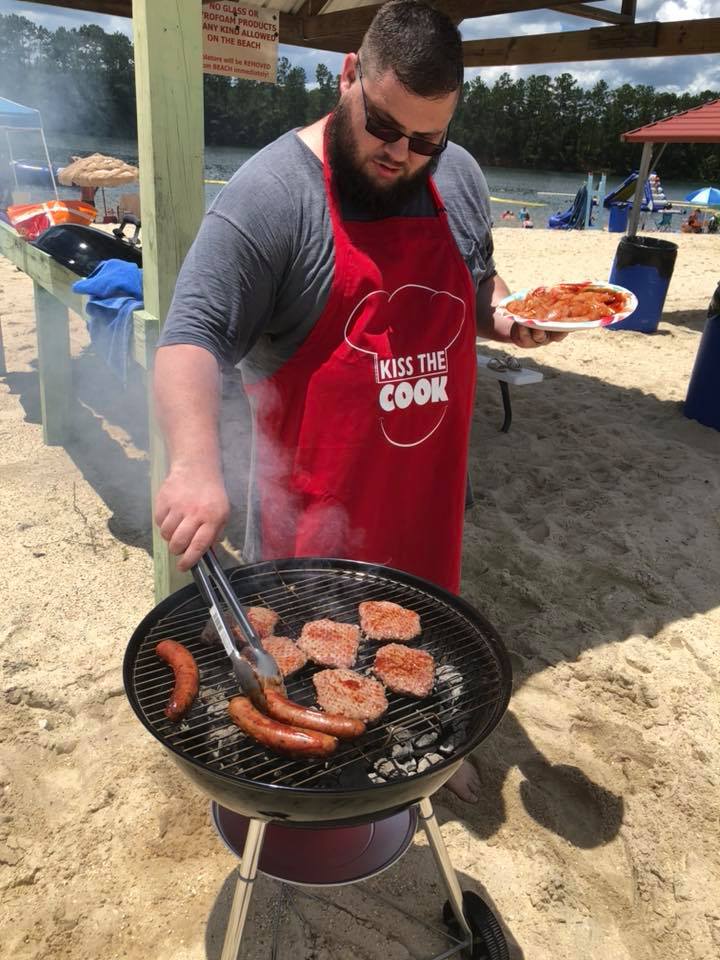 Boats, Canoes, Kayaks
There are paddle boats, canoes, and kayaks available for rent by the half hour. The swimming area is corded off so you have the rest of the lake to paddle around when renting. Kayaking is definitely on my to-do list next time we go!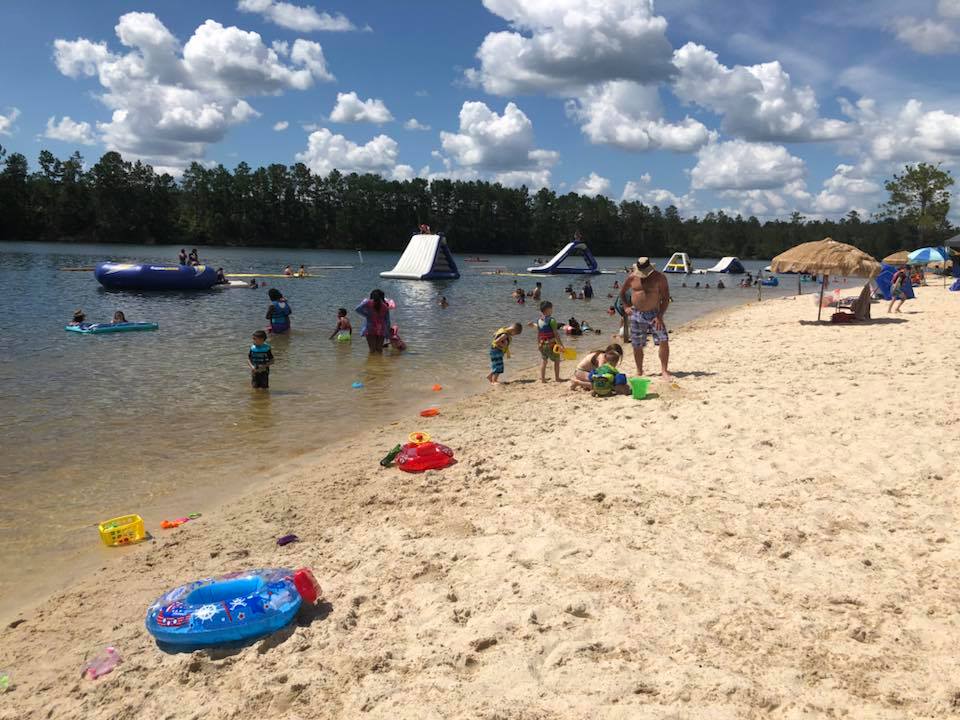 Overall, we enjoyed our experience at White Sands Lake Day Beach and plan to visit multiple times this summer. I would recommend it to anyone! It's an easy drive from anywhere on the northshore, and a reasonable one from most of the southshore. My family had a blast and I bet yours would, too!
Looking for more water fun?
We've got a list of local splash pads right here.
Or you can head to the wave pool in Waveland.
Or maybe it's raining? The Kroc Center in Biloxi is indoor!
The following two tabs change content below.
Hi there, I'm Christy! I am a Slidell native and currently live on the north side of town with my husband and our two girls, ages four and six. By day I manage for Panera Bread, and by night I bake and decorate for my home business, The Little Things Cakes. Thank you for stopping by and being a part of our parenting community!
Latest posts by Christy Broady (see all)