If you are anything like me, you have a hard time getting to the gym every day to do the same old routine of cardio and weights. It's also hard to get out and try something new, so the gang and I at Northshore Parent found some fun new workouts to try on the northshore and even went and tried them out just for you.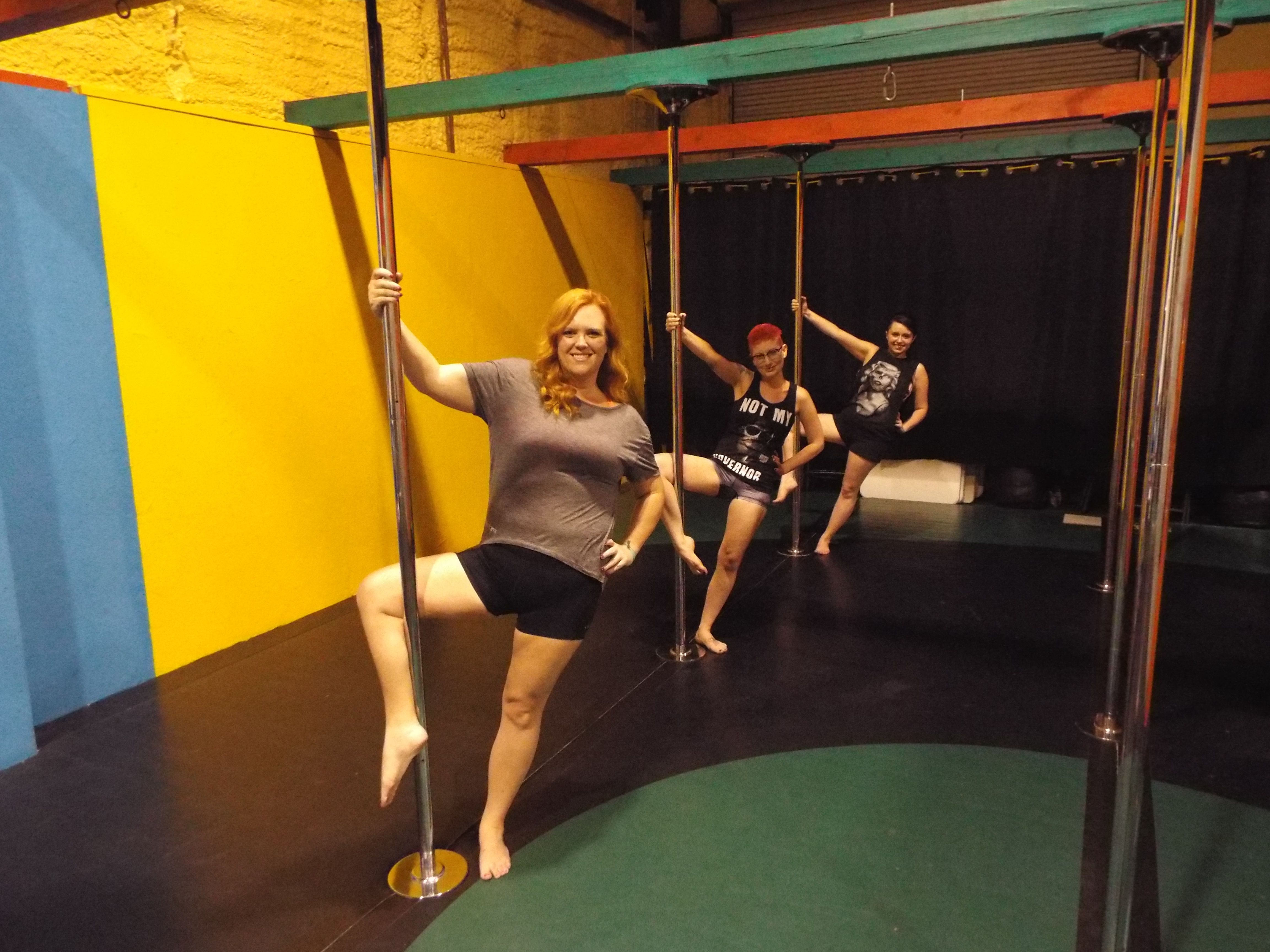 Pole Pro at X Fusion:
I'd heard of pole dancing for fitness, but I never really thought I'd ever give it a try. Until last week, that is. Kristen, Sunnie, and I tried out Pole Pro at X fusion fitness in Covington, and it was SO MUCH FUN! It was also a lot harder than it looks! I mean, it's a real workout! But don't dwell on the difficulty, it is good for any skill level. It is one of those workouts that can be adapted to your skill level. We had a variety of skill levels in our class, and everyone worked to their own abilities. We even had a pregnant woman in the class with us!
You'll need to put on your sassy short-shorts and leave your shoes at the door for your Pole Pro class. The class starts out with a lot of stretching, combining elements of yoga and barre to get your body warmed up and flexible for the pole work ahead. The pole work itself is full-body; it works upper body and core the most, but your legs won't be neglected. This is a fun workout to do with your girls, and I would love to go back and do it again!
Where?: X Fusion fitness, 1455 N. Collins St., Covington
When?: Thursdays at 7:00pm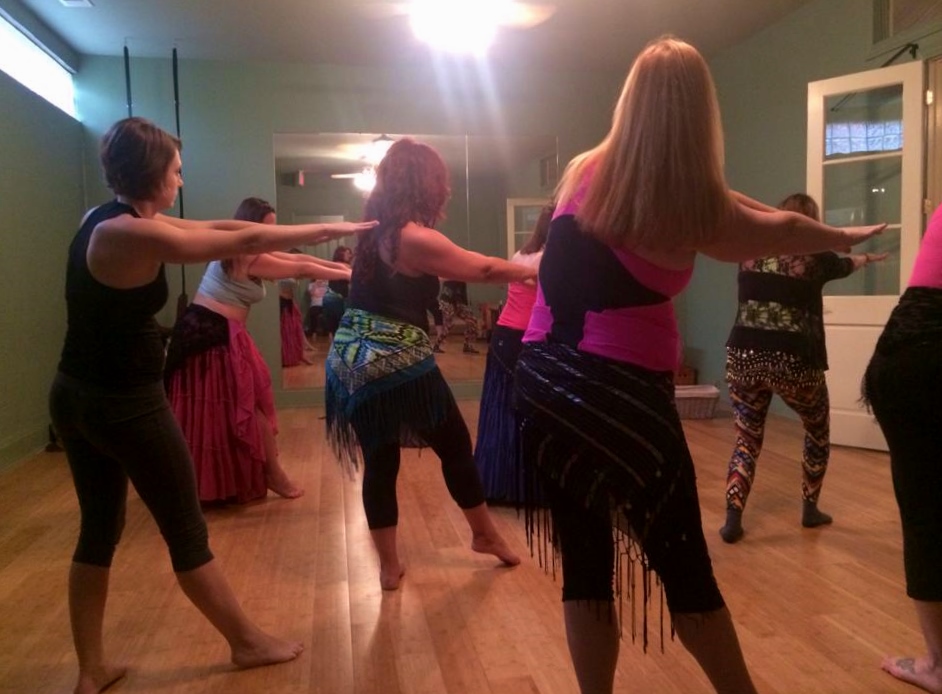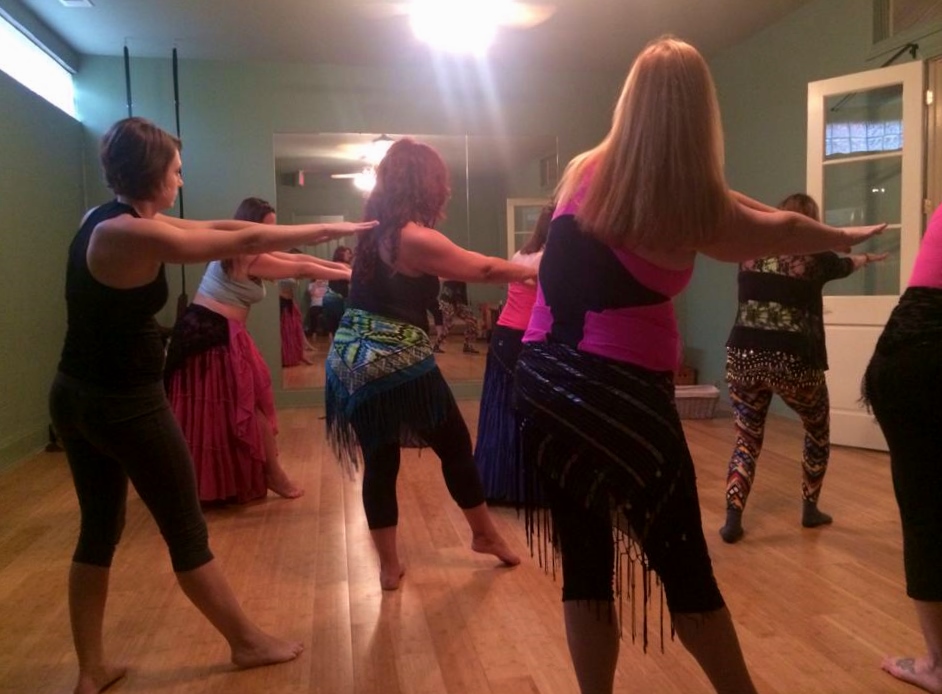 Belly Dancing:
OK, I'll admit it; I've always wanted to try belly dancing! So when the opportunity to give it a try for this post came up, I jumped at it. This class gave me the chance to get some great low-impact exercise and learn new things in a fun, non-competitive environment.
The instructor, Amanda, started teaching belly dance in 2009 and has performed all over Louisiana . She takes the time to not only demonstrate the dance move, but also to explain it's meaning. The class is small and there is a level of fun and camaraderie among the dancers that I really loved. So much so that I signed up for the summer session!
There are a lot of added bonuses to belly dancing beyond the ability to dance and get some exercise in a fun, non-competitive environment. It also encourages body confidence and the use of dance as an expression of emotion. This is, first and foremost, a dance class, and the fact that is also helps build a strong core and provides some low-impact cardio is a big bonus!
Where: Our place studio, 338 N. Vermont St., Covington
When: Thursdays at 6:15pm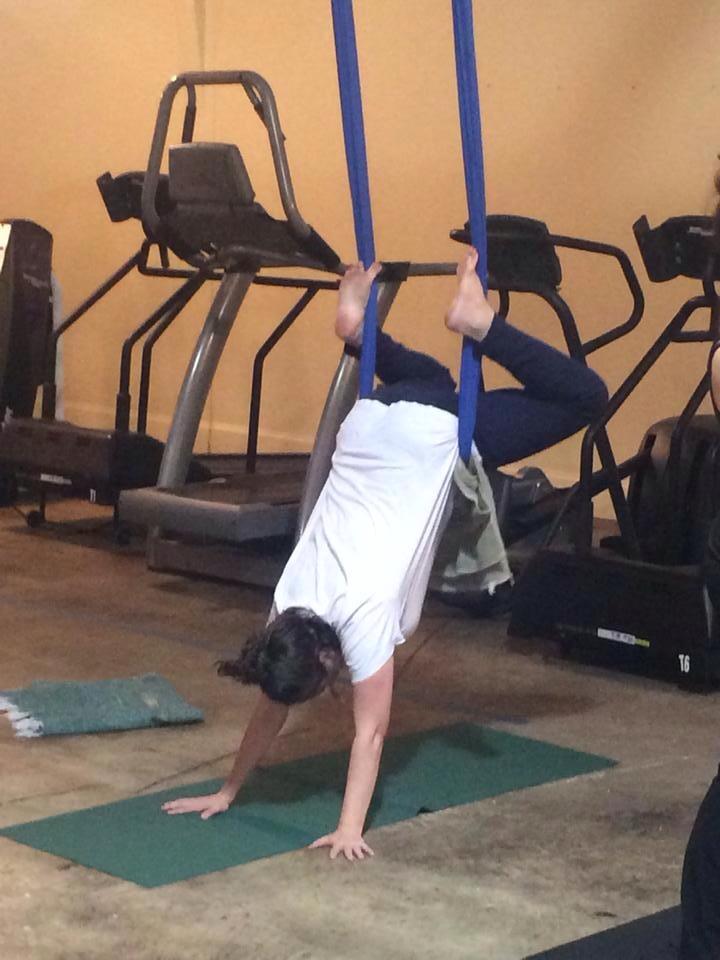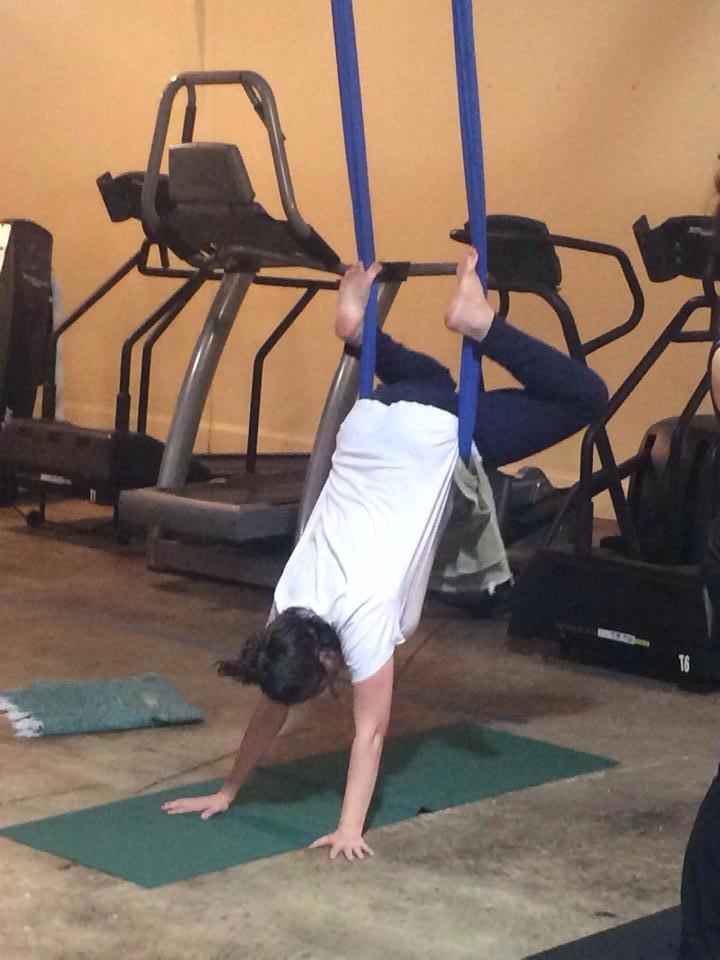 Aerial yoga:
Aerial yoga is exactly what it sounds like–yoga done off the floor! While it looks intimidating, people of any fitness level can and do participate. The instructor does a great job of making sure everyone in the class is able to participate–even if you're not as fit as some of the others! The class was challenging but left you feeling relaxed. Kristen had such a good time she decided to sign up for more classes.
Where: Our place studio, 338 N. Vermont St., Covington
When: Tuesday and Thursdays at 7:15pm and Tuesdays at 7:45am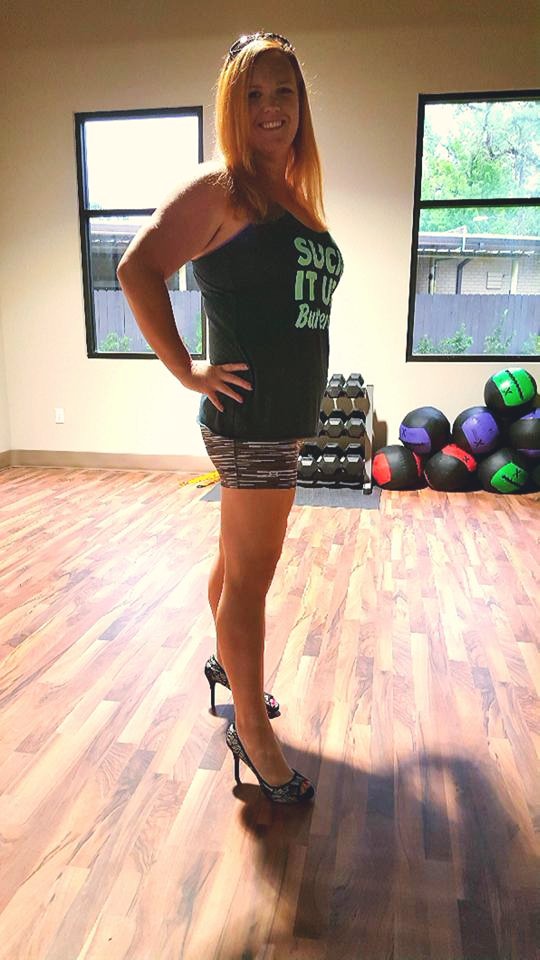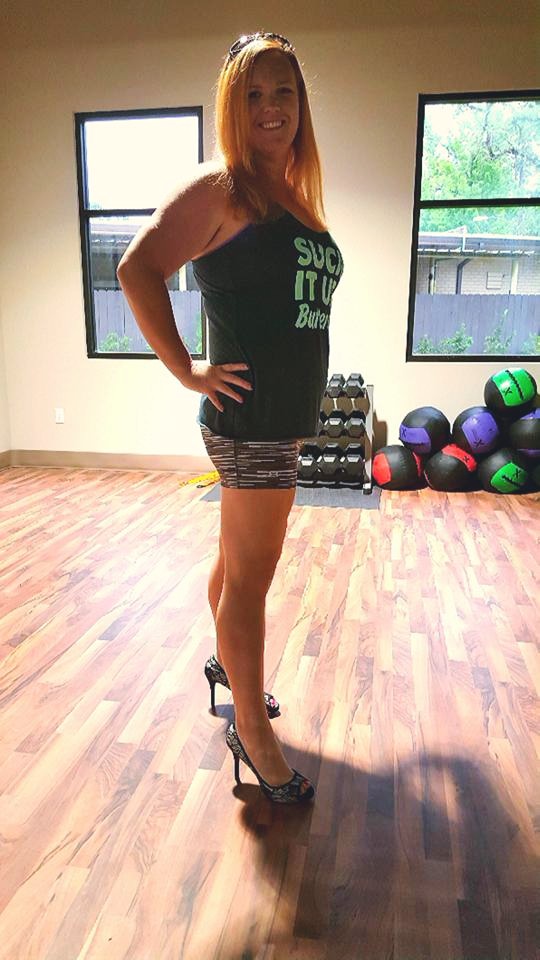 Stiletto fit:
Dance my way to great legs? Don't mind if I do! Stiletto fit lets you strap on your favorite stilettos and work up a sweat dancing to fun music. Each week offers new choreography, taught by Alyse Renz, owner of Dauntless athletic and long-time dancer and  dance teacher. The class is small, allowing for personal attention, and all skill levels are welcome.
For me, boredom is a factor with a lot of workouts. I feel every minute of that cardio and, while I'm not tired yet, I'm so bored that I give up and stop before I've put in enough time. That definitely wasn't an issue with stiletto fit! When we tried out the class, the time flew! We were having such a fun time that we didn't realize that a full hour had already passed. That is a huge win in my book! This class was Katy's favorite and she swears she's going back as soon as she finds a babysitter.
Where: Dauntless athletic, 71338 Hwy 21, Covington
When: Wednesdays at 6:30pm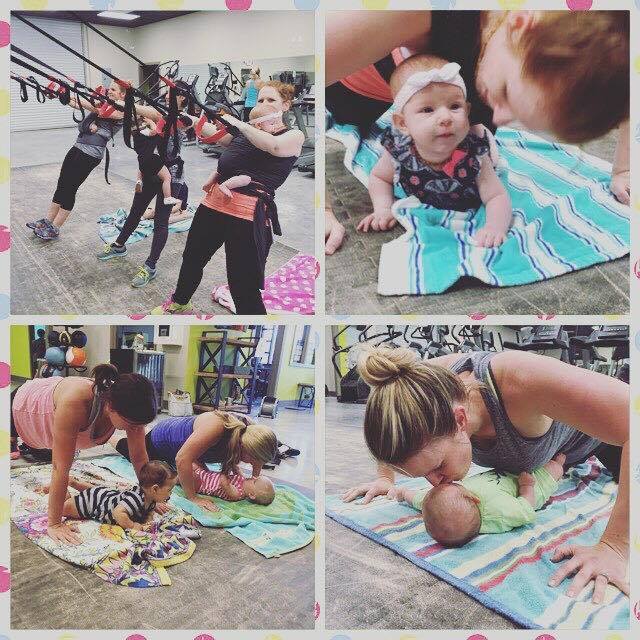 Moms with Muscles
We didn't get to try this one out since most of our babies are a little to big, but it definitely has to be included in this list!
Moms with Muscles is a cardio and resistance class that centers around healthy exercise involving moms and babies. It's open to moms of all fitness levels no matter which stage of postpartum they may be. The instructor modifies exercises to either utilize the babies as the weights or moms can use other resistance equipment to workout along side their child. The purpose is to remove the burden of "mommy guilt" and incorporate a way of getting healthy while bonding with your baby!
Where: Pulse Fitness in Hammond
Time: Varies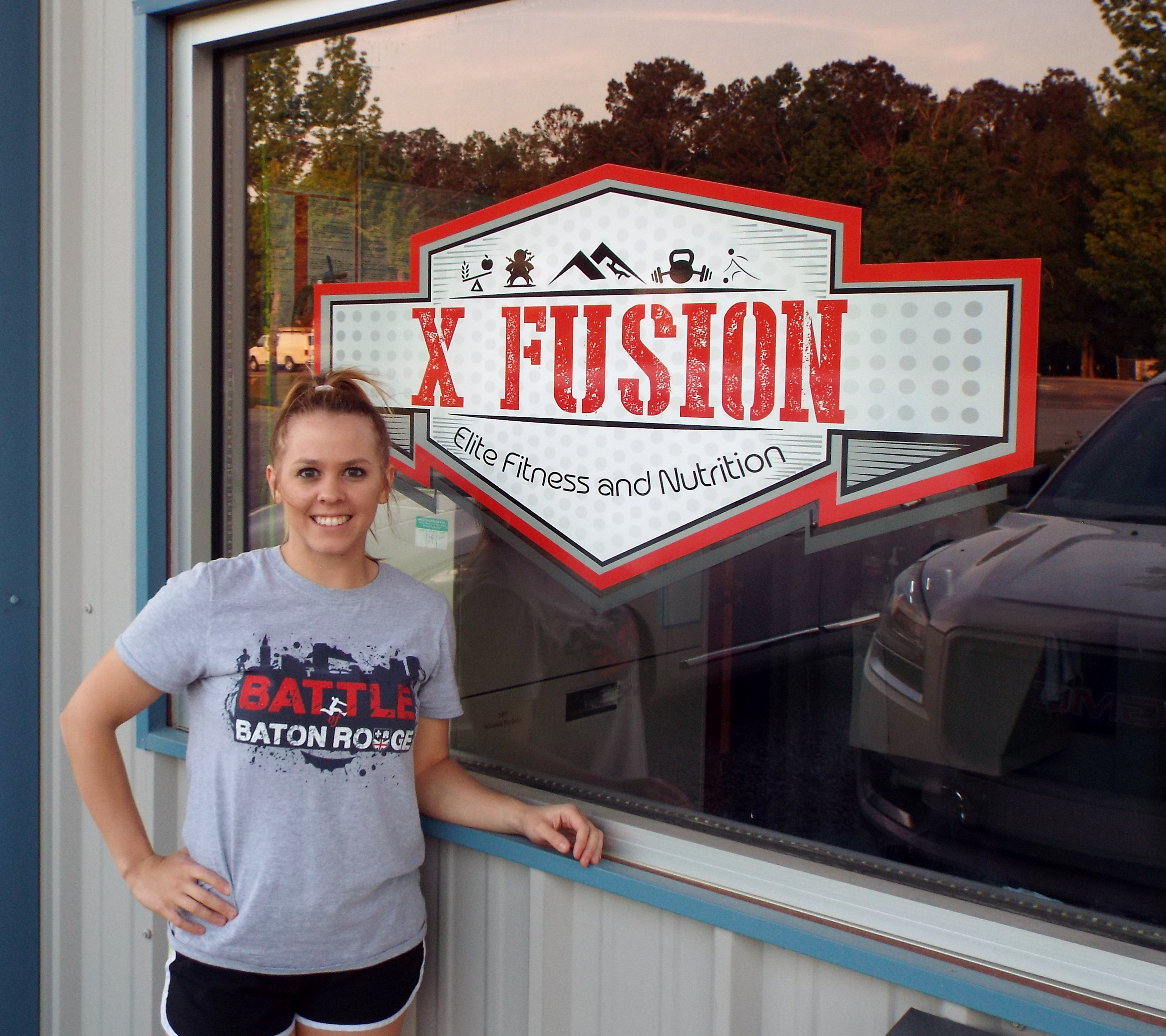 X fusion fitness:
I couldn't finish this article without including X fusion fitness! We went to this gym for the pole pro class, but it has so much more to offer! Zip lines, climbing walls, obstacle courses, so many fun ways to get fit! They also offer classes for both kids and adults, and personal training. They are also offering summer camps over the summer for the kids, but they are filling up fast! There is a new, larger facility coming soon, and I can't wait to check it out!
Thank you to all the gyms and instructors who opened their doors and classes to us over the past few weeks we had SO MUCH FUN experimenting with these classes and hope that other parents will get out there and give something new a shot!
The following two tabs change content below.
Melissa
I am a stay at home mom to two little girls who keep me running. I also care for my elderly grandmother full time. I'm a fan of fitness, mainly because I'm an even bigger fan of cooking and eating. When I'm not busy juggling other people's busy schedules, I can usually be found with my nose in a book or conducting bold experiments in my kitchen, some of which are quite tasty.